[0] Items:

$0.00

(

0

)
|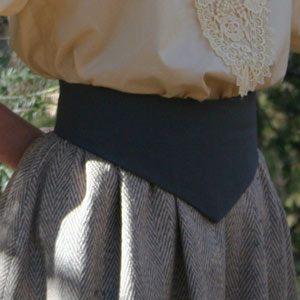 Cotton Belt
Code: 100545
---
Create a new look with this delightful cotton belt! V-shaped belt has boning in the front and back button closure. Available in sizes XS to XXXXL. In a variety of charming cotton colors. The model is wearing a skirt and blouse which are priced separately. Designed and made proudly by Recollections in America!
---
$24.95

Size:
Quantity:

Add to Wishlist
Please login to use the wishlist functions.
Average Customer Review:
3 Reviews
Write an online review and share your thoughts with others.
Impressed., 6.2.2017
Reviewer: Emily N (Midlothian, TX)

For the product I recieved, the price was wonderful. Beautiful belt, good sturdy material, and well made. I bought a large, as I had previously bought a large skirt, but when it arrived, it turned out a good deal too large. Not a big deal; I'm deft with a needle. Next time, though, I'll definately get a medium. :)
---
Beautiful, 3.2.2015
Reviewer: MARIAN (Pamplona, NAVARRA)

Product Name: Cotton Belt Product Code: 100545 Title: precious Review: the belt is beautiful, a perfect complement to enhance the waist.
---
belt, 7.7.2014
Reviewer: Judith C (Newport, RI)

perfect
---
Q: does it tie or button in the back...sure wish it were a tie or Velcro...
A: The belt has a button closure.
---
Q: Which skirt is pictured with this belt?
A: The skirt shown is no longer available.
---
Q: Can this design belt be made with the cotton twill? For instance the denim?
A: Yes we can do that, same price.
---

Recollections © 2014 | Miva Development by 216digital.com
Close
Size Chart
English
/
Metric
XS
S
M
L
XL
XXL
XXXL
XXXXL

2

4

6

8

10

12

14

16

18

20

22

24

26

28

30

32

BUST

33

34

35

36

37

38

40

42

44

46

48

50

52

54

56

58

WAIST

24

25

26

27

28

30

31

33

35

37

39

42

44

47

50

53
What size should I order?
Most people find that our sizing runs generously. If you are undecided with which size to order, it is best to order the smaller size, or give us a call to assist you (1-800-452-5925). You may also email us at sales@recollections.biz with your measurements (bust and waist) and we can help you choose the nearest size.
An exception to the generous sizing is the type of ball gown that requires boning in the bodice and that supports a heavy skirt. Many times this style is also "off-the-shoulder" and requires a firm fit to stay up. These styles tend to not run as generously as most of our other garments because of this. But please, give us a call if you are uncertain.
In most cases you should take your bust and waist measurement to determine your size. Please wear the undergarments that you intend to wear when you do your measuring. For example, take your measurement over the type of brassiere or corset that you may be wearing.
Measure the fullest part of your bust around and the smallest part of your waist.