[0] Items:

$0.00

(

0

)
|

Pioneer Women


Only in America can we celebrate the role of Pioneer Women, as they quite literally stitched together the fabric and families who settled this country. As much as they may have yearned for the silks and bustles they left behind, the rigors of traveling by wagon train or on foot made dressing as they would have on the East coast impractical. Still, these brave ladies managed to dress themselves and their families well enough with the materials available to them; usually in cotton, muslin, or wool.

Yardage of any description was valued in the new West, and ladies would make use of every bit they had. Even the smallest scraps of fabric were saved to be used in quilts. Did you know that the patchwork quilt is uniquely American? No other culture had developed this particular craft before. Cotton yardage was available in towns of any size, and in the more remote areas, peddlers carried bolts of it, along with needles, thread, and other necessities to isolated prairie homes. Calico, a coarse lightweight fabric, was often available printed in a variety of designs. It was not uncommon for a woman to purchase an entire bolt to clothe her family. This meant everyone from the oldest to the youngest person in the family had their clothing made from the same print, and it was sometimes possible to tell what family a child belonged to simply because of the pattern on their clothing.

Life on a farm had its influence on ladies clothing, and the hemlines were raised a bit to save them from dirt and wear. Often, the lifestyle demanded work that made a corset impractical, and these were often not worn, except for more formal occasions. For this same reason, bodices and sleeves were fitted less closely than on their city cousins. An apron was often worn to protect the dress underneath, as it was much easier to launder the apron than to repeatedly wash a dress. A bonnet or wide-brimmed hat was worn out doors to protect the face and neck from the sun.

Even though luxury had been left behind, prairie women still took great pains to make their clothing attractive. Ruffles took less yardage than pleats, but were still feminine. Lace was treasured, and bits of it still adorned collars and cuffs. Petticoats were always worn, and if the weather was cold, they might be made of flannel.

As you look through these dresses, we hope you will enjoy having something that is comfortable and easy to wear as well as pretty and romantic!
Pioneer Women Categories
Pioneer Women Products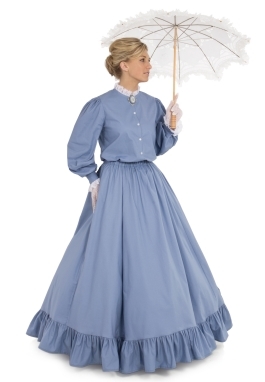 $179.90
$229.90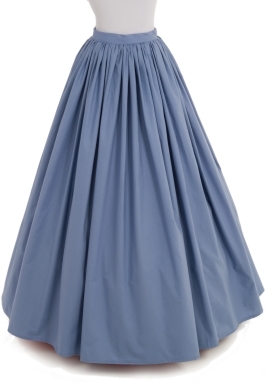 $89.95

Recollections © 2014
Close
Size Chart
English
/
Metric
XS
S
M
L
XL
XXL
XXXL
XXXXL

2

4

6

8

10

12

14

16

18

20

22

24

26

28

30

32

BUST

33

34

35

36

37

38

40

42

44

46

48

50

52

54

56

58

WAIST

24

25

26

27

28

30

31

33

35

37

39

42

44

47

50

53
What size should I order?
Most people find that our sizing runs generously. If you are undecided with which size to order, it is best to order the smaller size, or give us a call to assist you (1-800-452-5925). You may also email us at sales@recollections.biz with your measurements (bust and waist) and we can help you choose the nearest size.
An exception to the generous sizing is the type of ball gown that requires boning in the bodice and that supports a heavy skirt. Many times this style is also "off-the-shoulder" and requires a firm fit to stay up. These styles tend to not run as generously as most of our other garments because of this. But please, give us a call if you are uncertain.
In most cases you should take your bust and waist measurement to determine your size. Please wear the undergarments that you intend to wear when you do your measuring. For example, take your measurement over the type of brassiere or corset that you may be wearing.
Measure the fullest part of your bust around and the smallest part of your waist.