I love studying the beginning of women and sport, especially as it relates to advancements and social change that took place in the Victorian era. Last week I was preparing to give a presentation on women and the bicycle craze of the 1890s and as the temperatures were dropping each day I started thinking about the early days of figure skating and the first women to take to the ice to compete. I had not uncovered anything when I did a brief look at ice skating in the Victorian era a few weeks back, but I just knew there was a story there! And finally, I came across an incredible pioneering Edwardian woman, Madge Syers.

The story of Madge Syers absolutely amazes me. In a time of still rigid roles for men and women (especially women!) this audacious female unapologetically sought to exhibit her craft and excel professionally in her passion. She used her privileged position in society to spread awareness of the benefits of sports for women and to show the world that women deserved equal space on and off the ice.

This is a short look at the life of Madge Syers.

Figure skating competitions: the early days

One cannot understand the story of Madge Syers and grasp her bravery without knowing a bit about the very beginnings of competitive figure skating. As we saw in my earlier post on ice skating as a popular Victorian winter pastime, humans had been traveling on ice before the Victorian era, but advances in the technology of ice skates combined with it being more and more acceptable for men and women to socialize in public caused the sport to increase in popularity.

The Victorian era was also a time of more organized team sports and competitive gaming of various types. Figure skating quickly became a part of this movement, though it was a bit of a slower burn than that of other sports. The first skill that was organized as a sport was the skating of figures, from whence figure skating gained its name. Some readers will be familiar with this sport as it was a part of the Olympic games until several decades ago.

Skating figures was just that — the art of making perfect figures, such as a circle or a figure eight, on the ice. It is a highly skilled craft but also left lots of room for more. In the 1860s a New Yorker by the name of Jackson Haines began to make a name for himself as he displayed a style of skating that resembled dancing. A classically trained ballerina himself, he combined the two mediums, even inventing some of the spins still used today.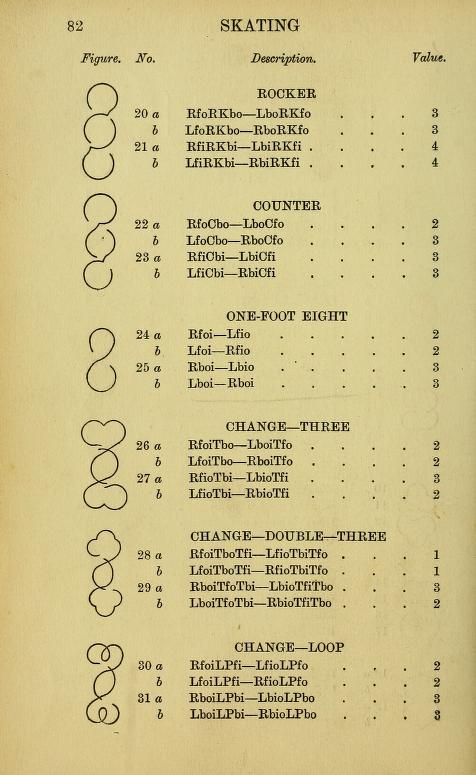 Jackson Haines was famously "laughed out of" the states, but was adored in Europe. His style of skating became known as the "international style," while the more traditional style of figures became known as the "English style." Each gained popularity and the first World Figure Skating Championship was held in 1896 with four male competitors.

Enter Madge Syers

Don't worry, I didn't forget about Madge! Born in London in 1881, she was interested in whatever sport was available to her from a young age. At the time, many women who participated in sports were proficient in multiple activities available to women at the time and Madge was especially interested in equestrianism and swimming. As figure skating became more common she took up skates and began training in the sport.

Want to learn more about the history of women and sports? Check out my blog post: Early Pioneering Women's Sports Clubs

One of Madge's early instructors was Edgar Syers, an enthusiast of the international style. Besides having a strong intellectual connection and a lot of common interests, the two also fell in love and began to skate as a couple and as colleagues. When the 1902 World Figure Skating Championship rolled around in 1902, Madge decided to enter, a bold move considering no woman had ever competed in the championship before.

And why was that? The idea of women competing in organized sports was so new and so unheard of that it had not been considered and there was no rule prohibiting it. Of course, that would change before the 1903 event, but not before Madge won second place in the competition, dazzling her fellow skaters and rising to fame.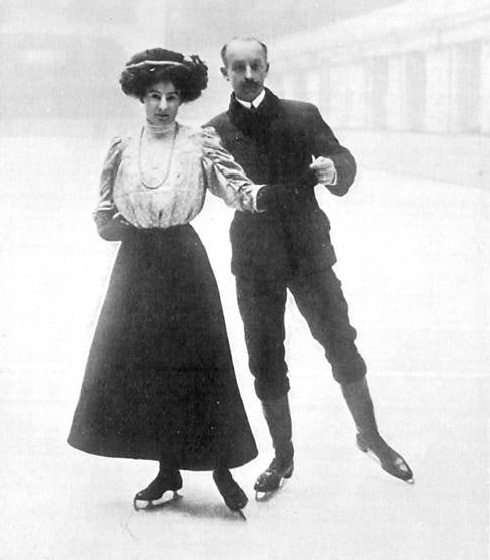 Competitive figure skating, then and now

The question of whether or not women could compete against men was one taken seriously by the International Skating Union, the same organization that oversees international skating competitions today. Their board explored the issue following the 1902 contest and determined to bar women in a vote of six to three, though in 1905 they would allow women to compete in an all-female event.

The reasoning behind ISU's decision is nearly humorous to look at today. Their argument was threefold:
Women's skirts made it impossible for judges to see their legs and thus properly judge them
A male judge may give preference to a female skater "to whom he was attached"
It is simply too difficult for women to compete against men
What did other men think of competing against women? Well, in this case, it seems that the general consensus was to let women on the ice, as engaging socially with women in public was still seen as quite a novelty and the male competitors welcomed more opportunities to do so.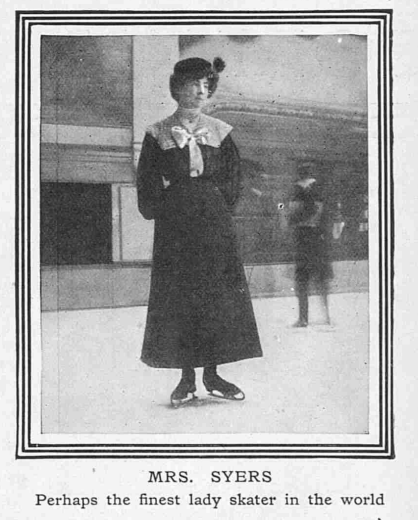 And female skaters had plenty of advocates. One ISU delegate, G.H. Fowler, scoffed at the decision of the board. I loved reading his statement addressing why the ban was unfair:

That the dress prevents the Judges from seeing the feet, to this we answer that it is impossible to skate figures properly in a long dress, the dress must be short;
That a judge might judge a girl to whom he was attached, we reply that if a man were so little of an honorable sportsman as to be willing to judge in this case, his Association would certainly not permit it;
That it is difficult to compare women with men, we respond that the woman must be judged in every respect exactly as a man is judged.
(for more in the history of ice skating check out Artistic Impressions: Figure Skating, Masculinity, and the Limits of Sport.)

My, how things change
Things have certainly changed, and drastically. In my reading for this post I have come up with other surprising ways that figure skating has evolved between Madge Syers's day and now:

-Pairs in partner competitions of Madge's time consisted of male and female partners, male and male partners, and female and female partners

-There was little difference in the style between couples but rather the skill level

-There was little difference in the style between men and women

-There was little use of the upper body in partnered skating, which is now a characteristic of the sport

-Costumes mimicked street clothing

-There was no association of figure skating as a feminine activity whatsoever
Madge and Edgar: figure skating power couple

Madge and Edgar were a true power couple, collaborating and competing together and against each other for many years after the ISU decision. Madge won on to be the first winner in both the Swedish Cup and the Championship of Great Britain, where Edgar came in second. It would not be the only time that she would defeat her husband in a championship competition.

When the new female-only World Championship was created in 1906, Madge entered and won, repeating the win in 1907. With this, she went on to become the first female gold medal winner in figure skating at the 1908 Olympics. Edgar was at her side. The two competed together in the couple's event and took home the bronze.

Besides competing together the two also co-authored two books, including The Book of Winter Sports, published in 1908. In the introduction the two write:

"It is one of the attractions of this sport that women may excel in it as well as men, and the developments in group skating, dance steps, and pair skating offer many opportunities for delightful combinations. In this department of the art English ladies have especially distinguished themselves."
More stories of pioneering women:
Fanny Fern: celebrity journalist
Emilie Flöge: a woman to be remembered
5 facts about Margaret Tobin Brown (aka The Unsinkable Molly Brown)