England lost one of its most notable fashion designers this month with the passing of Mary Quant, the Swinging 60s creator who is often credited for popularizing mini skirts, hot pants, and clothing whimsy. I am a big fan of both mini skirts (I bought two this weekend!) and 1960s fashions so began to read more about her life when I saw the news. Down a delightful rabbit hole I went, full of color, creativity, and flower-child fun. I discovered that the Victoria & Albert Museum was so determined to catalog and preserve Quant's contributions that it held a "We Want Quant" in 2018 to solicit donations of her items. The result is a collection of dresses that will make any Summer of Love enthusiast truly swoon. I selected my favorite five to share with you today.

But first, let's learn more about Mary Quant.

A woman of the revolution

Mary Quant was born in London in 1930. While her parents had come from mining families, they were both college educated and encouraged their children in the same direction. Mary had a lifelong interest in fashion and wanted to study the trade in college. This was met with little approval by her parents and she instead pursued illustration and art education instead. I like to think she had a long, fashion game in mind, however as her first job out of college was working for a milliner. She would soon open her own shop, surrounding herself with trendy clothing.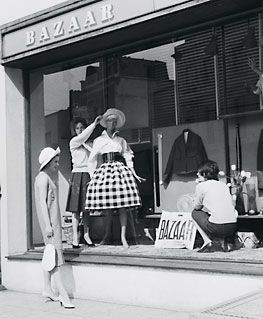 Mary's shop is still remembered today. "Bazaar" was opened on no less of a hot spot than King's Road. It would catapult the young woman to fame when, dissatisfied with the fashions she sourced she took matters into her own hands and began producing her own.

The clothing epitomized the attitude of the era with bold colors, daring shapes, and a focus on pushing the envelope. They were also showcased in an ideal location, with this area of London being the place to be seen. Mary was there to make sure they were. She said of the mini skirt:

"It was the girls on the King's Road [during the "Swinging London" scene] who invented the miniskirt. I was making easy, youthful, simple clothes, in which you could move, in which you could run and jump and we would make them the length the customer wanted. I wore them very short and the customers would say, 'Shorter, shorter."
And a quote I love about those who bought the daring bottoms: "They are curiously feminine, but their femininity lies in their attitude rather than in their appearance … She enjoys being noticed, but wittily. She is lively—positive—opinionated."
While it is well documented that other designers had produced shorter-than-short skirts before Quant, she was the one who made them go mainstream and likely gave them the name. Interestingly, however, she is said to have named the skirt after her favorite car, the Mini, and not because of their size.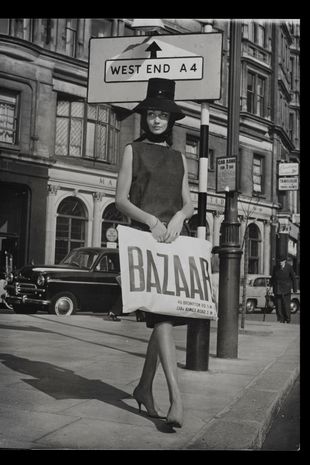 Mary Quant's legacy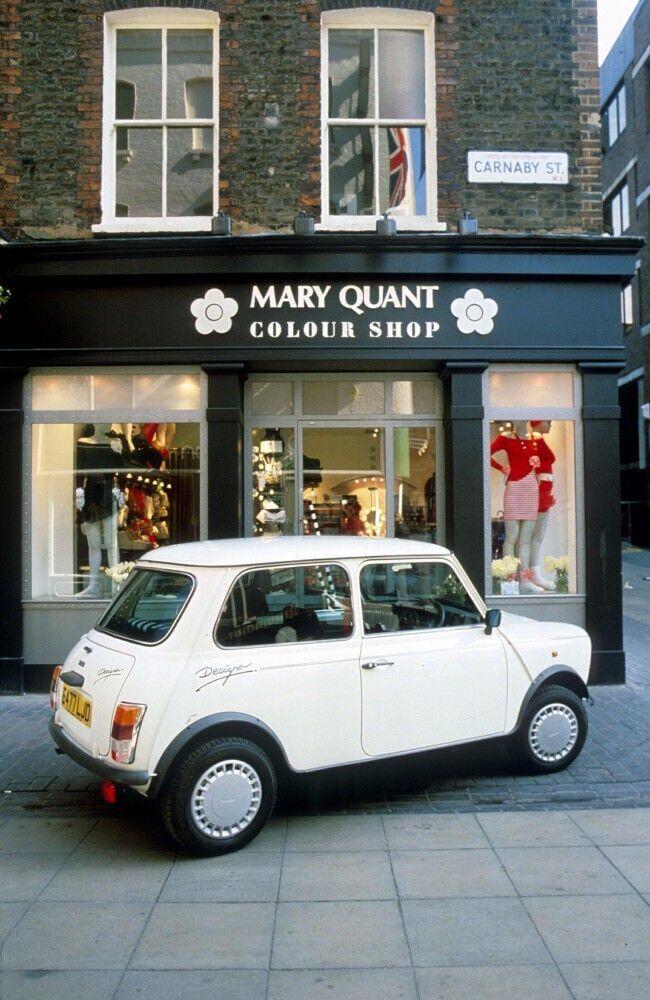 Mary made quite a splash in London and around the world. Her influence is still seen today and it is a testament to her talent that her passing was covered around the world. Some of her honors and accomplishments include:
Recipient of the first-ever Dress of the Year award in 1963.
Named one of the "fashion revolutionaries" by Women's Wear Daily in 1966.
Appointed Officer of the Order of the British Empire in 1966.
Asked to design the inside of the Mini (1000) Designer in 1988.
Won the Hall of Fame Award for the British Fashion Council in 1990.
Appointed Dame Commander of the Order of the British Empire in 2015.
Chosen to be on Peter Blake's revised version of the Sgt. Pepper's Lonely Hearts Club Band cover in 2012.
And more!
Besides her clothing, Mary Quant's company also sold cosmetics, and successfully. Today "Mary Quant Colour Shops" still operate, with 200 in Japan alone.
We Want Quant
Below are my favorite items from the Victoria & Albert Museum's Mary Quant collection.
More fashion icons from history
Emilie Flöge: a woman to be remembered
The Fun History of the Poodle Skirt
The history of the sundress in three American designers