I wanted to highlight someone lesser known on the blog to close out Women's History Month. I started thinking about some of my hobbies and something that I may learn as well and the idea of floral arrangement came to me. Much to my delight I discovered that a courageous English woman had so much influence on the craft in the first part of the 20th century that her influence is still celebrated today.
Let's look at the life and career of Constance Spry.
Early Life
Constance was born Constance Fletcher in 1886, though after much digging I was not able to discover much about her childhood or what led to her interest in domestic studies. What is known is that she studied in Ireland, going on to lecture for the Women's Health Association. She would also marry James Heppell Marr in 1910, a decision that would impact her life in unexpected ways.
World War I would also impact the young woman's life, by then a mother still living in Ireland. It was during this time that she more fully embraced life as a professional and unorthodox woman, first being appointed secretary to the Irish Red Cross and then, possibly emboldened by her success, making an important decision about her future. Says London Flower School:
"Constance belonged to the first generation of women with enough hard-won currency to leave their husbands. So, in an age when the divorce rate was less than 0.25%, she did just that – closing the door on an abusive six-year marriage. We might wonder at the courage it took to break free from this domestic hell and forge ahead as a single mother. But courage, and a willingness to embrace the new, would turn out to be recurrent themes in Constance's life."
Constance left her husband in 1916 and relocated to England, taking a position as head of women's staff at the Ministry of Aircraft Production. I find it so interesting that she began her career in management/supervisory roles and would remain in them for the rest of her life.
Budding onto the floral scene
After her time with the Ministry of Aircraft Production Constance enjoyed what is largely referred to as a "highly successful" career as a headmistress. It was likely the experience she gained coordinating the skills and day-to-day routines of so many females that would help her become a popular employer later on.
It appears that floral arrangement was a hobby of Constance's during her time as headmistress. I am sure she had many opportunities to practice! Because of her status in the community of south London, she had friends in high places, and her ability as a floral designer came to their attention. A theater designer by the name of Norman Wilkinson is often credited with referring her craft to his contacts, landing Constance her first floral gig with Atkinson's perfume shop on Bond street. It is said that her nonconventional displays "stopped people in their tracks."
Oh how I wish I had been able to find photographs of that display!
A break from tradition
Let's pause to take a look at why it was that Constance's floral designs were so notable. Flower arrangement, after all, was no new craft when she caught the eye of Wilkinson in the 1940s. What was new was her break from the styles of the Victorian era.
Flower arrangements of the Victorian era had some striking characteristics. The Floral Shop Network says:
Keep in mind that this style of flowers is very full and focuses on the opulence associated with an abundance of fresh flowers. Tightly massed flowers are characteristic of the style and time period.

Victorian style arrangements are typically round or oval in form. Flowers are typically kept to a lower height, only one to one-and-a-half times the container's height.

Strong color contrasts and flowers with brilliant hues are preferred. Usually a full range of colors is used. However, monochromatic and analogous tones may also be used.

Lots of foliage is associated with Victorian style flower arrangements. They are used to soften the appearance of tightly massed flowers. Ferns and ivies are popular inclusions.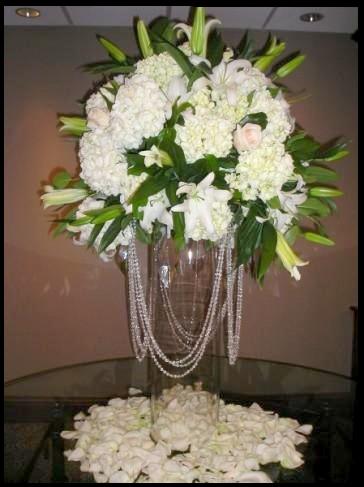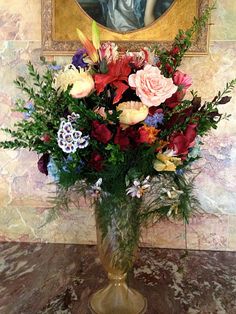 Constance's creations were a complete 180 from this more traditional style. Her work was considered radical, with the use of materials never used before in design such as kale, moss, twigs, branches palm leaves, and all sorts of shrubs. She would pair these with drastically different-looking flowers, with a preference for exotic flowers such as orchids and magnolia flowers.
Deviating from the "tightly masses" arrangements of the Victorian era, Constance arranged hers losely, utilizing drastic changed in height and shape of an arrangement. A classic example is the painting below based on one of her designs.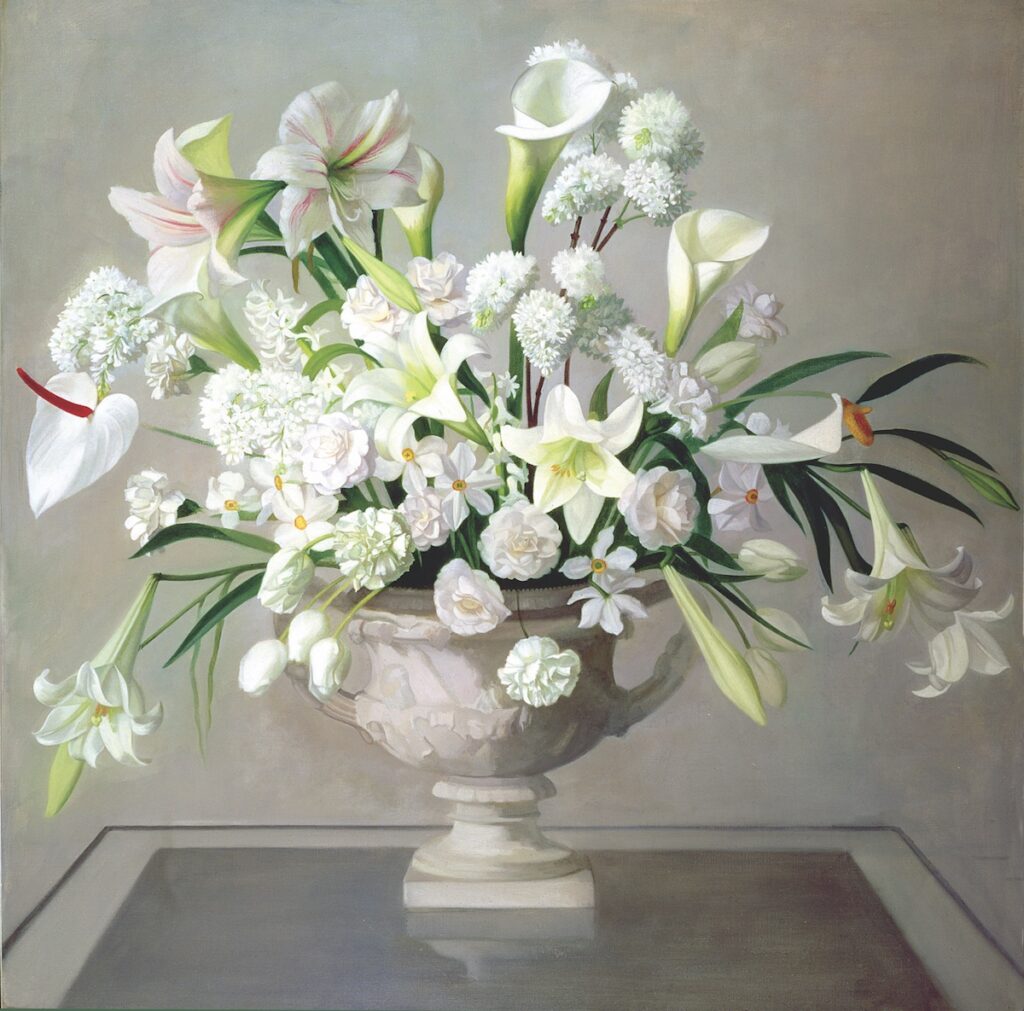 Constance was also known to use unusual containers for her designs, "from jam jars to attic curios" says London Flower School.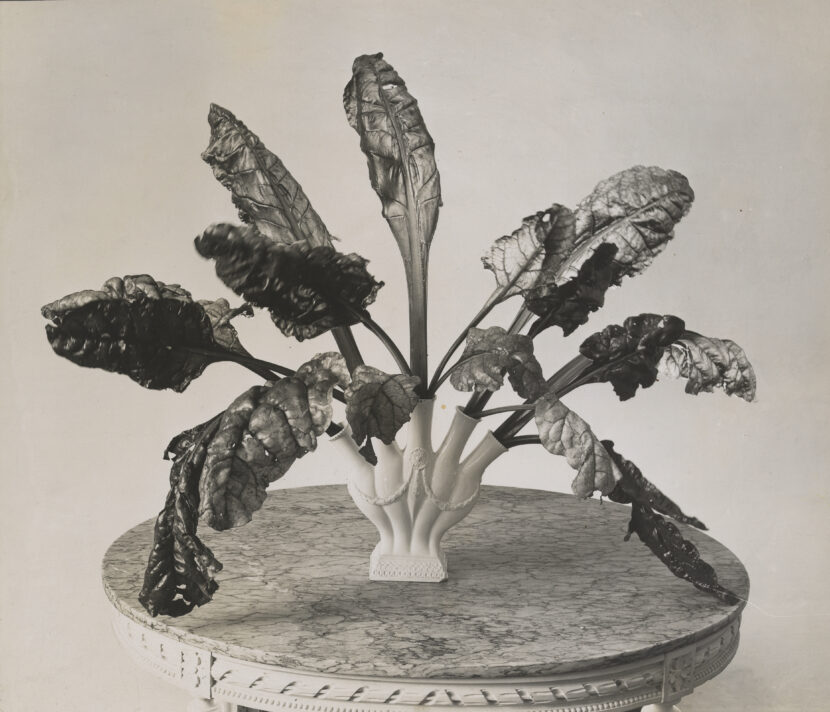 Royal Status

The Atkinson's display was in 1929, followed (or according to some, at the same time as), being retained by Granada Cinemas. The overwhelming popularity of both engagements quickly led to the opening of her first shop, "Flower Decoration." Constance's climb would be no less than meteoric, with a second shop opening in 1934. It was so notable that it was honored with a blue plaque in 2012.
The arrangements coming out of the floral empire were considered so remarkable and stylish that they came to the attention of England's most elite. Here are some of the highlights:

1936: Wedding of the Duke of Gloucester to Lady Alice Christabel Montagu-Douglas-Scott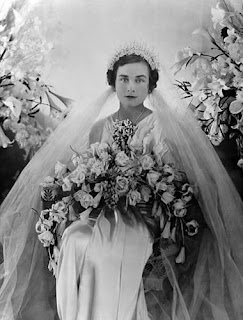 1937: wedding of the Duke and Duchess of Windsor
Because of the protocol around a divorcee being married, Wallis Simpson did not carry a bouquet when she married the Duke of Winsdor, but being the stylish person that she was engaged Constance to provide the decorative flowers for the reception.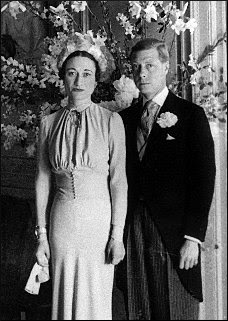 She was also commissioned to assist with the flowers for this stunning photograph in collaboration with Salvador Dali.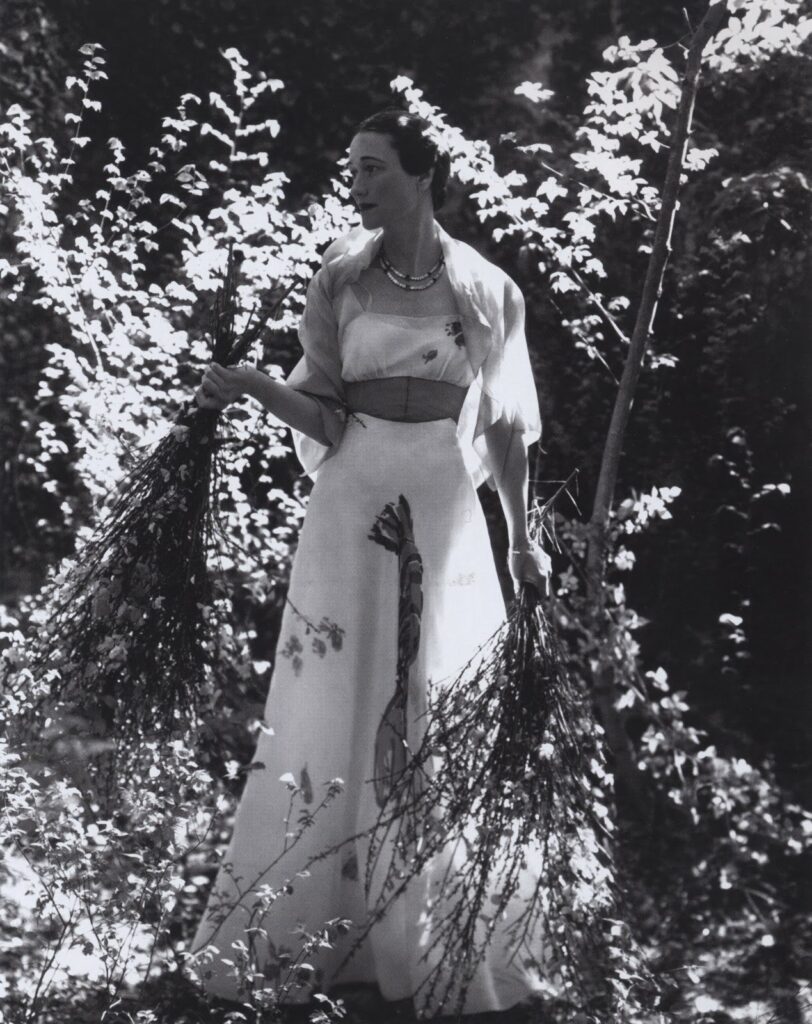 1953: Queen Elizabeth II's coronation
Talk about reaching the upper echelons of one's career possibilities!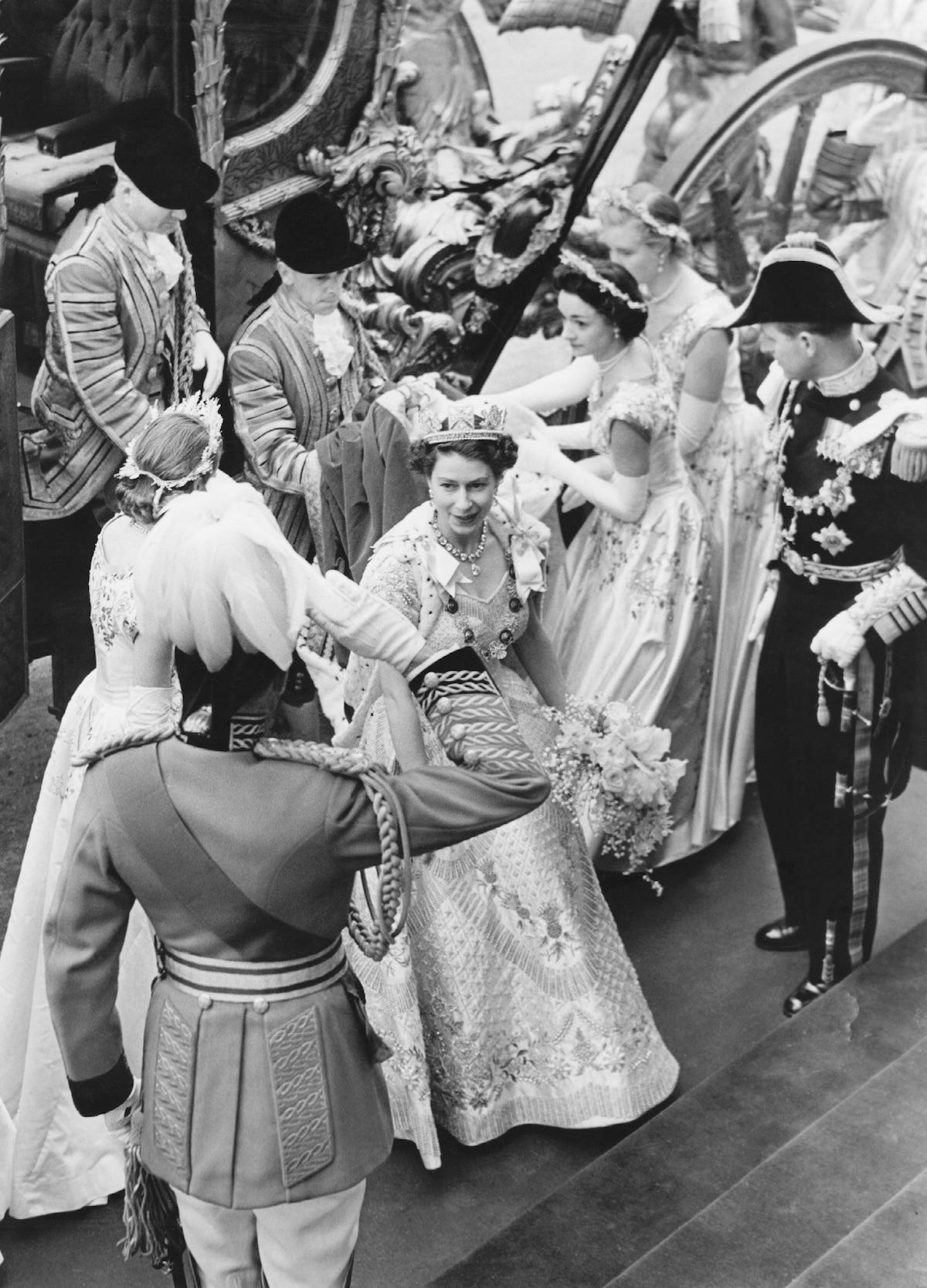 Besides Flower Decoration being responsible for the flowers used to adorn Queen Elizabeth's coronation route she was also commissioned to do the centerpieces for the now-famous "Coronation Chicken" dinner (the topic of an upcoming post!).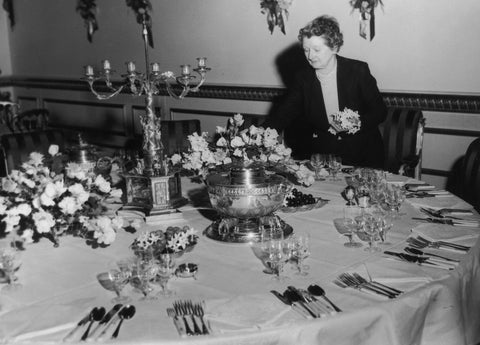 Constance was awarded an OBE (officer) in the 1953 Coronation Awards for her work on the gorgeous arrangements.

A Lovely Legacy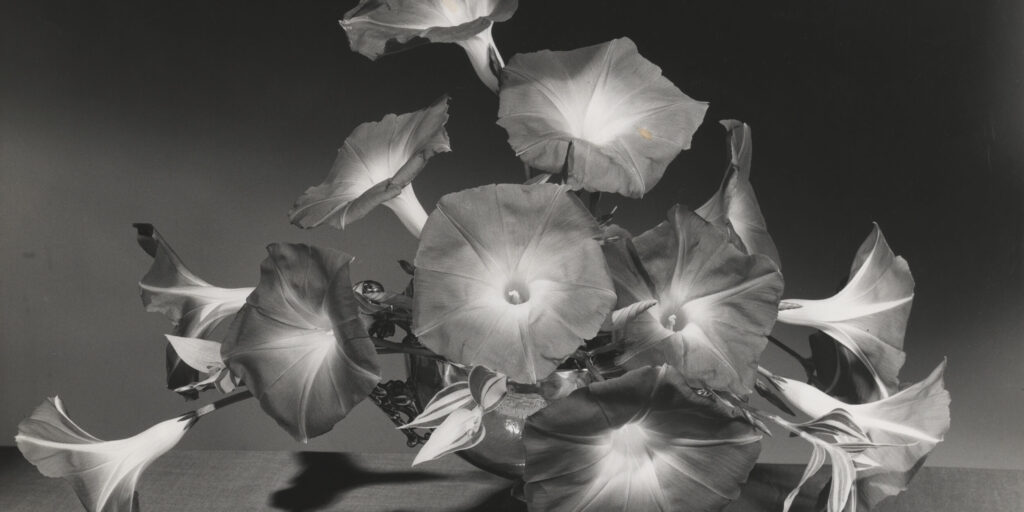 Constance had a love of all things domestic or possibly, related to entertaining. She published her first book, Flower Decoration, in 1934, and would go on to write several other books on floral arrangement, but she would also write on gardening itself. Then, in 1956 she published The Constance Spry Cookery Book, and in 1961, Hostess.
In 1961 rose breeder David Austin named one of his roses after her, the Rosa Constance Spry. The David Austin website describes the rose as:
"Our original English Rose. Its magnificent, deeply cupped, luminous mid pink blooms have a wonderfully strong myrrh fragrance. It flowers once in early summer but is still very valuable. Our tallest English climber; it has large leaves and many thorns. Named after a pioneer in flower arrangement."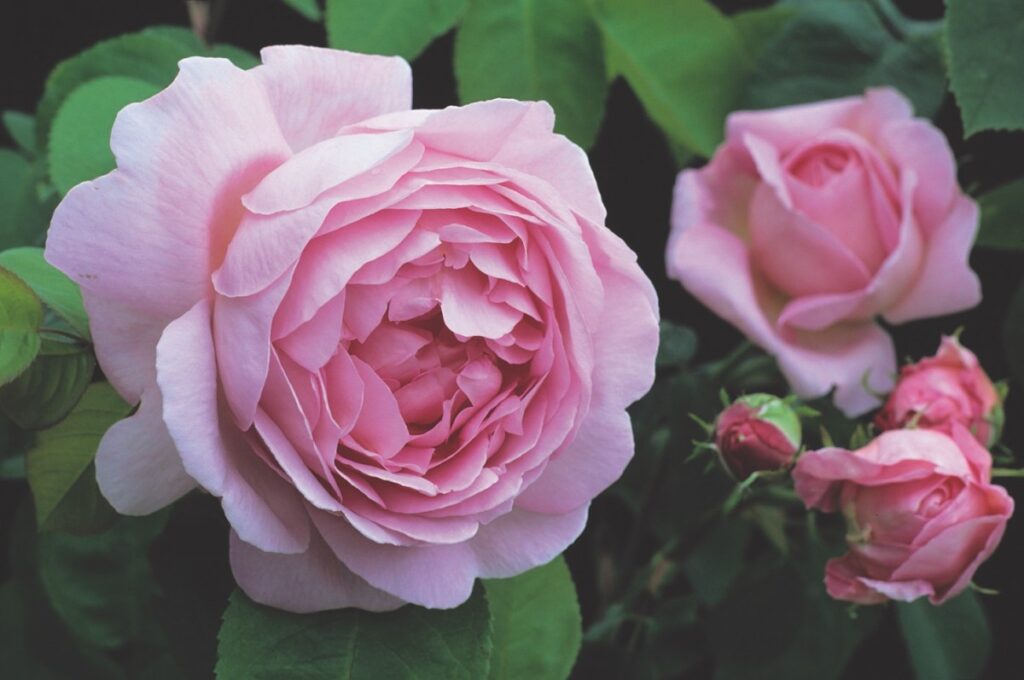 And while you may not have heard of Constance Spry, she is fondly remembered by artists and designers still today. London Flower School features her life story on its website, and one of its courses is dedicated to her influence: "Inspired by Constance Spry."
I like to think that she would highly approve of the bouquet I got delivered just today 🙂
More women's history fun:
Mary Titcomb: service through books
American Heiresses of the Gilded Age