Because I know so many of our customers love costuming, I have wanted to write a post on the early history of sewing patterns for a while now. Little did I know that the printed pattern industry can be traced back to the innovations of a forward-thinking activist who stood at the top of a fashion empire for much of the Victorian era. This is a look at the life and career of Ellen Demorest.
Ellen's fashion emporium: the start of a fashion empire

Ellen had fashion in her blood. She was born Ellen Curtis in 1824 to a successful father who owned a men's hat factory. Ellen must have known from a very early age that she wanted to have a career and that she wanted to always be surrounded by fashion as she opened up her own shop at age 18. She began business in her hometown of Schuylerville, NY but as popularity grew she moved Ellen's Fashion Emporium to the big city.

Legend has it that one day in the 1850s she saw her maid cutting a dress using a pattern cut from brown paper. Ellen began to think about how producing such patterns on a mass scale would allow fashion to become more accessible to women and families (one of her first known patterns was a boy's outfit) and set out to bring them to her shop.

This innovative spirit was mixed with two other factors around the same time. First, she married a supportive and creative businessman named William Demorest. The two would work together to grow an internationally known brand but not before Ellen began going by "Madame Demorest" and changed the name of her business to Madame Demorest's Fashion Emporium. The use of "Madame" created a French appeal to her products and probably a bit of intrigue as well.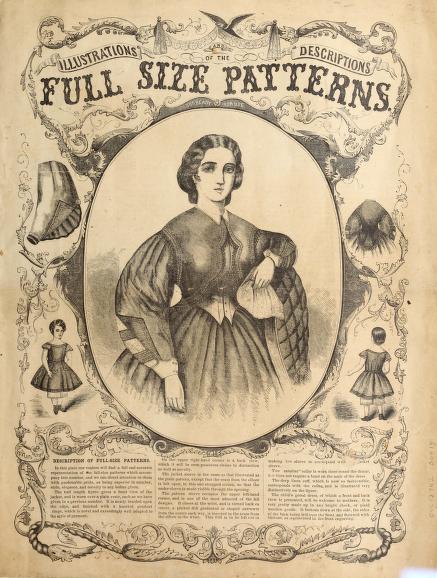 Fashion power couple

It is believed that William was the one who saw the large-scale potential of manufacturing sewing patterns for the public. He worked up a brilliant plan that would place Ellen as one of the top experts in contemporary fashion and therefore create a mass demand for her patterns. The two began publishing Madame Dem­orest's Mir­ror of Fash­ion in 1860. The concept was simply brilliant for its time: Ellen would write articles about current fashions and how to wear them, while also including patterns for the articles of clothing described.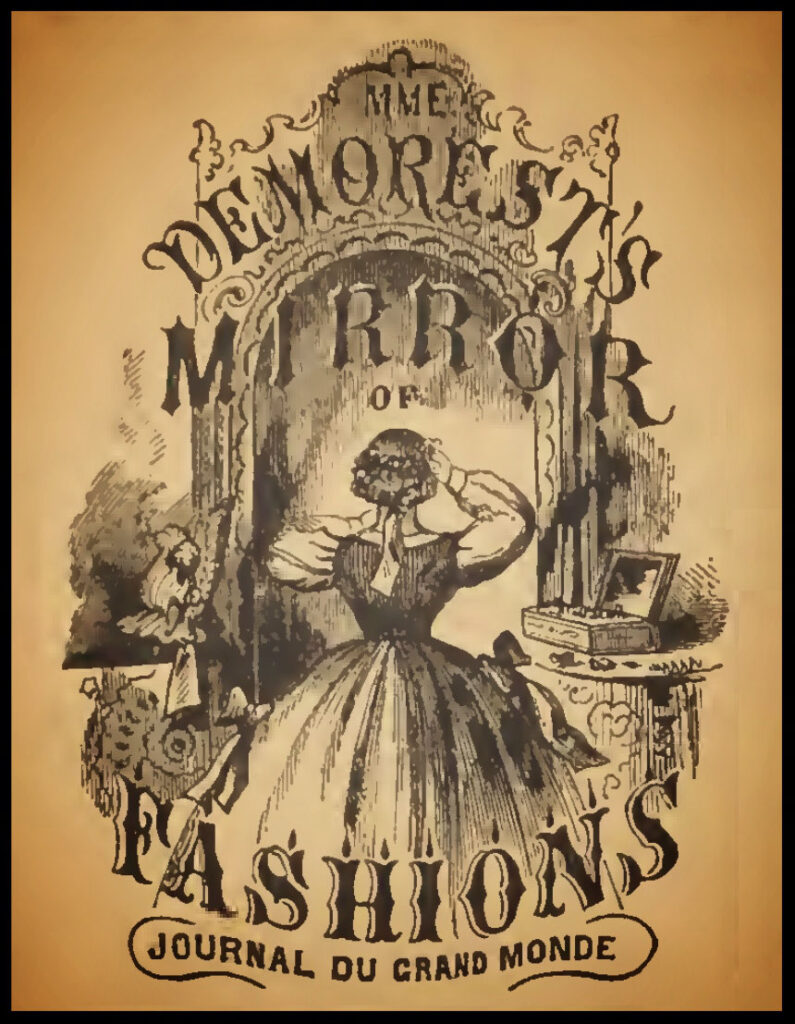 As we have seen in other posts, women's magazines were ALL the rage in the mid to late 1800s. This trend, combined with Ellen's popularity and the appeal of obtaining patterns to make your own stylish clothes allowed it to become a best seller.

Madame Dem­orest's Mir­ror of Fash­ion was so successful that Ellen and William started another publication, Demorest's Monthly Magazine and multiple editions of What to Wear and How to Make It. I have been thrilled to find digital archives of each publication and will look forward to using them as references moving forward as a fashion history blogger.
Ellen becomes the brand: Demorest merchandise

The couple didn't stop at fashion magazines and the growing notoriety of the shop. Similar to the way that many celebrities today become their own brand and begin producing products, the couple dove into merchandise using Ellen as the face of the brand. The products were, of course, advertised in the magazines and further helped with establishing her as a fashion icon.

Some of the Madame Demorest products included:
Corsets (and corset patterns, of course)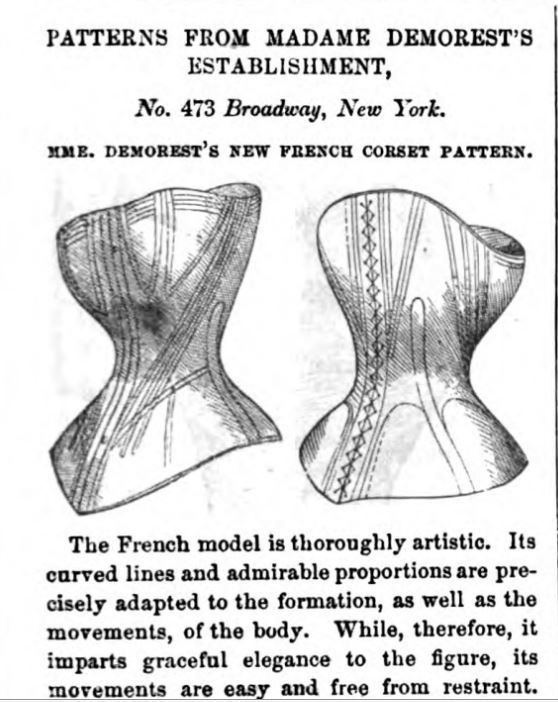 Sewing machines (and interestingly, bicycles)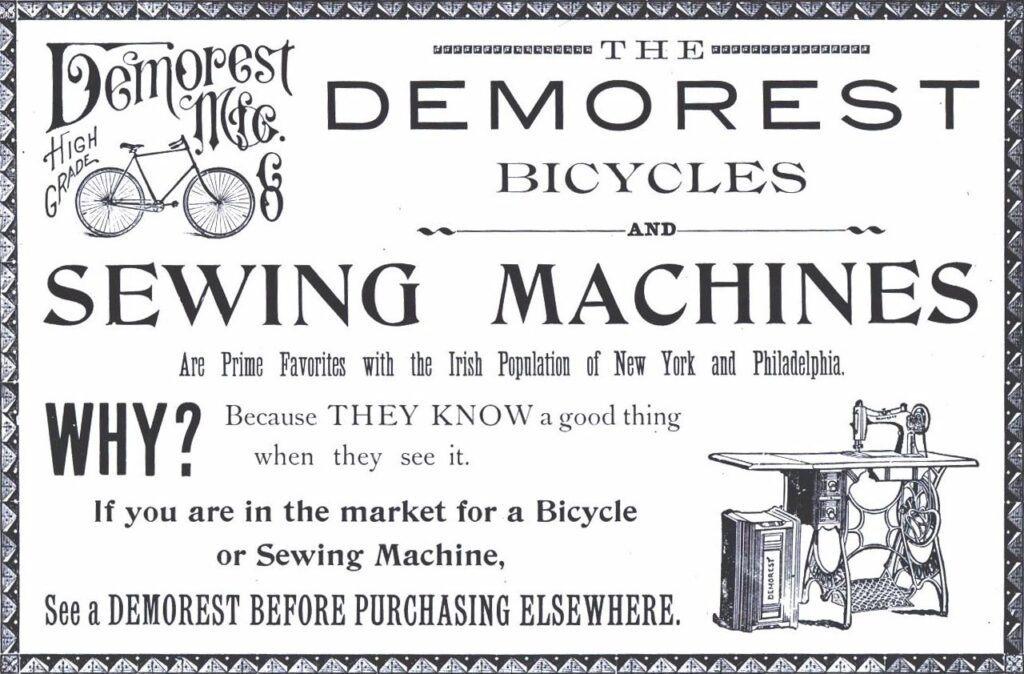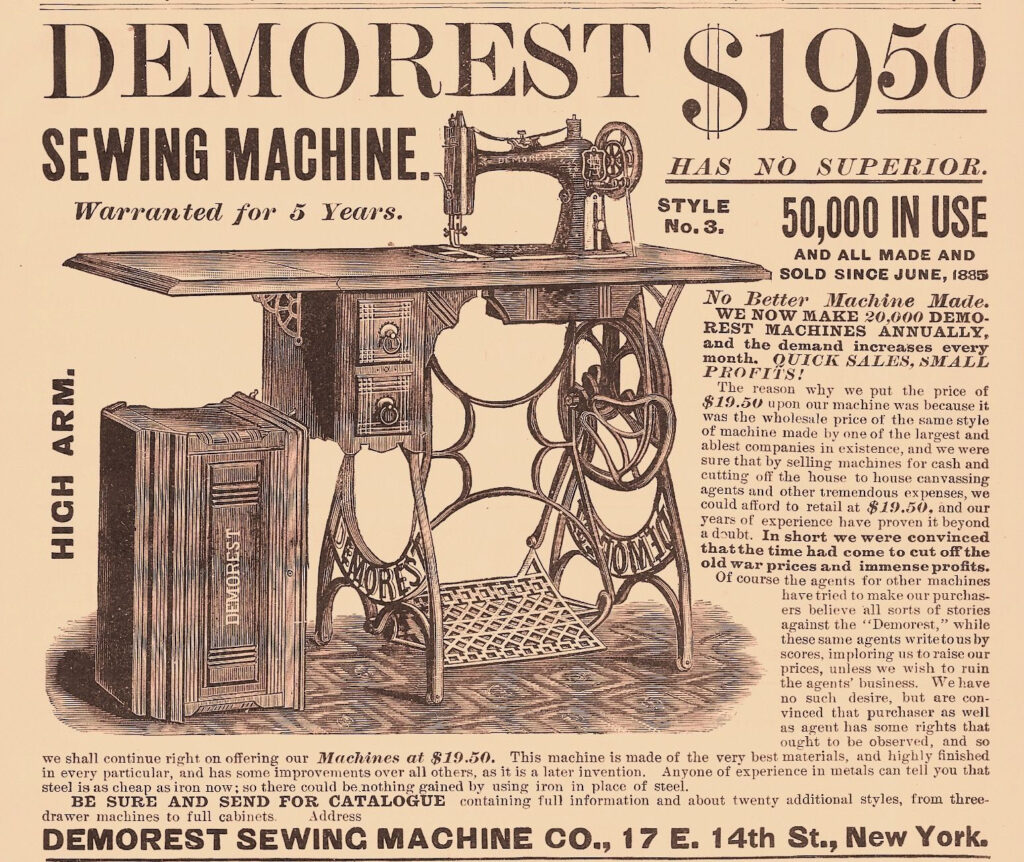 Perfume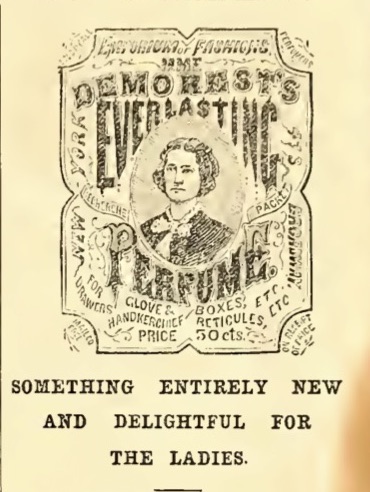 Adjustable and comfortable hoop skirts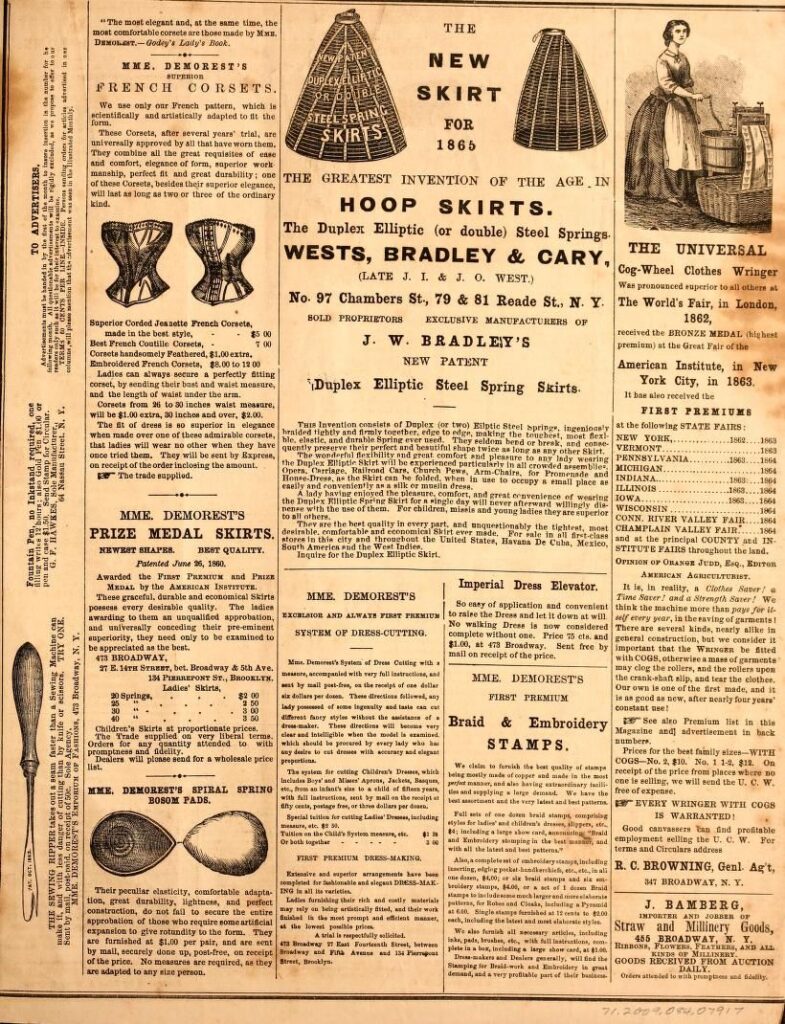 "Spiral spring bosom pads" (pictured in the above advertisement)

"Lilly Bloom for the Complexion"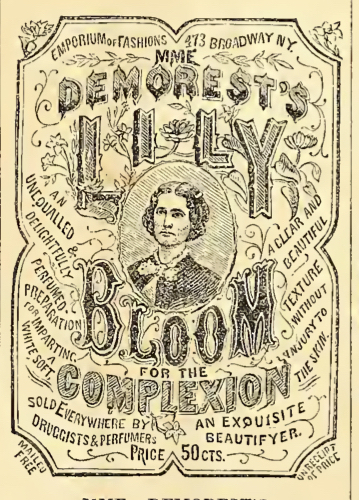 Ellen Demorest takes on the world

As Ellen's star continued to rise she was involved in many international fashion events of note. One was the Philadelphia Cenntineal Exhibition of 1876 where she was featured in the main building. A huge honor for such a large event. The exhibition displayed several of her designs as well as a huge cabinet of her patterns. I came across many references to her participation in this event and nearly fell out of my seat when I came across a large photograph of the exhibit.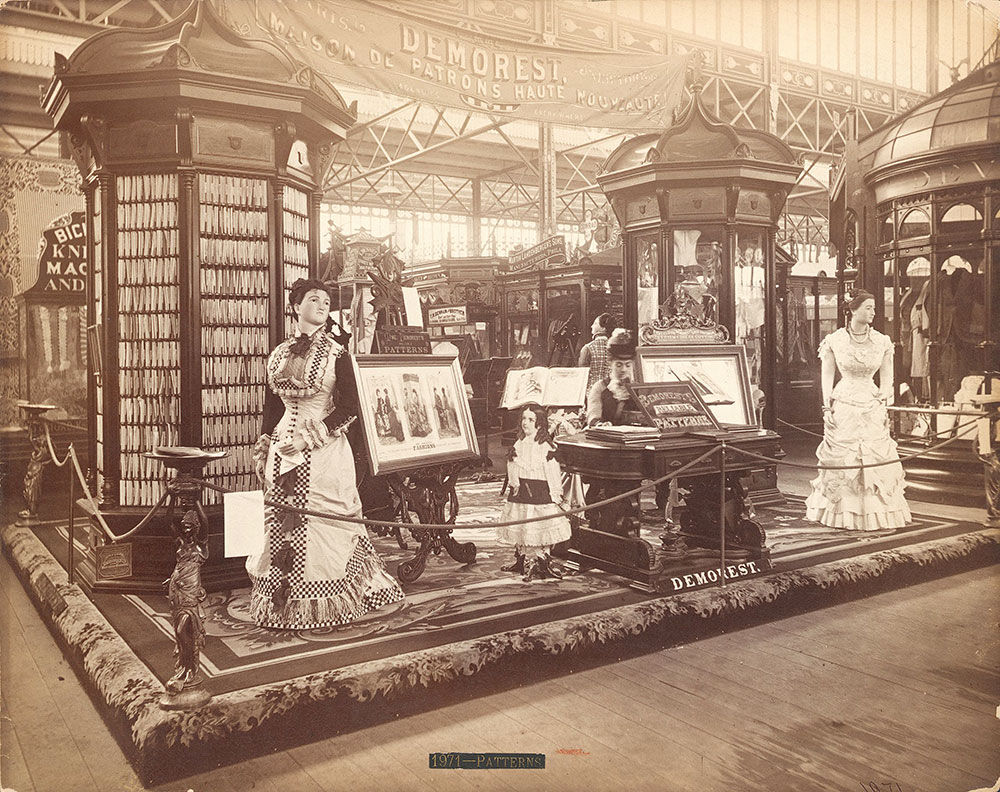 Isn't it divine?

The other international event that I saw referenced over and over again was her commission to design "Mrs. Stratton's Wedding Trousseau." Apparently, when P.T. Barnum performers Lavinia Warren and Charles Stratton were married in 1863 it was a massive event of international interest that would challenge today's royal weddings in scale and interest. The couple was hosted in President Lincoln's home and went on a European tour that was covered by the international press. So you can imagine what a big deal it was that Madame Demorest was commissioned to design the bridal trousseau for Lavina. Here are some photos I found of the beautiful clothing.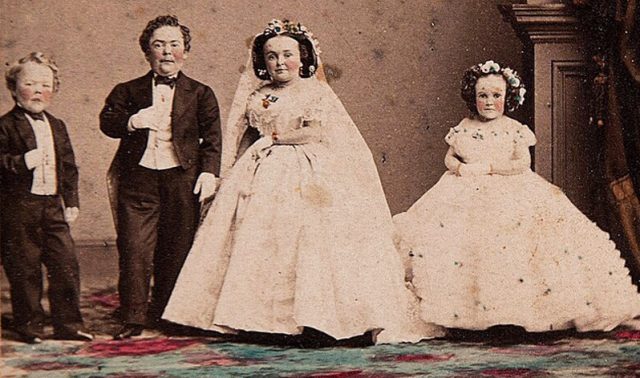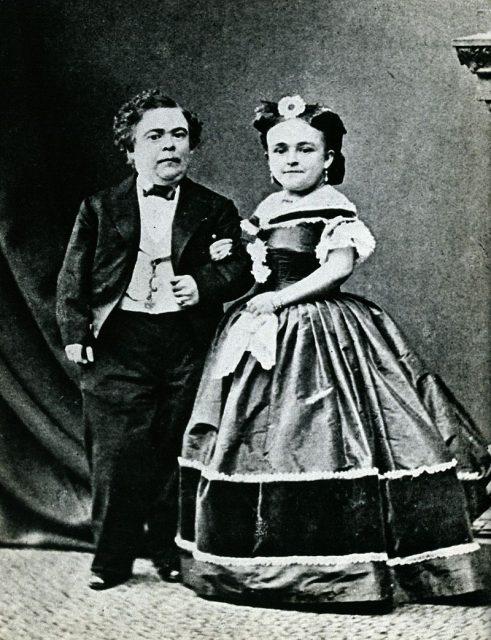 Madame Demorest steps aside

I prefer to focus on Ellen's impressive career rather than the end of it, but it is worth noting that the Demorest couple did end up closing their business in 1887 due largely to the rise of a fellow pattern maker who you may be familiar with, Ebenezer Butterick. Everything I have read on the topic says that despite his innovative spirit, William had failed to take out patents for their products and became unable to compete with Butterick.

But while the two left the industry, they used their retirement to work for social causes, William being passionate about temperance and Ellen women's rights. For a woman who was able to use her own privilege to build a life with few limits, I think it is a noble way to shift gears in life.
More women's history fashion fun:
Godey's Lady's Book: what you didn't know