Last week we covered the bathing machine and how women in prim and proper Victorian Europe and America enjoyed a day at the beach. The demise of the bathing machine led to the quick transition to co-ed sunbathing as more women demanded more public space. Opening up the shores to women was followed by more comfortable swimwear and more women participating in water sports. This evolution continued and today synchronized swimming is a popular Olympic sport. But first, three audacious women would toss out the rule book and publicly create a new arena for their sex. Synchronized swimming and performance wouldn't look the way they do today without the pioneering lives of Annette Kellerman, Katherine Curtis, and Esther Williams.

Before 1907
At the beginning of the 20th century, some women performed stunts in water. Several European circuses featured large pools set up as permanent installations large enough for small rowboats and plenty of water acrobats. Diving, performing tricks such as swimming with bound arms, and performing somersaults in the water were popular acts.

Meanwhile, some high-end British nightclubs also featured women performing "water ballet" in built-in pools or aquariums. Such entertainment was considered extremely risque and far too avant-garde for the American audience. That is until an Australian swimmer named Annette Kellerman came to town.

Annette Kellerman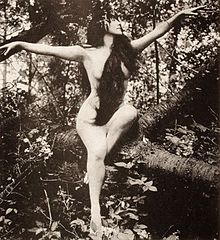 Born with supposedly "weak" legs, Annette Kellerman was prescribed a combination of braces and swimming to help improve her condition. She took to the water and found her calling. By age 15 she had begun winning swim competitions and diving as performance art. Her love of the water was well-rounded and she does not appear to have favored one area over another. In 1905 she became the first woman to attempt to swim across the English Channel, and just two years later she became world-famous for being the first woman to perform in a giant fish tank.

This fish tank was found on the stage of the New York Hippodrome, a popular city night club thought at the time to be the largest in the world, seating over 5,000 people. By this time Annette had started to focus on underwater choreography, similar to what Isadora Duncan was doing above ground. You can see a stunning film of one such performance below.
Annette made a literal splash when she hit the New York City stage. It wasn't long before she was diving and performing on the big screen, coming to be known as the Million Dollar Mermaid. Some of her films were adventure films that included water-related scenes, though some were what she called "fairytale films," and focused on the act of the water dancing itself. This career would bring her two more "firsts" to add to her shelf: the first actress to perform on stage in a mermaid costume and the first headlining actress to appear nude on film. The film, A Daughter of the Gods, is still considered groundbreaking today.

Katherine Curtis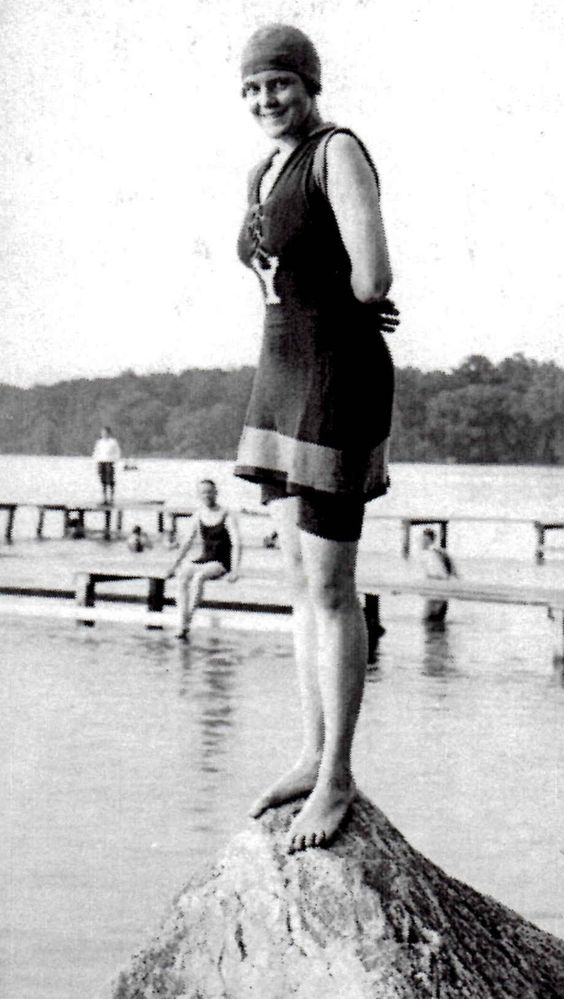 As Annette Kellerman was in the height of her acting career, Madison, Wisconsin was watching its own star swimmer rise to fame. Born in 1897, Katherine Curtis was always athletic and was quick to enjoy time in the water as the tides turned in favor of women's liberation. In 1912 she became known locally when she successfully swam three and a half miles across Lake Mendota. If you have any questions on Annette Kellerman's influence on the young girl consider the following. When local papers reported on her accomplishment, they referred to her as a "youthful Annette Kellerman."

Before landing on a career, Katherine worked many jobs related to sports education including PE instructor and swim coach in half a dozen different states. While she would eventually land on a career with the Red Cross, she stopped along the way for a 15-year role with Chicago Public Schools. It was there that she experimented with various standard strokes and techniques set to music that she would become known as "synchronized swimming."

Just like Annette Kellerman, once Katherine figured out that she was onto something she went to show the world. She organized the Kay Curtis Modern Mermaids and took her act of 30 college students to perform at no other than the Chicago World Fair in 1933 and 1934.

While the world did take notice of the Modern Mermaids, as America entered World War II Katherine was sent overseas to serve in her role as recreational director for the Red Cross and would spend the next several years in Europe. She took her love of water with her, however, staging performances for troops in Italy. Interestingly enough, I read somewhere that had it not been for her deployment that synchronized swimming may have become a co-ed sport, as Katherine has plans to add male mermaids.

Katherine Curtis has been inducted into the International Swimming Hall of Fame in Florida and was the first person awarded the Helms Synchronized Swimming Hall of Fame Award.

Esther Williams

The International Swimming Hall of Fame's entry on Esther Williams begins with: "No other person is asked or talked about more at the International Swimming Hall of Fame than Esther Williams, the most celebrated swimming, stage and screen star Hollywood has ever seen."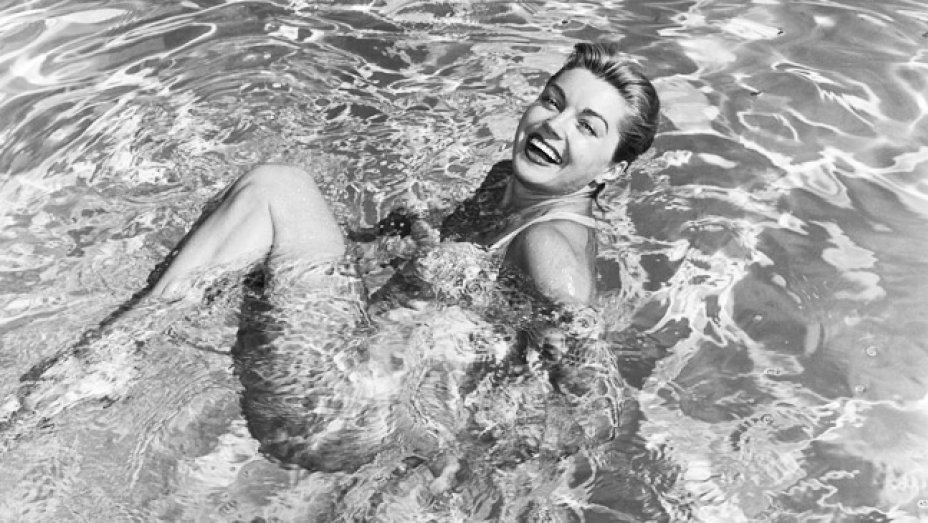 When thinking of any other "swimming and stage stars" I definitely drew a blank!

Esther Williams was a true California gal and spent a lot of time in the water growing up. She was able to benefit from the efforts of Annette Kellerman and Katherine Curtis, as by 1939 competitive swimming for women had become more common and she was right in its midst. While it is said that World War II ruined her hopes of becoming an Olympic athlete, it also gave her the chance to be discovered as a performer. In 1940 she was hired as the star of the show in the popular San Francisco Aquacade, a groundbreaking outdoor theatre dance and water ballet extravaganza. It was here that she would be discovered by MGM Studios.

Esther was an immediate success. Her first leading film was with no other than Mickey Rooney in Andy Hardy's Double Life. Shortly after she would also become a "first" when she starred in Hollywood's first "swimming" movie, Bathing Beauty. This film like none that had ever come before it. I was able to find some of the water scenes in the video below, and still today, they are absolutely stunning! The film was number two in the box office in 1944.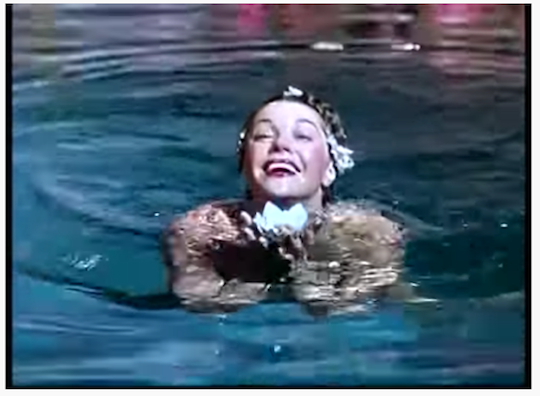 Guess what big thing would come next? Esther played none other than Annette Kellerman in the film Million Dollar Mermaid. The film depicted the daring life of Annette Kellerman, focusing especially on her arrest in Boston for wearing a one-piece bathing suit, a story she liked to tell in real life.

In 1953 Esther was still going strong. She continued to star in films and was voted the "Most Popular Actress in 50 States" by the Foreign Press. When her film career came to a close she entered the business world, investing in and starting several successful enterprises, including multiple lines of swimwear and above ground pools.
Thank you, Annette, Katherine, and Esther!

Today, synchronized swimming is going strong. Mermaid costumes for actual use are extremely common and female entertainers acting as mermaids are bigger than ever before. Women are fully integrated into other competitive water sports. But it wasn't always this way. Someone had to go first. And back when these three women pursued their talents and passions, there were few examples of others who had done it successfully, and they truly had to pave, or splash, their own path. Let's remember them this summer when we get into the water in whatever type of bathing suit we choose to wear.
Do these stories have you wanting to get in the water? Check out our line of vintage-inspired swimwear here.