1. She took up swimming to strengthen her legs.
Annette Kellerman (sometimes spelled Kellermann) was born in Sydney, Australia, on 6 July 1886. Her legs were very weakened by rickets as a young child so she wore painful steel braces to help strengthen them. At age six, her parents enrolled in swimming classes to further strengthen her legs.
"My braces came off when I was seven and I was made to swim. At first I was terrified of the water." – The Original Mermaid
2. She set records as a competitive swimmer.
Her legs were nearly normal by the age of 13. By 15, she'd mastered all the swimming strokes. She also was a skilled diver. She began her competitive career at age 16 in 1902. She set records while winning the ladies' 100-yard and mile championships of New South Wales. She and her father traveled to England where she made her first attempt to cross the English Channel in 1905. Although her attempt was unsuccessful, she set a record in covering three-quarters of the distance in 10 ½ hours. Her record for swimming underwater was 3 minutes, 27 seconds. She had no qualms about competing against men and was often victorious when racing them.
3. She was a natural-born performer.
In addition to competitive swimming, she gave swimming and diving demonstrations. She was a mermaid at Princess Court entertainment center in Melbourne. She also swam with the fish at the Exhibition Aquarium. She also dove from spectacular heights at the Melbourne Theatre in a scene from The Breaking of the Drought.
4. She popularized what was to become synchronized swimming by performed in the first water ballet.
It took place at the New York Hippodrome in 1907. Her underwater artistry inspired Isadora Duncan's modern dance style. (Australia.gov.au)
5. She changed the way we view swimming by changing what we wear to swim!
Swimming was not an 'in' thing during the Victorian and much of the Edwardian eras. Most people could not swim (including sailors) and what passed as a swimming suit for women was more like an anchor than something one would wear when venturing into the ocean. Annette Kellerman changed that.
She singlehandedly took on societal decorum by creating and appearing in a one-piece fitted swimming suit on Revere Beach in Boston, Massachusetts. The suit bared her arms and legs and she was arrested for indecency. She recalled the 1907 incident in a 1953 article with the Boston Sunday Globe. "…the judge was quite nice and allowed me to wear the suit if I would wear a full-length cape to the water's edge."In the same article, she is credited with changing what was acceptable for women to wear to the beach or pool.
The Kellerman bathing suit is credited as a … 'symbol and fact of a new freedom for women.' She designed and manufactured the Kellerman bathing suit to a wide market. She felt its acceptance was her greatest achievement as it celebrated the natural form of women and made a statement that the "unadorned body was beautiful in itself, to be boldly displayed and admired." (Australia.gov.au)
6. She influenced 1920s fashion.
In addition to her line of swimwear, Kellermann designed and marketed a 'shirtdress.' It was an ankle-length, loose-fitting garment that was a forerunner of early 1920s fashion.
7. She was the first major actress to do a nude scene.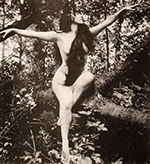 After a career in vaudeville where she was a headliner billed as the 'Australian Mermaid' and 'Diving Venus,' Kellermann became started a career in Hollywood in 1909. Her films had aquatic themes. Her first film was 'Neptune's Daughter' (1914) which was later remade by Esther Williams, another famous female swimmer. Williams also appeared as Kellermann in the biopic 'Million Dollar Mermaid' in 1952. Her most controversial film was 'A Daughter of the Gods,' in which she appeared nude. The surviving publicity shots show her long locks strategically placed over certain parts of her body. Her final film was Venus of the South Seas in 1924.
8. She was regarded as 'The Perfect Woman.'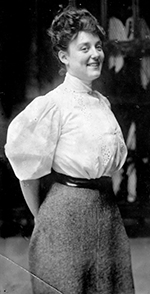 In 1908, Harvard professor, Dr. Dudley Sargent, compared thousands of women's measurements to those of his epitome of womanhood, the Venus de Milo. Their measurements paled in comparison to Kellermann's, which were a perfect match.
9. She was a writer and lecturer who was a pioneer in modern health and exercise.
During the 1920s, she championed exercise routines and breathing and relaxation techniques. She wrote articles and books, appeared in educational films, and toured America and Europe advocating exercise and health. (Australia.gov.au) She also wrote two books, How to Swim (1918) and Physical Beauty: How to Keep It (1919)
10. She was a lifelong vegetarian and teetotaler.
As her film career was ending, she opened a health food store in San Diego. She also established a chain of health spas. She actively shared her good health habits with the general public.
11. She proposed to her husband.
She proposed to her manager, James R. Sullivan in 1912. The couple married the same year. She described him as a great friend and 'best husband a woman ever had.' The marriage lasted until their deaths, six days apart, in November 1975.
Please take a moment to visit our line of vintage bathing suits.
Resources and More Information
Annette Kellerman – the modern swimmer for modern women
Heroes of swimming: Annette Kellerman
Kellermann, Annette Marie Sarah (1886-1975)
This woman's one-piece bathing suit got her arrested in 1907