Last week we took a look at three modern mermaids and their audacity that helped pave the way for us to frolic on the beach today. One of these women was Annette Kellerman, the famous water ballerina. Another was Esther Williams, who would play Kellerman in the biopic about her life. Million Dollar Mermaid covers Kellerman's rise to fame and the daring strokes she took to get there, including wearing a revealing one-piece bathing suit on public beaches. Kellerman loved to tell the story of being arrested in Boston in 1908 for appearing in the suit, being quickly arrested. One of the primary plotlines in Million Dollar Mermaid covers the arrest and the trial.

While the film is of course a fictional portrayal, one part of the quirky story that is true is that swimsuit police really did roam popular beaches during the early 1900s, and women really did face various penalties for being scantily clad. Was there swimsuit police on your favorite beach? Let's find out!

Annette Kellerman and the one-piece bathing suit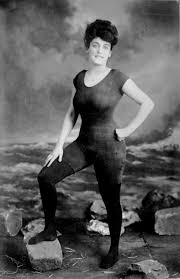 As we covered last week, Annette Kellerman began swimming at a young age, and this love would turn into a career that would make her an international celebrity. The story, often told by Kellerman, is that as she became a competitive swimmer she constructed a piece conducive to moving freely in the water. It apparently wasn't very shocking in Australia and other places where she competed, but when she arrived in Boston in 1908 for a match, it was a different story. Wearing a "one-piece" suit that hugged her body and came to her knees, she appeared so indecent that she was arrested. When the judge let her go, she was told to keep a cape around her until she entered the water.

The Swimsuit Police to The Rescue!

As swimming and physical activity became more popular in the 1900s, many had a hard time adjusting to seeing female flesh. Many local laws were quickly put into place and the female body was legislated. Some police were given permission to send women home or ask them to cover up if they were showing too much leg, while other local governments hired "beach censors" to patrol the shores and deal with immodesty.

Kellerman's arrest and continued rise in popularity sent many reeling. Swimming and beachgoing continued to increase in popularity, and many Americans had a hard time adjusting to seeing female flesh in public. Local laws were put into place and task forces were organized to legislate the female form. "Beach censors" were hired by waterfront towns to enforce local regulations, and they took their position seriously. Here are some of my favorite stories of the swimsuit police.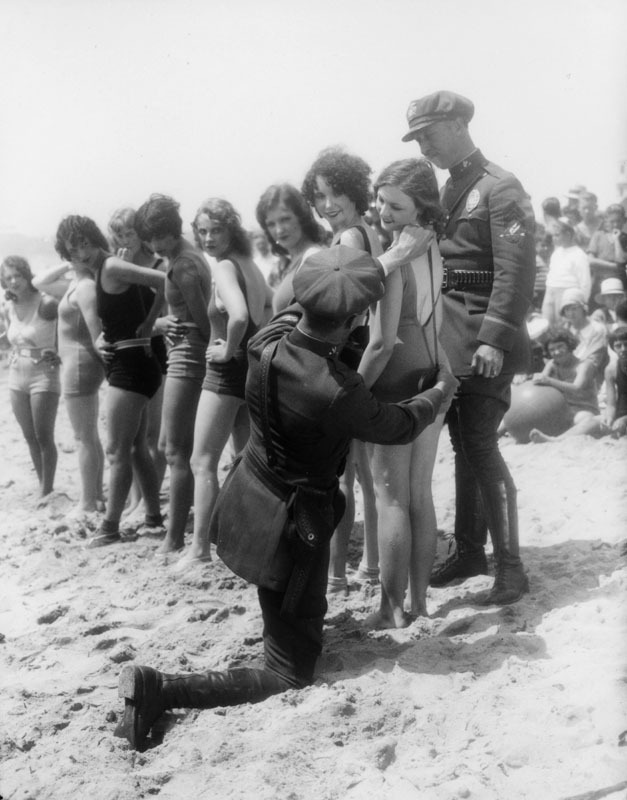 Washington DC
Washington DC is the location where one of the most famous photographs taken of the swimsuit police took place, seen at the top of the post. The photograph is said to have been taken the day after the Superintendent of Public Buildings and Grounds issued an order mandating that swimwear could not be shorter than six inches above the knee. The photograph is of swimsuit cop Bill Norton diligently going about his job. 
New Jersey
On June 18, 1923, an Atlantic City ban went into effect stating that one-piece bathing suits and bare legs, on women, were banned. 50 women were asked to leave the beach, and 2 of them tried to flee.
The tides, so to speak, seemed to turn quickly on the New Jersey beaches. In 1926 a judge refused to make judgments about swimsuits stating: "I do not believe in legislating beach-front attire."
It is not surprising that regulating fashionable swimwear would have been a problem in New Jersey, especially in Atlantic City, a major summer destination at the time. Below is a photograph of the attempts (don't the women look pleased with themselves?).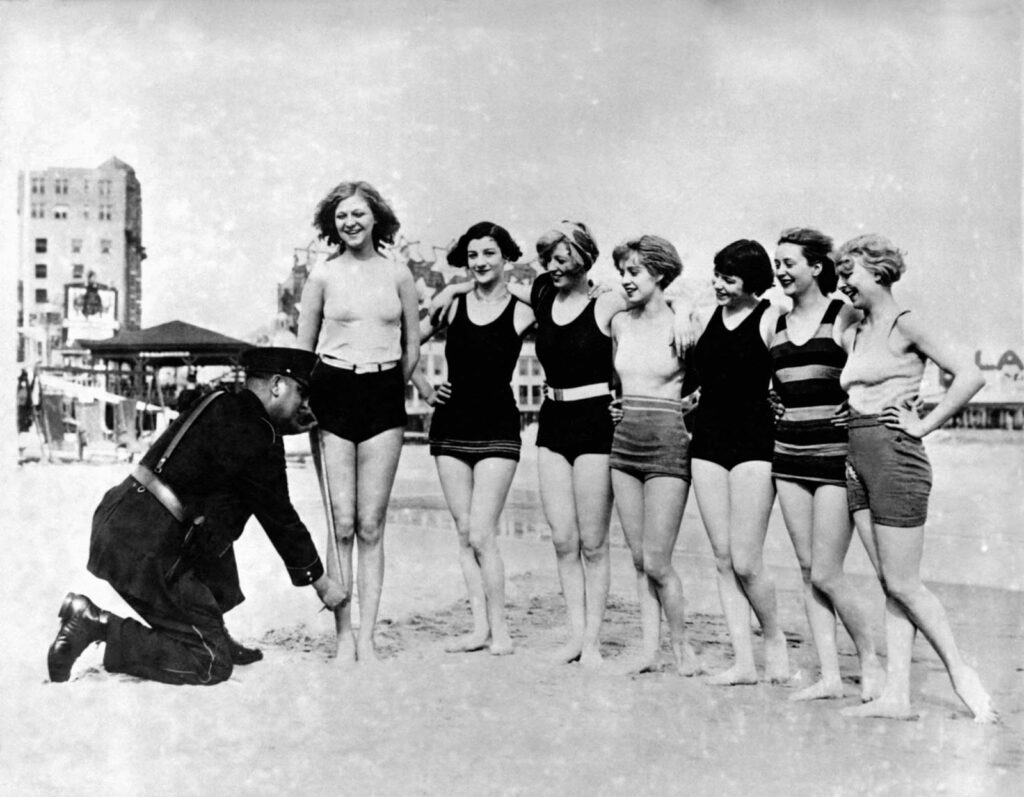 Coney Island
In the early 1920s Coney Island took great measures to preserve the decency of its beaches. A May 30, 1920 article states that 15 undercover officers, men and women, were used during the busy holiday weekend to patrol beaches in search of bare legs. If caught, beachgoers were asked to change or threatened with arrest. The article states that out of all of the people who dared to bare, all opted to change rather than be penalized.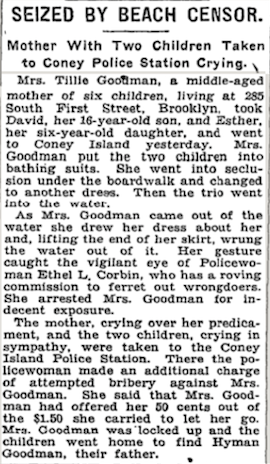 Coney Island kept up the effort for several years. In the most shocking article that I read, a mother visiting the beach with her two children in 1926 was hauled into jail after beach censor Ethel Corbin caught her lifting up her bathing dress to "ring it out." In tears, she was transported with the children to face the music. By the time they reached the jail she also had the charge of bribery added to her offenses, as she had been so horrified about being taken to jail with the children that she had offered Corbin cash to be let go. Her husband arrived to pick up the children and the mother was forced to face a judge.
Chicago
Several sources point to the hiring of a "beach tailor" employed by a Chicago municipality in the early 1920s. Her role was to work with the beach censors to modify swimsuits that were deemed inappropriate. She was said to pay particular attention to armholes and to the length of bathing skirts.
Chicago's constable was adamant about the importance of such measures. "If it had not been for the unsympathizing policewomen on duty our city's beaches would have looked like a second Garden of Eden. No sir, we are not leaving anything to conscience this year." Below is a photo of a woman being arrested during the anti-Garden of Eden days.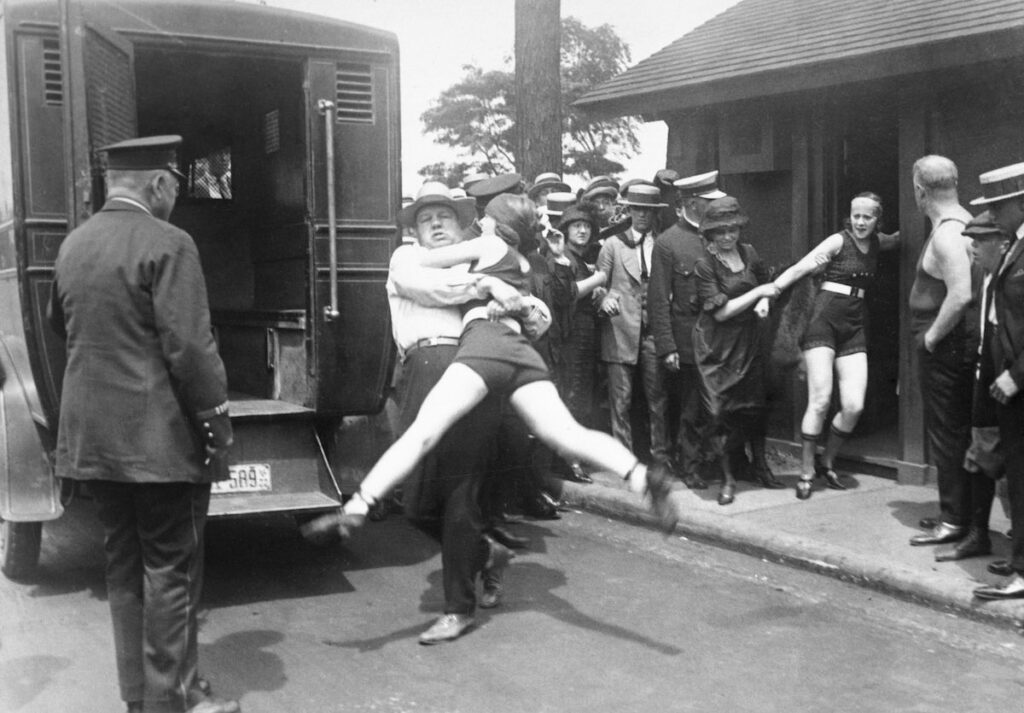 Palm Beach
And now for my favorite story of swimsuit policing of all. On January 5, 1925, the New York Times reported that the newly appointed official beach censor of the town was ordered to ban white and flesh-colored stockings from the beach and to "enforce the rules rigidly and to banish from the beach, if necessary, any violators."
The beach censor, Arthur Throop, left nothing to chance. When he showed up for work the first time after the mandate, he had with him a chart that contained "every conceivable shade that hosiery experts have judged to come under the heading of "flesh-colored."
What I wouldn't give to take a look at that chart!
Fashion prevails
There would be no stopping the train when it came to the evolution of women's swimwear. With fewer public officials concerned about allocating resources to enforce dress codes and women refusing to reverse course, swimsuit police failed to be as rigorous, and from what I can tell, beach censors stopped being employed.
Of course, the invention of the bikini a few decades later would throw the entire issue into question again, but that is a topic for another post.
Check out our special collection of vintage-inspired swimwear here.