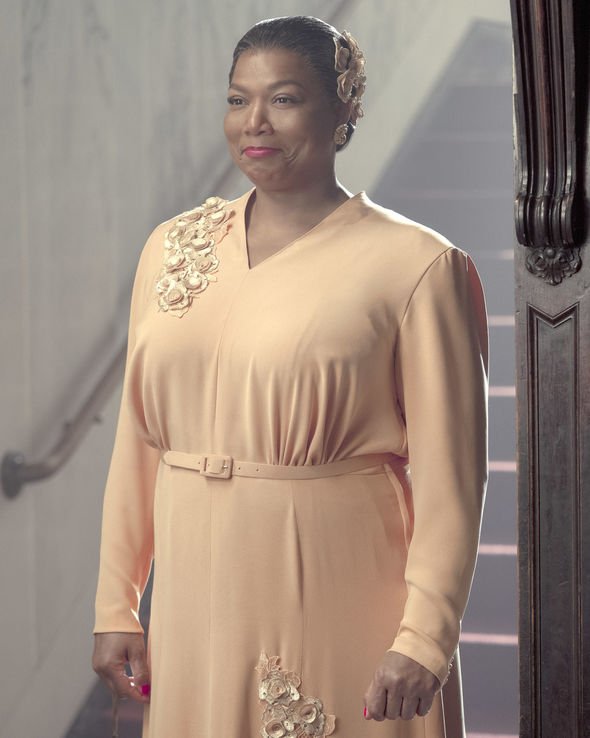 If you haven't already seen the Netflix miniseries Hollywood, I strongly recommend binging it this weekend. It is a retelling of the "golden age" of Hollywood that seeks to imagine how things could have been different if it had started off on the right foot in regards to the racism and homophobia that would plague the industry for many decades to come (if not still today). It includes some storylines with real-life historical figures, such as a brief portrayal of Hattie McDaniel played by Queen Latifa. Because I think we should continue to highlight stories of how African Americans have shaped the history and culture of this country and because last Tuesday would have been the birthday of this Academy Award-winning actress, I decided to highlight some of her many accomplishments. It is my hope that she will continue to be celebrated for her life and work.

Early Life
Hattie McDaniel's story is a beautiful one of overcoming being born into challenging circumstances. She was born in Kansas the youngest of 13 children to parents who were both freed slaves. Her father fought as a Union soldier in the Civil War. The family moved to Denver in 1900 and it was there that a love for entertaining began to grow with many of the McDaniel children. Several of the siblings would have careers as actors, including her brother Otis who started a minstrel show that Hattie and her sister Etta performed in. Hattie was even known to do a "white face" routine, considered very daring for the time.

In the 1920s Hattie launched a radio career that she would enjoy for the rest of her life. While she began with a local Denver station, she quickly made her way to Chicago to record songs for Paramount Records and other labels. All this would come to a halt by the end of the 20s, however, as the financial state of American started to crumble and she found herself working as a dishwasher in a Milwaukee nightclub.

One thing that I believe McDaniel was born with is a lot of GRIT. She convinced the owner of the nightclub to put her on stage and before long she was one of the regular performers. Her star would continue to rise from that point on.

Hattie McDaniel's Early Film Career
The 1930s was an extraordinary time for Hollywood, with the public devouring the new form of entertainment and studios cranking out films at rapid speeds. McDaniel saw the opportunity and went for it, appearing in The Golden West in 1932. In 1933 she appeared in I'm No Angel with Mae West.

In both films, McDaniel would play a maid, one of the few parts available to people of color at the time. Unfortunately, this would be a role that would be hard for her to escape due to the prevailing racism in America and in Hollywood and the lack of roles for Black actors. Of the roughly 300 films she appeared in, at least 90 of them would be portraying a domestic worker.

Despite the lack of attractive roles, McDaniel was well respected, was considered a valuable studio asset, and was close friends with many top celebrities. It is famously remembered that Clark Gable was a part of her inner circle, often seen at her notorious house parties. Legend has it that either Gable or Bing Crosby persuaded David Selznick to cast her in the role of Mammy in Gone With the Wind.

Gone With the Wind
Most readers will be familiar with McDaniel's portrayal of the hard-working and opinionated Mammy in 1939's Gone With the Wind. While she may have been recommended for the role, it was nevertheless a tribute to her skill as an actor that she was awarded it, as it is said that the competition for Mammy was second only to that of Scarlett O'Hara herself. In what may or may not be a great Hollywood story, Eleanor Roosevelt lobbied for her own maid to play the part (I have not been able to find a primary source for this).

And the Award Goes To…
Gone With the Wind was an Oscar contender from the moment it was released. Critics raved about the female on-screen talent, and despite the fact that no African American had ever been nominated for an Oscar, David Selznick had no choice but to put McDaniel up for the award.

The Academy Awards were a little different back then, with the winners often being informed ahead of time due to leaks of information of various types. McDaniel and her presenter were aware that she would be given the award. The presenter, Fay Bainter, said when presenting that it "opens the doors of this world, moves back the walls, and enables us to embrace the whole of America." McDaniel, the daughter of two former slaves, had won the highest honor available to a film actor.

It is hard to comprehend that this Academy Award winner had to get up from her seat in the "black" section of the auditorium to accept her prize. Held at the segregated Coconut Grove Hotel, she wasn't permitted to sit with the rest of the GWTW cast. She would not let them take her dignity, however. In her speech, she said "It has made me feel very, very humble and I shall always hold it as a beacon for anything I may be able to do in the future. I sincerely hope I shall always be a credit to my race and to the motion picture industry. My heart is too full to tell you just how I feel." She was so overcome with emotion that she could not finish and walked away in tears.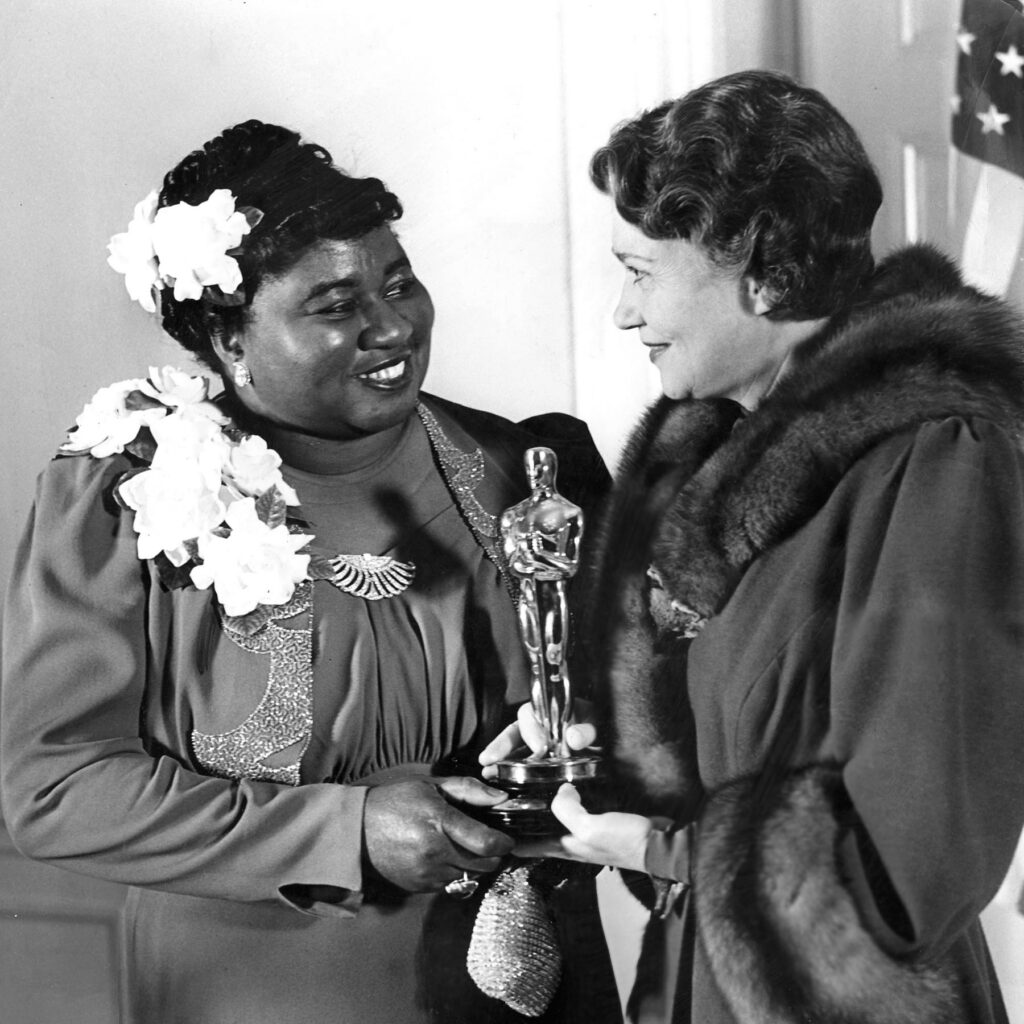 While a lot of the emphasis in articles I read tends to lean on the fact that after leaving her Oscar to Howard University it was lost, I prefer that the focus is on the fact that she was given the award in the first place. Another African American would not win an Oscar award for acting for another 24 years, and since then only 11 have. One of these actors, Monique, would pay tribute to McDaniel when receiving the Oscar for best actress in the film Precious.

Criticism
McDaniel's race was always front and center. When she appeared with Clark Gable in China Moon, for instance, she was announced as "one of the most prominent performers of her race." I can't imagine what the constant reference to her "otherness" must have been like, but I am sure it wasn't as fun to be Hattie McDaniel in 1930s Hollywood as it would be for her today. I am also sure that putting on apron after apron and playing a maid despite her talent and range was frustrating.

Nevertheless, she kept at it. She seems to have had an almost inexhaustible drive to perform, appearing in roughly 300 films in just 12 years (this number varies according to the source).

Yet at every turn, she encountered criticism. Civil rights activists, for instance, took note of her roles and the way that they portrayed African Americans as silly, simple, and one dimensional. The NAACP called on her to refuse such parts and still today, scholars debate the impact such roles have had on the American consciousness. Hattie McDaniel loved to act and nothing would stop her, however. When faced with the criticism about her professional choices she is famously known to have said "I would rather earn $700 a week playing a maid than $7 a week being one."

Legacy
It is wonderful to see Hattie McDaniel's legacy being remembered and celebrated. While her will stated that she wanted to be buried in the Hollywood Forever cemetery, the owners at the time refused to allow it due to her skin color. New ownership attempted to rectify the mistake in 1999, and when the family chose to have her remain resting in the Rosedale Cemetry, a cenotaph was built in her honor. It is currently one of the most visited attractions in Hollywood.

McDaniel also has two different stars on the Hollywood Walk of Fame. One is for her contributions to radio, found on Hollywood Boulevard and one is for her work in film, found on Vine Street. If anyone has photos I would love to see them!

In 2010 she was inducted into the Colorado Women's Hall of Fame. As a current resident, this is especially satisfying.

While these monuments are important tributes, what warms my heart the most is simply that Hattie McDaniel is remembered. Black actors still consider her to have paved the way. I even read that a biopic of her life may be made at some point (fingers crossed!). Something tells me that she won't be forgotten any time soon, and rightfully so. 

For further reading:
Madam C.J. Walker – entrepreneur, self-made-millionaire, philanthropist, activist
Up on the Big Screen: Civil War Dresses in Gone with the Wind