Who was Lydia Maria Child? Why should we know her name? Well, this fierce activist was one of the bravest women of her time, AND she is a part of each of our holiday celebrations each year. Intrigued? Keep reading to learn about this social justice warrior and add to your holiday conversation starters this year.
A life of passion
Lydia was born Lydia Maria Francis on February 11, 1802, in Medford Massachusetts. Her older brother was a Unitarian minister and passionate about her education, making sure that she studied the classics and developed her talents. This brother would be a huge influence on her life in many ways, also involving her in his social circle which included many famous writers of the time. Between her natural gift as a writer and rubbing elbows with the likes of Ralph Waldo Emerson, Theodore Parker, and Margaret Fuller, she became a passionate artist in her own right.
Lydia was also passionate about social issues and used her pen to spread awareness about white supremacy, abolitionism, women's rights, and Native American rights. Her 1833 book, An Appeal in Favor of that Class of Americans Called Africans, was the first anti-slavery book published in America and called for the immediate end to slavery without any compensation for plantation owners. It labeled her as a radical reformer, a label she would embrace for the rest of her life.
A life of literature
Lydia wrote her first novel in 1824. It was titled Hobomok, a Tale of the Times. The book was set in 17th-century Massachusetts and follows the life of Mary Conant, a young woman who was forbidden by her father to marry her Episcopalian lover. In rebellion against her father, Mary marries Hobomok, a native Pequod. Lydia followed up this book with the novel, The Rebels; or, Boston before the Revolution. This book recounts the events leading up to the Boston Tea Party. In 1826 she published a bi-monthly periodical, Juvenile Miscellany. It was the first periodical for children. Lydia wrote stories and poems for the magazine, too. It also focused on educational literature. Juvenile Miscellany was published for eight years.
One of her most enduring books is The Frugal Housewife, published in 1829.  It speaks to many topics still valid today and is also a comprehensive cookbook of the day.  The Frugal Housewife is available to read for free online.
Lydia Maria Child was one of the most prolific women writers of her day. She was politically outspoken and wrote on many of the important topics of her day. Her political views led to the demise of Juvenile Miscellany, a youth publication on which she supervised publication from 1826-1834.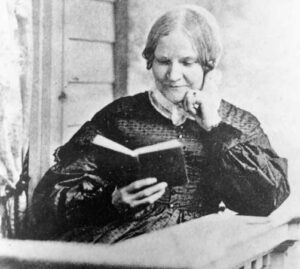 Over the river and through the woods….
This time of year, we remember her for one of her most enduring poems, "Over the River and Through the Wood." It was originally published in 1844 as "The New-England Boy's Song about Thanksgiving Day" in her book Flowers for Children. It celebrates Lydia's childhood memories of visiting her grandparents. Although it is sometimes confused as a Christmas song, it is most definitely a Thanksgiving song (music composer unknown). We also often sing "to grandmother's house we go" but the original words relate to going to grandfather's house.
The house of which she wrote, Grandfather's House (the Paul Curtis House), is located at 114 South Street in Medford, Massachusetts. It was added to the National Register of Historic Places in 1975.
Here is an excerpt from Lydia Maria Child's poem, "Over the River and Through the Woods."
Over the river, and through the wood,
To Grandfather's house we go;
the horse knows the way to carry the sleigh
through the white and drifted snow.
Over the river, and through the wood,
to Grandfather's house away!
We would not stop for doll or top,
for 'tis Thanksgiving Day.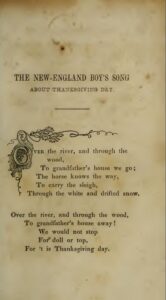 Resources and more information about Lydia Maria Child
American National Biography Online
Read more about our favorite literary women:
Fanny Fern: celebrity journalist
19th-century female writers who should always be remembered
My favorite Anne of Green Gables fun facts
Godey's Lady's Book: what you didn't know