Have you heard of Helen Allingham? You may recognize some of her stunning artwork. Either way, we love highlighting female artists here at Recollections and hope you will love learning about this woman who deserves to be remembered!
Early artist
Helen Allingham was born Helen Mary Elizabeth Paterson on September 26, 1848, in Derbyshire, England. She was a commercial graphic artist and an acclaimed watercolorist. Her maternal grandmother, Sarah Smith Herford, and aunt, Laura Herford, were well-respected artists of their day. It's no wonder that Helen and her younger sister, Caroline Paterson, became accomplished artists.
Helen's natural aptitude was apparent from an early age. She studied art at the Birmingham School of Design. That was followed by study at the National Art Training School in London (now known as the Royal College of Art). Her need to cover expenses while in London led to work as an illustrator. She did so well as a commercial artist that she left her studies to pursue a full-time career.
Helen's high profile work
Helen was one of the founding staff members on The Graphic, an illustrated weekly magazine and she was the only woman on staff when it opened in 1870. Helen also illustrated the 1874 serialization of Far from the Madding Crowd by Thomas Hardy for Cornhill Magazine.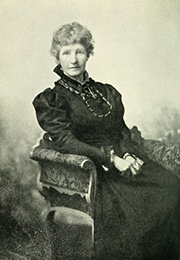 Helen's work was well-received and brought her into the company of many of London's prominent writers and artists. She eventually met and married the renowned Irish poet, William Allingham. They were married on August 22, 1874. The family grew to include two sons and a daughter.
After her marriage, Helen Allingham gave up commercial art for her true artistic passion, watercolors. Two of her paintings were accepted for the Royal Academy Summer Exhibition. Their subsequent sale brought more commissions. She was the first woman to be admitted to full membership of the Royal Watercolor Society.
Capturing rural beauty
Her early work often featured large figures in a landscape. Later her style shifted to smaller figures and rural scenes. She is best known for her paintings of cottages. Helen was inspired to paint them for their beauty and to preserve the architecture of the tiny buildings. The railway and the rising middle class were bringing more people to the country and many cottages became victims of the wrecking ball. Her paintings are still studied by architects for their glimpse into building styles of the past.
Helen Allingham was a prolific painter who worked and exhibited until her death on September 28, 1926. Although she was never wealthy, she lived a comfortable life while pursuing her passion.
Information for this article came from the Helen Allingham Society. Find out more about this wonderful artist and see more of her artwork at their website.
– Donna Klein
More female artists
The woman behind the Campbell's Soup Kids: Grace Drayton
Emilie Flöge: a woman to be remembered