Welcome to the final day of our Thanksgiving Crossword 2017. Today, we reveal the consonant M (we have to leave a little challenge!). There are no letters J, X, or Z in the puzzle.
So how do you play and what do you win? We're running the contest November 21 – 27, midnight Pacific Time. Check this blog post each day for updates and clues. Daily clues will be uploaded by noon Eastern Time each day.
All of the crossword answers relate to the Thanksgiving holiday. We're looking for all 26 answers in the correct place, across and down. You may enter once a day through the comments section of the blog. All comments are moderated and will not appear so that everyone has to do their own work.
Answers will be checked once a day against the master puzzle list. You'll be notified if you got the answers right or if you can try again the following day. Everyone who has the right answers at the end of the contest will be entered into a random drawing. We're giving away four $25 gift certificates. Full rules appear at the end of this post.
Today we're giving you the total number of each of the vowels in the puzzle but we're not putting them in the grid. Some of you are so good at these games that we might have a winner even with this challenge!
Tomorrow, we'll add another vowels group and select consonants to the clues. This will happen each day until the final day of the contest.
You may copy and paste the Across and Down columns into the comments section in order to present your answers. Click on the image of the grid to bring it up in a new tab. Save it to your device to inspect more closely.
A – 12; E – 9; I – 10; O – 6; U – 8; Y – 7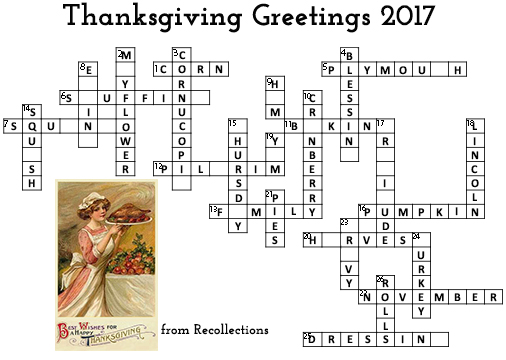 Across
1.
5.
6.
7.
11.
12.
13.
16.
20.
22.
25.
Down
2.
3.
4.
8.
9.
10.
14.
15.
17.
18.
19.
21.
23.
24.
26.
Rules of the Thanksgiving Crossword 2017
You may once enter every day in the comments section of the blog post but you must submit an answer for each of the 26 words each time you enter.
Please do not send us one answer at a time.
You may also wait until you are reasonably sure you have correct answers before submitting.
Comments are moderated so your answers are only seen by the moderator until the end of the game.
All correct answers at the end of the contest are entered into a random drawing for a $25 gift certificate. We're giving away four total gift certificates.
The game runs from November 21 until midnight PT on Monday, November 27.
Winners will be notified by email on Tuesday, November 28.
Have fun and good luck playing our Thanksgiving Crossword 2017!
– Donna