I have always loved the stunning fashion plates from Godey's Lady's Book. I often go looking for them when researching different fashions from the past as they were considered to be the standard and the highest authority of fashion in print at the time. It was when I met with Nancy Jean Gray to discuss her role as Mrs. Claus several months back that I decided to do a short series on the publication for Recollections. Nancy is a fan of its longtime editor, Sarah Josepha Hale, and encouraged me to look into her history a bit. Of course, we should be writing about Godey's Lady's here at Recollections! There is a lot to cover, so today I will just start with some fun facts and some of the beautiful images and return to touch more specifically on other topics related to the popular women's magazine as the year goes on. 
Its second editor was Sarah Josepha Hale, a major influencer of the time

Have you heard of a little thing titled "Mary Had a Little Lamb"? Or Thanksgiving? Or Mount Vernon? All remain in our American consciousness because of the efforts of long time (and most famous) Lady Godey's editor Sarah Josepha Hale.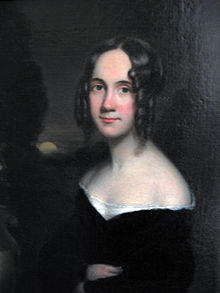 Sarah Josepha was a writer with a love of education and female participation in society. After success as an author, she was recruited as editor of The Lady's Journal in 1828 following the death of her husband. When the magazine gained notoriety yet struggled, she was again recruited by Godey's Lady's Bookfounder Louis Antoine Godey to merge the two publications. The rest, dear reader, is history.

I had originally wanted to do a post on fun facts about both Sarah Josepha Hale and Godey's Lady's Book but now think they both deserve their own post. Stay tuned for another post in late February about the exciting life of Sarah herself.

It was the most successful woman's magazine ever to that point

Mass printing was still a relatively new luxury in the 1830s, especially for uses such as semi-disposable leisure reading. The niche of women's magazines was a new one, and many an editor and creative was hard at work trying to get it right when it came to women's periodicals, it was a game of trial and error. Before joining Louis Antoine Godey to launch Godey's Lady's Book, Josepha Hale's own Lady's Book had made records for staying in business for five years. Well, you ain't seen nothing yet!
Godey's Lady's Book stay in operation for almost 70 years, from 1830 to 1898.
Its most famous editor was not a fan of fashion

If you are anything like me, when you close your eyes and think of Lady Godey's you will immediately think of succulent Victorian fashion plates and 19th-century women attending picnics and balls. This is irony in the truest sense of the word. As it turns out, long-time editor Sarah Josepha Hale was not a fashion fan and in fact, didn't think that fashion had a place in the magazine at all. When she relented, it was with not without grumbles: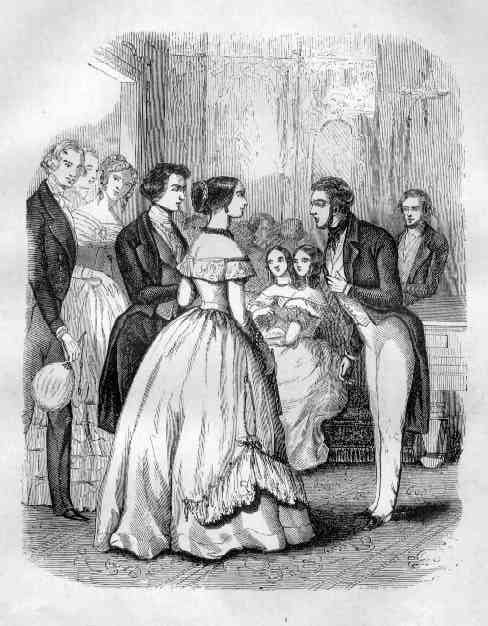 "There is part of our duty as editor of a ladies' journal which we feel so reluctant to perform, as to quote, or exhibit the fashion of dress."

Unfortunately for Josepha Hale, fashion was a hard topic to keep out of women's leisurely interest at the time, and thus opened the doors to our beloved fashion plates. While she did eventually allow it to happen, the fashion sections of the magazine were the only portions she did not personally oversee.
The magazine made the radical decision not to support plagiarism

Magazine publishing looked a lot like the history blogging world today, with much of the content in magazines being lifted from other magazines without citation, acknowledgment, permission, or linking to the original source. While it may have been the norm, founder Louis Antoine Godey and editor Josepha Hale sought to distinguish themselves as a publication both by primarily using original content and preventing others from using theirs.

One way that the two went about this was by Josepha Hale writing much of the magazine's content in the first years. Another way that they did it was by knocking out the competition and attracting the hottest up and coming writers of the time. Besides Josepha Hale herself, the magazine was a stage for the likes of Edgar Allen Poe, Nathaniel Hawthorn, Frances Hodgson Burnett, Oliver Wendel Holmes, and more.

A third way that the magazine fought to end plagiarism in the industry was to copyright their own material. This may seem reasonable to our 2021 sensibilities but it was seen as a very extreme measure at the time. Luckily for Godey and Josepha Hale, Poe himself came to their defense and the exclusivity their measures created saw their sales a-soaring.

Each and every fashion plate was hand-painted!

In the age of copy-machines, it is hard to imagine that the famous fashion plates that we associate with Godey's Lady's Book were hand-painted. Each issue. Each copy. One by one.

And how did the magazine manage it? Continue on…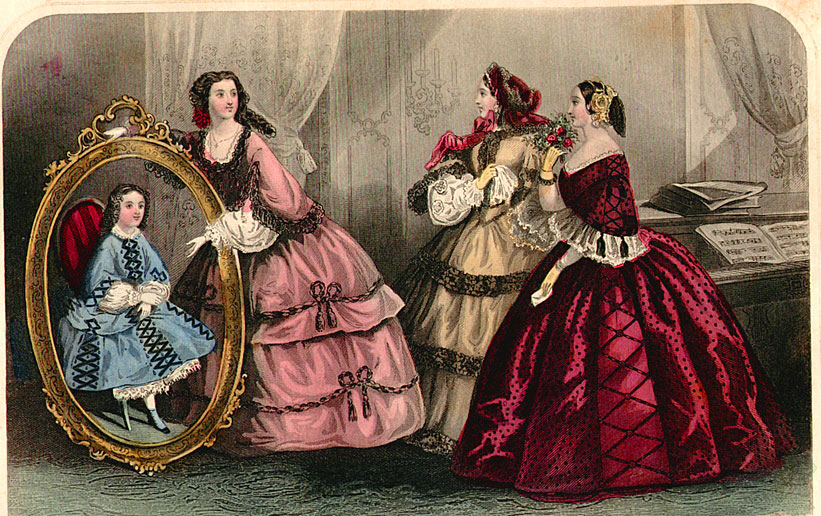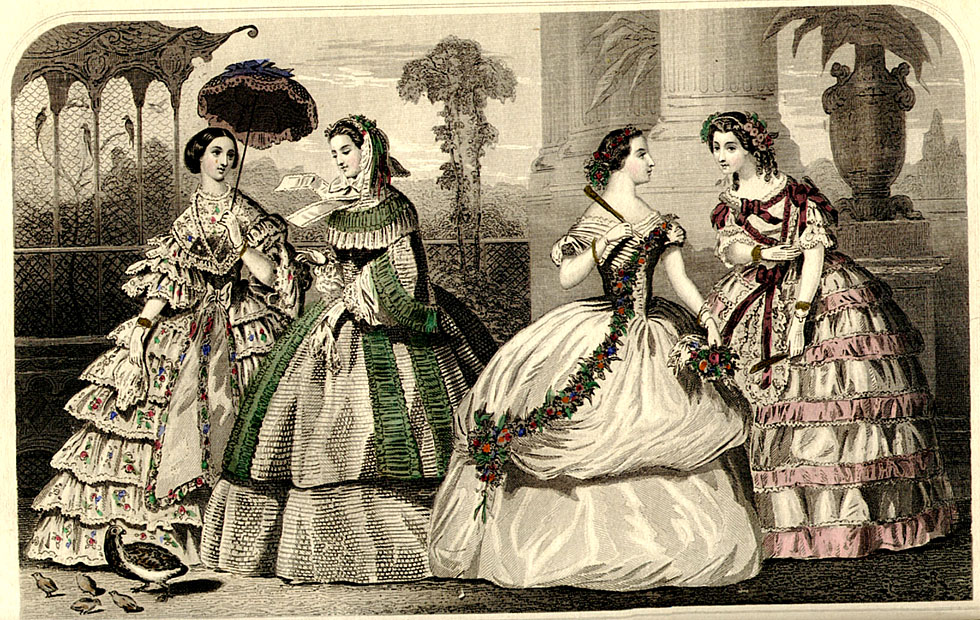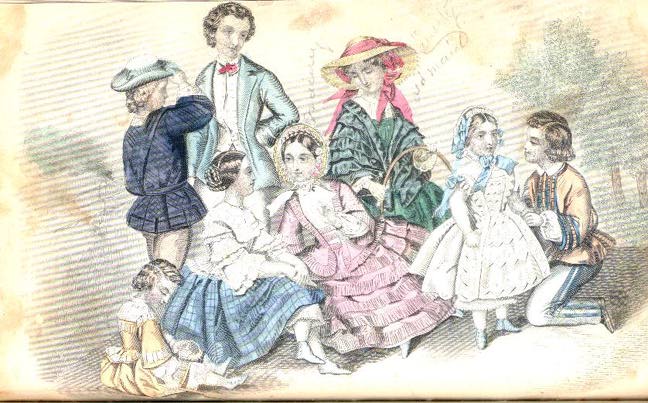 It was an early female-dominated company

Yes! I love the fact that as a woman's magazine it was run by an early member of the women's rights movement and with a female team. Many women were employed to write the various pieces for the magazine and…women were employed to paint the above-mentioned fashion plates that we still enjoy to this day.

Many sources claim that 150 women at a time were employed to do painting alone. This was fairly unheard of at the time and set the stage for thousands upon thousands of women to subscribe because of the feeling that they had found a little literary home.

Godey's Lady's Book was not without its flaws, of course. It was marketed toward an all-white, mostly upper-class audience and went out of its way to avoid conversations about important topics of the day. Though it saw some advancement as time went on, it is fun to think of how it would have continued to evolve had it not come to an end in 1898. Luckily we have the fashion plates and the continued legacy of Sarah Josepha Hale to keep us both entertained and guessing.
Thank you to the wonderful Stuff You Missed in History Class for piquing my interest in some of the topics included in this post.
Love learning about the Victorian era? Here's more reading for you:
Victorian gloves: etiquette for use
A short history of the hand muff: one of history's cutest accessories
The rise and fall of the bustle