When the Women's Movement picked up and suffrage was extended, the Roaring 20s played off of the idea of women's rights and the silhouette of dresses changed drastically. Dropped waists that gave a boxy impression were all the rage, not to mention the shortened hemlines. The most important feature of the 1920s dress is that it didn't have a corset. For the first time since the Regency era, women would not be left to suffer with broken bones and spinal malformations. Just as society had begun to loosen its hold on women, fashion followed suit. Never before had hemlines been above the ankle. Now it was not uncommon for women to be seen smoking. This was even considered fashion forward.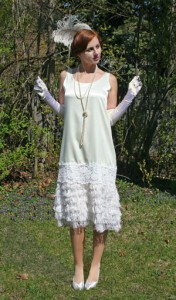 Evening gowns of the 1920s are what you would think of when you think of flappers. Fringe, bright colors, feathers and fans were commonly worn. For day dresses, fabrics like chiffon and sheer cottons were used and layered. To complete your flapper look, though, you need a bobbed haircut. The boxy shapes and bobbed hair were boyish, and women used this as a mechanism for pursuing what had been forbidden for centuries—alcohol, smoking, premarital sex, and partying. Although today we recognize smoking as a deadly habit, it allowed women of the 1920s to demonstrate control over their bodies.

The 1920s dress is once again gaining popularity, which many attribute to Baz Luhrmann's recent interpretation of The Great Gatsby. The popular actors, pop music, and special effects made it an instant hit at the box office. Naturally, 1920s dresses began popping up at shops all around the United States. However, this is a rather superficial view of fashion. Fashion changes as attitudes change, and as women consistently are educated about their bodies, they want their clothes to reflect their ideals. Although feminism is trending, the ideas seem to embed themselves in the fabric of society. And, as this mindset becomes more prevalent, it's no wonder that women would want to revert back to clothes that gave them more independence. Especially since a hot button issue has recently been sexualized images of women's bodies in the media, it would make sense that women would turn to more loose fitting, conservative (at least by today's standards), 1920s dresses.

Whether you yearn for a 1920s dress because you are fascinated with the era, have an event to attend, need a costume, or just dig the 1920s style, Recollections has everything you need to complete your look. We have dresses for all occasions, so you'll be able to find whatever you need. Make sure you keep up with the trending fashions—don't be left behind! Begin shopping for your look with all of our 1920s dresses.