Where is the Oshawa Community Museum?
The Oshawa Community Museum is located in Lakeview Park, Oshawa, Ontario, Canada. Oshawa lies  on the Lake Ontario shoreline in southern Ontario, about 6o kilometers from Toronto. It is also the home of the Parkwood National Historic Site, which, according to Day Trips from Toronto: Getaway Ideas for the Local Traveler, was "used as the backdrop for many films and television programs, most notably Studio 54, Billy Madison, Chicago, and X-Men" (Orr 82).

About the Oshawa Community Museum
The Oshawa Community Museum and Archives is mandated to preserve and present the history of the city, from the first native settlements to the present day. The museum's four buildings help to present Oshawa's story through artifacts from early settlers. Newspaper microfilm dating to 1862 and a vast photograph collection illustrating the history of Oshawa .
The Oshawa Museum is a living museum, collecting and preserving historically significant artifacts from the people of Oshawa. Docents wear period clothing of the prairie settler. You can explore the Guy (1835), Robinson (1846), and Henry (1849) Houses, which are owned by the City of Oshawa. The City and the Oshawa Historical Society fund the administration of the museum and its historically designated buildings. The Oshawa Historical Society owns all contents and archival collections residing at the museum complex.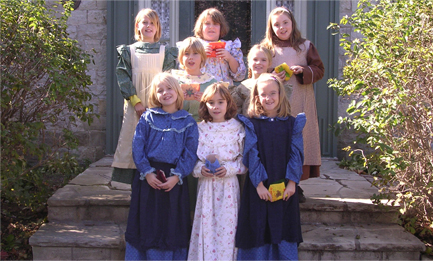 Bringing History to Children
Curriculum-based programs for elementary, high school, and college students is part of the programming offered by the museum. One program offered to students in the third grade is 'A Day in the Life of a Victorian Child.' It provides a glimpse into the role of children during this era. Students learn about candle- or butter-making, baking, and planting. Discussions on topics such as 'children are seen and not heard,' and 'women's work' are part of the program, as is the experience of a condensed 'school day' during Victorian times.
The Oshawa Museum also offers party options that invite children to participate in history. A Victorian Tea allows children aged 5 to 12 the chance to wear pioneer dress while seeing how a Victorian family lived in the 1870s, including learning about hand sewing. A review of Victorian etiquette and manners is also included.
Visiting the Oshawa Community Museum
The museum is open year-round, Monday through Friday from 8 a.m. to 4 p.m. and Sunday from noon to 4 p.m. Other times are available by appointment. The museum will also come to you through their off-site outreach programs. When you visit, one or more of the staff or volunteers might be dressed in a Recollections garment or ensemble!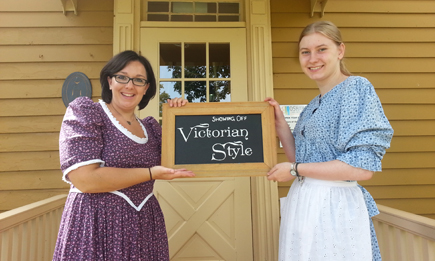 Credits
Orr, Barbara. Day Trips from Toronto: Getaway Ideas for the Local Traveler. Guilford: Globe Pequot, 2011. 82. Print.
Other information:
Oshawa Community Museum website; http://oshawamuseum.org/
Oshawa Community Museum Education Catalog 2012; http://oshawamuseum.org/pdf/Education%20Catalogue%202012.pdf