I have followed the British royals since I was a young girl. I was, of course, saddened to learn of the passing of Queen Elizabeth last week. It was inspiring to watch her long reign and dedication to her role and to her country. The late Queen put a lot of thought into her clothing choices and I thought it might be fun to think of my five favorites and share them to mark her passing.

Do I highlight any of your favorite Queen Elizabeth looks? Let me know in the comments.
Coronation gown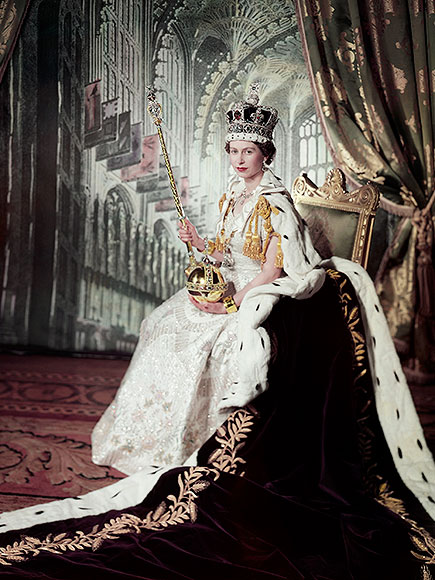 When Queen Elizabeth was crowned on June 2, 1953, the eyes of the world were on her gown. She did not disappoint. Today it remains the most memorable dress of her reign, and for good reason.

The magnificent item was designed by Norman Hartnell, a designer who would stay close to the royal family until his death in 1979. He worked for over a year using specifications from the queen, my favorite of which was that the gown be regal without attention to shape. Hartnell would submit nine concepts to her majesty before she landed on her now-famous choice.

Many readers will be aware that the most unique aspect of Queen Elizabeth's coronation gown is that it includes floral emblems from every country that was under her rule at the time. It was a task Hartnell relished in. He later said:

"After gathering all the factual material I could, I then retired to the seclusion of Windsor Forest and there spent many days making trial sketches. My mind was teeming with heraldic and floral ideas. I thought of lilies, roses, marguerites and golden corn; I thought of altar cloths and sacred vestments; I thought of the sky, the earth, the sun, the moon, the stars and everything heavenly that might be embroidered upon a dress destined to be historic."

Read more about coronation gowns in our blog post: Coronation robes: a brief history of an overlooked understudy
Matching sisters

Last year I watched the documentary Elizabeth and Margaret: Love and Loyalty on Netflix. I enjoyed seeing the footage of the Queen and Princess in their early years, especially the matching outfits they wore as children – so adorable!

In digging around for this post I discovered that it was not just for the sake of cute that the Queen Mother chose to dress the girls the same. Royal author Bethan Holt has revealed that it was also to encourage the girls to be close and avoid sibling rivalry. In an interview earlier in the year she said:

"While Elizabeth had this, you know, incredibly important destiny ahead of her, she really needed to remember, as well, that her and her sister were sisters, they needed to be there for each other.
"[and] dressing the same created this lovely sense of family."
Going casual

Who didn't get a kick out of seeing Queen Elizabeth in the country in her boots and hair kept in place with a scarf tied under her chin? I really enjoyed the fact that she was so open about loving her downtime and that she had no issue being photographed in such casual clothing.

The fact that little trendsetting set precedence for the Queen's preference for wearing headscarves in this manner is proof of her confidence and personality. I have read that she started to wear scarves in the 1940s, and she certainly never got weary of the accessory. She had a particular love of Hermes, both contemporary and vintage. Ahhhh to be a queen!

Read more:
The humble headscarf is Queen Elizabeth's go-to country look: Here are the best through the decades
50 Times Queen Elizabeth Was a Headscarf Influencer
The Queen's Most Royal Accessory: Her Headscarf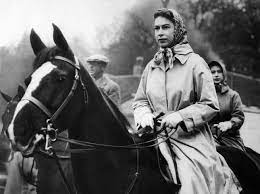 The Rainbow queen

The Queen was not afraid of a bit of color and I have always LOVED that about her. I have often thought to myself how audacious it seemed for a woman who preferred to keep so much about her public persona low-key and to the book. But according to Sali Hughes, the author of the book Our Rainbow Queen, the use of bright-as-can-be colors served a noble purpose:

"[Queen Elizabeth] wears bright colours because she believes it's her duty to be seen by the people who've waited, wet and cold, behind barriers for hours at a time."

What is your favorite color? I encourage you to go to Google and find a time that Queen Elizabeth wore it well.

The royal handbag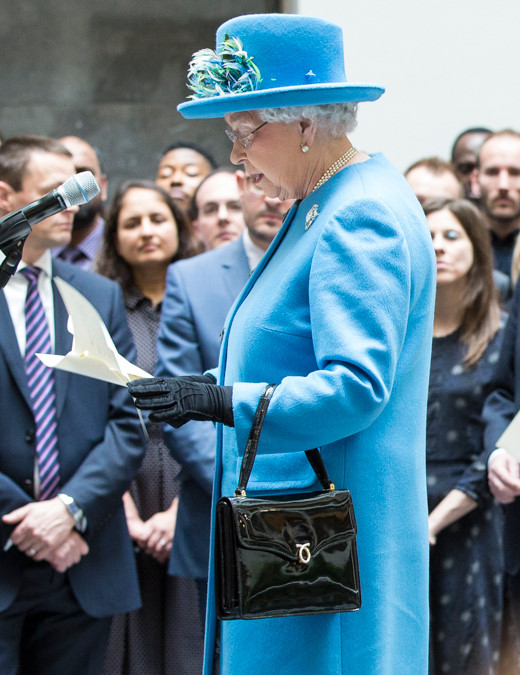 Something that I had never thought much about until the footage following her death is the strappy handbag Queen Elizabeth often sported when greeting the public. Of course, once I heard the first newscaster mention it, it was something I couldn't not notice. The black patent leather handbag was meant to be perfect for her public appearances as it fit nicely on her elbow and left her hands free to interact with the crowd.

I have learned that the bag is designed by Launer and that she received her first one from the company in 1968. The company now holds a Royal Warrant, meaning they are allowed to publicly claim the Queen's business. If you are interested in a fun rabbit hole, check out the official Royal Warrant Holder's website here.

I haven't been able to verify it, but according to Glamour, the Queen used her bag to signal to her lady in waiting, similar to the way it is believed some women used their hand fans to flirt in the 19th century. Says Glamour.com:

"Forget coded messages—the Launer practically has its own language: Vickers says that shifting her bag from one hand to another signals that she's done with the conversation, and her staff should come and move you along. "Luckily, they'd let you down easy," he says. "It would be done very nicely. Someone would come along and say, 'Sir, the Archbishop of Canterbury would very much like to meet you.'" When the Queen puts her bag on a table during an event, that signals to her ladies-in-waiting that she wants to leave in five minutes. And if it goes on the floor during a conversation? Bad news: It sends a signal to a lady-in-waiting to quickly rescue her."
Do you have a favorite Queen Elizabeth fashion?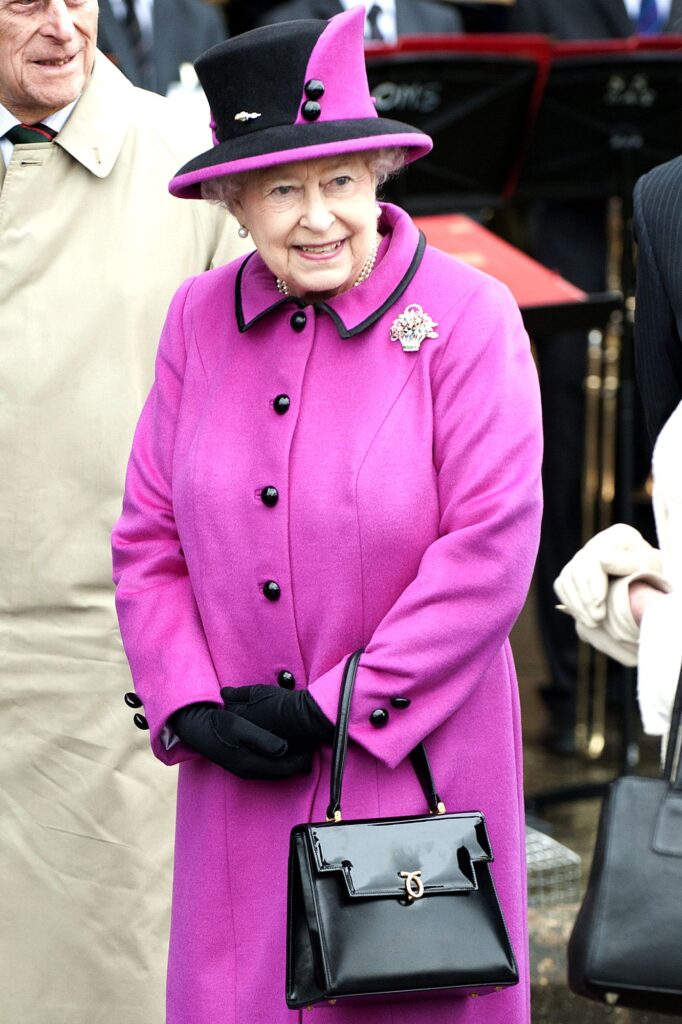 You may also enjoy:
Glamour escapism: 1930s fashion
Remembering Joan Walsh Anglund