Christmas in July is here! While many of us will be celebrating with warm pool parties or cocktail get-togethers, it is also a great occasion to start putting together a Mrs. Claus costume to use later in the year. I know a lot of our readers enjoy dressing up, and the world can use more jolly women to spread joy, especially as this holiday season will be super-special.

We had a great Christmas in July series last year here at Recollections. One of our blog posts featured Nancy Jean Gray, a Mrs. Claus extraordinaire who has performed all over the country. She met with me over Zoom to tell me all about her fun career as an actress and her many years of appearing as a fun and bubbly Mrs. Claus. She also delighted me with a lot of insight into how to plan a great Mrs. Claus ensemble.

One thing Nancy Jean told me that I hadn't considered is that someone who will be portraying Mrs. Claus really needs two separate costumes: one for outdoor/evening events and one for indoor/day events. It really makes SO much sense. Clothing needed to be outdoors and on one's feet in the middle of winter may be far too warm and heavy to wear for indoor events, especially as some may be in relatively close quarters.

I've said it before and I stick to it: I think I'd make a great Ms. Claus and I aspire to be one. So first, I'm making a list (and checking it twice) of what I need to gather. I know we have other Mrs. Claus fans in our audience so I thought I'd put a post together in honor of Christmas in July.

Mrs. Claus look #1: indoors/day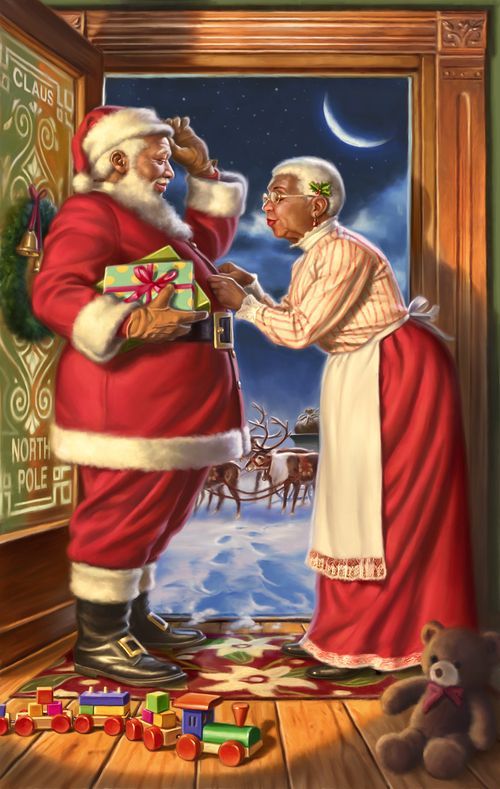 Nancy Jean told me that while a lot of portrayals of Mrs. Claus present her as doing work in the kitchen, she prefers to avoid that depiction. If she does get asked about her baking she makes sure to mention that she puts vegetables in her cookies. I think I might respond that I enjoy making green smoothies for Santa and myself to keep us energized all day. Either way, a great indoor costume is important. Here's what you'll need:

Light, long dress or skirt

A long dress made of high-quality fabric is best for a daytime Mrs. Claus costume but forget the bustle or hoops. Freedom of movement is important and there will be less space indoors for maneuvering around. I think both short and long-sleeved would work.
Here's a few you may enjoy:
Blair Edwardian Vest-Blouse-Skirt Ensemble
Harper Victorian Pioneer Dress
Cincher or corset (optional)

Many dresses appropriate for a Mrs. Claus costume will have a shape with a defined waistline that will be beautiful with a cincher or corset. Though this one is optional, you may love the results.

Apron

Whether or not she's in the kitchen, Mrs. Claus is a woman of industry! Having an apron on portrays her lifestyle and adds a great touch to the outfit.

A bib apron or a waist apron would probably be the styles that would best complement a Mrs. Claus dress. Decorating your apron would be a fun way to add a personal touch to your ensemble. This could be done with buttons, ribbon, glitter, fur, lace, or anything the-creative-you comes up with.
Here are a few of our favorites: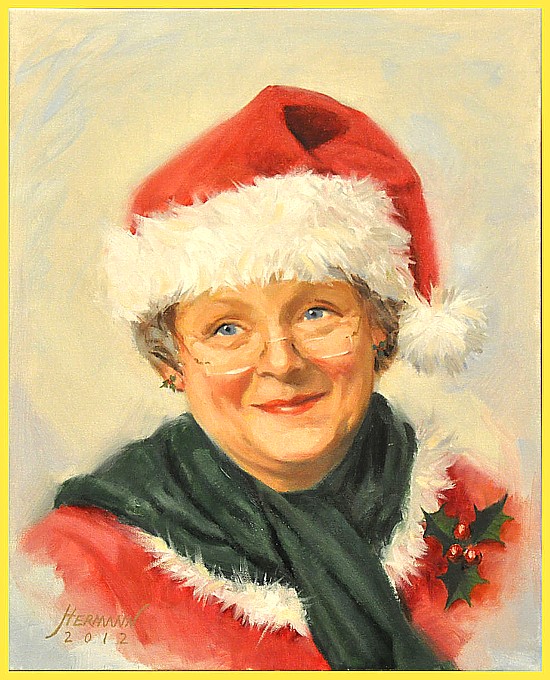 Hat/hair decoration

The hat is an important part of identifying Mr. and Mrs. Claus. For the indoor get up, one that covers the top of the head but not the ears. And because Mrs. Claus does a lot of moving around, it is useful to have one that stays in place.

For this reason, the mob cap is most popular. While comfortable, it is not my favorite look. Another option is a more traditional pointed Santa hat. And why not think outside of the box a bit? I'd say a cute bandana could do the trick, though it could be hard with a wig. Other options could be a fluffy headband or red cowboy hat if the event is outside during the day.
A more comfortable option could be to get creative with adorning the hair, as Nancy Jean has done in the photo below.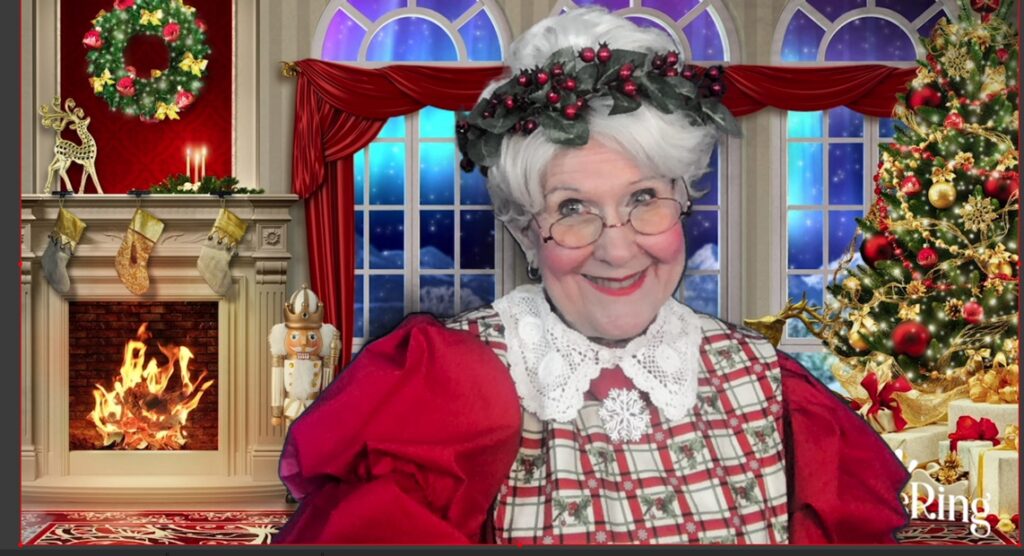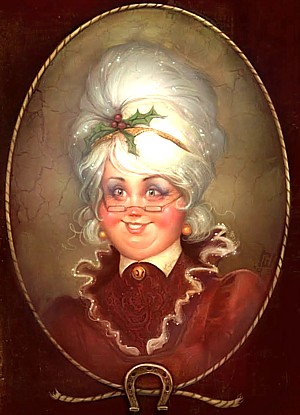 Flats
I think boots are the way to go for Mrs. Claus at night, but for day events I think there is more flexibility. Some options:
-Uggs
-Mary Janes
-Flat ankle boots
-Sparkly Converse!

Mrs. Claus look #2: outdoors/evening

Mrs. Claus can't wear her day clothes for an evening engagement! Winter holiday events featuring the First Family of Christmas require a more formal touch and of course, warmth. Here's what to gather to look as gallant at Mrs. Claus deserves to look and enjoy every appearance.

Warm dress
Nancy Jean recommends red wool or velvet with fur trimmings, and I have to say that I agree!

Here are some options from Recollections:
Jacqueline Velvet Victorian Suit
Belt
Make sure to top that fancy warm dress off with a thick black belt and buckle!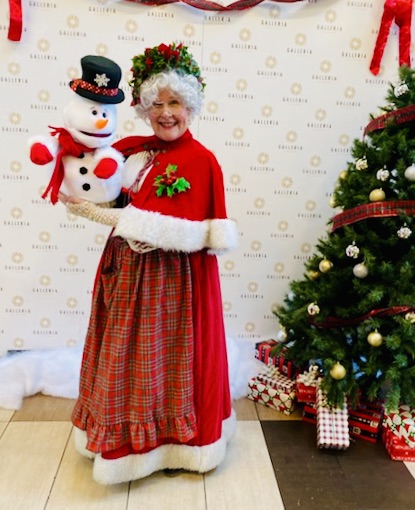 Petticoat
A dress of Mrs. Claus caliber deserves to be presented in the best way possible. Make sure to give it some proper shape with a petticoat.

Corset
Because the outdoor/evening ensemble is so much more formal than the indoor outfit, I do believe a lot of dresses will be designed with one in mind and that it may add a gorgeous look to a Mrs. Claus look. Plus, it may really put you in a different state of mind if you aren't used to wearing them. AND it adds a lot of warmth for the cold months.
Boots
One thing that Nancy Jean told me last year was to be sure to select boots for comfort as much as for how they look. After all, Mrs. Claus wants to aim for a cheery disposition!

Leggings
Breathable leggings are a must for a great Mrs. Claus get-up. Forget the tights! Ease of movement is of the highest priority here. Good leggings will also make wearing tall boots more comfortable.

Cloak
A cloak is the perfect finishing touch for a Mrs. Claus outfit. It allows the dress to be on display, is easy to move around in, adds warmth while also easily tossed to the side if things get too toasty. And, it's just magical.

Here are some Recollections options for your winter wonderland look:
Hat
A hat or something fancy to cover the ears may be a great option to have. A fluffy hat of velvet or fur could do the trick, as could a lovely headband.
Are you a Mrs. Claus performer? Get in touch! I'd love to feature your story this Christmas in July!
More Mrs. Claus fun:
Nancy Jean Gray: Mrs. Claus extraordinaire
Four Empowering Depictions of Mrs. Claus
Star of the Show: an interview with Mrs. Claus