I have been with the Recollections team for just under a year and have had a lot of "favorite" blog posts. This one, however, might take the cake. Today, I had the privilege of speaking with customer and actor Nancy Jean Gray about her experience working as Mrs. Claus and had a ball. I am so excited to share a bit about her story with you!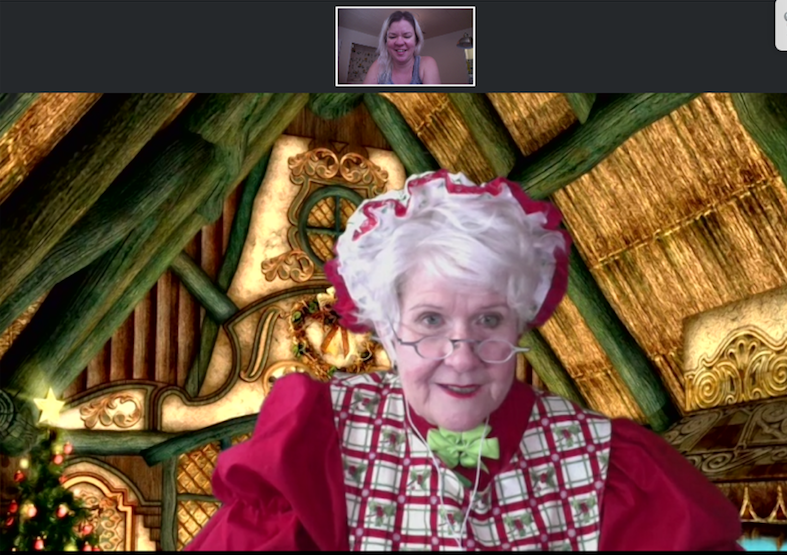 From Mother Goose to Mrs. Claus
Nancy Jean came to portray Mrs. Claus after already having enjoyed a considerable career as an actor. After earning a degree in theater she went on to a successful career as a puppeteer, character storyteller, face painter, clown, and in other acting roles that left be highly envious. In the 1980s she found that portraying Mother Goose would involve hours that allowed her to stay home during the day with her daughter and she launched on an incredible journey portraying the author of our favorite nursery rhymes.

Nancy Jean has appeared as Mother Goose at the Magic Castle in Hollywood for 20 years, this being the first year she will not appear due to COVID. When she lived in Texas in the 1990s she was the highest booked show through her casting agency. One of her signature parts of the act is her ventriloquism, during which she incorporates various puppets. She has also received an award from a member of Congress who saw her Mother Goose act in California.

While performing in Miami in 1982, Nancy Jean was asked if she might be able to do a gig as Mrs. Claus and an entirely new character became a part of her repertoire, and a beloved one. She made her first appearance in a Santa's jacket and hat — much different from her current costume.

Portraying Mrs. Claus was natural to Nancy Jean after playing Mother Goose for so many years as so much of both roles is about making children feel safe. And believe it or not, there is actually a connection between Santa and Mother Goose. Nancy Jean let me know that before depictions of Mrs. Claus became common, there were several instances of Santa and Mother Goose spending time together. We have both committed to a little research project to find out more!

Dressing the part
I asked Nancy Jean what she recommends as essential parts of a Mrs. Claus wardrobe and she said the focus should be on creating two outfits, one for inside and one for outside. The "outdoors" outfit should be created for winter adventures and consist of a red wool or velvet dress or skirt with fur accents, a cape, a shiny belt, and black boots. She said that it is important to remember that boots should be purchased for comfort as much as how they look, as Mrs. Claus is on her feet a lot.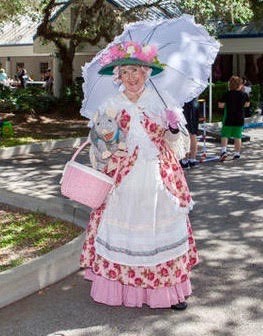 For the "indoors" outfit Nancy Jean said that it should be one that has a bit of a "kitchen" feel, although she prefers not to focus on baking as a part of her Mrs. Claus portrayals. If she does get asked about holiday baking she said that she always makes a point to tell children that she adds vegetables to her cookies. Whatever your own approach it, Nancy Jean recommends focusing on getting a great apron to develop your indoor look.

Nancy Jean has been purchasing parts of her wardrobe from Recollections for over a decade and loves how many size options are available and how high quality the items are. She also has pieces from her Mother Goose wardrobe that have come from Recollections, such as the pink dress pictured here.

The evolving role of Mrs. Claus
Nancy Jean said that one of her favorite things about her Mrs. Claus career is the way that people prefer her to depict Santa's wife has changed with the times. When she first began she was primarily hired to simply walk children from the line to speak to Santa to Santa's lap. As time has gone on, she has increasingly been highlighted and now does mostly solo shows and appearances. Nancy Jean says that being able to represent the First Family of Christmas without Santa is often a positive thing as many young children and afraid of him and therefore get to have the Santa experience without the tears.

Nancy Jean says that she has loved being a part of this evolution as she prefers depictions of Mrs. Claus that portray her as "a positive motivator, powerful, and unsubjugated." I approve!

Mrs. Claus goes virtual
Although Nancy Jean has little to no previous experience with virtual events, she began to prepare for a socially distanced holiday season back in March and is now booking exclusively for such gigs. As you can see from the photo of our interview, she is very much ready to go for any remote appearance. I was so pleased to hear that one type of event that she is getting booked for is socially distanced holiday Zoom meetups in which grandparents are bringing the grandchildren together via Zoom to see each other and interact with none other than Mrs. Claus herself.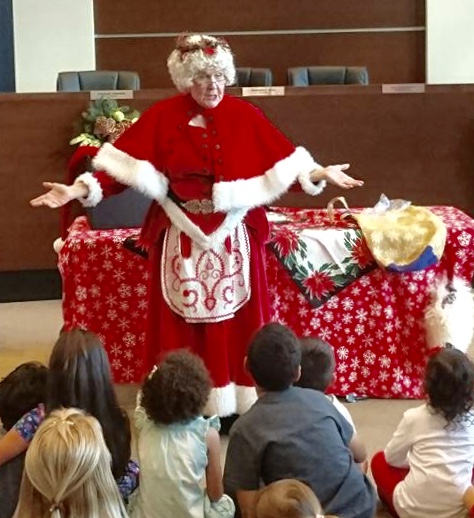 Nancy Jean sees a lot of positives for taking Mrs. Claus virtual, such as her availability to meet with children who are terminally ill and spending the holiday months in the hospital. The next evolution that she hopes to see in the holiday industry is more Mr. and Mrs. Claus actors of color, something that she says is happening quickly.

Advice for a Mrs. Claus wannabe
As a Mrs. Claus wannabe myself (well, I'm planning to be more of a MS. Claus), I was excited to ask Nancy Jean about any advice she might have to anyone who is interested in joining the Mrs Claus community. I thought her insight was very interesting. Besides suggesting comfortable shoes, she said that it is important to know about the hot children's toys of the season and to be familiar with the various movies in which Mrs. Claus is portrayed, as she gets a lot of questions about each.
Nany Jean also told me to please be in touch with her if I do decide to pursue a Mrs. Claus career so that she can provide more tips and support. How nice is that?

Bringing joy to the world
Above all, Nancy Jean said that making children happy is her favorite part of being Mrs. Claus. She loves to see the look in children's eyes when they get to speak to her and she always goes out of her way to let the children know how special they are. "I always tell the little girls that they are smarter than the boys," she told me, as she believes girls don't get enough compliments about their intelligence.

Thank you so much, Nancy Jean, for your gift to the world and for your time on this post! We wish you a very fun and full virtual holiday season!
If you'd like to book Nancy Jean for your virtual family gathering or learn more about her work you can visit her website here.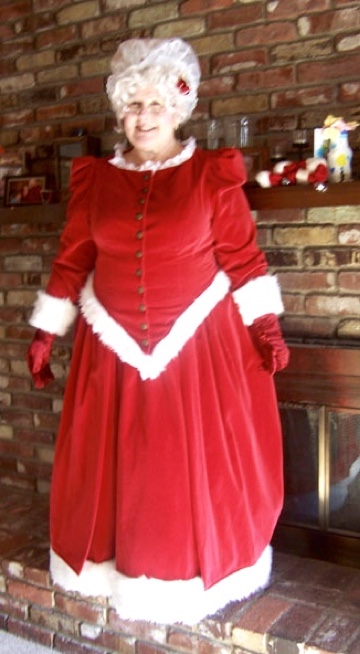 We love Mrs. Claus here at Recollections! More blog articles on the First Lady of Christmas:
4 Empowering Depictions of Mrs. Claus
Star of the Show: An Interview with Mrs. Claus
Who is Mrs. Claus? Inquiring Minds Want to Know!