The legend continues
You're probably familiar with the story of Santa Claus and how his presence and presents have changed over the years. The origins of his wife, on the other hand, are less known. Here's what we know.
As early as the 16th century, 'Yule and his wife' would join local public officials in York, England, riding "through the streets in an annual St. Thomas' Day ceremony that ushered in the Christmas Season." (Fandom) The duo's popularity led to the archbishop to write a letter in 1572 denouncing them because there was fear that they were "profaning of that day appointed to holy uses, and also withdrawing great multitudes of people from Divine service and sermons…" (Fandom) This just might be the first public mention of Father Christmas having a wife.
By 1849, she appeared in a short story, "A Christmas Legend," by James Rees, a Philadelphia missionary. His story "tells the tale of a destitute American family that receives an unexpected visit from a couple of strangers on Christmas Eve. The constructive narrative sets up a deep exploration of family, loss, and forgiveness; a classic Christmas formula. But the story itself is not widely known. In fact, it would likely be completely forgotten had it not been for one word- "wife." Today, it is cited as being the first time Santa Claus was associated with a spouse. It literately introduced the character we know now as Mrs. Claus." (Mrs. Santa Claus) In the story, her name is Amelia.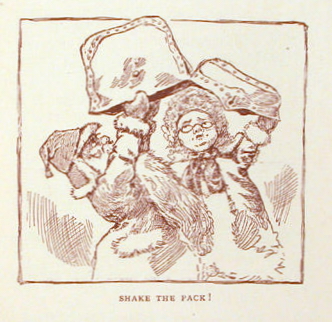 She started to appear in Christmas mummers plays in England by 1874. this is where she was given a name for the first time. That name was Bessie. In 1888, she appeared in Katharine Lee Bates' poem, "Goody Santa Claus on a Sleigh Ride." Goody was often used instead of Missus (Mrs.) and was a shortened version of 'Goodwife'. In return for taking care of so many things throughout the year, she rides along with Santa on Christmas Eve. She also descended the chimney where she mended poor children's stockings before they were filled with gifts. (Fandom)
Santa is a lonely bachelor in the "Marriage of Santa Claus," published by George Melville Baker in 1881. Because he believes he should marry someone who loves children as much as he does, he rushes off and proposes to Mother Goose! Once she accepts, the reindeer take her and her 'children' (the characters from the nursery-rhymes and fairytales) to live in Santa's 'great palace.' (Fandom)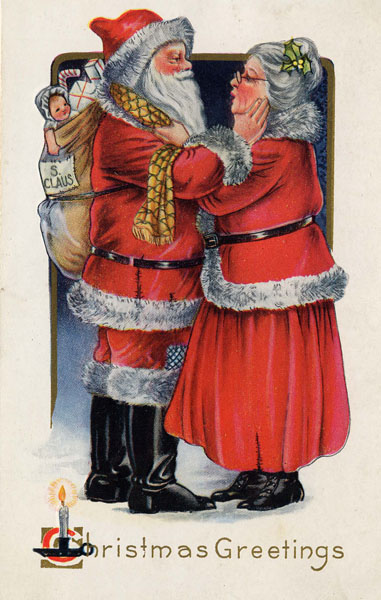 It wasn't until 1889 that she was depicted as a "fairly heavy-set, kindly, white-haired elderly female baking cookies somewhere in the background of the Santa Claus mythos. She sometimes assists in toy production and oversees Santa's elves.." (Wikipedia) Now, she is usually depicted wearing a fur dress of red or green.
Credits
Mrs. Claus (Fandom)
Mrs. Claus (Wikipedia)
Mrs. Santa Claus
There is so much more to know about Santa's wife. Too much to publish here. In addition to the credits, here are some other places where you can find out more about one of our favorite characters from literature and history.
Who is Mrs. Claus?
What is Santa Claus' wife's name?
Mrs. Santa Claus- A Strong and Supportive Woman for All Seasons
Do you portray Mrs. Claus? Here's something from Recollections' Mrs. Santa Claus collection for your consideration.