Gertrude Bell – 20th-Century Middle East Influencer
Gertrude Margaret Lowthian Bell was born on July 14, 1868, in Washington New Hall, County Durham, England. Her father was the industrialist, Sir Thomas Hugh Bell. Her grandfather was Sir Isaac Lowthian Bell, a Parliamentarian who worked with Prime Minister Benjamin Disraeli. She was destined to lead an extraordinary life.
Gertrude's mother died while giving birth to her brother, Maurice when she was four. Her father remarried and had two more daughters and a son with his second wife, Mary. She grew up exposed to politics and world affairs.
Falling in love with the Middle East
Bell was home-schooled. At age 15, she moved to London to prepare for higher education. She attended Oxford University and although she was unable to graduate because of her gender, she was the first woman to win a first-class degree in the modern history of the school. Not long after earning the degree, she traveled to Tehran, Iran (then Persia), to visit her uncle, Sir Frank Lascelles, who was serving as British ambassador. Gertrude became fascinated with the Middle East and the people who called it home. She became Fluent in Persian and eventually, Arabic.
She returned to the Middle East in 1899 and spent a significant amount of time traveling the Middle East, Asia, and Europe for many years. She wrote of her travel experiences in the years leading up to World War I. Gertrude's published works include Safar Nameh (1894), Poems from the Divan of Hafiz (1897), The Desert and the Sown (1907), The Thousand and One Churches (1909), and Amurath to Amurath (1911). Her vast correspondence during this time was compiled and published in 1927.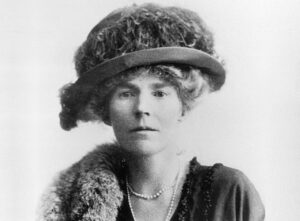 International adventures
While traveling Europe, she became the greatest mountaineer of her era and once spent 53 hours hanging from a rope on the northeast face of the Finsteraarhorn. It was the summer of 1902 and her expedition was caught in a blizzard!
Bell worked in France for the Red Cross during World War I. She eventually joined the Arab Bureau, British intelligence's unit in Cairo, Egypt. She wrote of her experiences in the area, especially Iraq. The work she did with famous British traveler, T.E. Lawrence (Lawrence of Arabia) to create alliances with Arab tribes continues to be studied and referenced by 21st-century policy expert.
Diplomancy
Because of her familiarity with the area and her fluency in Persian and Arabic, Gertrude was involved in the political reinvention of Mesopotamia (current-day Iraq). When Winston Churchill convened the Conference in Cairo to determine the boundaries of the Iraqi state in 1921, Gertrude Bell was the only woman invited to the table. She also assisted British diplomats and local rulers in establishing a stable government infrastructure. James Buchan described in photos of the era as "The woman is slim, with a head of luxuriant hair, and neatly dressed in billowing muslins or in the pencil silhouette and cloche hats of jazz-age Baghdad."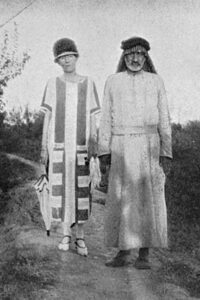 Bell championed the funding and construction of the Baghdad Archaeological Museum and believed that antiquities belonged in their country of origin. A wing of the museum was dedicated to her and she was made Honorary Director of Antiquities in Iraq.
Gertrude Bell died on July 12, 1926, after taking a fatal dose of sleeping pills. No one knows if the overdose was intentional or accidental.
Queen of the Desert, a biopic about Gertrude Bell and starring Nicole Kidman, was released in 2015. It also stars Robert Pattinson as T.E. Lawrence and James Franco.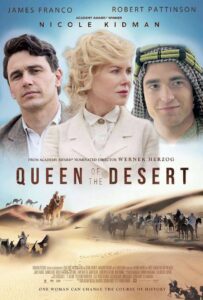 More about Gertrude Bell:

Gertrude Bell: The uncrowned Queen of the Desert
More women's history fun:
Three pioneering women's outdoor clubs that broke all the rules
Mary Titcomb: service through books
5 facts about Margaret Tobin Brown (aka The Unsinkable Molly Brown)