This episode should have been entitled the War for the Progressive. Between Tom's dinner outburst, Mary's sexcapades, and Rose's radio, the battle waged all episode. Before we go any further, if you missed the season premier last week, you can get the highlights here.
Lord Grantham continues his campaign of whining across the Abbey, arguing that cricket is more important than the memorial for WWI vets. He continues to be a sour puss about buying a radio. Cora is even moving further away from him, as she was flirty with a Downton guest. Overall, his whole image this season is awfully negative, but it's probably just because he couldn't deal with progress if his life depended on it. At least Rose wins the radio battle by appealing to Lord Grantham's stuffy monarchist attitude.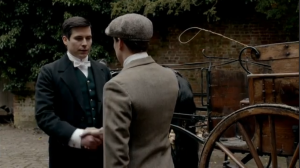 Jimmy leaves, probably the most heart wrenching part of the show. He wishes Thomas luck, and for once I actually felt bad for Thomas. Then, Thomas turns evil again and ruins Miss Baxter's reputation with Mosley, ruining with it any sort of feelings I had for him. Mosley, however, refuses to believe that Miss Baxter had no motivation for her thievery, and continues to carry the torch for her.
Edith, however, is offered the position of being Marigold's "godmother," and Edith couldn't have possibly been more obvious when talking with the Drewe family that something is off about her relationship with Marigold. When Mrs. Hughes discovers the photo of Marigold in Edith's burnt room, it confirms her suspicions about Edith's baby.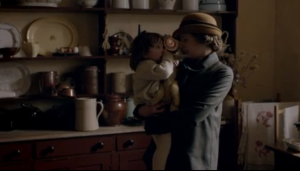 While Edith continues being the sad mopey daughter we've come to know, Mary continues being the unforgiving ice princess we've come to know. But the ice princess heats up a bit when she asks Anna to go and buy her birth control, which Anna feels obligated to do. She's awkward and endearing, even when buying condoms, and is feisty about how the sales clerk treated her. Charles comes to Downton, bitter about Mary choosing Tony Gillingham.
Miss Bunting begins to tutor Daisy, which means that she drops by the house more often. She and Branson are flirty, and she inspires Branson to speak out at dinner about the Russian Revolution, and (of course) Lord Grantham throws a temper tantrum.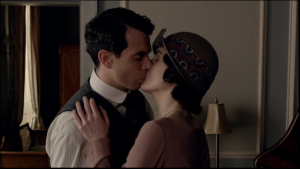 The cliffhanger at the end of the episode makes me beg for next week—Bates might be convicted of murder (again…)! I am anxious to know if Tom will continue to court Sarah, if Mary and Tony end up between the sheets, and why some mysterious Russian prince is coming to Downton. As with most episodes, we can't expect all (or even any) of these questions to be answered, but the writers have successfully roped me in for the next episode.
If you can't wait for next week, kill some time by checking out our Downton Abbey collection.