April 16th is Fly a Kite Day, and the sunny weather here in Denver is inviting me to celebrate. I wanted to share the excitement over spring with our readers and it immediately dawned on me that there must have been some smart inventors in the 19th century who used kites in various ways. New modes of transportation were of particular interest in the 19th century, and I was quick to discover fun ways that the technology behind kite flying was utilized to learn more about how humans could possibly move around. And of course, I uncovered a quirky invention to share with you, enter the kite-powered buggy, originally known as the charvolant.

Shall we take a look?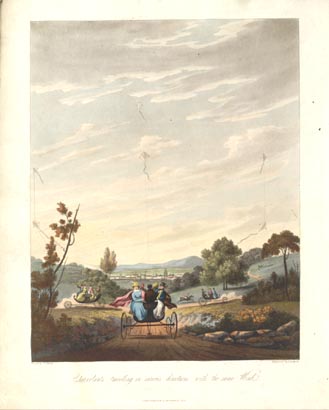 Inventor George Pocock: the basics

The charvolant was invented by George Pocock, a Methodist preacher from Bristol. Pocock was also the son of a cabinet maker and a school teacher by trade. He was born in 1774 and by the 1820s he had caught the invention bug that was going around England and had developed a particular interest in using kite power to move objects.

And, he was quite handsome…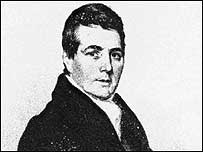 And did I mention he had 11 children? These children would come in handy as he sought to hone his skills as an inventor…

Let's go fly…a child

In his video recreating Pocock's invention Tom Mulligan describes his experiments as "ambitious, dangerous, and often involved his own children."

This involvement would send onlookers into pure panic mode today. Reads Wikipedia:

"In 1824, he used a 30-foot (9 m) kite with a chair rig to lift his daughter, Martha over 270 feet (82 m) into the air. Later the same year and continuing to use his family as subjects, he lifted his son to the top of a cliff outside Bristol; his son briefly dismounted from the chair at the top of the 200-foot (60 m) cliff and then concluded the test by releasing a clip on the kite line which allowed him to slide down the line in the chair and return to earth."

Side note: Martha Pocock

I thought that readers may like to know that in my research for this post I came upon a blog post dedicated to George's daughter Martha, the same daughter he used to try out his chair rig with. Apparently, she earned some fame of her own when she married Henry Mills Grace, a fan of her father's work, and later became the mother of W.G. Grace, a cricketer still remembered today.
Regency Explorer put together a lovely post about Martha's life, making the argument that she would make a great subject for a novel. Says the website:

Martha Pocock is great to use as a minor character in your novel, if you would like to include aspects of sports and science in your story. Here are more facts about her and her family:
Martha was tall, strong, and had an indomitable will.
She was born in 1812 and grew up in her father's boarding school for boys, "Prospect Place Academy", in Bristol.
Driving kite-drawn vehicles became a kind of a fashion among the young men of Bristol, where the Pococks lived.
Martha got to know her husband thanks to the charvolant: A certain Henry Mills Grace joined in this sport, and thus became acquainted with Martha. There can be little doubt that Henry admired her skillful use of the kites. He proposed, and gained her hand in marriage. Martha was 19 years old, when she married.
Besides the kite-drawn carriage, George Pocock invented a kite-powered boat, that sailed on the Bristol Channel, and an inflatable globe to teach children astronomy. You would stand inside the globe and watch the stars illuminated by the daylight outside.
Enter the charvolant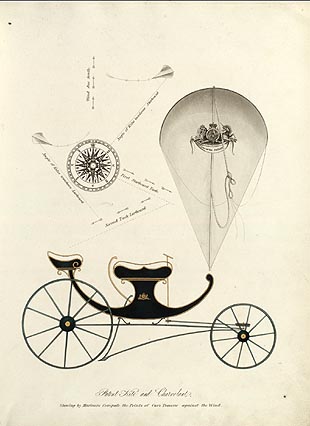 George would become well known in all of England with the invention of the charvolant. The contraption was used to pull a buggy on the ground, using two kites and a single line 1,500 feet long. It was so effective that it could pull a buggy full of people at various speeds, as noted below:
| | |
| --- | --- |
| Type of Wind | Pace (Miles Per Hour) |
| A gentle breeze | 3 to 5 |
| An active breeze | 7 to 12 |
| Pleasant gale | 14 to 18 |
| Brisk gale | 20 to 26 |
| Wind or strong gale | 30 to 38 |
| High wind | 40 to 50 |
| Furious wind or storm | 55 to 65 |
| Tempest | 70 to 80 |
| Hurricane | 80 to 100 |
Watch the entire Tom Mulligan video and perhaps create a charvolant of your own below:

Charmed by the charvolant

The charvolant was a novelty and of great interest to the public. Local newspapers from the time make note of it coming through their towns. Plus, those riding in it were able to evade tolls due
to them being levied according to the number of horses pulling a vehicle, not kites.

George Pocock himself was of course a big fan of the device and when I read his words I myself wish I could give it a spin. He wrote:

"This mode of travelling is of all others the most pleasant: privileged with harnessing the invincible winds, our celestial tandem playfully transpierces the clouds, and our mystic moving car swiftly glides along the surface of the scarcely indented earth; while beholders, snatching a glance at the rapid but noiseless expedition, are led to regard the novel scene rather as a vision than a reality."
The need for predictable speed

While it was inventive and head-turning, the charvolant would not gain commercial or much-lasting success. Its usage was, after all, dependent on the amount of wind that happened to be available. Others noted that it was hard to control. One critic wrote:

"Wind and weather would have a great deal to do with the matter, and the prevailing wind, whatever it might be, would only suit those who wanted to go in the direction towards which it was blowing. And … all those who wanted to go towards other points of the compass would be disappointed and probably disgusted … [So,] I am still of opinion that it is far better to stick to bicycles and tricycles which afford practicable means of getting from place to place than to waste time and money over a mode of locomotion which could never be put in operation at any and every time that it might be desired to take a trip."
As the above notes, rapid innovations were taking place in regards to road transportation, namely the bicycle. This, combined with the challenges of using operating the charvolant caused the kite buggy to be a passing trend, though one that people still discuss today.

Do you love the Regency era? Learn more with these posts:
17th and 18th century mass media: panoramas
Want a Regency-inspired fall? Try a Spencer jacket.
Can Regency paper dolls encourage children to behave?