Have you ever ridden in a hot air balloon? Today they are novelties that many of us enjoy but also take for granted seeing on the horizon, especially on weekend mornings. It is easy to forget that when they were first invented they created a sensation around the world and led to what is now referred to as "balloonomania." Beginning in France in the 1770s and continuing late into the 1800s, it included men and women from around Europe (America to a lesser extent) flying and doing various stunts using the new flying machine. Sophie Blanchard was among the first and is today considered to be the first female aeronaut. In a time when women were not often welcome in many innovative spaces, she found fame, fortune, and freedom with the hot air balloon. Hopefully, you'll think of her the next time you spot a hot air balloon on the horizon.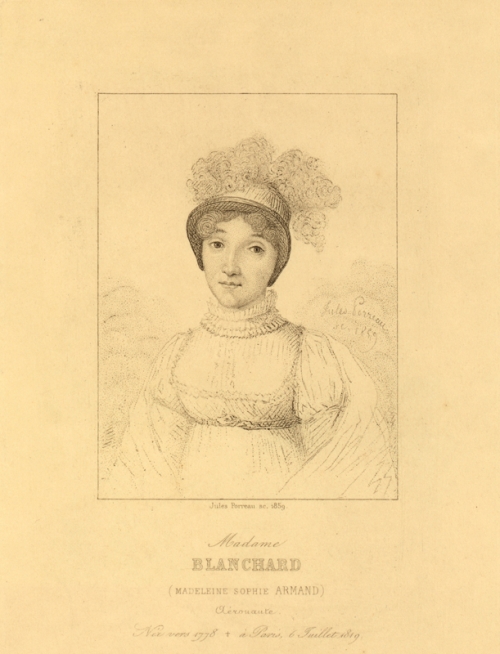 Freedom in the open skies

When Sophie Blanchard first entered the skies with her aeronaut husband Jean-Pierre-François she knew she had found her life's passion. She would dedicate the rest of her life to flying in a small, custom balloon basket, flying until an accident in the very basket would end it.

Says Smithsonian.com: "Normally shy and nervous, Sophie became a completely different person in the air where she was transformed into an almost reckless daredevil."

Sophie was born La Rochelle, France in 1722. Little is known about her life prior to her marriage to Jean-Pierre Blanchard, a famous balloonist (the date of their marriage is unclear). Jean-Pierre appears to have been a bit of a rascal – he married Sophie after abandoning his wife and four children to pursue ballooning, and then had such poor business sense that he left the couple nearly bankrupt. It was in the hopes of drawing larger audiences to his public flights that the couple decided to have the otherwise timid Sophie ascend with him.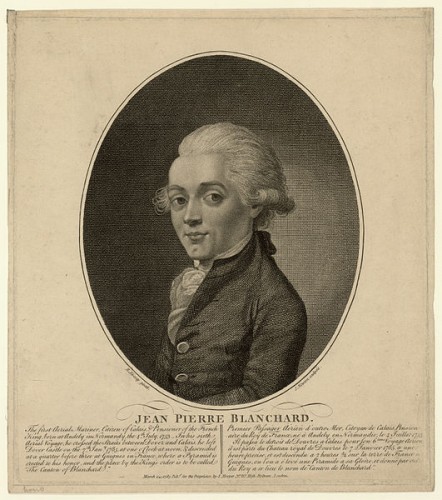 I know the feeling of doing something for the first time and then wanting it to be a part of my days forever! I really enjoy knowing that after being in a hot air balloon for the first time Sophie had the chance to make it a regular thing.

A career in the air

A very regular thing! I am not sure what about ballooning made the public so accepting of female professionals during this time, but they sure were.

Jean-Pierre died of a heart attack in 1809 and Sophie enjoyed a successful solo career. She became France's Chief Air Minister during Napoleon's heyday. As part of her role, she set off fireworks from her balloon to announce the emperor's wedding to Marie-Louise of Austria. When their child was born she dropped paper announcements from the air.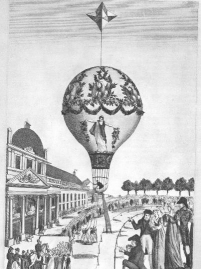 Sophie must have been great at her job. She kept the position after Napoleon went into exile, becoming the Official Aeronaut of the Restoration in 1814.

Although flying in a big basket was plenty of a sight to see in the early 19th century, Sophie was a true showperson, committed to making her career noteworthy and drawing a crowd. From Falling Upwards (via Atlas Obscura):
"Her small balloon lifted more and more complicated pyrotechnical rigs, with long booms carrying rockets and cascades, and suspended networks of Bengal lights, all of which she would skillfully ignite with extended systems of tapers and fuses. At the height of these displays, her small white figure and feathery hat would appear like some unearthly airborne creature or apparition, suspended several hundred feet overhead in the night sky, above a sea of flaming stars and colored smoke."

She was a true daredevil and was willing to face enormous risks to be in the air. Freezing temperatures caused her to fly with a bloody nose and she passed out more than once after ascending too high.

Doing what she loved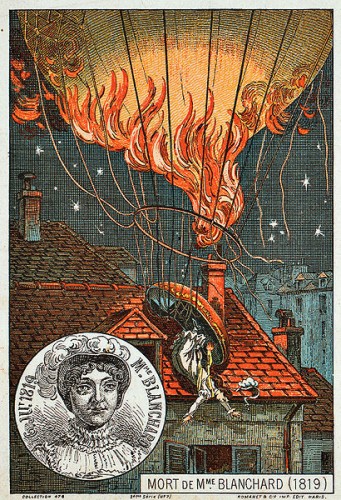 Sophie would end her life doing what she loved most. On July 6, 1819 at the age of 41 she took her last flight. With a large crowd watching and with an ostrich plume in her hair, she entered her basket. Says Smithsonian Magazine: "Despite the misgivings of others, she had planned to do her "Bengal Fire" demonstration, a slow-burning pyrotechnics display. As she mounted her balloon she said, "Allons, ce sera pour la derniere fois" ("Let's go, this will be for the last time")."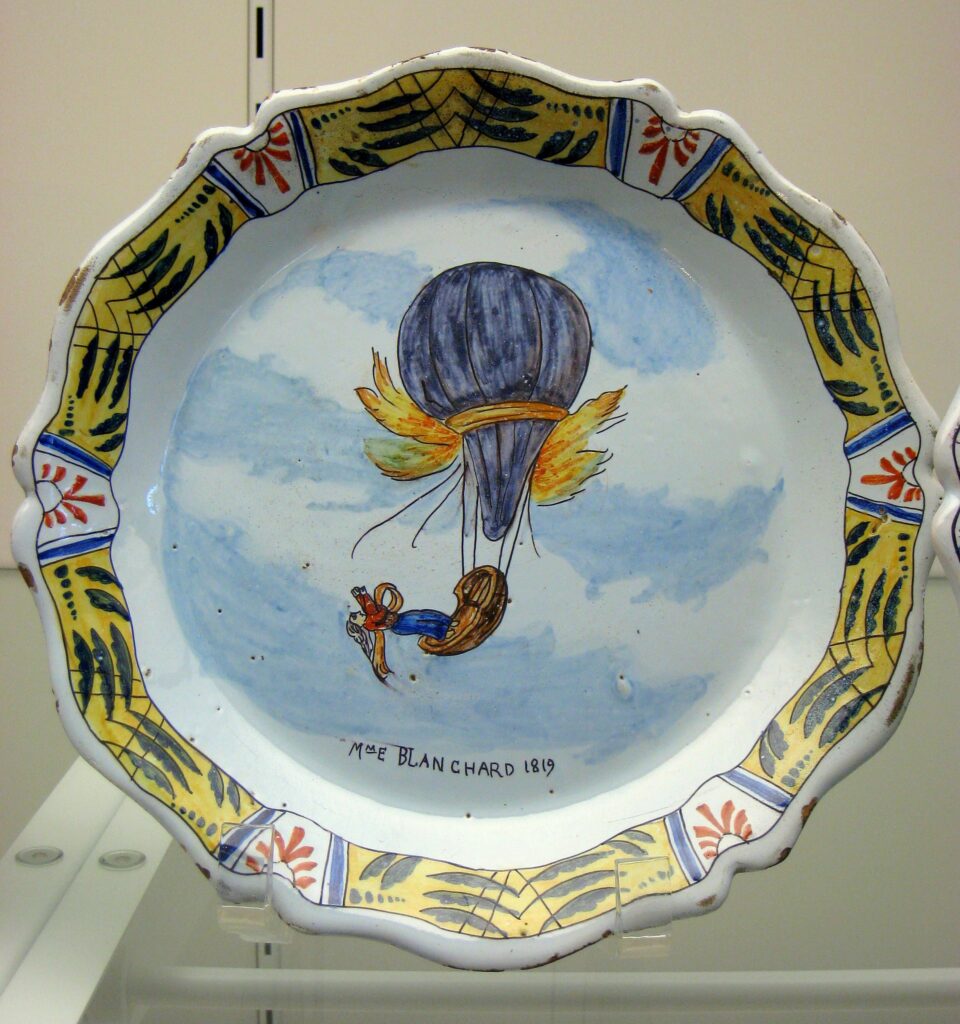 While the performance itself was a success, her landing was not. Everything seemed to be going according to plan until the balloon veered toward the roof of a house, causing Sophie to fall out and then onto the ground below. She died instantly.

Sophie is buried in the Pere Lachaise Cemetery with a tombstone representing her beloved hot air balloon in flames.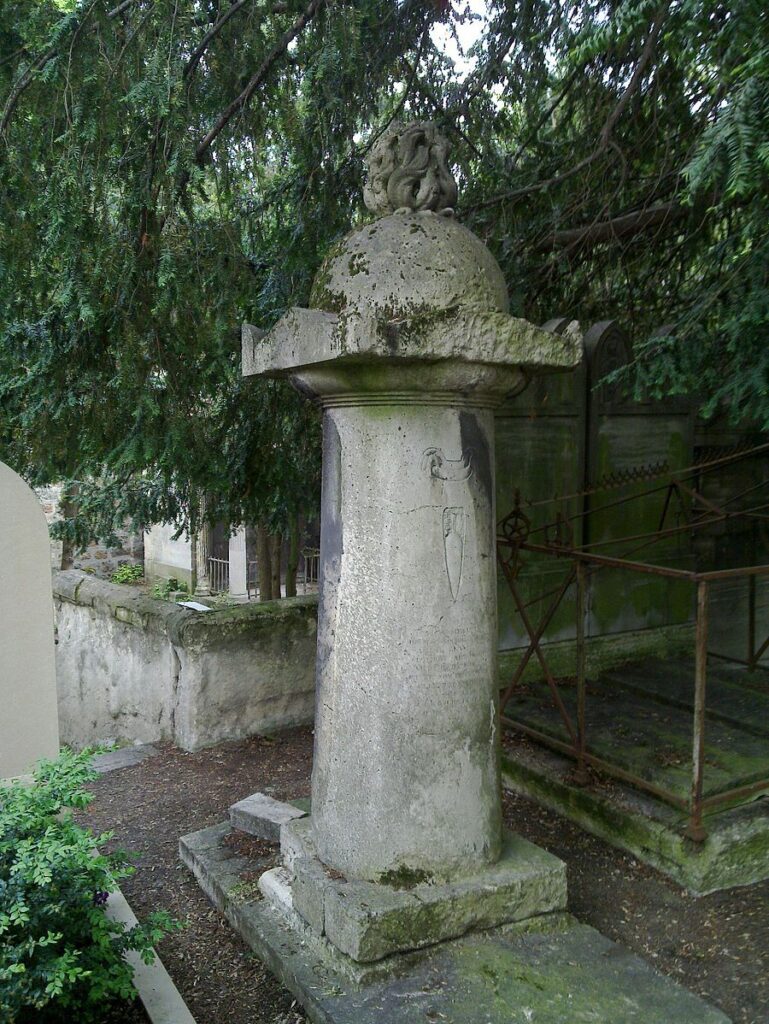 Is there a woman from history you would like us to share on the blog? Let us know in the comments!

Love the Regency era? You may enjoy these posts:
Want a Regency-inspired fall? Try a Spencer jacket.
Can Regency paper dolls encourage children to behave?