I have been looking forward to doing a post on the history of paper dolls for a while. And wow – talk about biting off more than I could chew! As soon as I started prepping a couple of weeks back I realized it was WAY too huge of a topic to tackle in one post. The first paper dolls for play are believed to have made an appearance in the 1600s and are a fascinating study in and of themselves. And then we have the beginning of what appears to be the common era of paper dolls – the 1810s. Or how they changed with advances in printing. And the mid-1900s, considered to have been the most popular time for paper dolls and a VERY fun rabbit hole to jump into. Then there are all of the sociocultural lessons we can take from paper dolls and what they tell us about women's role in society through time.

And wedding paper dolls through history.
… paper dolls in advertising.
…baby paper dolls.
…paper dolls in Victorian fashion magazines.

The possibilities go on and on! Because I like to provide the most value to our readers I thought it would be best to limit the first post to a fairly narrow topic and I thought I'd start with what are widely considered to be the first printed paper dolls, Little Fanny paper dolls and others published by the same company. Appearing in 1809, I was amazed to find so much information on the series.

What topic related to paper dolls would be fun for you to learn about? Or what type of paper doll?
Little Fanny
Many sources point to the History of Little Fanny paper doll book being the real beginning of paper dolls as we know them today, as it is one of the earliest known to have been printed and that still exists. The book was created and sold by the Temple of Fancy in London, an upscale paper goods store that opened in 1809. The History of Little Fanny would put them on the map when it was published in 1810.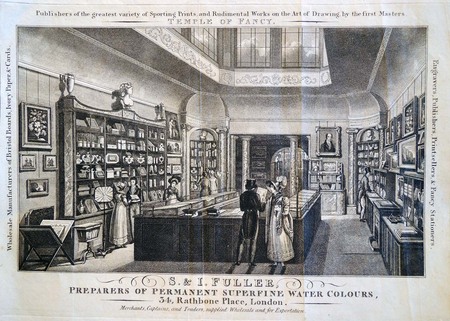 The concept of Little Fanny is quite clever and a precursor for so many role-playing games online today. The paper dolls accompany a storybook about Fanny, a naughty little girl from a wealthy home who sneaks out to the park without permission, following a squabble with her mother over whether or not she could wear her fancy new coat. As punishment, she must experience life as a beggar girl. Through several different scenarios, she learns her lesson and is allowed to return home.

The brilliance of this toy is that each scene of Fanny's journey begins with a description of what she is wearing, with a different outfit to go along with each. For instance, chapter six opens with:
"Fanny now carries milk and eggs to market, instead of fish, as a neater and cleaner employ."

The child enjoying the book is meant to take out the following outfit: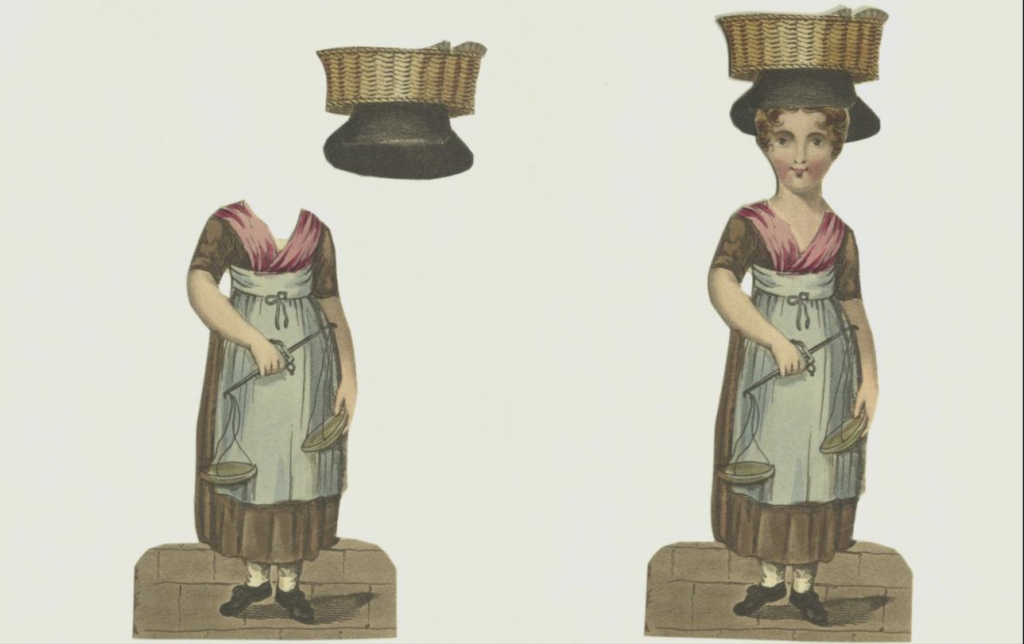 Another unique aspect of the Little Fanny doll is that rather than having a body that is dressed with various outfits, it is the head that moves from body to body. You can see in the images below.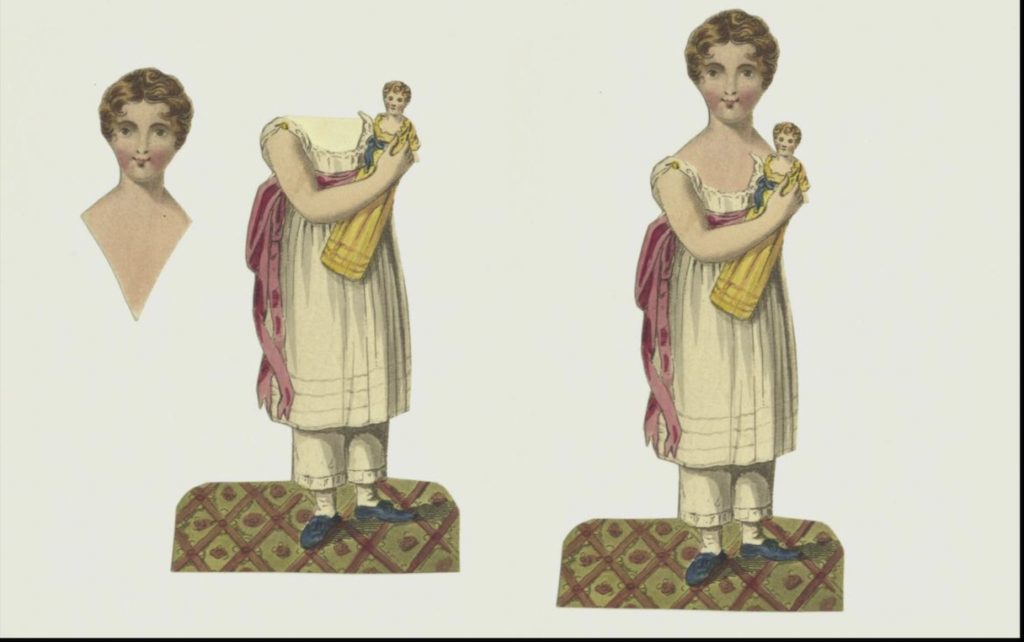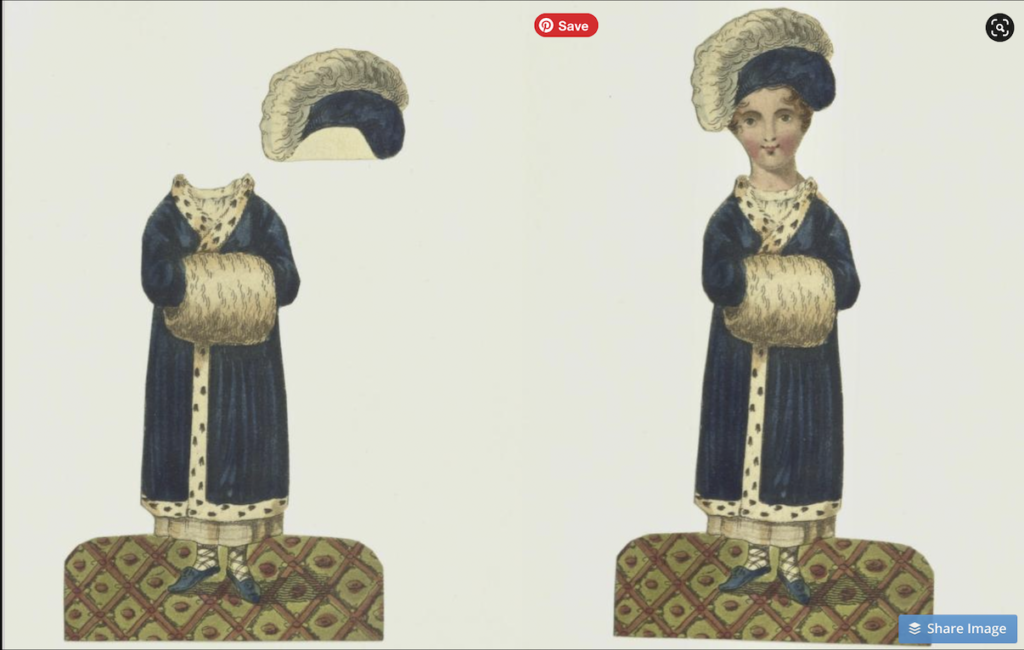 Little Henry
From what I can tell, The history and adventures of little Henry: exemplified in a series of figures was the next paper doll storybook produced by the Temple of Fancy. Also available in 1810, this story follows Henry, a sweet boy who is kidnapped and then given the opportunity to prove his courage and aptitude and eventually finds his way home.

Do you notice a difference in the moral of the two tales? While Fanny's story focuses on her overcoming her selfish and materialistic behavior, Henry's story emphasizes the good qualities that he needs to only embrace.

It is a telling example of the different beliefs around how to raise children during the time and the different natural qualities of males and females.

Just like Fanny's story, each of Henry's chapters opens up with a new outfit to be used. One chapter reads:

"He runs away from his hard task master and becomes a drummer."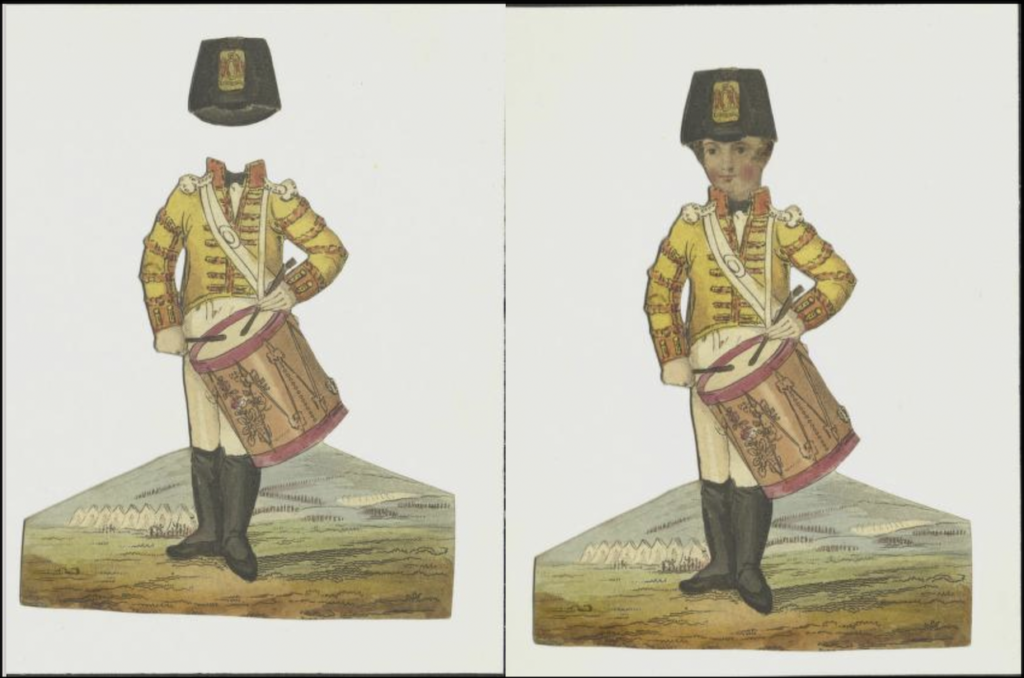 More from The history and adventures of little Henry: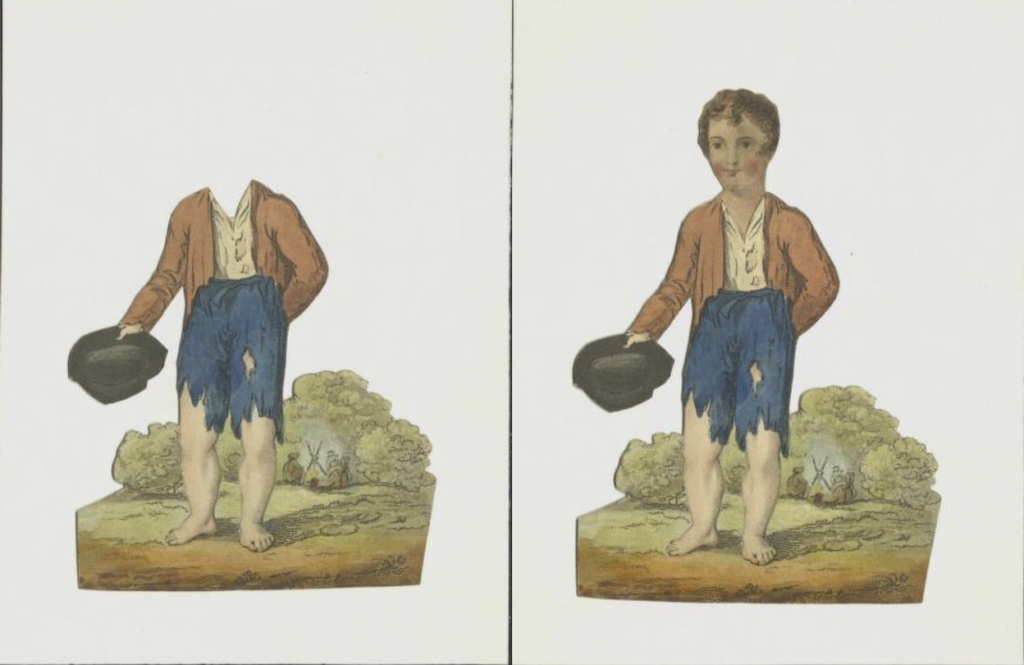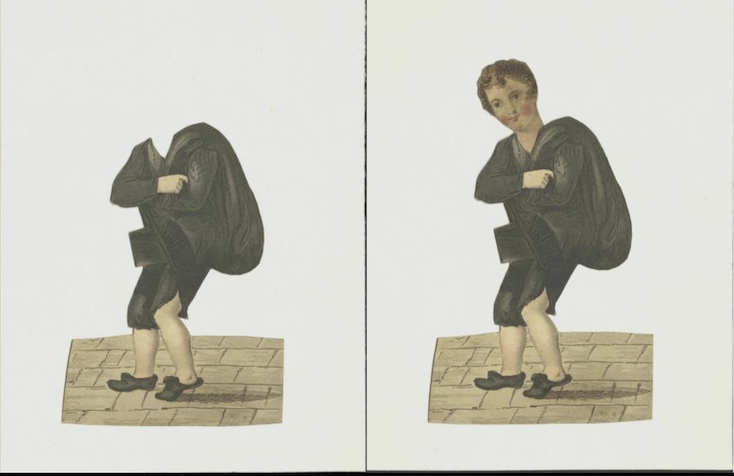 Little Ellen

In 1811 came Ellen Or The Naughty Girl Reclaimed. This story is about an unruly young woman who must learn lessons about proper behavior after being kidnapped by a band of gypsies, abandoned by them, and then taught gratitude and humility be being nursed back to health by an elderly woman she meets during her travels.

I found the descriptions of the costumes and the sticky situations Ellen found herself in quite humorous in this book.
At the beginning of her trials:
Ellen appears in a deplorable Condition, her Frock and Spencer splashes with Mud.

And later:
Ellen stands in a disgraceful Situation, with the Foolscap on her Head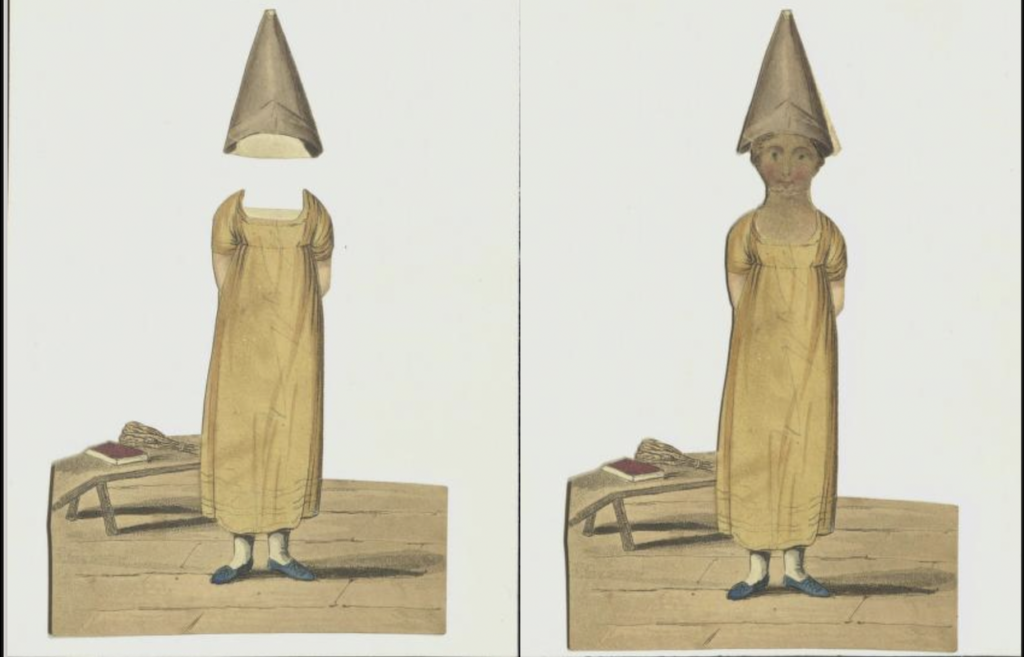 And once she resolves her situation:
Ellen now makes a more pleasing Appearance, in a near StuffGown, with a Book under her Arm.

Although quite popular, the Temple of Fancy dolls were only printed until 1814. Some historians cite the high cost and growing toy market as the cause, though I think that six years is a good run for such a niche toy. And the fact that customers loved them so much is a great testament to how special they were. The paper doll books were passed down from generation to generation, with many existing still today in local museums and auction houses.
More fun artifacts from the past:
Before selfies and text messages were friendship books
What would you keep on your chatelaine?
Before fashion magazines there were fashion dolls