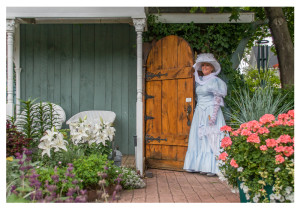 The "Henry Ford Holiday Nights" walk held at the Victorian-themed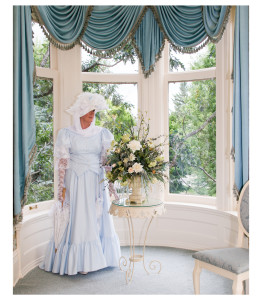 Greenfield Village, in Dearborn, Michigan, looks like a post-card perfect holiday scene from times gone by. Sheila Brown and her husband, Terry, love to participate while wearing costumes appropriate for the lovely Victorian setting. A while back, when Sheila was planning her costume for the annual Henry Ford "Holiday Nights" walk, she discovered the Recollections web site on the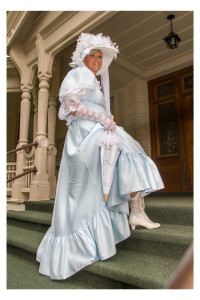 internet. "The web site was awesome" she says, "and the weekly specials drew me in." Since then, she has become a faithful Recollections customer, and sometimes visits Recollections in person to shop and visit with the staff.  Located in Hawks, Michigan, a short distance from Rogers City on the Lake Huron side of Michigan, Recollections provides themed costuming made to order.
For years, Sheila and Terry, along with a group of friends, have dressed in period clothing for "The Henry Ford Holiday Nights" walk, and sometimes they "costume up" for the "Halloween walk as well. Sheila often makes her own Victorian clothing, and embellishes a bowtie and hatband for her husband so he coordinates with her outfits. Because she also sews, she can spot the quality of fabric and seamstress precision that goes into each garment from Recollections. "This is clothing that could be worn for weddings, proms, etc. The word 'costume' may be a bit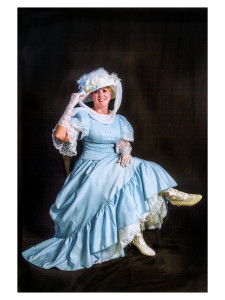 misleading as the quality transcends that genre of clothing." she says.
Sheila volunteers as a Docent with the Historic Barns and Botanic Gardens at The Village Commons (the former Traverse City State Asylum) in Traverse City, Michigan. Sheila says, "This dress lent a great deal of authenticity as I gave tours for a special dedication event at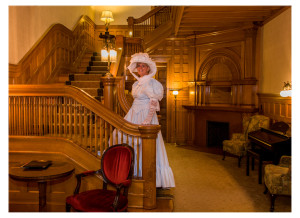 the Botanic Garden." When asked why she loves to dress in period attire from Recollections, Sheila responded, "First, the quality of the dress is fabulous. The color coordination and the comfort is amazing. When I got to the dedication event, people just stopped and stared at the beautiful dress and hat. Two photographers at the event requested photo sittings to showcase the beautiful Recollections dress. Using Victorian homes in Traverse City as backdrops for photos, Marilyn Hoogstraten, a talented photographer from Traverse City, and another amazing photographer Terry Clark, also from Traverse City, provided the photographs accompanying this article.
Sheila sometimes likes to attend Renaissance Festivals in costume.  "Recollections has been fantastic to work with." says Sheila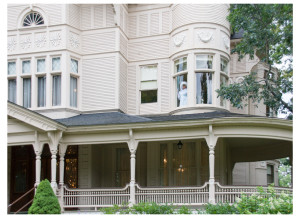 "After reading the reviews from others who purchased clothing from Recollections, I anticipated a good dress. Once I received it, I was blown away with the quality. I was lucky to be able to pick up the dress in person. Barb from the Recollections office was beyond helpful in making sure I was ready for the special dedication event at the Historic Barns and Botanic Gardens. The accessories that I purchased were spot-on with the overall presentation. I can't say enough about the quality of the service as well as the clothing. I will definitely order from Recollections in the future."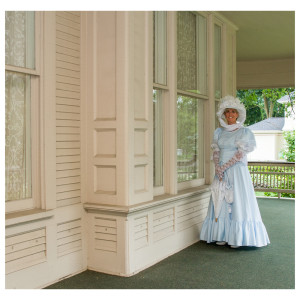 (If you are interested in participating in the Henry Ford Holiday Nights (or other events that happen in The Village year-round) more information can be found by visiting the Greenfield Village web site at http://www.thehenryford.org/village/events/index.aspx.)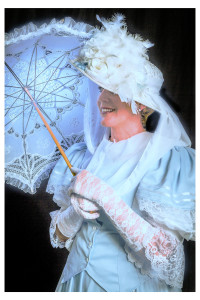 Sheila is wearing Recollections style "Anastasia".