We recently heard from a customer who wrote in to let the Recollections team know how much she was enjoying her new jacket. We always love hearing from happy customers, but when we learned that the jacket had been purchased to wear at the Port Townsend Victorian festival that she was helping to organize, we just had to learn more. Last week I had the chance to sit down for a long Zoom call with festival organizers Kathy Knobock and Tracy Wirta. I loved what I learned about how they are working so hard to preserve the memory and hard work of those who first built this charming and unique town.

The Port Townsend Victorian Festival will be held this year after a two-year hiatus due to Covid and it is coming back as strong as ever. Here's what makes it, and the town, so special, and why you should mark your calendars to attend April 29-May 1.

Port Townsend: Victorian Seaport

The mission of the festival is very much to preserve the Victorian history of the town. Originally held in 1996 as a way to bring community support to historic homeowners, it has now grown into an effort to preserve the memory of all of the aspects of what built Port Townsend into what was once the largest seaports in the country.

Located on the Olympic Peninsula, when Port Townsend was founded in the 1850s many believed it would be one a major hub of commerce in the West for years to come. And for a while, there was so reason to doubt that, with both Tracy and Kathy telling me that it could have become the "next Seattle." Innovative and perseverant people, energized by the possibilities that the expansion of the West provided, settled the town with high hopes. However, two things would prevent the city from becoming a metropolis. First was the fact that being a peninsula town prevented the railroad from being established. Next was the depression of 1893 that impacted so much of the country. When the railroad passed them by the population plummeted from over 8,000 to under 2,000.

But while Port Townsend didn't become the economic powerhouse many thought it would be, it remained untouched enough to preserve the magical Victorian architecture and maritime culture of its founders. The wooden boat community remains very strong and very well-known, with the town hosting the largest international wooden boat festival in North America.

People like Tracy and Kathy seek to do their part to keep all aspects of the town's Victorian roots alive through the Victorian Festival.

Preserving Local History

When I asked what the festival organizers do to preserve Victorian authenticity, I was told that they prioritize getting local historians and experts involved.

"One of the ways that we keep things authentic in town is that we deal with local folks and experts. We have a milliner in town. We have a restoration on a 1907 schooner that is happening in town. As much as possible we are finding local folks who know our history. This is a Port Townsend heritage event, so as many people as we can have host things at local venues using experts who are homegrown, that is how we keep it authentic."

Something unique about Port Townsend is its many Victorian buildings that are still standing. Restoration of these buildings was an original priority for those who began the festival in 1996 and is still a huge part of the weekend. It is in fact why Kathy first moved to the town and why the festival is so important to her.

Besides being many years involved with house restoration, Kathy and her husband are also wooden boat enthusiasts. When they moved to western Washington for work several years ago they would visit Port Townsend to attend the Wooden Boat Festival, enjoying the many historic homes and asking themselves how they might end up with one of them. "One day, we just decided to make it happen," she said.

"It's the usual Port Townsend story. The same home was owned by the same family until the 1970s and then kind of got left. No one did anything terrible, it just needed some help. That is what we moved here to do."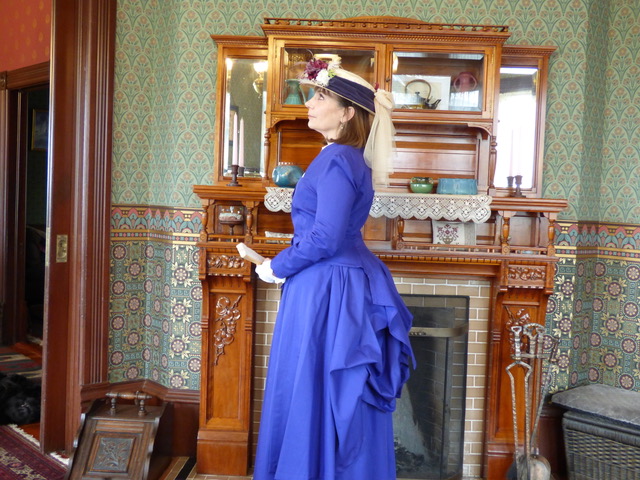 What they discovered is that restoring their home would connect them with a generous and vibrant community in town that thrives off pulling together to help one another while celebrating their town's past. For instance, when the couple needed to replace the window weights in their home her husband put a sign outside the house. While she was dubious, people just started showing up and offering them their window weights.

Wanting to be involved with the restoration aspect of the town was what originally found Kathy wanting to get involved with the festival, though her interest extends beyond that now, especially with the opportunity to revive the event following two years of hardship because of Covid.

Garments: Wearable Art

Tracy's passion is more centered on garments, which she calls "wearable art." "Education is a huge thing for us at the festival," she said. "One way we do that is through our dress. We make a huge effort to go as authentic as possible and to encourage people to do that."

The Victorian fashion show is the most popular event of the festival and Tracy was proud to tell me that half the participants are youth, ensuring that this love of history will be passed down to the next generation. The fashion show focuses intensely on authenticity, being directed by two different costumers from two different costume guilds.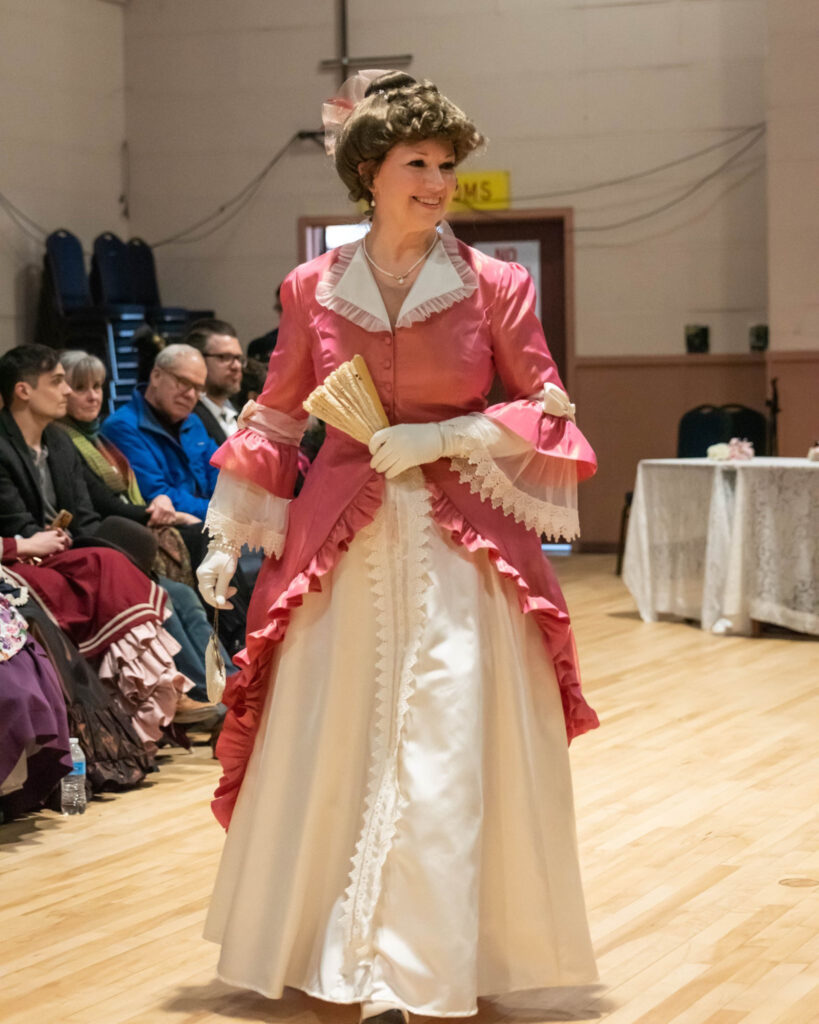 Many people in town enjoy dressing up for the festival, which Kathy attributes to so much diversity of options found in Victorian clothing. "One thing that is very helpful for us is that the growth and settling of the town goes from around the 1850s to 1900. If you think about fashion, you're going from the pre-Civil War to the bustle era to the Edwardian era. That gives people so many choices."

Are you planning your own Victorian costume for an event this year? When I asked Tracy what she would suggest to someone just getting started with costuming she said: "I go for a level of authenticity that I can afford. And I can sew, but that's not how I want to spend my time. So when I was looking for authentic Victoriana to wear it was a very difficult process, until I discovered Recollections. Very affordable, great quality, and Ameican-made is a bonus."

To add more authenticity to an outfit Tracy suggests focusing on adding historic jewelry and accessories, which are easily located online. Her favorite piece is an 1880s festoon Bohemian garnet necklace, ring, bracelet, brooch, and ring that her husband found at an estate sale. The stunning collection will be displayed at this year's Victorian jewelry presentation at the festival.

I wish I was attending!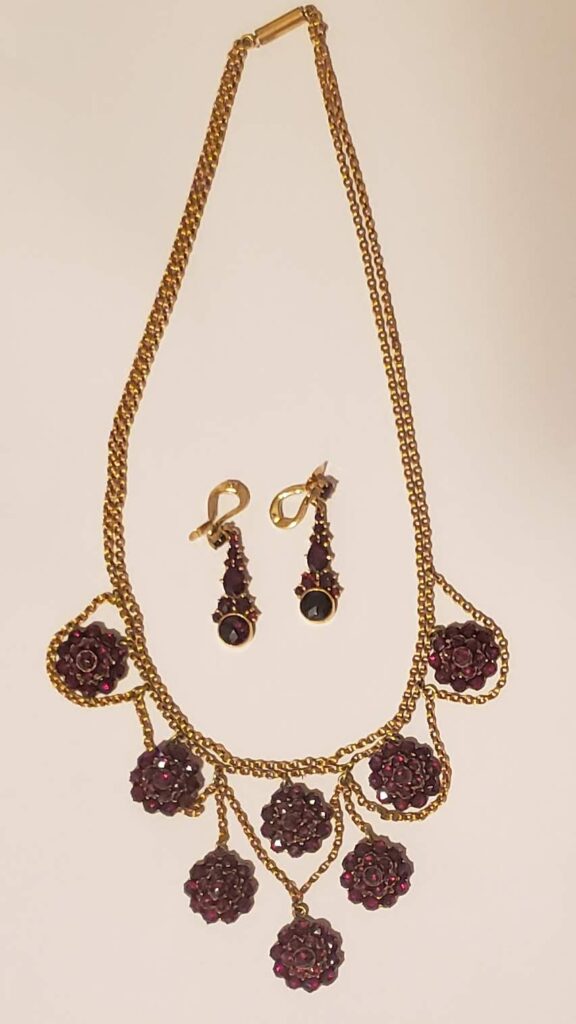 Connecting with Local Heroes from the Past

I looked forward to hearing from Tracy and Kathy about their favorite women from the Victorian era and both had a local hero to tell me about.

Tracy said she loves learning about and educating people on the life of early Port Townsend resident Dorette Rothschild, a local woman. "Her life here in Port Townsend epitomizes the town for me," she said.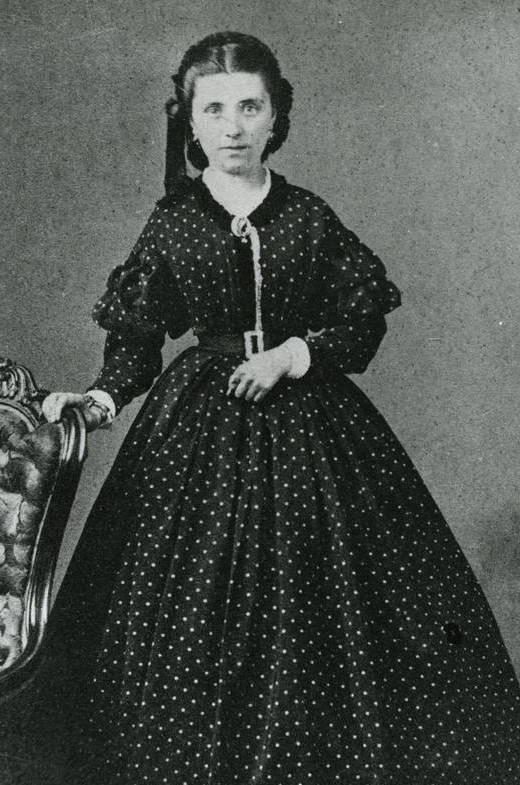 Rothschild and her husband moved to Port Townsend in the late 1850s and became successful mercantile owners. The couple's business did so well that they were able to build a house on the idyllic bluffs. Dorette's husband, D.C.H. Rothschild died in 1885 leaving her, the house, and five children behind. Resilient, she and her sons stepped into her husband's business. That enterprise, now known as "Jones Stevedoring" is still in operation today and is based at the Port of Seattle.

The family remained in the home until it was handed over to the state park service in the 1950s and turned into a house museum, with 100% of the items inside belonging to the family. The house was listed on the National Register of Historic places in the 1970s.

Tracy has served as a docent for the museum and loves wearing Recollections clothing when she does.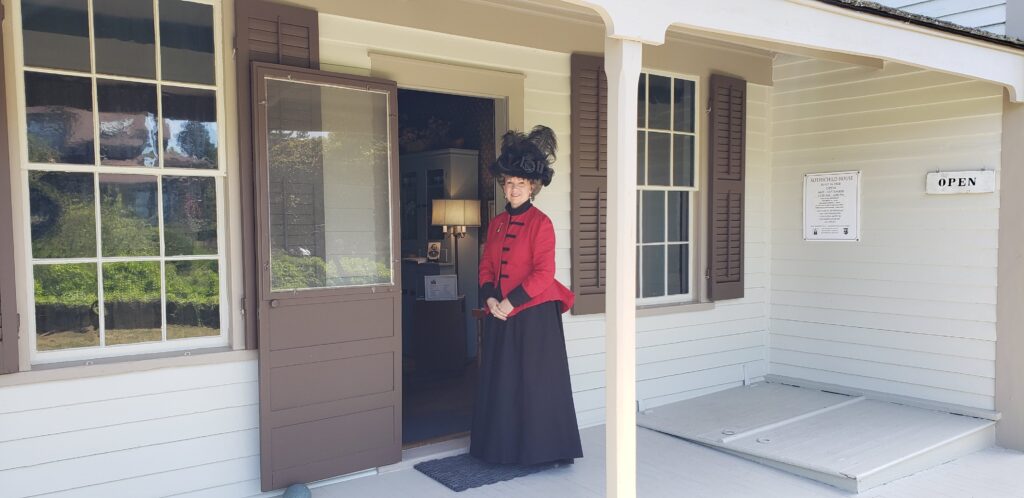 Kathy's favorite woman from the Victorian era was also a very resilient early resident, Lucinda Hastings. Lucina moved to the area with her husband, a businessman who eventually stole money from his business partner before fleeing town. The business partner would suggest that the best revenge that he and Lucinda could seek was to carry on and build up the business in spite of her husband's sabotage. The two went into business together. Lucinda would have the last laugh, building the most famous building in town, The Hastings Building, a striking blue masterpiece in the center of the town's thoroughfare.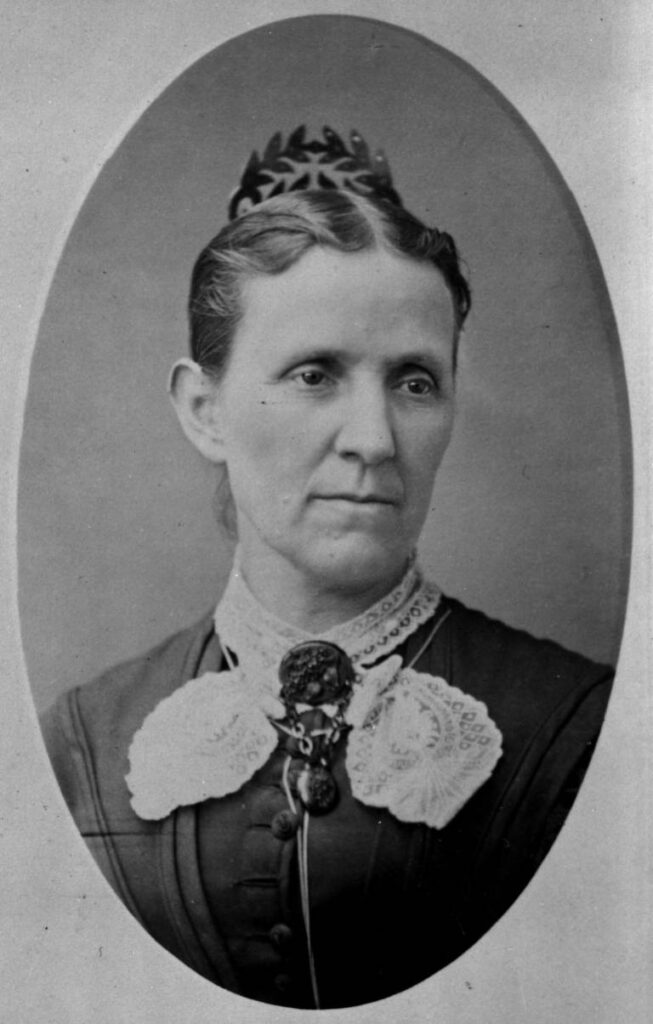 The Hastings Building is still owned by the family today and is still being restored. Learn more about the project here.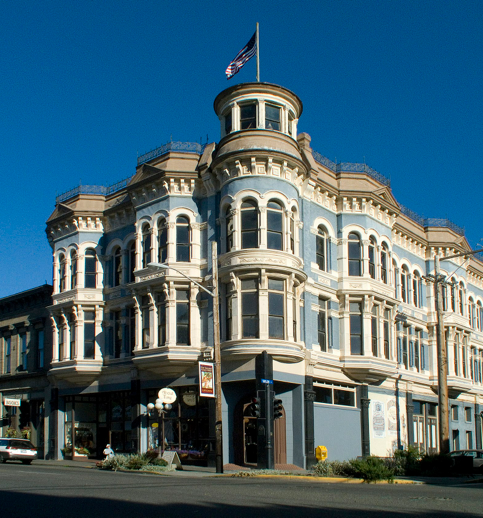 Great Expectations

The theme of this year's festival is Great Expectations, partially due to the optimism felt by residents despite the hardships the pandemic presented to their economy. "We tend to be a very optimistic group who live here," Kathy told me. It's the history of this town. There has always been this optimism that Port Townsend will survive. It will do bigger and better every year."

With this type of dedication, I don't doubt the festival and the town will survive and thrive for years to come. If you would like to be a part of the movement to preserve this precious Victorian seaport town I hope you will consider attending the festival. I know it's on my list! Learn more and reserve your tickets here.

One more Recollections dress spotted in Port Townsend!
While preparing this post over the weekend I received an email from Kathy who had spotted friend Barbara McColgan getting ready to give a walking tour in her brand new Recollections suit. I couldn't resist sharing and showing everyone how great it looks!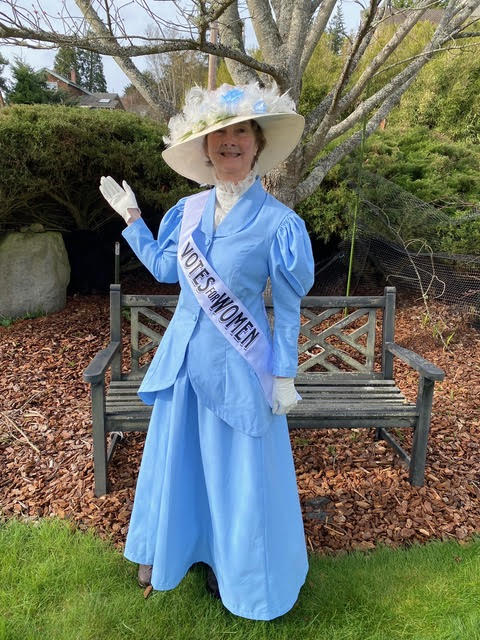 More stories from our talented customers:
Making sure local war heroes are remembered
Shellie O'Neal: bringing Fanny Crosby to the stage
A chat with the American Prohibition Museum
An interview with Joanna Syrokomla of Murdoch Mysteries