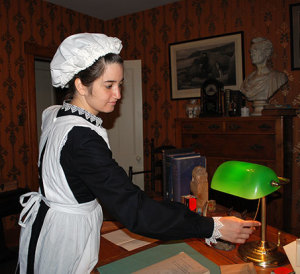 Located in New Paltz, New York, Historic Huguenot Street is a history museum which combines academic and costumed interpretations to give visitors a whole history of New Paltz and Huguenot Street.

Founded in 1677 by seven French Protestant families who fled the religious persecutions and wars of Europe, New Paltz's history follows the greater American Narrative.  With seven original stone houses, multiple historic structures, and a reproduction 1717 Church, HHS recreates American history, not by focusing on dates and names, but on the thoughts, feelings, and emotions of the people who came before, starting with the earliest contact period, and ending with the industrial revolution and the turn of the 20th century.  HHS employs a combination of interpretive methods to create a whole experience for the guest, including costumed actors who invoke the spirit of the past, the emotions and feeling of the people living in the moment of a historic event in American history.


One of those moments is the turn of the 20th century, a time when the nation was reacting to the changes brought on by the Industrial Revolution. HHS uses the Deyo House, a two room 17th century colonial stone house that was renovated in 1894 and turned into a two story Victorian Estate, and an actress portraying the Deyo family's house maid to recreate the emotions of a changing culture through the perspective a member of the lower class.  For the Deyo family and their house maid, their inability to adapt to the changes in society resulted in serious fears for their livelihoods and their futures.

In order to faithfully recreate this moment in time, attention to detail is a steadfast requirement.  As the center of the guests' attention, the actress herself needs to exist in the moment as well, and the first step in that process is her wardrobe.  After extensive research, the Agatha Ensemble from Recollections was a perfect match in terms of quality and image.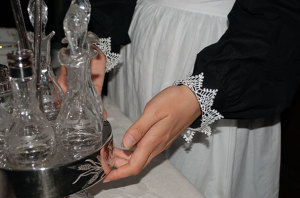 Recollections would like to thank our customer, Historic Huguenot Street, and Kristine Gogg for showing us how history comes to life in New Paltz, NY!  Photos provided by Historic Huguenot Street.  Interpreter in photos: Davida Haber.  To find out more about Historic Huguenot Street, please visit historichuguenotstreet.org.