Victorian wedding dresses are a sight for any eyes – sore or otherwise. The era was a big time for weddings as life was becoming more public and both parties were increasingly given more say in who they met at the end of the aisle. Queen Victoria herself is a great example of this gradual shift as it is well-known that she fell in love with Prince Albert and remained dedicated to him in all ways until her death, coming many decades after his. But as history-making as their union was, did it lead to a seemingly permanent change in the way brides dress? Did the Queen turn Victorian wedding dresses white?
White wedding dresses: another Queen Victoria invention?

It was fun doing the initial research for this post. A quick Google search on "Victorian wedding dresses + history" finds one bombarded with references to Queen Victoria's responsibility for starting the tradition of white wedding dresses. Sound familiar? She is often credited for various traditions that have carried over to today, including, of course, Christmas trees and in some cases, Christmas itself.

But I know such things are not so easily explained…

The literal truth is that royalty and women from wealthy backgrounds had been wearing white wedding dresses for many years. For centuries white was seen as a sign of extravagance and status due to its fragile nature, especially in the times before the laundering technology we enjoy today. Take, for instance, the stunning 1807 example below.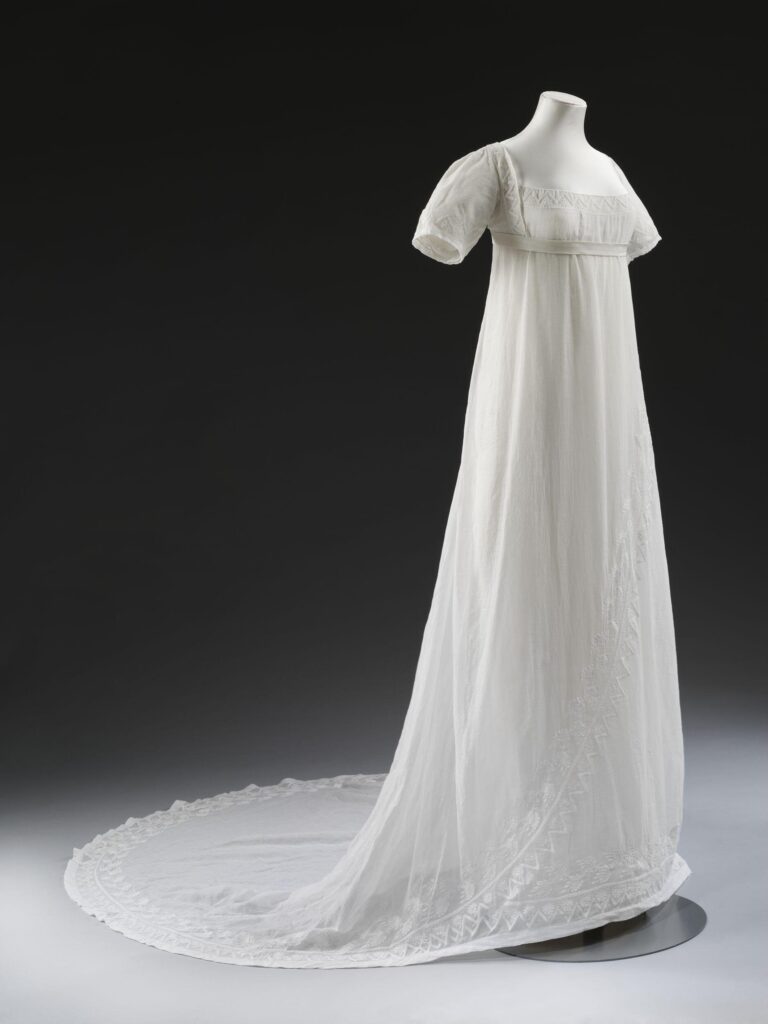 Showcasing fine white fabrics was a sign that the gown would not likely be repurposed and not, as is believed today, a sign of purity.

Queen Victoria was far from the first member of the royal family to wear white on her wedding day. It is believed that the earliest recorded white wedding dress in Western culture was that of English Princess Philippa at her wedding to King Eric in 1406. Mary, Queen of Scots wore a white dress when marrying Frances II of France in 1558.

It appears Queen Victorian was following a standing tradition and one that was not royally exclusive. White appears to have been the color of choice among the wealthy. In viewing multiple museum collections for this post I found only a handful of Western wedding dresses from pre-Victorian times that were not white.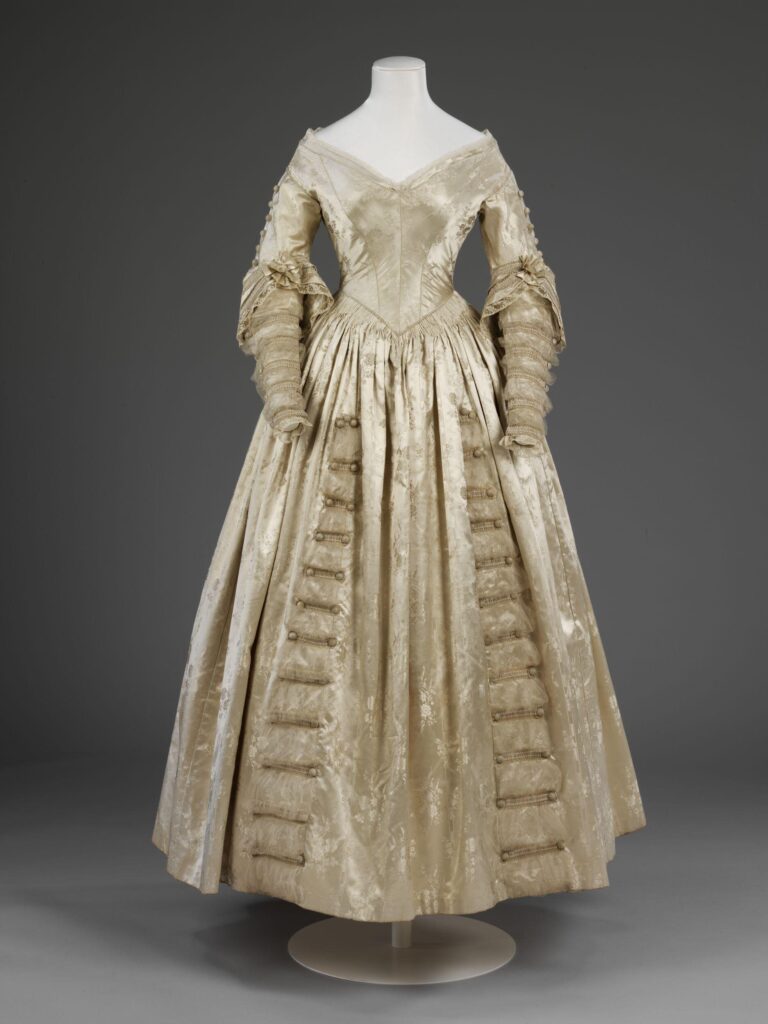 An unexceptional choice?
More proof of the un-exceptional choice of color for her wedding dress is from the queen's own words. Of her dress, she said: "I wore a white satin dress, with a deep flounce of Honiton lace, an imitation of an old design. My jewels were my Turkish diamond necklace & earrings & dear Albert's beautiful sapphire brooch."

As you can see, she did not seem to think that she was doing anything out of the ordinary by wearing a white dress. But while she may not have changed wedding history, the dress was, in fact, divine.
Will you wear purple on your wedding day?

Besides the above, there is evidence that many women from all walks of life continued to wear other colors following the so-called trend-setting event that was Victoria's and Albert's wedding. In fact, purple seems to have been the next-favorite color, with examples popping up through the Edwardian era.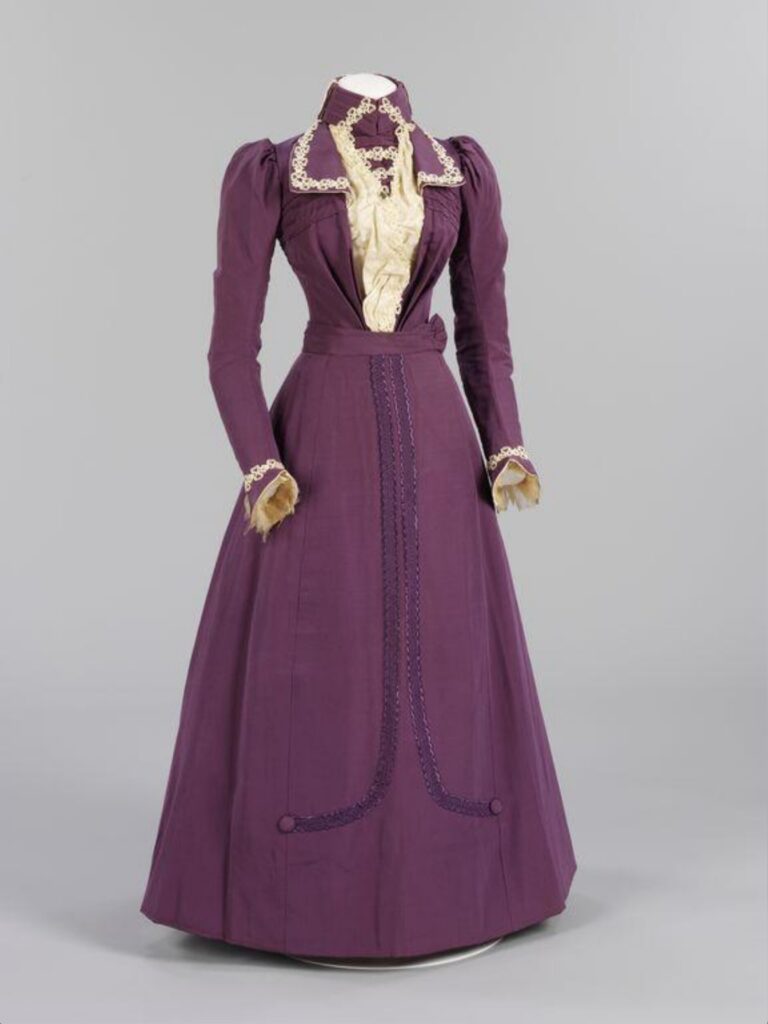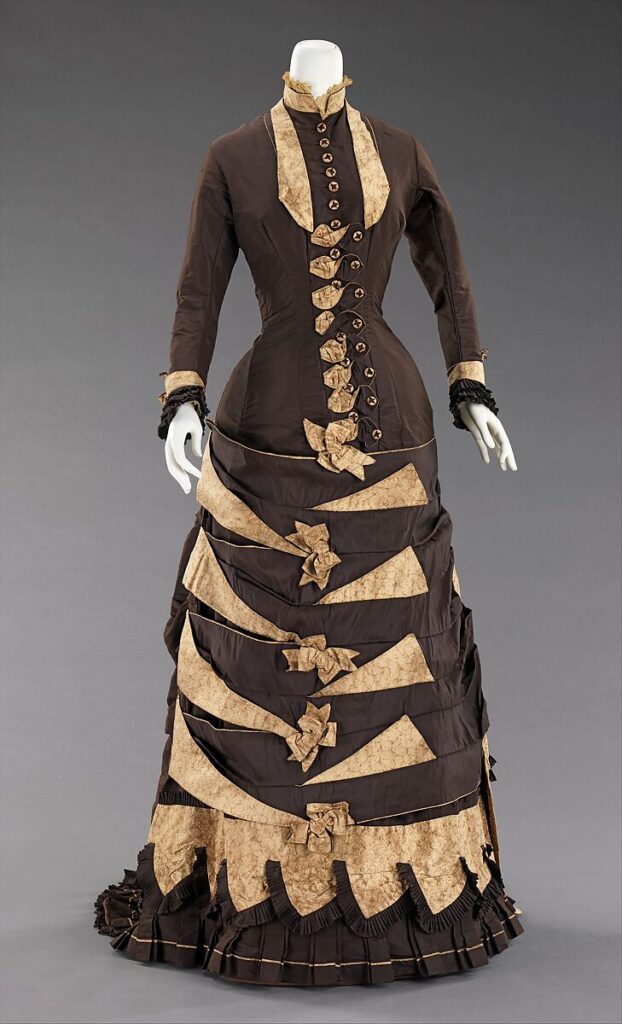 Shapes and styles

I think that it is not at all the color of Victorian wedding dresses that is of most note but the shape and style. True of both 18th and 19th-century wedding dresses, the primary "wow factor" was the fabric and not the design. Instead, despite the uniqueness of the occasion, wedding dresses followed the same style and silhouette that was popular at that moment. For instance, the 1880s examples below highlight the brief popularity of the huge bustle and flat front.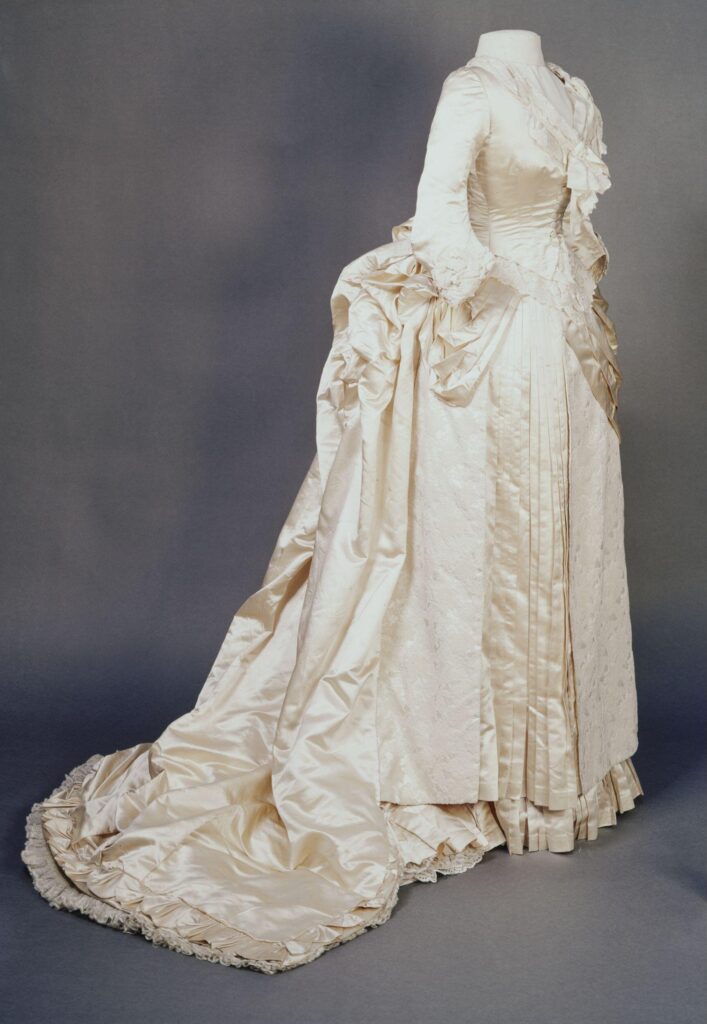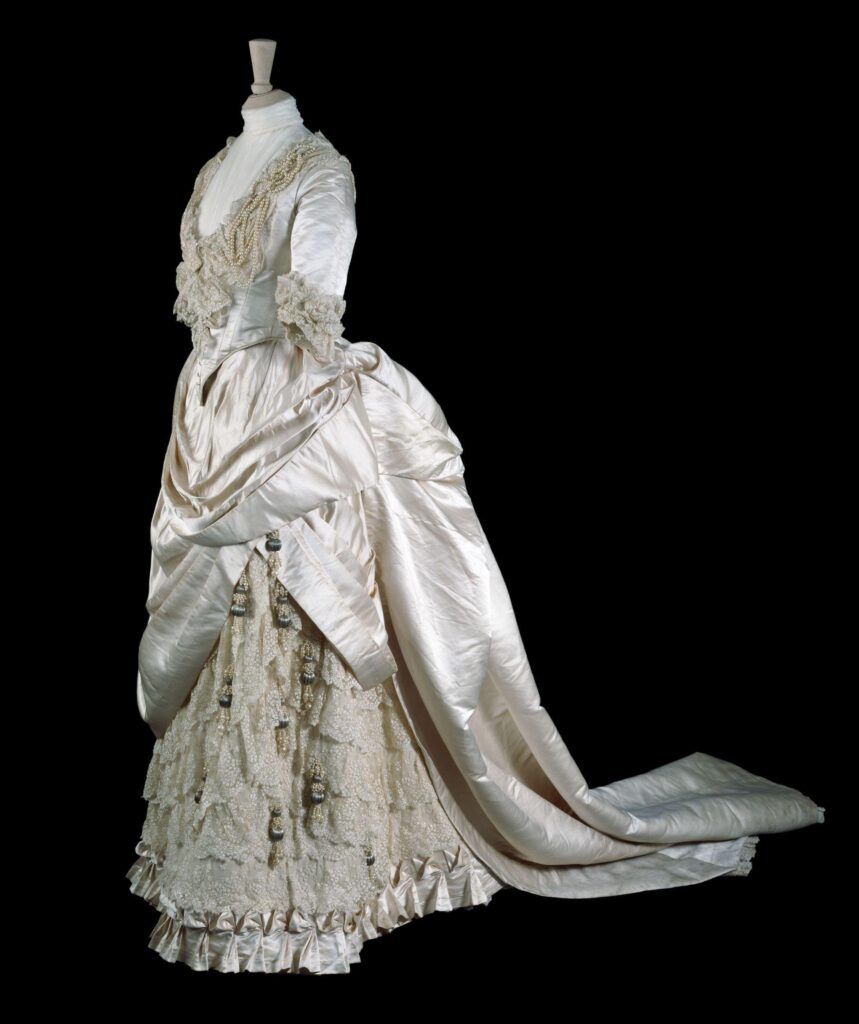 The darling examples below, on the other hand, are lovely examples of the hoop skirt craze of the Civil War years.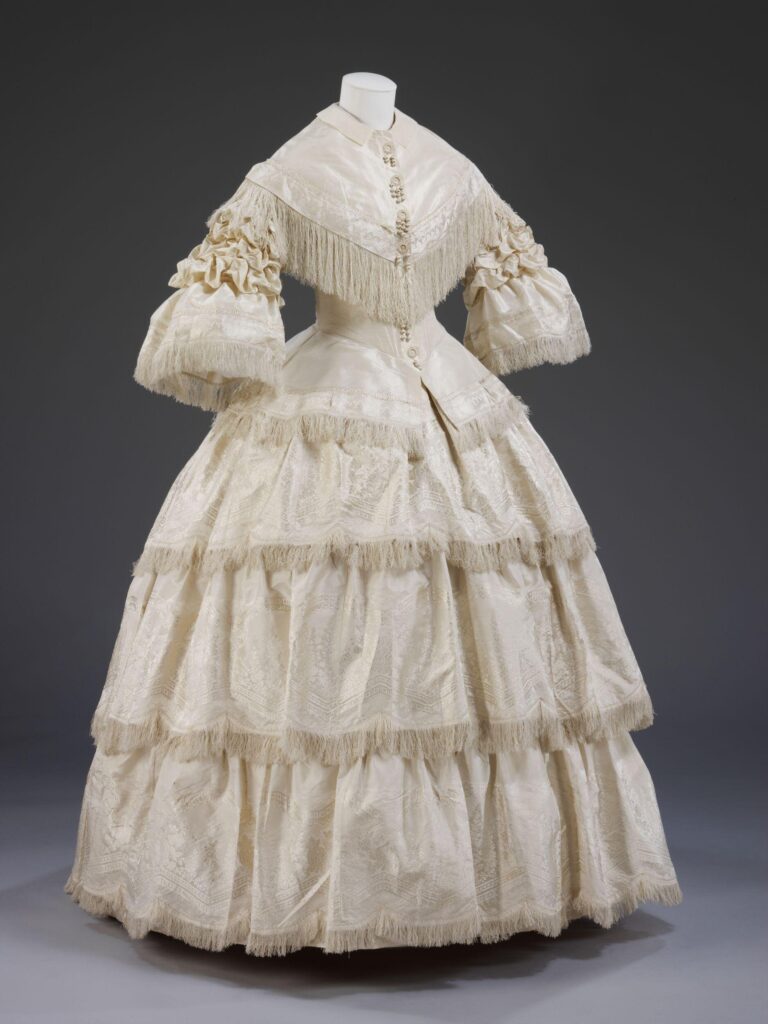 Victorian wedding dresses: influence on today

The standard of wedding dresses following the desired shape of the day would continue until as recently as the 1970s when things would take a drastic turn. Today, it is more common to see a bride wearing a Victorian-inspired dress rather than a white one that follows current trends. Why do you think this is?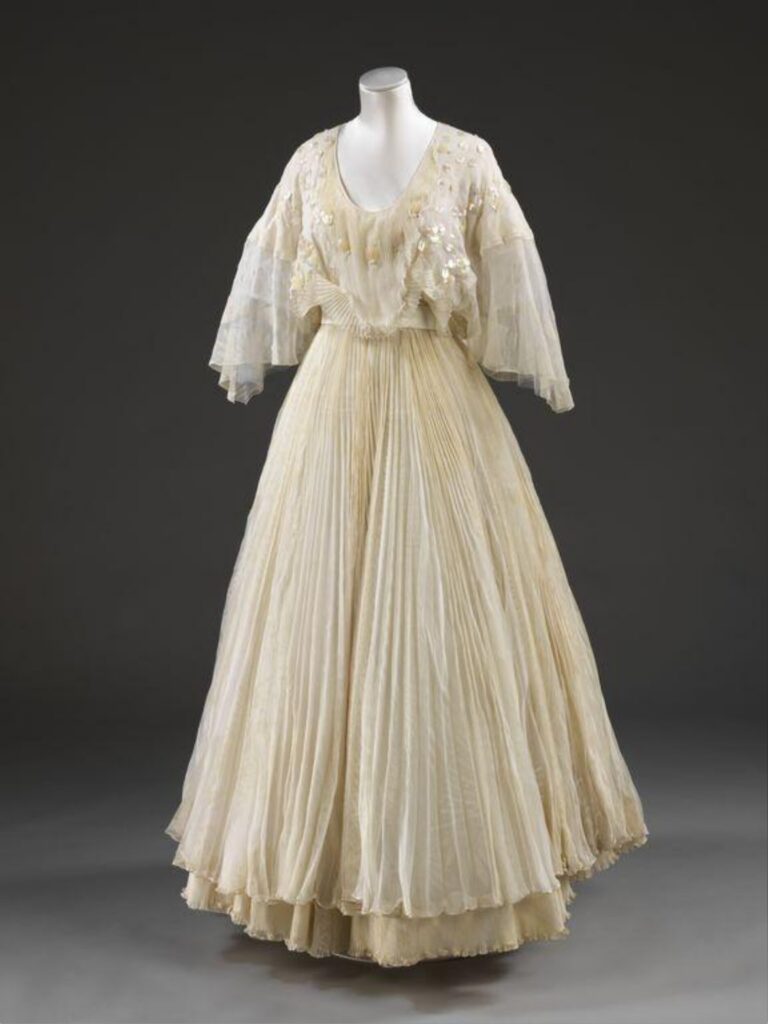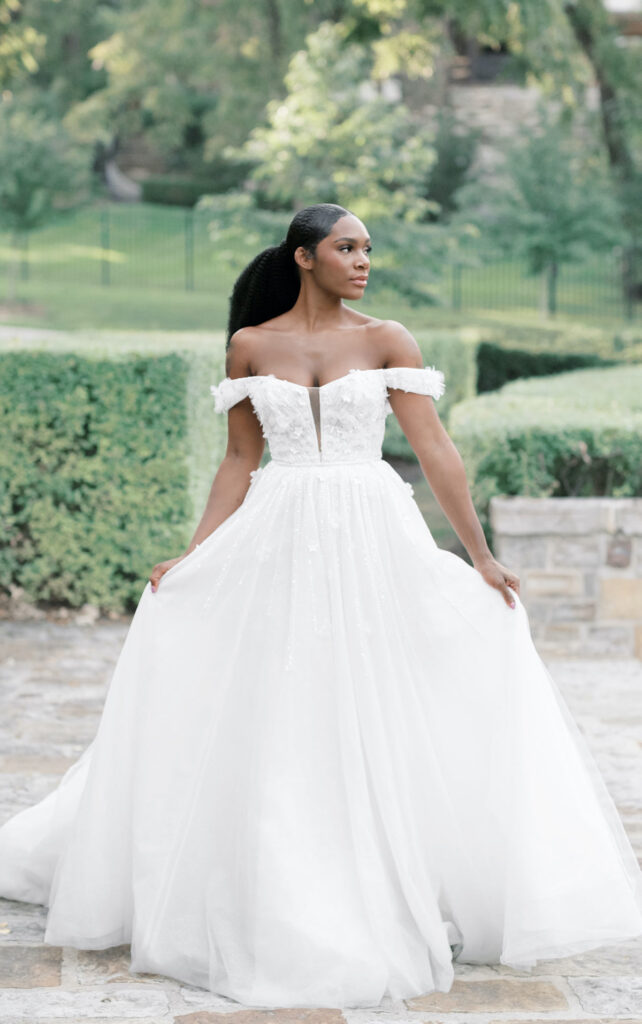 Have you been married? If so, what style of dress did you wear?

Love Victorian fashion? Enjoy these Recollections posts:
Led by simplicity: Victorian ball gowns
The look of the New Woman: late Victorian tailored suits