La Belle Époque comes from French and means 'Beautiful Era.' In the United Kingdom and the United States, it overlaps the late Victorian and the Edwardian Era. In the United States, it is known as the Gilded Age. It was only in looking back in retrospect that both time periods gained their names. Here is why we call it "La Belle Époque" today.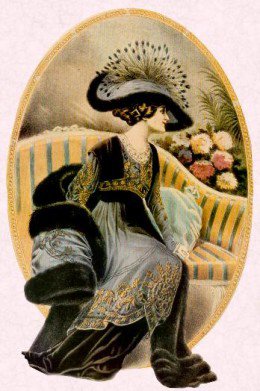 The hardships of the first part of the 20th century made this time seem like a 'golden age.' There was a 'joie de vivre' or 'joy of living' associated with this time of peace and relative prosperity. It was also a time of luxury for those of privilege that came crashing down as attitudes changed when the world went to war for the first time. It is no wonder that in retrospect, these years are referred to La Belle Époque.
Extravagant fashions of La Belle Époque
The late Victorian and Edwardian era in fashion was a time of opulence and extravagance. It was inspired by Victoria's son, Edward, and his hedonistic lifestyle. The British royal family set the trends of the day. It is no surprise that middle-class women tried to emulate the extravagance  associated with the cultural elite.
Paul Poiret
One of the most influential fashion designers of La Belle Époque was Paul Poiret. He was known as 'The King of Fashion' in the United States. His designs were inspired by the Orient; exotic and opulent. He used brilliant hues and his designs were theatrical in nature.
Before venturing out on his own, Poiret was employed by prominent Paris couturier, Jacques Doucet. He also worked for the House of Worth in the early 1900s. These experiences let him to to the avant-garde, where he happily broke with the established conventions of fashion.
Poiret brought women out of the corset and into the brassiere. He also did away with petticoats. He introduced harem pants and the lampshade tunic dress to women's fashion. He's also responsible for the hobble skirt that restricted a woman's ability to take strides, instead confining them to tiny little steps. He once boasted, "I freed the bust and I shackled the legs."
Poiret was a master of using draping as a fashion statement. Using rectangles cut along straight lines, he upended the fashion world. His designs were simplistic and original, and far from the patterned, tailored look that represented the final days of the Victorian era. His influence in fashion during La Belle Époque is undeniable.
Read our blog about Paul Poiret to find out more him and the fashions he created.
Other trends of the La Belle Époque
This era didn't only influence clothing. Hats were big and extravagantly adorned. Feathers used on hats and in fans were so popular that measures had to be put in place because certain bird species were endangered. La Belle Époque was a time of opulence and extravagance that came screeching to a halt at the start of World War 1 and has not been seen since.
– Donna Klein
Be dashing! Create a Belle Epoque look of your own with these Recollections looks:
More about Edwardian fashion
Art deco fashion: dresses and gowns
Edwardian women fashion: morning, noon, and night
Go Big or Go Home: The Merry Widow Hat
Preparing for an Edwardian-themed event
Femininity in Question: Edwardian Depictions of the New Woman