Guess what I did this weekend? Many of our readers will be pleased to know that I rented Somewhere in Time and enjoyed every minute. Though I was quite unsettled by the ending, it is an adorable movie with a great script. And most of all, similar to the experience of watching Sofia Coppola's Marie Antoinette, it was very visually pleasing. I, of course, loved the clothes and the beautiful scenery that The Grand Hotel offers. I have officially put attending their Somewhere in Time Weekend on my bucket list.

Because I know a lot of our readers attend the Edwardian themed weekend and other historic-themed events I started thinking about what it takes to plan for such an occasion. I have put together a list of tips I have learned through my years of traveling and attending fancy functions far from home and researched a few others. If you are planning for a costumed event I hope it will be a good resource for you as you set about preparing to make special memories.

(Note: because the Somewhere in Time Weekend is an Edwardian era event I have based this guide on that time period, but many of the tips apply to any historical-themed costumed event. Personally, I'm looking forward to putting them to use at the Jane Austen Festival in Bath at some point.)

Have some conversation starters
If you are attending a historic-themed event, curiosity will be in the air. You will have the opportunity to meet people with similar interests to yours, so why not be ready with some fun conversation starters about the time period you are celebrating? Times of yore are full of stories, customs, and traditions that seem outlandish and fascinating to us today. The Edwardian era was a short time of rapid change and society still held fast to norms that would evaporate in the decades following. Here are a few fun topics related to this moment in time:

Make sure to accessorize (but keep comfort in mind!)
Edwardian women used a lot of accessories. When going out during the day in warm months, they would have brought a parasol in addition to a hat (remember that sunglasses were not yet commonplace). Gloves were nearly always mandatory along with a handkerchief. After dark, a fan was a wardrobe staple, and jewelry was always worn. Using accessories will add a nice touch to your ensemble, will help you stand out, and can be a lot of fun to use. As you plan your outfits make sure to pair them with the correct pieces.

One accessory to pay special attention to for an Edwardian event is hats. As we saw in our post on Edwardian clothing recently, the Edwardian era was the last era for daily wear of oversized hats and Edwardian women considered them a status symbol. If you are attending an entire weekend event such as Somewhere in Time, have at least one with you.

It is important to remember the hat etiquette of the time, which followed the rule of wearing a hat outdoors, when paying visits (but not receiving visitors), in a large public space (such as a train station or hotel lobby), but not at an evening event. So, while you should have an option or two for the afternoon events, leave it out of the formal wear planning.

As in Edwardian times, many women today have a passion for their shoes. So while it may be tempting to shop for pointed ankle boots for your event, don't use the occasion to break in a brand new pair of shoes, no matter how special they are. You want to get the most of your trip back in time, and we all know how quickly a painful pair of shoes can ruin things.

Glassware and table settings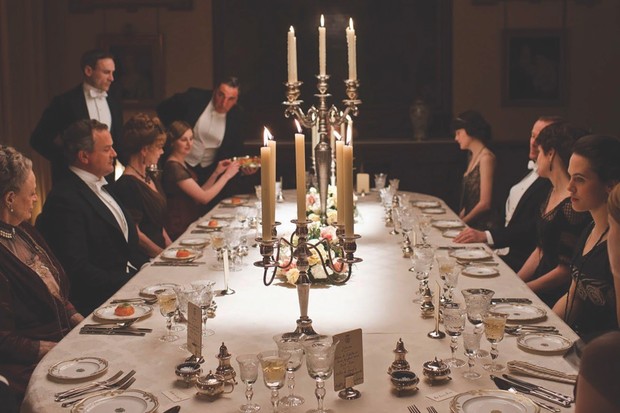 A fancy historic-themed event will probably have at least a few pieces of table or glassware that you aren't used to using on a daily basis. Enjoy the moment even more by really getting into character and acting natural while indulging in the fancy wares. A few things to keep in mind for proper formal use:


-Teacups: Always use a saucer with your cup. If you take milk with your tea, add it after the tea has been poured and set the spoon on the saucer after stirring. Above all, never hook your finger in the handle to sip, always use your index finger and thumb to hold a teacup.


-Champagne flutes and wine glasses: My favorite rule and a lesser-known one about drinking wine with a flute or wine glass is that the stem should be used to hold the glass, not the "cup" part. It keeps your wine at the proper temperature and also makes one look far more refined.


-Silverware galore! One of my favorites parts about a fancy dinner is the selection of polished silverware. Remember, start from the outer edge and work in with each course.

In Edwardian times it would have been extremely bad manners to place anything on the table while eating. If you are wearing gloves, place them on your lap during the meal. And, why not enjoy the moment and put the cell phone away as well? Some memories are meant to be made without screens.

Do your research but don't overthink it
As a blogger who focuses on history, it often surprises me to see so many Edwardian styles and customs mistakenly referred to as Victorian and vise versa. It will pay to plan your outfits in advance using a bit of research. You won't want to arrive at dinner wearing a corset and bustle to an Edwardian event, no matter how beautiful the gown. Get into the occasion by wearing similar clothing to those from the time period you are celebrating. For classic Edwardian fashions, one, of course, need not look farther than Downtown Abby for inspiration.

Once you get an idea for a look, have fun with it and don't overthink things. Plan outfits that will make you feel like you've stepped back in time in comfort. If the day is particularly warm, allow yourself a short-sleeved blouse over long. If you want to dance the night away, feel free to wear tried and tested ballet flats over pinching strappy heels.

Below are a few helpful tips for planning outfits for your Edwardian event.

For more details on Edwardian trends, visit our blog post Edwardian Women Fashion: morning, noon, and night.

Dressing for time travel

I know how quickly one can get overwhelmed when planning a historical costume. Last year I played the role of Margaret Evans, the wife of one of Colorado's second territorial governor, John Evans. I was told to dress in an "old fashioned" dress and not given many other guidelines. Of course, that didn't suit someone like me! I found myself in more than one rabbit hole while researching what to wear and was thankful to discover Recollections!

Researching for a costume can be fun, but as I learned, it is useful to have some guidelines to begin with. Here are the basics for starting to build your Edwardian wardrobe.

Day attire
Hair/hat
Pin hair up so as to fit under a large hat.
A large hat should be worn during the day, held in place by at least one hatpin.

Tops
A lovely lightweight and light-colored blouse should be worn during the day. Long sleeves and a high collar are most time-period appropriate.
Make sure to pack a camisole to wear with the blouse, both for comfort and because many such blouses are quite see-through.


Skirts
Long, narrow "tailored" skirts should be worn, with a belt if appropriate.
Make sure to wear a slip with the skirt for comfort. A full-length slip may be appropriate and most comfortable.


Shoes
Black and brown ankle or mid-calf boots would have been the most common "casual" footwear for the Edwardian lady.


Accessories (optional, but fun)
Belt
Tie
Parasol
Eveningwear
Hair
As mentioned above, you can leave the hat at home for the evening events. However, don't let that stop you from getting creative with your hair. Up-dos were the style in the early 1900s, held in place and adored with glittery clips, feathers, headbands, and barrettes. Even if you aren't confident about your abilities as a hairstylist, the right accessory will help you pull it off.

Get some inspiration here:
Edwardian Women Loved Their Hair and Hats

The dress
Nothing says feminine sophistication like an Edwardian gown. While there are many different styles and silhouettes that came in and out during this time, a good rule of thumb for an evening gown is one with less shape than those in Victorian times or to follow in the upcoming decades. The one shown here is a classic example.


Shoes
Shiny low heels with straps would have been the most common. Make sure to break them in first!


Accessories
Above all, make sure to find a lovely pair of earrings to show off with that up-do! Other popular accessories for an evening event would have been a fan, elbow-length gloves, and bracelets.