What a joy it is to live, work, and play in our little slice of northern Michigan. Presque Isle County is a four-season wonderland. Yes, it gets very cold and snowy during winter, but that makes summer all the more glorious! As we close out the summer of 2016 , we'd like to share a little bit about this place we call 'home.'
Often, Recollections' models are photographed inside a studio. But, every now and then we have the opportunity to take our photographer, Jennifer Adkins, on an escapade (or is it the other way around?). We offer no urban adventures in Presque Isle County but have an abundance of pristine natural beauty to share.

One of our favorite places to use as a backdrop for photos is the 40 Mile Point Lighthouse. It is one of three lighthouses located in the county that serve the sailors of Lake Huron. The lighthouse is about seven miles north of Rogers City and 50 miles south of Mackinaw City (where you can take a ferry to Mackinac Island). The light has been in service since 1897. The house is a time capsule of life around the turn of the 20th century.

The lighthouse is open for tours Memorial Day weekend through mid-October and admission is free. It is easy to take a walk around the property and on the beach and slip back in time. The remnant of a shipwreck from long ago on the beach is ready to stimulate your imagination as you enjoy a stroll through this beautiful park.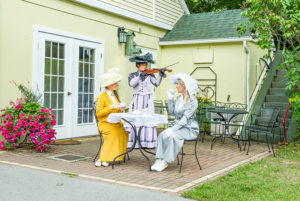 Not too far south of 40 Mile Point Lighthouse is Three Heart Bakery. This quaint bakery is located in the former Parkside Store on US 23, just north of Rogers City. It is the passion and dream of Lora Schwab and her husband, the bakery features artisan breads, packaged baked goods (including dog treats!), breakfast treats, and sweet delights. The Schwabs not only restored the building, they've restored the grounds, including the original martin birdhouses. It is a lovely place for photos, with a side of enticing aromas! But, they are only open from Memorial Day through Labor Day, so we have only the summer to enjoy all they have to offer.
The small town of Rogers City is one of two towns in Presque Isle County and sits on the shore of Lake Huron. It is a beautiful town with lots of green space and lovely architecture. Westminster Presbyterian Church is a stone church built in 1924 near the heart of downtown. It is an exquisite building that has served as the backdrop for many weddings and baptisms. They are gracious in allowing us to photograph our models on their property.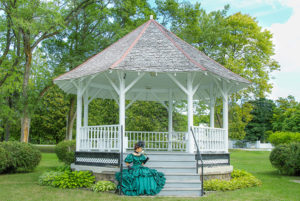 Across the street from the church is Westminster Park. The park and its historic gazebo are the centerpiece of activity for spring and fall festivals, performances, and the annual Christmas tree lighting. It makes a wonderful backdrop for our models.
Just north of town is the Herman Vogler Conservation Area. The Trout River runs through it and there is a small dam that makes fishing a treat. Seven miles of trails run through this 270-acre site. It welcomes hikers and skiers year-round and is a lovely setting for picnics and other leisurely activities.

Travel a few miles south of town and you'll find the Fairbanks farm. It is located in the village of Hawks, which is part of Bismarck Township. This historic farm offers the perfect backdrop for many of our photos and is not far from Recollections.
We hope you enjoyed this little trip to a few of the beautiful places to experience in Presque Isle County. You'll see these and more new photos on our website very soon!
– Donna Klein