I have always associated ponytails with summer. I had my hair done every day growing up and my mom tended to put me in ponytails more often than not during the warmer months (or shall I say, hotter, as I am from Arizona). As someone who is well-versed in 19th-century fashion, I am aware that ponytails are a huge leap from anything seen until just when they would appear on women's heads, never to disappear. It doesn't seem to me that there was much of an evolution toward the style we are so familiar with, but rather that it simply appeared. This week I sought to learn about the history of the ponytail. And while I am still not certain about the first woman to appear in public with her hair tied back in the 20th century, I am able to see who it was that popularized them.

Let's take a look at four fashion icons that helped the ponytail become a hairstyle staple.

Where did the history of the ponytail begin?

I found it difficult to locate any images of Western women wearing what we now refer to as a ponytail until the 1950s. I found many references to such a hairstyle worn in ancient Greece and Egypt, though it does not seem to have influenced its mid-century emergence.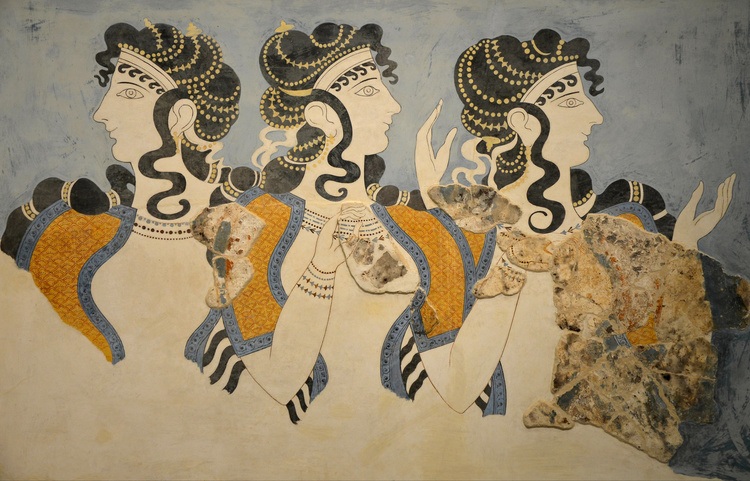 Online sources are all over the place when it comes to identifying the first year that the term was used:
The Online Etymology Dictionary: 1950
Merriam Webster: 1916
Dictionary.com: 1870-1875

It is worth noting that none of the above sources provide a source for their "first uses" of the word. Blog posts will often credit Brigitte Bardot for creating a ponytail sensation in the 1960s. However, not only do I not think the style she was known for counts as a ponytail, the style had been becoming popular long before Bardot's fame.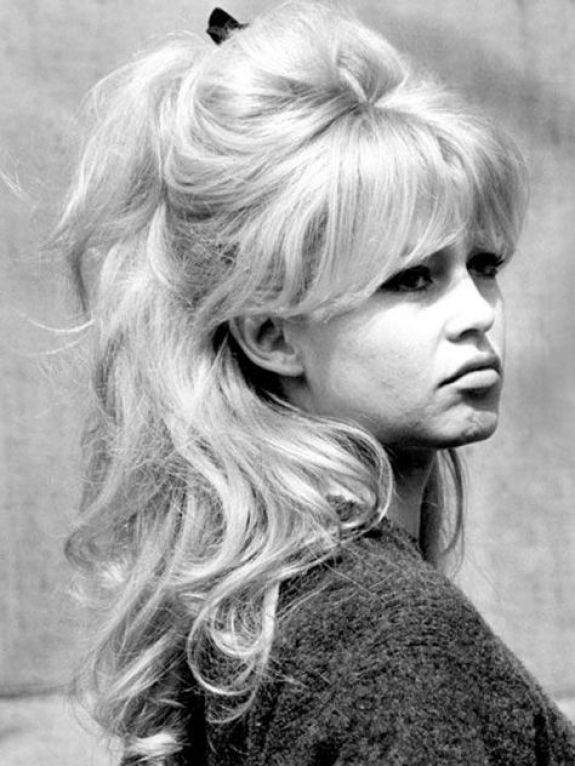 I was able to locate a 1952 Life Magazine feature that explores what hairstyle is more favorable; "poodle" or "horsetail." Reads the piece: "The poodle needs a lot of maintenance–cutting every two weeks, setting with up to 125 curlers and, for straight hair, a permanent every eight weeks. But it is easy to take care of between beauty shop visits. The horsetail needs only a brush and rubber bands for upkeep, though it does take more home elbow work than the poodle."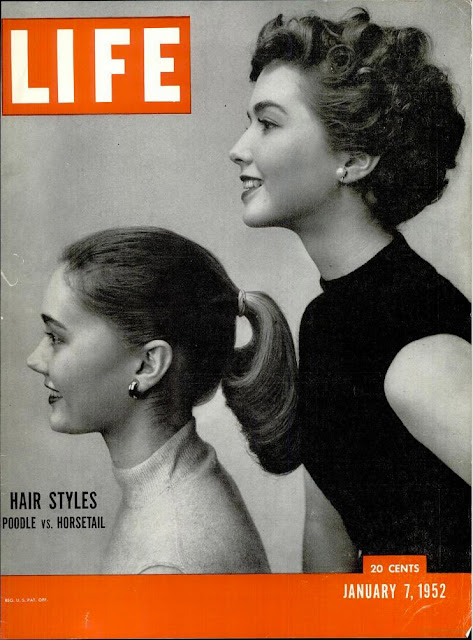 While "horse" is used to describe the look rather than "pony," it is clear that the public was familiar with it by 1952. Though as the piece points out, it was most popular among teenagers. Let's take a look at four women who helped to expand the trend to the rest of American females.

Audrey Hepburn

The first example of a widely-seen image of a grown woman wearing a ponytail was Audrey Hepburn in 1957's Funny Face. I have sadly never seen the film but learned that it is about a group of people who want to freshen up the fashion industry with a new look. Hepburn portrays a bookstore owner who transitions into modeling. Considering the movie is about a new look and Hepburn's status as a fashion icon (then and now!) it is not surprising that her appearing in a ponytail led to mass-adaption of the look.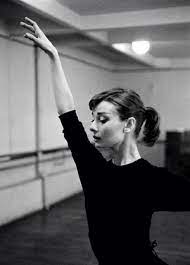 Sandra Dee
1959 was a big year in the history of the ponytail. Two icons were widely seen sporting them, Sandra Dee and Bardie. Sandra Dee's ponytail was seen throughout the movie Gidget, a popular surf film. While the film portrays teenagers, its popularity and influence undoubtedly led to growing favor for the ponytail.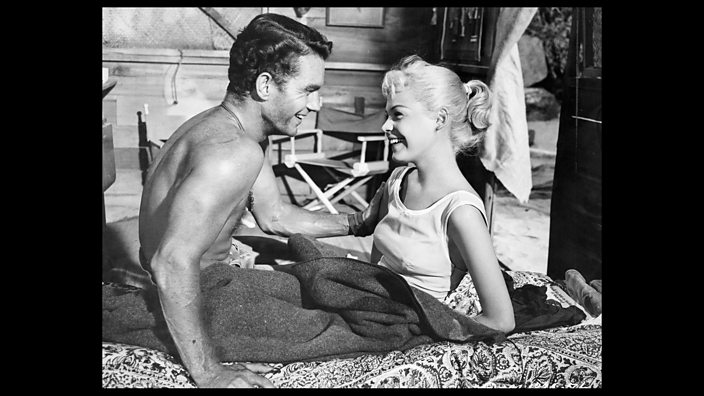 Sandra Dee received a 1960 Golden Laurel Award nomination for her performance. The film had multiple sequels, and inspired a television series, and television movies. Many consider it to be the film that began the beach party craze of the 1960s.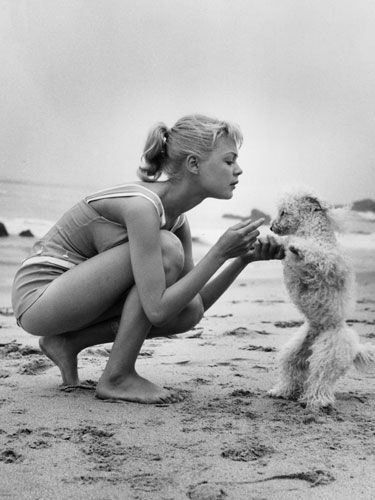 Barbie

The first Barbie Doll appeared at the 1959 American Toy Fair. The idea behind the doll was to provide girls with a grown-up doll to play with rather than the more common baby dolls. As such, it was dressed to resemble glamorous actresses of the 1950s. She wore heavy eye makeup, lipstick, and a ponytail, set for a day on the beach. I wasn't able to find anything from Matell about why a ponytail was chosen for her hairstyle, but I suspect it was simply that Audrey Hepburn had made such an impact with hers. One website I visited even referred to the first Barbie as having an "Audrey Hepburn ponytail."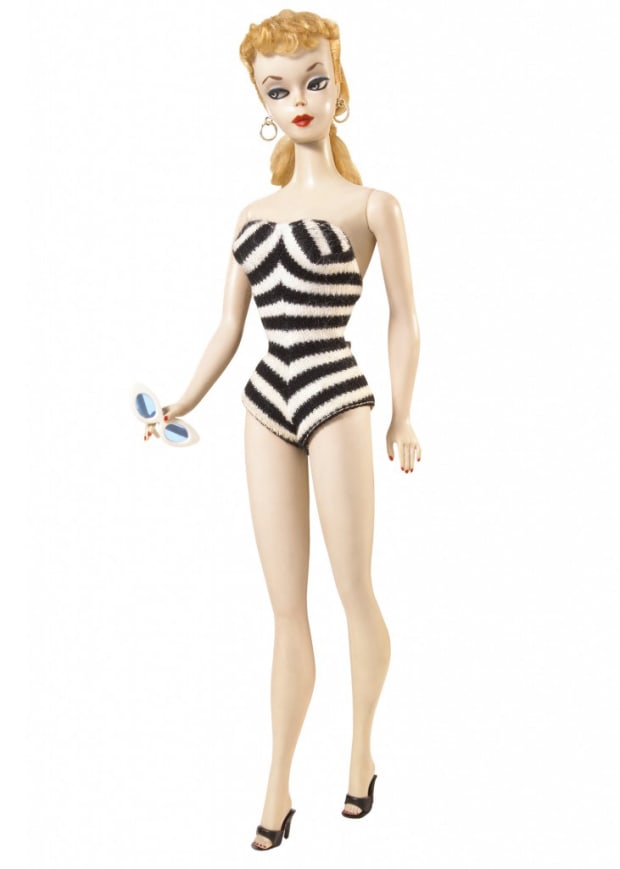 I Dream of Jeannie
Because the show did not air until 1965, Barbara Eden's unforgetful look in I Dream of Jeannie was a result of the new hairstyle's popularity, not a cause of it. But the show was so influential and the ponytail was still uncommon among adult women enough for her contribution to its permanence in America to be recognized.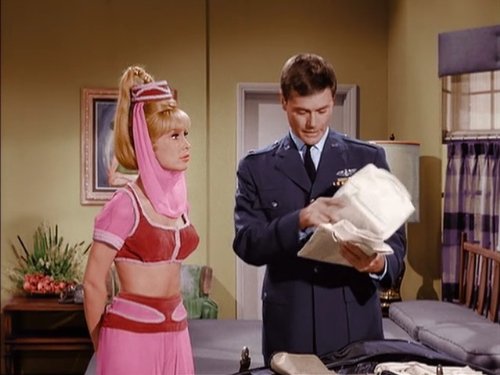 Although the high ponytail was achieved with the use of a blonde wig and not Eden's real hair, it remains one of the most famous ponytails of all time, inspiring a look that is still popular among celebrities today.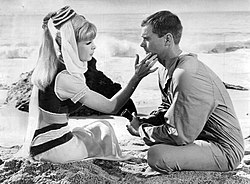 Did you love this post on the history of the ponytail? You may also enjoy:
Go Big Or Go Home: The Merry Widow Hat
Hair combs: practical and pretty
Rosy cheeks: the Victorian way