Late Victorian architecture is the stuff that fairy tales are adorned with. It was a time of expanding wealth for the "common man" and homes reflect the desire that so many had to embrace and display their abundance. Exteriors were adorned from top to bottom with as many embellishments as possible. The famous "painted ladies" in San Francisco are perfect examples of this trend.

Masterclass.com describes this period of architecture as:

"Victorian architecture rejected the subtle styles of the past in favor of a style that reflected the prosperity of certain social classes.

Ornamentation: Victorian buildings were designed to be ornamental. Interiors were decorated with extravagant, ornate furnishings, while decorative gables, eaves, and rooftop finials adorned the exteriors.
Colorful exteriors: Victorian homes and buildings are commonly painted in a variety of pastels, jewel tones, and earthy colors. Some feature a monochromatic color scheme while others feature several contrasting colors. Stained glass windows also provided color to both the interior and exterior of Victorian homes.
Complicated structures: In contrast with the simple structures of previous eras, Victorian buildings feature bay windows, steeply pitched rooflines (also known as Mansard roofs), and large, wraparound porches.
Sadly, many of the homes with the above characteristics did not survive the many fires and urban development that took place. However, many of the painted ladies in San Francisco are not only standing but have perhaps improved with each passing year. They also bring a lot of joy to locals and tourists alike. As I am sure many of our readers have visited the charming area I thought it may be fun to dive into a bit of the history behind these classic Victorian homes.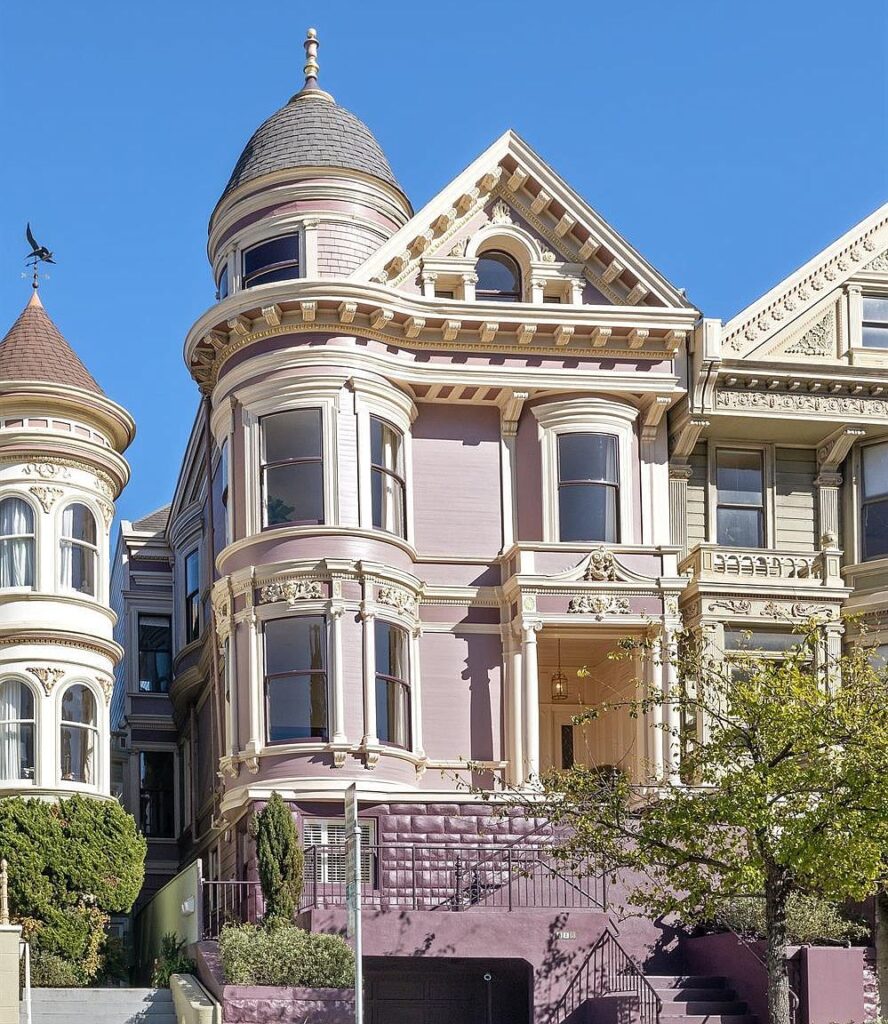 The history of San Francisco's painted ladies in five facts
They were bright before the hippies

I have loved learning about the famous San Francisco houses that most of us are familiar with. The origin story is that they were built in the 1870s by architect Matthew Kavanaugh who also lived in perhaps the most notable, 722 Steiner St, located at the end of the block. The elaborate Victorian homes were built as a result of the California Gold Rush and the enormous amount of wealth being amassed in the state. Many people were looking for homes to both live in and display their wealth with and it is believed that between the years 1849 and 1915 over 48,000 such homes were constructed in the immediate San Francisco area.

It is commonly thought that the bright colors currently decorating the much-loved homes were a result of re-painting during the 1960s. This is not exactly the case. While the homes were repainted during the time, the popular trend for exteriors for much of the Victorian era was for them to be painted in bright colors, and these homes were no exception. An 1885 newspaper noted that the homes popping up were "… red, yellow, chocolate, orange, everything that is loud is in fashion … if the upper stories are not of red or blue … they are painted up into uncouth panels of yellow and brown …"

I would have loved to see the original colors of the houses with the figures of elaborately dressed Victorian ladies coming and going.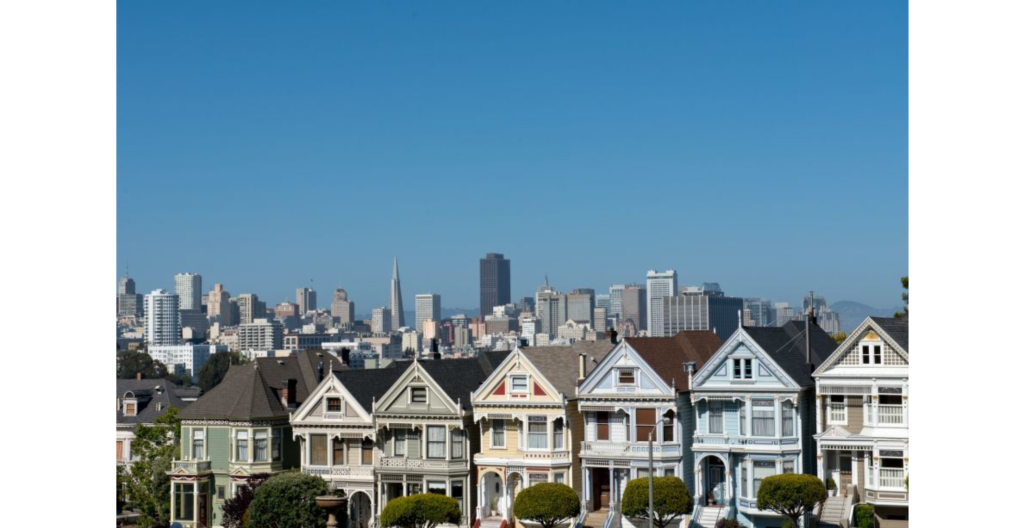 They went through a drab period

Sadly, the vast majority of the Gold Rush era homes were destroyed by fire, the 1906 San Francisco earthquake, or demolition. Many that remained standing during WWI failed to be respected for their Victorian charm and instead painted with navy surplus paint or other materials of the time such as aluminum siding. I am sure it was a sad time for the neighborhood, not just for the removal of color but because so many local citizens became involved with the war effort. It would be decades before bright colors were splashed on the area once again, but it would then be a revival that would change the face of San Francisco forever.

I have searched and searched for a photograph from this time period and am sorry to report that I don't have any to share at this point.
Their revival started a movement that exists to this day

The 1960s brought many people to San Francisco that loved bright colors and new ideas. It would bring homeowners who were ready to mix things up and would start a movement that is continuing to this day. Two people are widely credited for starting the "colorist" movement in the area, Butch Kardum, and Maija Peeples.

Butch Kardum is credited on nearly each website and blog post I used to research this post as the first person to paint a home with bright colors in a sea of muted paint. I am not exactly sure which painted lady was his, but his color choices were so well received that others followed suit and he would go on to become a "color designer" and paint houses around the city. Kardum started things off with his blue house in 1963.

Butch Kardum may have been among the first to repaint his Victorian home, but artist Maija Peeples encouraged the movement along famously. After painting her Victorian home with every color available from Dutch Brothers at the time she would be featured in news outlets Saturday Evening Post and San Francisco Chronicle in 1968, and Progressive Architecture in 1969.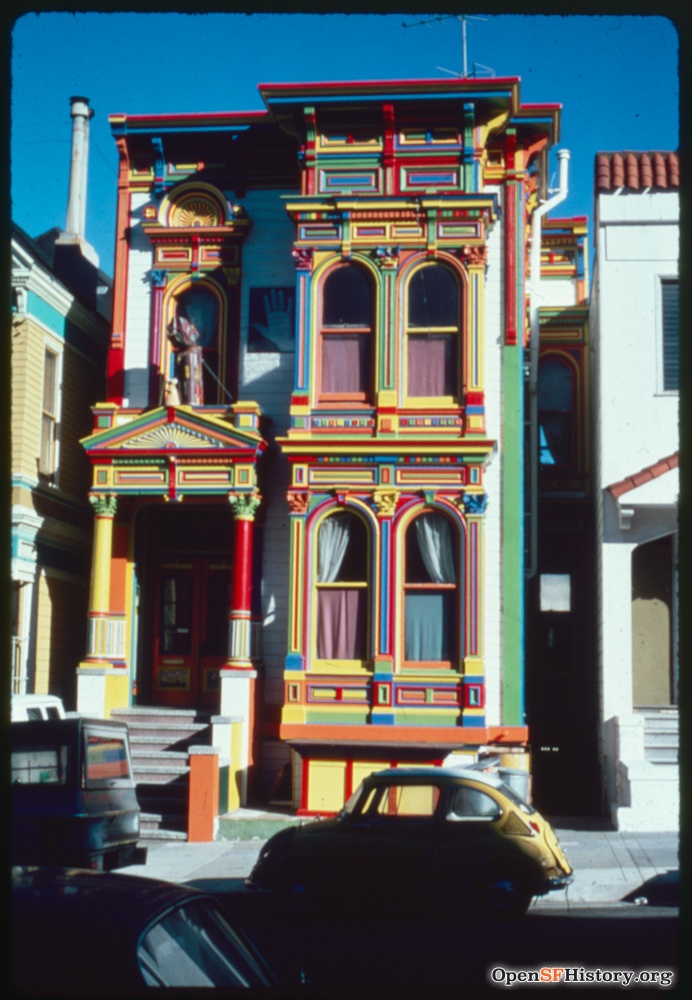 Peeple's former house is located near the most famous of the painted ladies at 908 Steiner.
While it is now painted blue, she is still remembered for taking the colorist movement to new heights.

Kardum and Peeple's efforts to add a dash of sunshine to their neighborhood set in motion a desire for creative and colorful exteriors that is alive and well. Local Color, a Bay Area restoration company, is actively sought out to paint Victorian and Edwardian homes and is in its 46th year. Bob Buckter, also known as Dr. Color, has designed palettes for more than 17,500 local homes as of last year.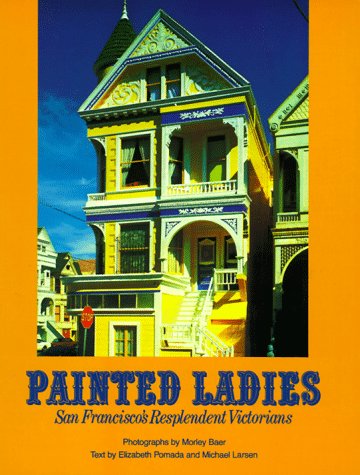 Classic Queen Anne style

Readers will be interested to know that although the homes are adorned with modern colors and paint, they were built in classic Queen Anne style, an aesthetic that was trending across the Western world at the time. Says Dunn Edwards:

"Although each of the painted ladies boast unique colors and details, they strictly follow Queen Anne architectural style. Their distinctive features include:
– An asymmetrical façade with a dominant top front-facing gable, cantilevered out beyond the plane of the wall below
– Overhanging eaves and detailed brackets
– Round, dominant corner tower
– Gingerbread style gables
– A small porch covering the primary entrance area
– Differing wall textures, including patterned wood shingles shaped into varying designs
– Painted classical columns, spindles and balustrades
– Cutaway bay windows
– Intricate stain-glass paneling
I am so glad for the homes that survived!

Meet resident Alice Walker

I think my favorite fact about the San Francisco ladies is that one of the most famous residents was Alice Walker and that even in such a lively neighborhood she was known for throwing loud parties. Walker lived in the area for several years and one of her LIFE photo shoots was held in her painted lady. One of the images is below.

More Victorian fun:
Rosy cheeks: the Victorian way
Victorian spring cleaning tips and tricks