A practical and pretty accessory that isn't as utilized today as it was in the 19th and early 20th centuries is the decorative hair comb. This dainty little device was once seen as an essential part of a woman's wardrobe, and many antique examples remain today. In fact, while visiting the Molly Brown House Museum here in Denver this week I discovered a lovely collection that has recently been put on display in Margaret Brown's room.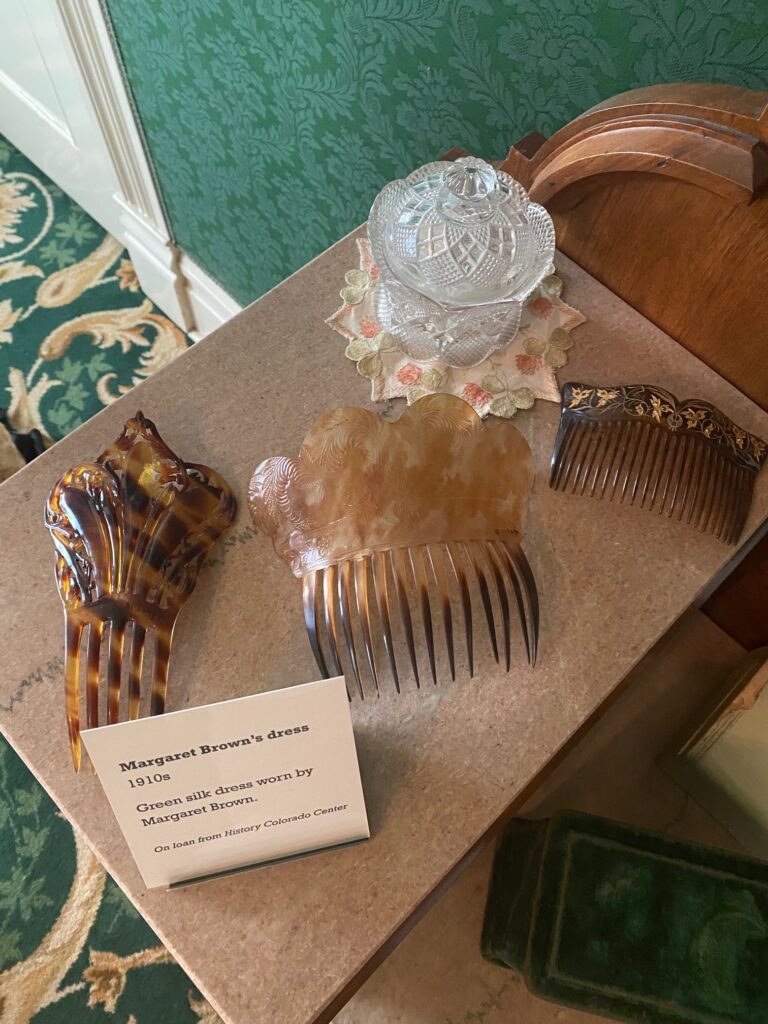 I haven't covered accessories on the blog for a while so I thought this could be a fun topic to dive into. Plus, they are a lot of fun to look at. Have you used decorative hair combs before? Or do you own any antique combs? I'd love to hear from you in the comments below.

A short history of decorative hair combs
While combs for styling hair have been used since ancient times, the decorative combs I am exploring today likely came into existence in the late 18th century. In the paper Georgian & Regency Combs & Hair Accessories 1800-1840 the author (not listed!) states that this was a result of so many tools that were invented to create the enormous coiffeurs, particularly in France. When hairstyles returned to a more practical level, the new tool was then expanded to act as an ornament.
How to wear a comb

I wasn't able to find too much instruction on how to use combs or proper types of combs for various occasions, but Godey's Lady's Book did provide tips from time to time. An 1866 issue says of a style "Josephine adopted in Paris":

"consists of a voluminous chignon formed of plaits or curls arranged very high on the head. Rows of short curls fall over the forehead, and are strapped by chains and bands a la Benotion.
"Coils are worn, but the old waterfall ranks first in pub- lic favor. Asa general rule, the hair is arranged so high on the head that the comb can be seen from the front. A half wreath of very short curls is frequently placed over the waterfall or coil, as a substitute for a comb."

An 1864 issue describes the "Clarissa coiffure":
"The hair is rolled over a cushion in front, and arranged in a waterfall at the back, round which is twisted a heavy plait. The comb is of black velvet and gilt. The coiffure is composed of a black barbe and lilies of the valley."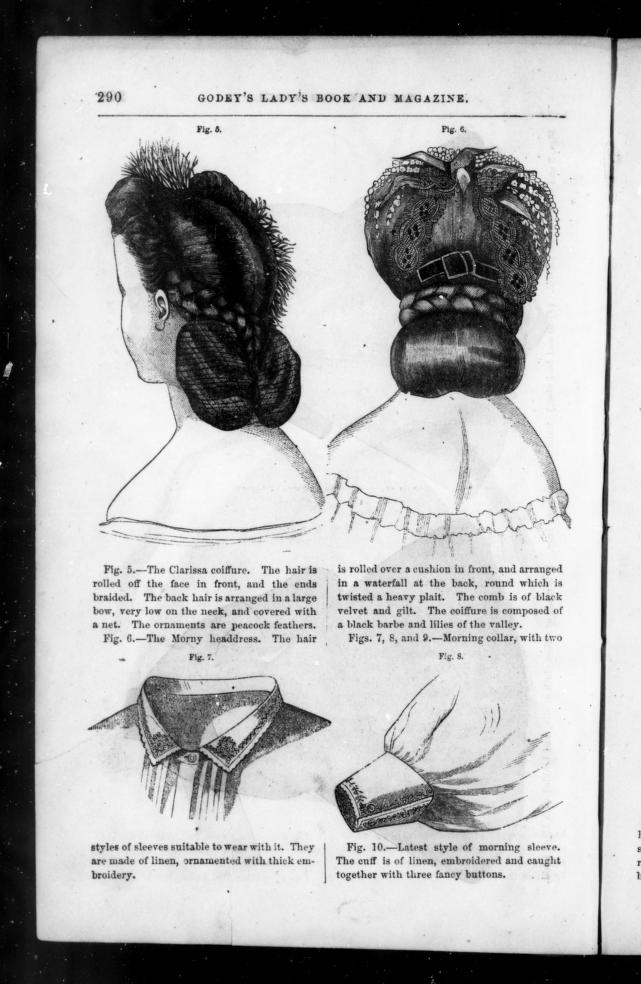 The same issue assured readers that combs were still very much in fashion:
"Fancy combs are still the rage, and very economical ones may be made by cutting a fancy design out of cardboard, such as knots, bows, linked rings, etc., and covering them with gilt, steel, or jet beads and fastening them on a small plain comb."
Let's take a look at the combs that were all the rage back in Godey's Lady's Book day (though I do love that they were encouraging their readers to make their own!).
Types of hair combs

From the Regency period to when they fell out of widespread use in the 1920s (roughly), hair combs remained largely the same, with a decorative bar above the teeth. The exception was the Spanish mantilla comb, which enjoyed a brief heyday in the 1830s. These were much larger, creating a vertical halo around a woman's head. One of them is pictured below.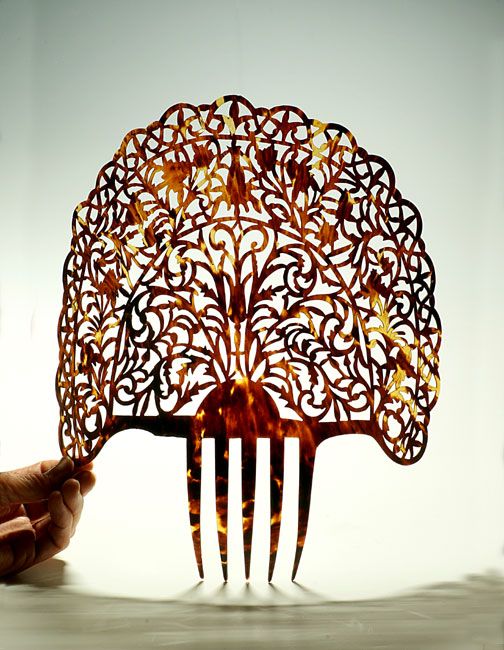 For the purposes of this blog post I will be focusing on the styles of combs that remained widely used during the 19th century.

Metals

These are my favorite ones. Combs made of steel, gilt metal, and brass, and other types of metals were seen widely in the 19th century. Though they would not be as popular as the next type I will share, tortoiseshell.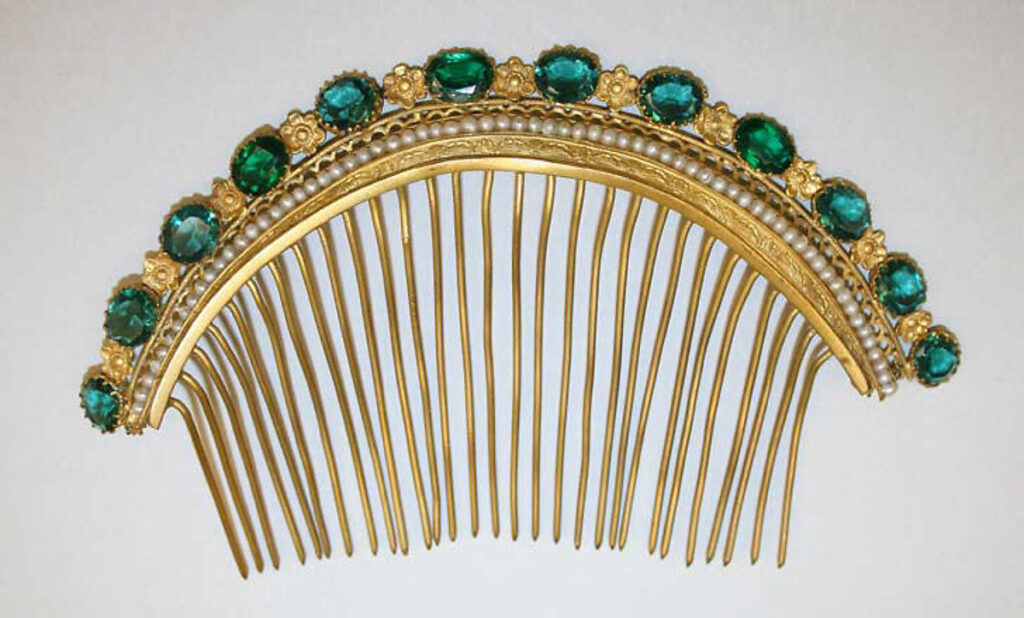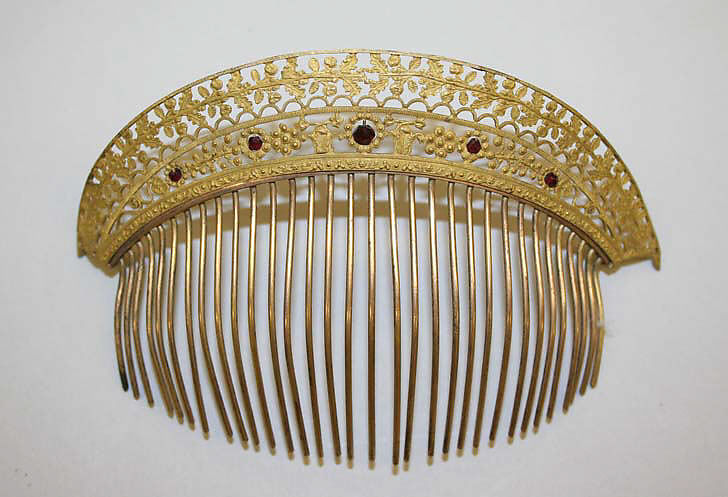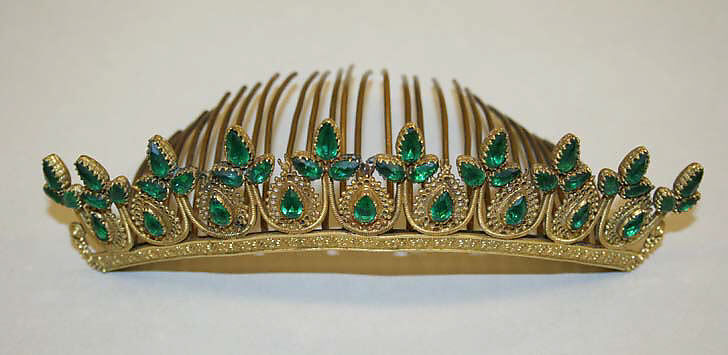 Tortoiseshell

Tortoiseshell has been used since ancient times. Their popularity for combs began with the trend of the Spanish mantilla and would remain the most popular type until replicas began to made, often out of celluloid.

And what a good thing it is that mock-tortoise shell was developed and that tortoiseshell is no longer used to manufacture goods. It is a sad thing to think of such fascinating creatures being hunted for this purpose!

To create the shapes seen in the following images tortoiseshell is boiled and then molded into place.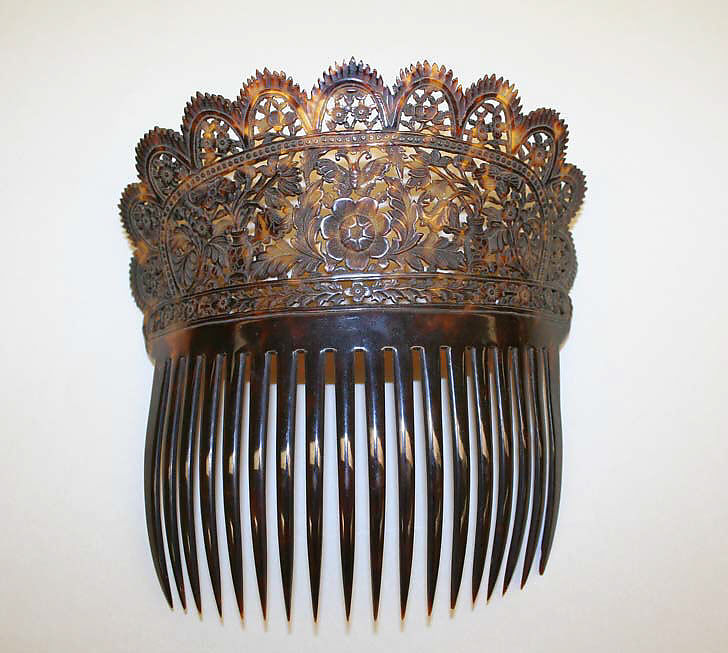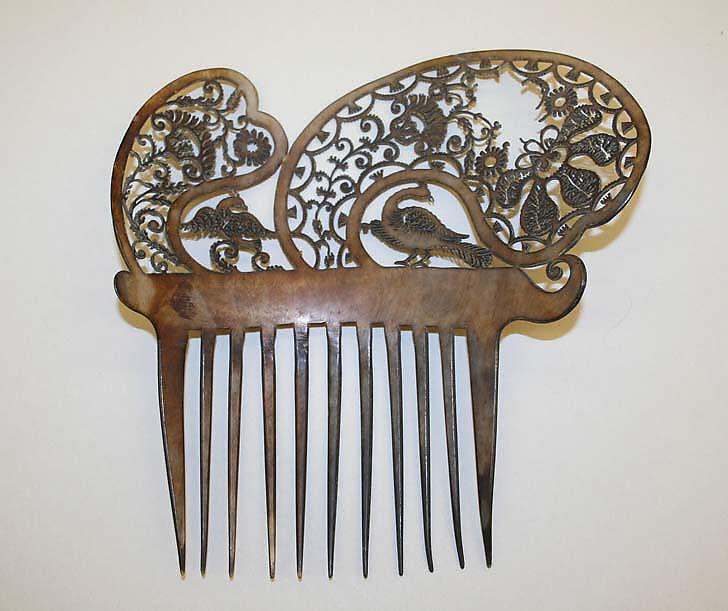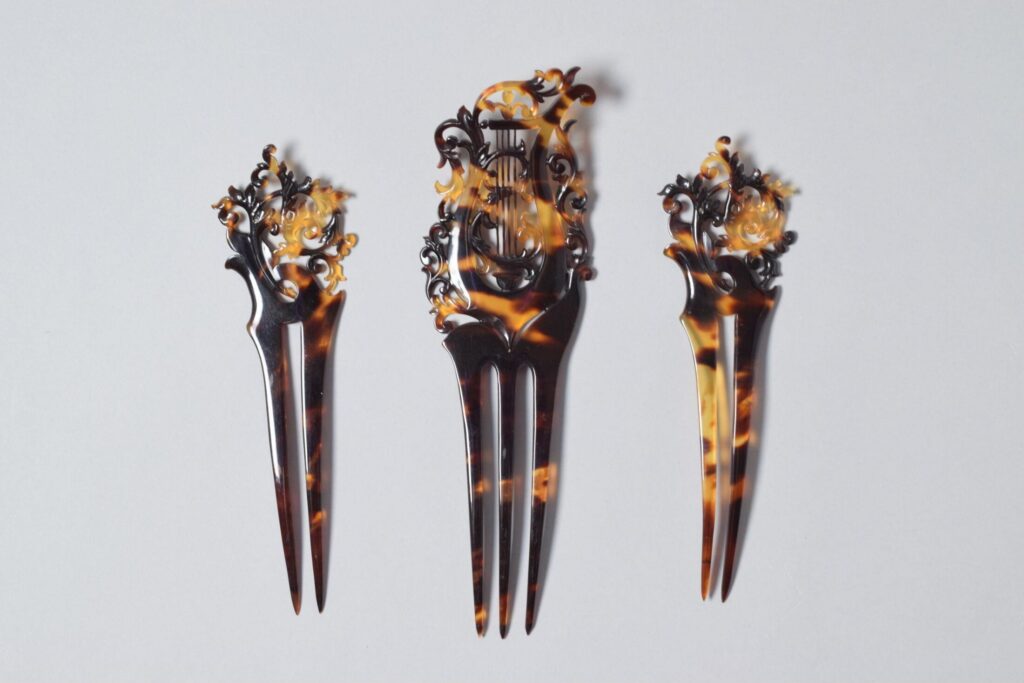 Celluloid and plastics

Celluloid began being used to mimic tortoiseshell in the later part of the 19th century. These early examples are impressive and I am sure that the untrained eye wouldn't be able to tell them apart.

By the end of the 19th century, the tortoiseshell look decreased in popularity by a bit, being replaced by solid colors with intricate embellishments at the beginning of the 20th century and then the art deco look of the 1920s.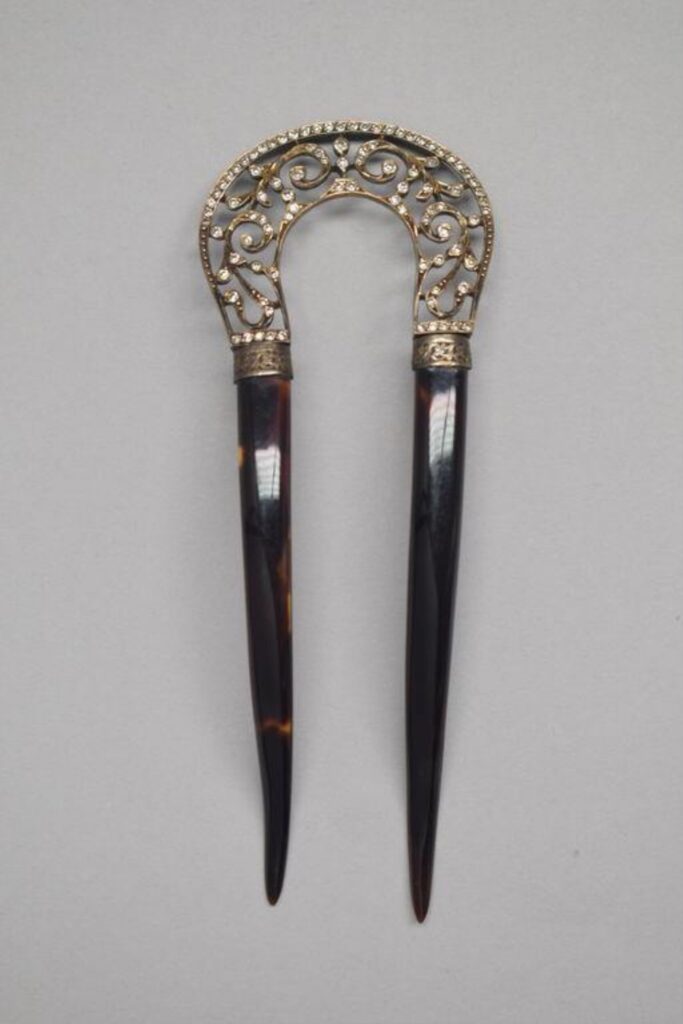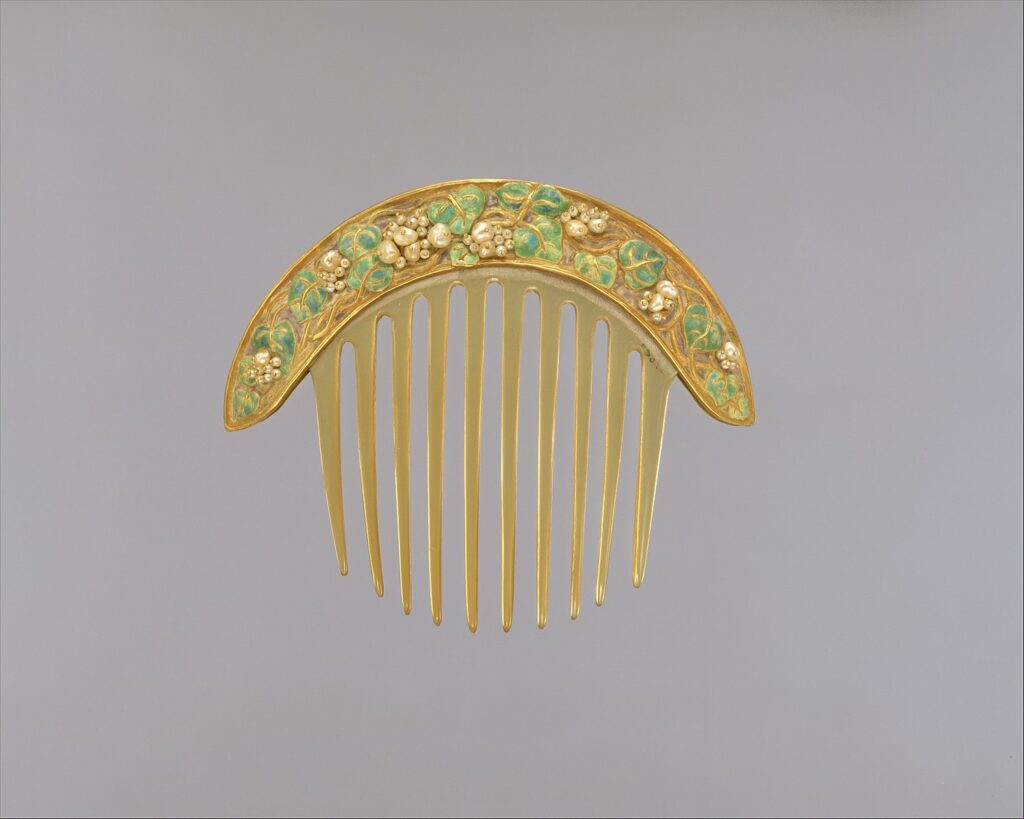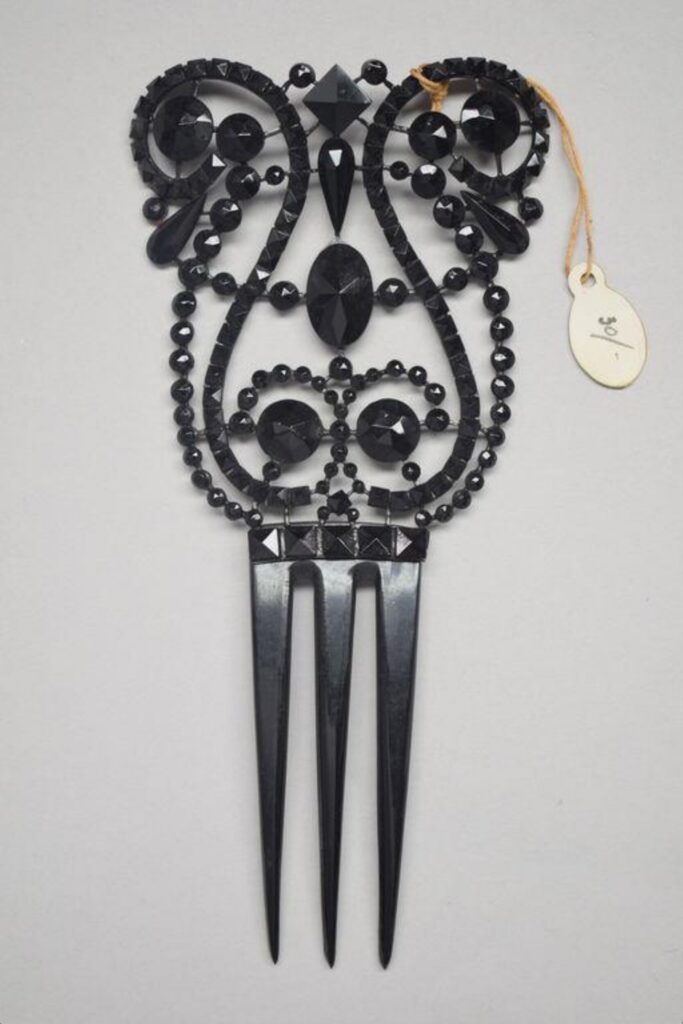 More about accessories from days gone by:
Pioneer Clothing: Accessories Women Wore on the Frontier
A short history of the hand muff, one of history's cutest accessories