Fashion today is largely presented to the public by showing how it looks on live humans. But it wasn't always that way. Before the 1900s, mannequins, dolls, and drawings were used to give buyers an idea of what the final product would look like once on. The first fashion show is believed to have taken place in 1903, and the use of "human mannequins" was considered quite scandalous. But in just a few short decades, dozens of women would be used to present the latest fashions at the World of Fashion during the 1939 New York World's Fair. While once scandalous, it was an opportunity that women lined up to be a part of.
Let's take a look at how fashion shows progressed so quickly and the creative ways that they began to be incorporated into public events.

The first fashion shows
When I first set out to research for the post, I was immediately struck by how difficult it was to find information on the first fashion shows and exhibitions! Fashion history has become SUCH a hot topic that I dove in expecting to find more than I could get to. But, apparently, this is an area that has yet to draw scholars to its niche. Says Valerie Steele, of the Museum at the Fashion Institute of Technology: "The topic of fashion shows remains to find its historian."
I can see that is true.
What we do know is that before the use of models was introduced in the states in the early 1900s, Paris had begun using women in private "fashion parades." These events were hosted by independently owned boutiques to highlight what they were capable of. This was also during the time that couture fashion was emerging onto the world stage, and New York City boutiques would soon use the same techniques to show what they were just as cutting edge.
The 1903 Ehrlich Brothers show is widely cited as being the first US fashion show, though I was able to find much information about the event. The idea quickly gained speed, and retailers would eventually have to secure a license to hold live fashion shows because they drew such large crowds.
By the 1950s, books were being published for executive assistants to learn how to put on a last-minute fashion show. But in between, the idea of live models to present accessible fashions had to be brought to the masses. This was accomplished at the 1939 New York World's Fair.
1939/1940s New York World's Fair
Before World War II, Paris was widely seen as the fashion authority of the world. New York City had yet to emerge as a region of influence. But the more trendy NYC became, the more the powers that be sought to change this. Not only was New York City increasingly attracting the shiny and stylish, an economic boom, and an increase in independence among young people was causing style and fashion to be looked at in new ways. The city would soon have a lot to brag about, and a world fair would be the perfect place to do it.
While "advances" in clothing had been displayed in previous world fairs, the new tolerance for female models allowed the "World of Fashion" to become a main attraction. Originally the fair organizers had hoped to include French designers, but tensions between the established queen of the scene and the up-and-coming rival resulted in a most American presentation.
World of Fashion
The theme of the 1939 fair was "World of Tomorrow," and organizers were keen to showcase a brand new way of selling clothing. Given the rise of the middle class during this time, a lot of focus was put on making innovations accessible to "everyday" people. The World of Fashion was no less than 26,000 feet and included a World of Fashion restaurant that I will daydream about having had dinner in.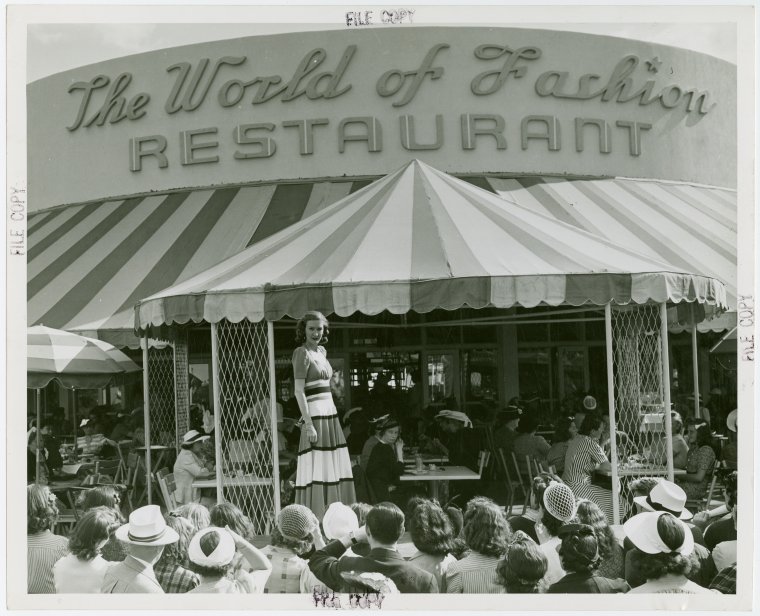 The different halls of the World of Fashion were: rayon, coats and dresses, fabrics, furs, millinery, shoes and accessories, and elastic threads. While the exhibitions themselves used mannequins, the fair organizers had a lot more in mind. This was not just meant to be a display, but an event that would leave all dazzled. First on the list, highlighting the success of the country's cotton industry.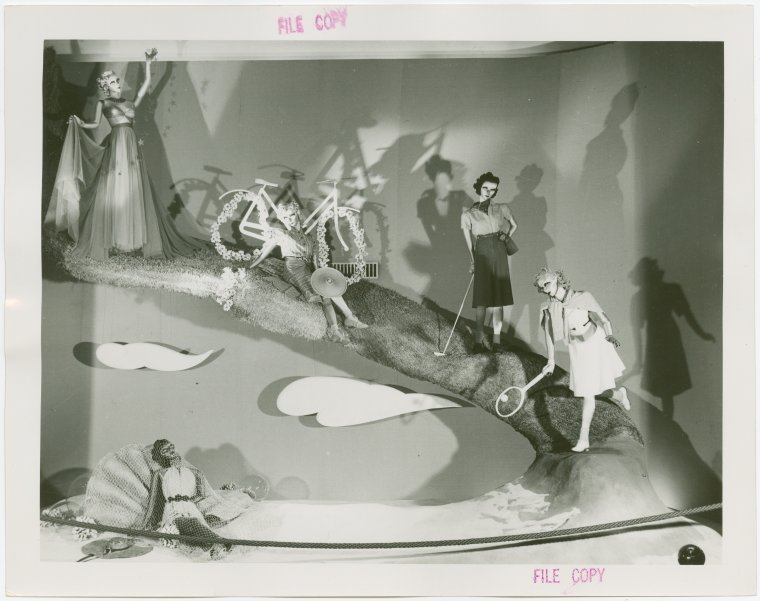 All Cotton Fashion Show
I told you this was an event as American as apple pie! Says Dr. Luisina Silva in her wonderful dissertation New York Fashion Industry Goes to the Fair :
"The availability of relatively cheap fabrics, such as cotton, and the easy patterns and methods contributed to the possibility of mass production. These kinds of garments were not inspired in Parisian haute couture, but in real American women that were part of the workforce who needed comfortable and easy to wear fashion."
I am kind of in love with the idea that so much thought was put into making this new form of clothing available and attractive to all Americans. I think this would have been a fun time to be in this country and this type of enthusiasm about things we take for granted today is a bit touching to me!
Gala Nights
But the World of Fashion wasn't all about cotton and everyday fashions. The evenings brought out the black tie. Through the fair, 23 formal events were held, including "Gala Nights" that were meant to attract "society" women and young designers. Additionally, the most elite fashion magazines were represented. Here are some snaps from such events.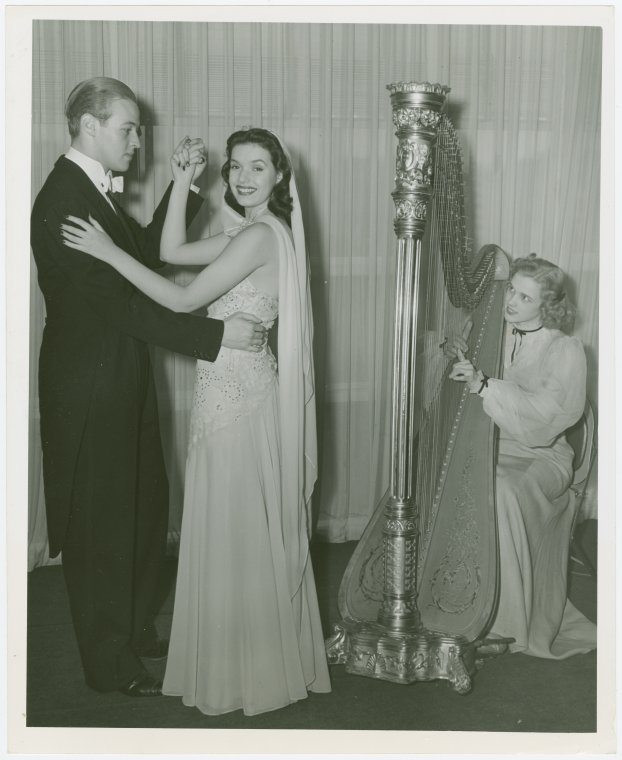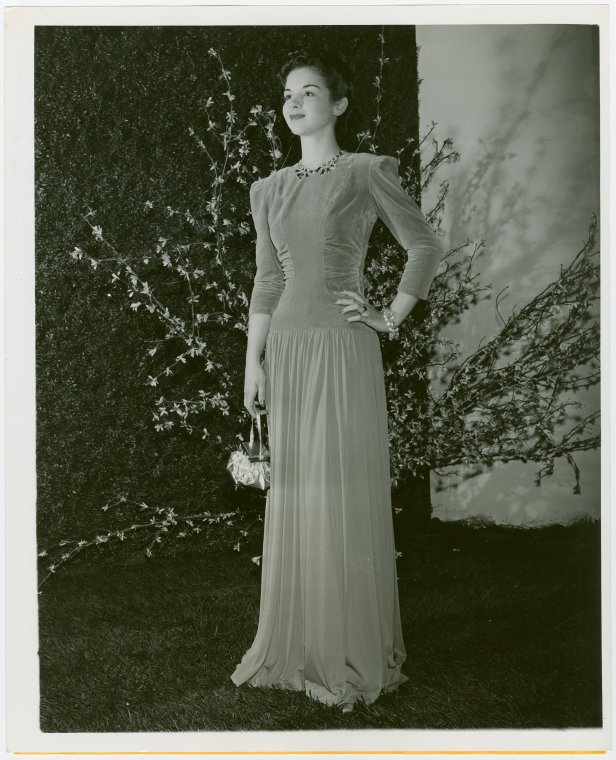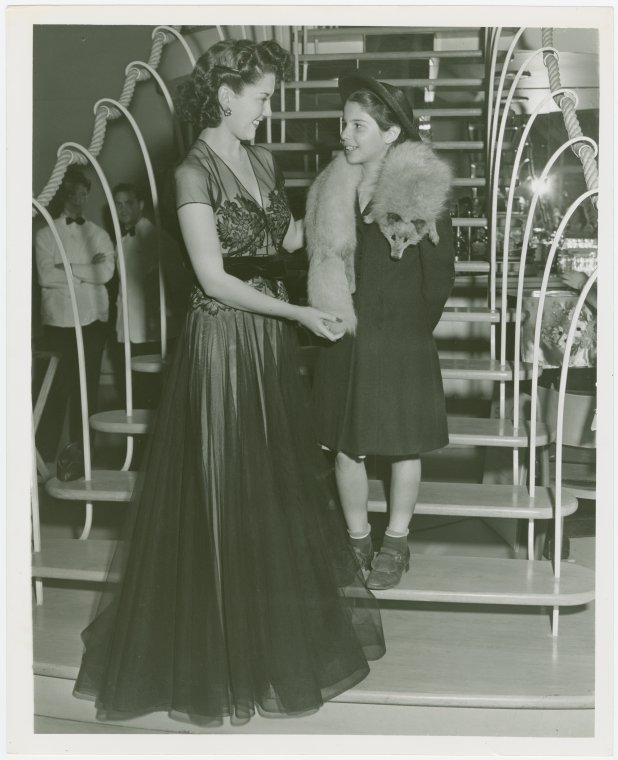 Take Away the Dress Events
Dr. Silva called the "take away the dress" events "unprecedented" in American fashion culture. The concept itself was relatively simple: models would march through the event grounds wearing dresses from the hottest retailers. Participants would enter to win each dress. One such event was attended by 10,000 women hoping to win one of 400 garments presented. What a difference three decades can make! While appearing as a model was once thought of as scandalous and low-bred, it was now something to do with great pride.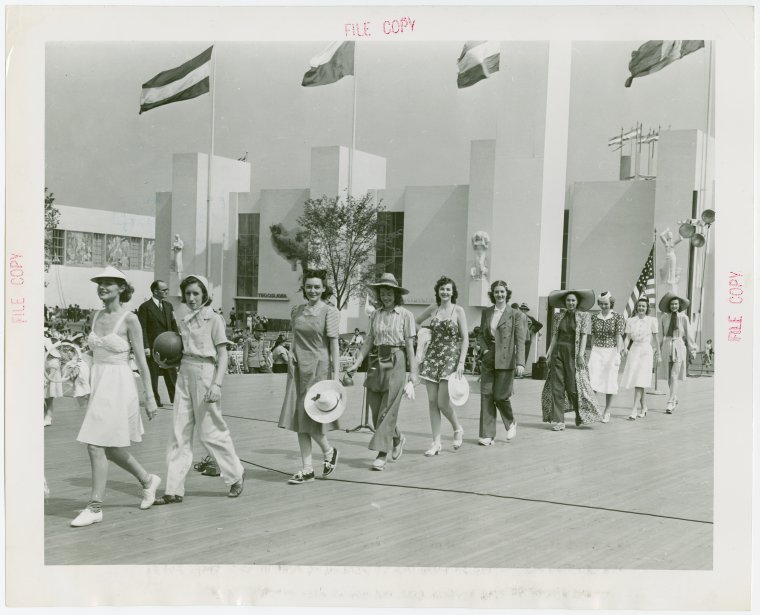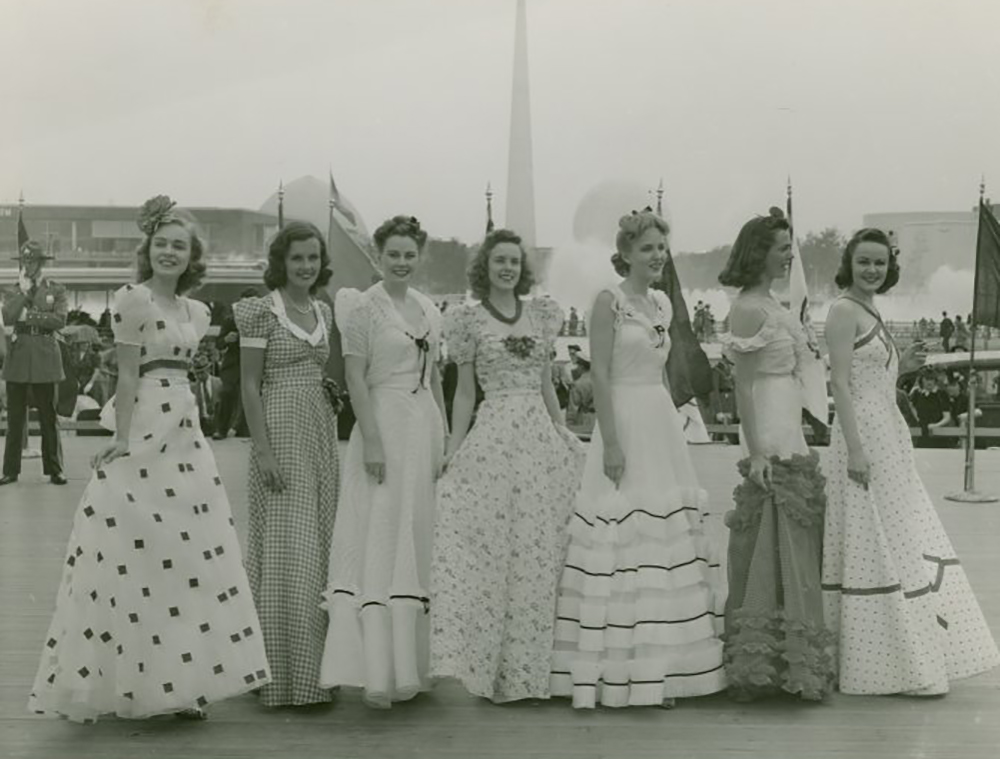 But the Take Away the Dress events were about more than that. As Dr. Silva says: "As women participated on the New York World's Fair fashion shows and exhibits, they got to experience on their own skin the democratizing and unifying character of American fashion."
Certainly today, events such as these might not be as well received. At the time, however, it was a way for women to participate in all aspects of the intimate experience of buying clothes that make them feel good.
Is there a fashion topic you would like to learn more about? Let me know in the comments!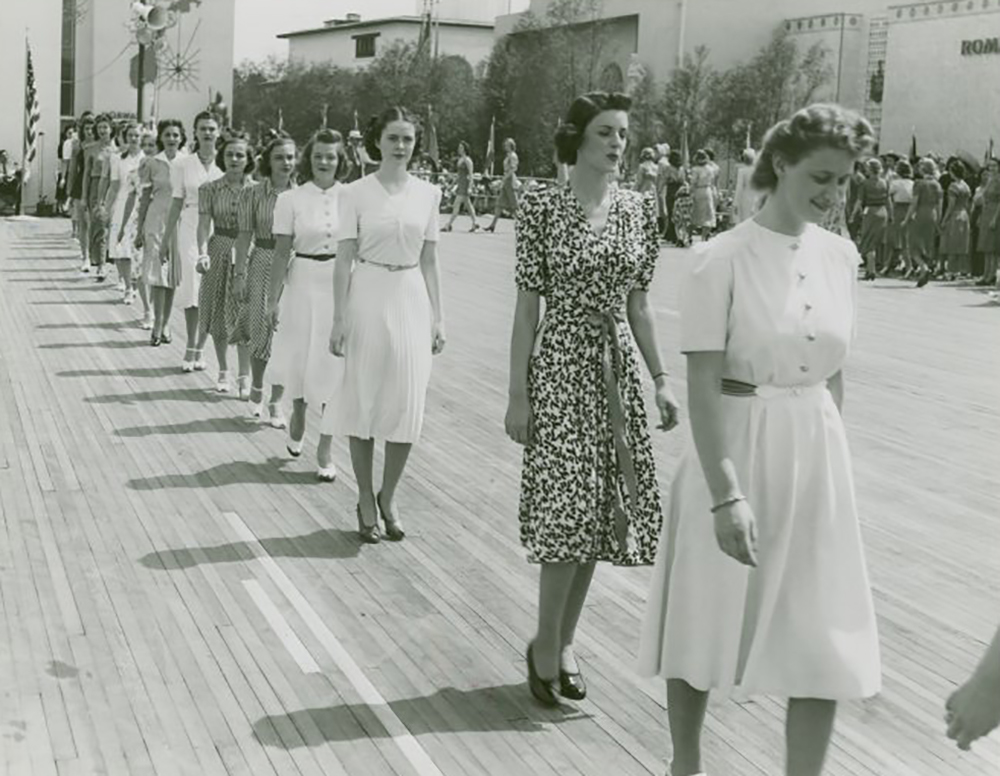 All images from the wonderful collection at New York Public Library.
You may also enjoy:
The Fun History of the Poodle Skirt
Three Pioneering Women's Outdoor Clubs that Broke all the Rules