Happy Mother's Day to our sweet readers and customers! What are you doing to celebrate? Are any of you attending a Mother's Day brunch? If you are, you are taking part in a tradition that goes back many decades. I know this partially because about a year ago I stumbled upon a delightful assortment of vintage Mother's Day brunch menus on one of my favorite sources, The New York Public Library's digital collections. I so enjoy the fact that there are people out there who are as interested in the history of food as I am and that the menus were saved.

I thought sharing my favorites might make for a fun Mother's Day gift to our readers.

But first, some history…

Merriam-Webster defines "brunch" as "a meal usually taken late in the morning that combines a late breakfast and an early lunch." They also cite 1896 as the first time it was used in writing, though does not give the source.

A plea for brunch
Wikipedia, on the other hand, describes it in a way a bit more to my liking: "Brunch is a meal, sometimes accompanied by alcoholic drinks (typically champagne or a cocktail)." They provide a reference to an 1896 article in Hunter's Weekly as the source of the play on words. I was pleased to find a copy of the original article. In it, the author, Guy Beringer pleads with the public:

"All of us have experienced the purgatory of those Sabbatarian early dinners with their Christian beef and concomitant pie. Have we not eaten enough of them? I think so, and would suggest Brunch as a satisfactory substitute. The word Brunch is a corruption of breakfast and lunch, and the meal Brunch is one that combines tea or coffee, marmalade and kindred features of the former institution with the more solid attributes of the latter. It begins between twelve and half-past and consists of the main of fish and one or two meat courses.

He then makes an argument for how the new Sunday ritual could improve society:
"To a certain extent I am pleading for Brunch from selfish motives. The world would be kinder and more charitable if my brief were successful. To begin with, Brunch is a hospitable meal; breakfast is not. Eggs and bacon are adapted to solitude; they are consoling, but not exhilarating They do not stimulate conversation. Brunch, on the contrary, is cheerful, sociable, and inciting. It is talk-compelling. It puts you in a good temper, it makes you satisfied with yourself and your fellow beings. It sweeps away the worries and cobwebs of the week."

And at the end of his plea, Beringer added a postscript:
"P.S.–Beer and whiskey are admitted as substitutes for tea and coffee.

I'm convinced!
Despite the early date, from what I can tell brunch didn't fully take off as a weekly ritual until the 1930s, with menus and recipes beginning to appear in cookbooks. It then continued to pick up steam, becoming the indulgent, self-care activity that it is today. I personally revel in the late morning/early afternoon meals that I share with my sweet boyfriend on Sundays.
And as for the history of Mother's Day? I've got you covered! Check out last year's blog post: Mother's Day in America and Around the World.
Which of the menus below would you most prefer for your next brunch?
1961, Italian Line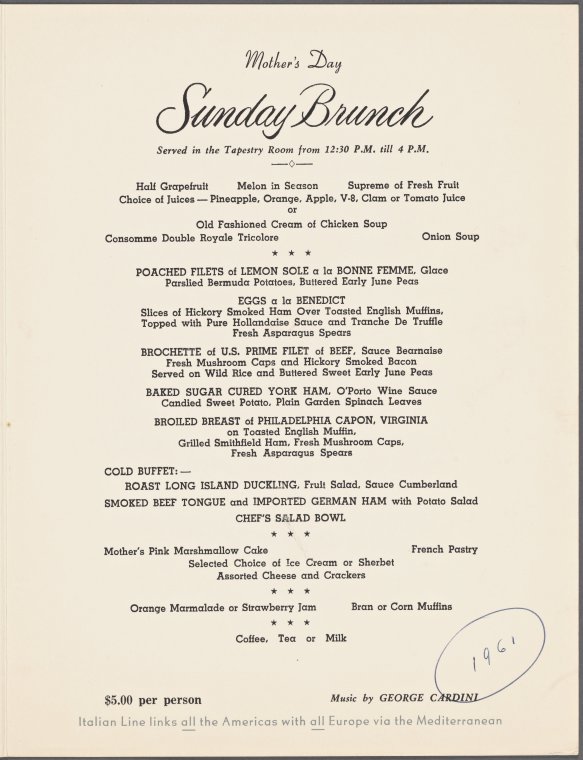 1959, Park Lane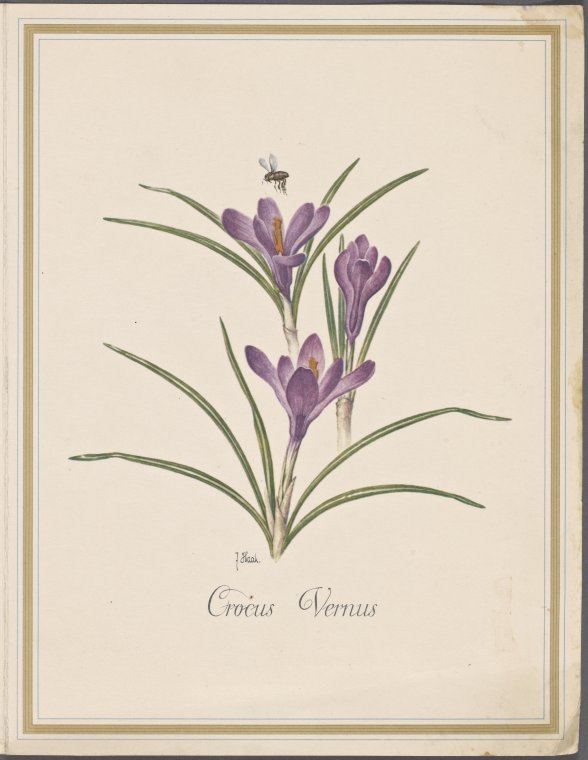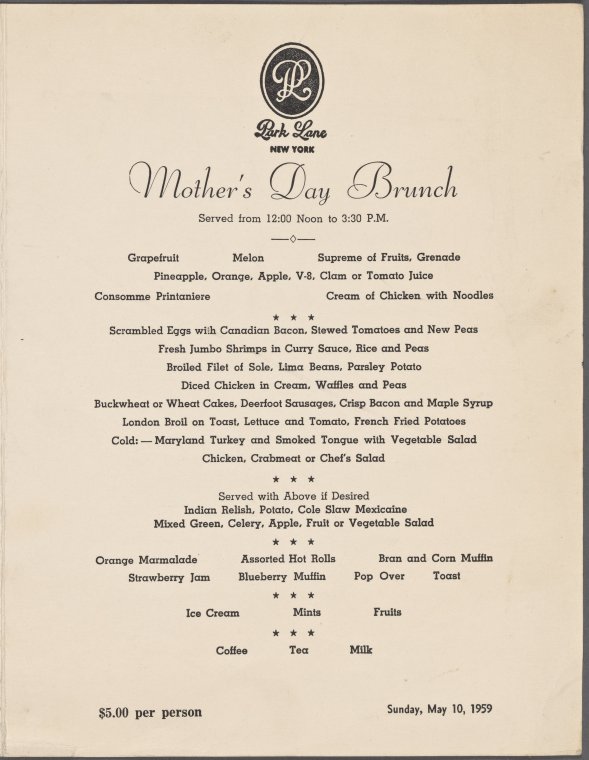 1955, Hotel Gramercy Park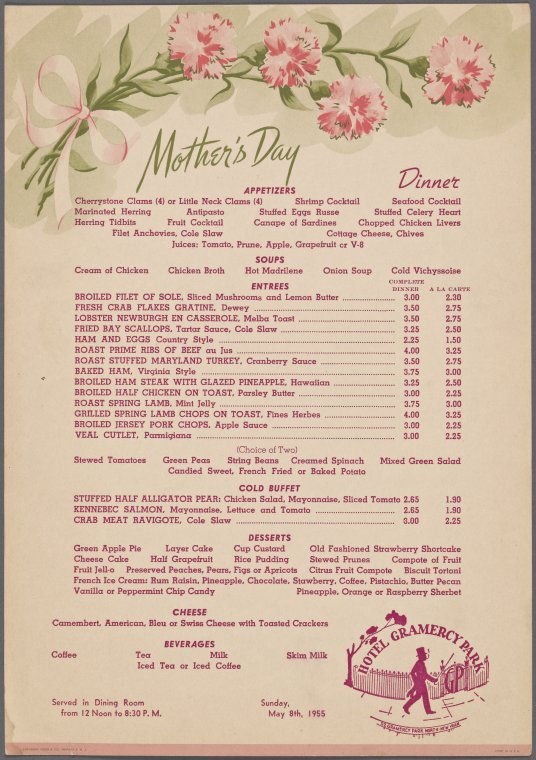 1960, Park Lane
This one includes a brunch and dinner menu and both sound delicious!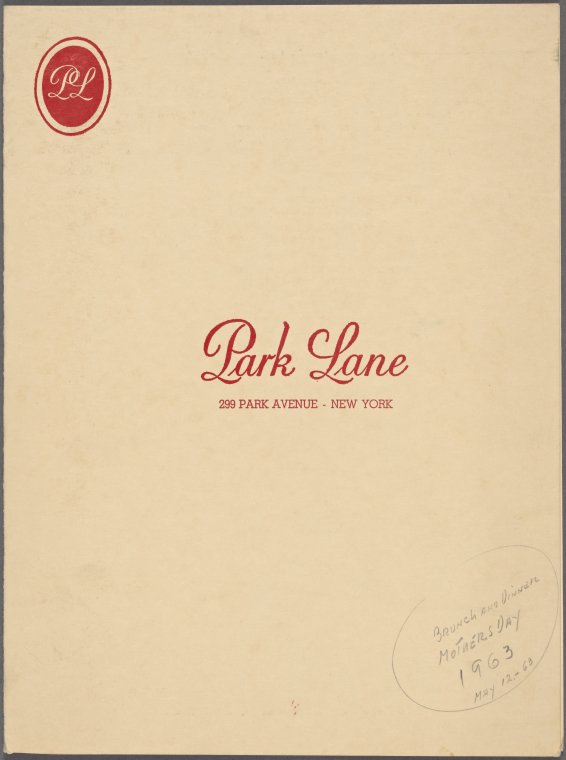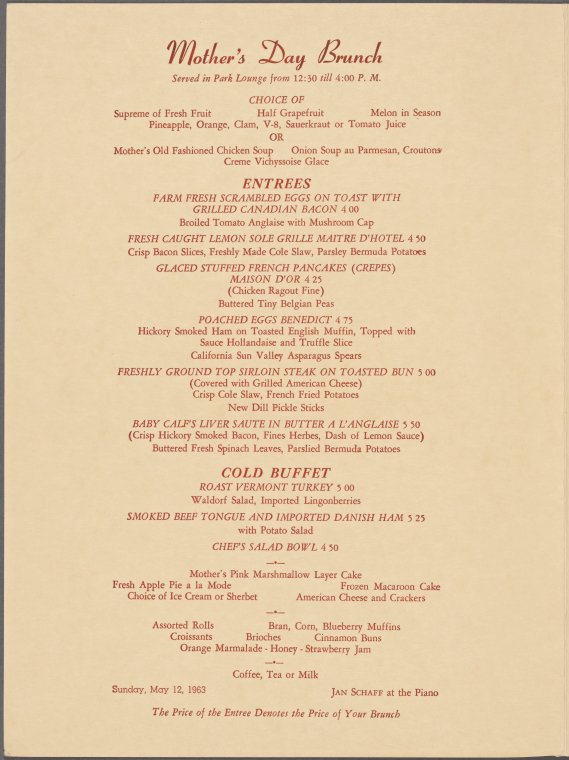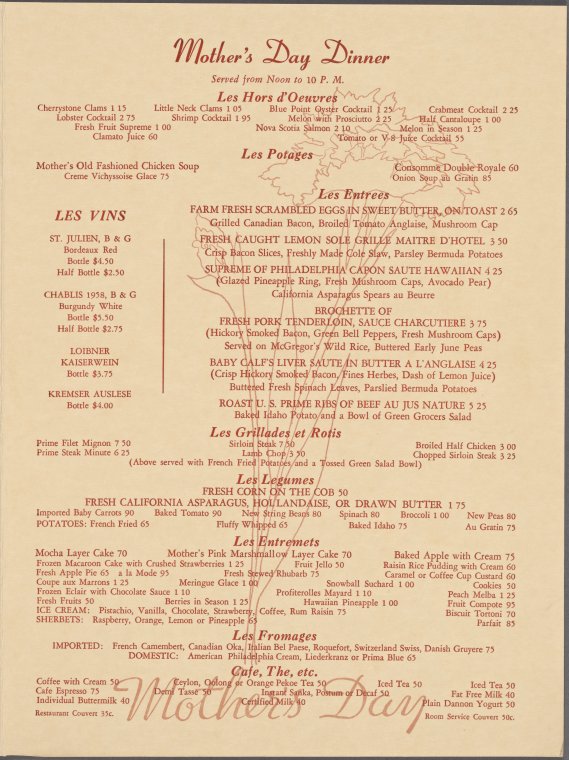 1960, Park Lane
The front of this menu made me laugh a bit.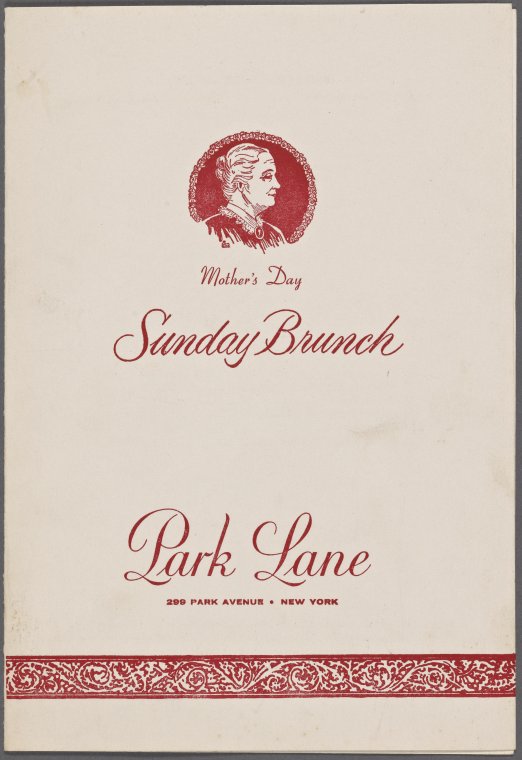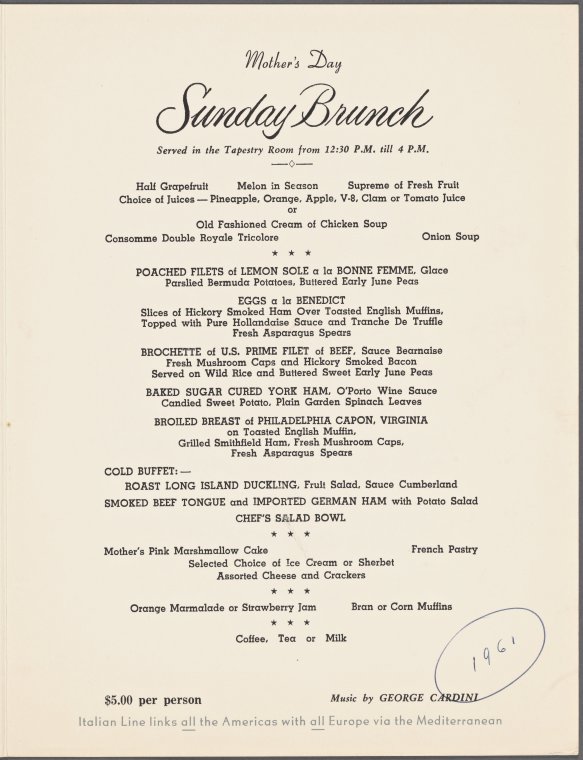 More fun with food:
A very, merry 1950s Thanksgiving
How to host a Victorian picnic