I am a big fan of the 1950s. The clothing, the decor, the many things we would now consider kitschy. I LOVE poodle skirts and have a goal to create a new tradition of wearing one each Christmas (the first poodle skirts had Christmas designs on them). It was fun for me to read about our current Halloween traditions as we now know them becoming cemented in the 1950s, particularly that of trick or treating. It got me thinking about other mid-century traditions and how they have aged. Certain things have not been passed down and loved as much as Halloween candy and costumes. Take 1950s recipes, for instance. The holiday table looked a lot different back then!

Though we may scoff at some 1950s recipes it is fun, and important, to remember that they were commonplace at one time. I have pulled a list of my favorites; either because of their unusual ingredients, their appearance, or because I think we should bring them back.

Do you remember a winter or holiday dish that you used to enjoy that has been left in the past?

1950s holiday recipes and dishes that have been left in the past

Cocktails
Champagne cocktails
I know that champagne cocktails are still served here and there – I even worked in a champagne bar in Denver for a short time when I first moved to the city. But they are nowhere near as popular as they were in the 1950s. Of particular popularity was one of my favorite cocktails, the Kir Royale. It's just bubbly and creme de cassis or Chambord.

Mulled wine
This was one addition to the 1950s holiday menu that was new to me before writing this post. I LOVE mulled wine but wasn't aware that it had a bit of a heyday in the 1950s. Want to make your own? Grab my recipe and learn a bit about the drink here:

Martinis!
The martini is a drink that will never go out of style, but I would not hesitate to argue that it is not the staple of the holiday gathering that it was in the 1950s.
Appetizers
Fondue
Melted cheese with bread and veggies – you can't go wrong! I will never understand why fondue sets and serving fondue went from a country-wide craze to a rare novelty. My vote: let's bring it back.

Salmon mousse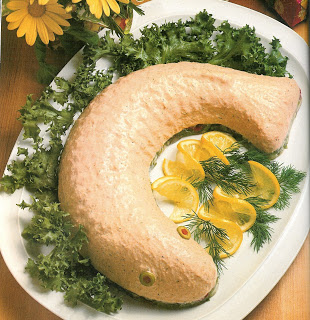 Again – WHERE did this popular dish go? Think of a dip made of salmon, cream cheese, dill, and spices. It's quite divine. People in the 1950s had a passion for foods prepared in various molds and apparently salmon mouse was often served in a salmon-shaped mold. I'm fine with leaving this aspect of the dish out, but the rest gets a thumbs up from me.

Because I am in such favor of this 1950s recipe being brought back as a holiday tradition I have pulled a popular recipe for the dish to share with you here. This version by Epicurious calls for three types of salmon, cream, lemon juice, and more. Enjoy!

Canapes
Party-goers in the 1950s loved finger foods! If you ever do any digging into 1950s recipe you will see various types of canapes all over the place. Here are a few standouts:
Peanut butter and bacon
Deviled ham
Cheese balls
This is another dish that I think should be embraced and made a holiday staple again. If you've never had a homemade cheeseball you are missing out on one of the truly perfect (processed) foods this planet has to offer. And if we only bring it back for the holidays we can splurge on the dairy and fat just once a year and not feel too guilty about it!

I was going to share a recipe for a classic cheeseball (they were popular party dishes where I grew up) but then I came across this website with 12 classic cheeseball recipes from the 1970s and HAD to share. I'm ready to get started, what about you?
Salads
Watergate salad/Pistachio salad
I grew up in a Mormon community in Arizona and this dish, along with a few others on this list, were more common than you may think. I have had the opportunity to try pistachio salad several times in my life and while tasty, I think this is one dish that is appropriate to enjoy once a year. Wikipedia describes watergate salad as "is a side dish salad or dessert salad made from pistachio pudding, canned pineapple, whipped topping, crushed pecans, and marshmallows."

Sound sweet? Pretty much.

Pear Salad
Let's just get this out of the way: people in the 1950s had a real taste for mayonnaise. Pear salad was a popular pre-dinner dish any day of the week, and it came up a lot as I was researching popular party dishes. Take sliced pears (if you want to be true to the time, make sure they are canned), lay them on some lettuce, add a small scoop of mayonnaise or Miracle Whip to the top, add a maraschino cherry, and enjoy.

Apparently the combination works. I found a recipe on a website called Taste of Southern that I might be tempted to try. Has anyone had this dish before?

Molded salad
No mid-century party would be complete without a Jello salad! My goodness: the ways that these people got creative with gelatin will never cease to amaze me! I am also interested in the way that our tastes as human beings seems to have changed, as many of the recipes I've come across over the years as a history blogger simply boggle my mind.

A few honorable mentions: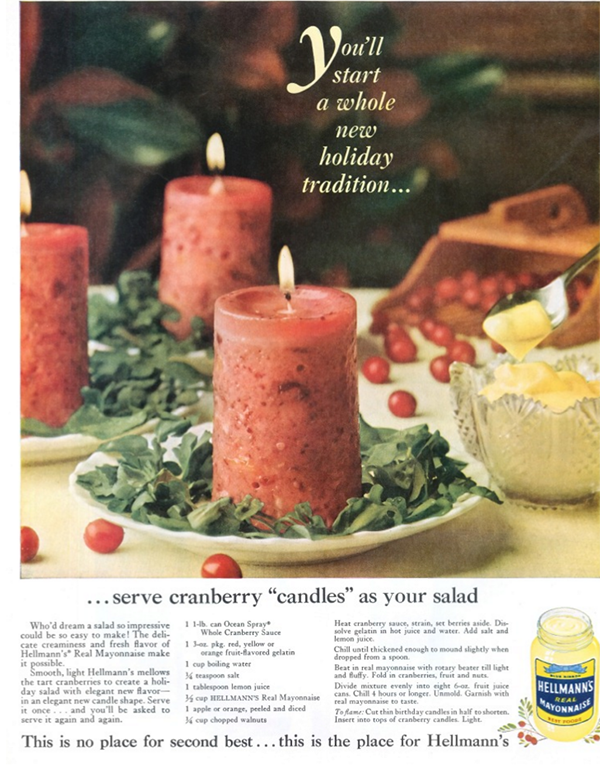 Mayonnaise Cranberry Candle Salad (photo explains it all)
Dinner is served
Mincemeat pies
Despite what you may naturally assume, traditional mincemeat pieces did not contain meat, but rather a mixture of fruits, nuts, and spices. I'm not sure why this mid-century holiday favorite went out of style in America, but I can safely say I've never been to a party where it has been served.

Getting creative with ham
I have come across many versions of the glazed ham in my reading on 1950s recipes and my favorite might be the Coca-Cola glazed ham. Cross-over promotions seem to have been picking up steam in the 1950s and this looks like it was one attempt. It seems to have caught on and many families would have enjoyed it for a number of years.

Also popular in the 1950s would have been sugar-glazed hams or glazed hams with pineapples.
Coca Cola glazed ham or baked ham with pineapple

Spam
We might find it hard to picture today, but the classic canned ham was a common ingredient in 1950s recipes. Not only was it convenient, but I have also read that some post-WWII soldiers enjoyed eating it as they had become accustomed to it during the war. So onto the table it went.

Two standouts: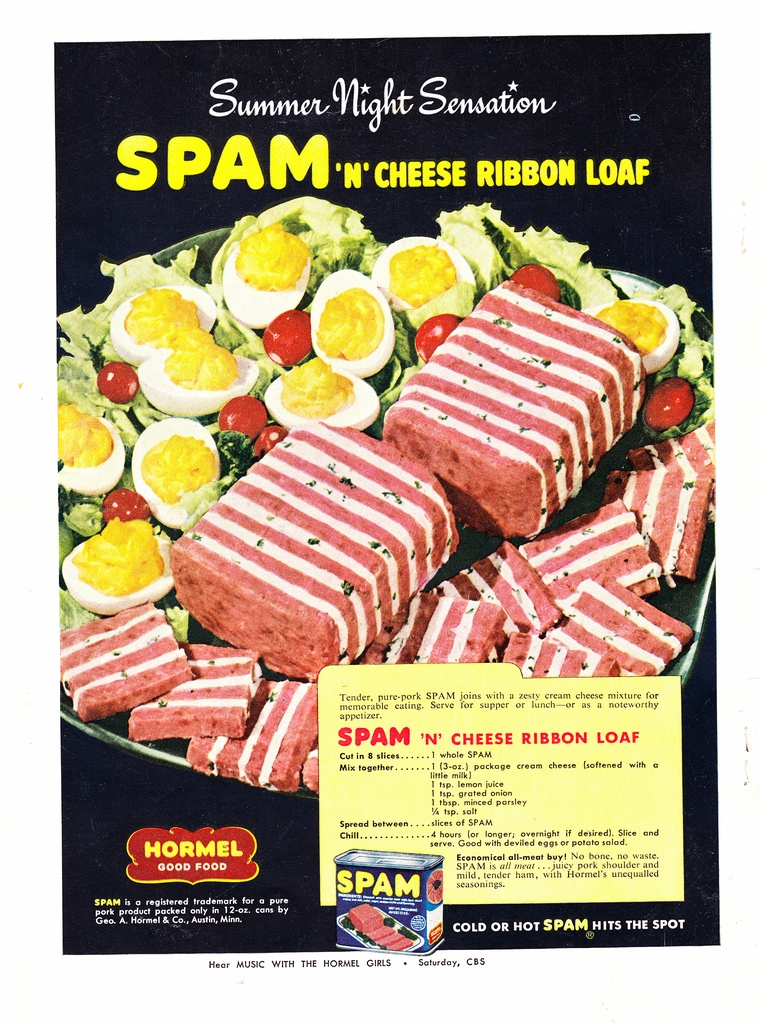 Bacon-wrapped spam bites

Spam and cheese ribbon loaf (yes, you heard that right. Spam layered with cream cheese. Chilled and served in slices. Get the full recipe here.)
Swedish meatballs
I don't think one cookbook, article, or blog post that I've read about 1950s holiday recipes has been without Swedish meatballs. I know many people enjoy them on their IKEA trips today, but they faded as a holiday favorite.
Desserts

Yule logs
The dedicated 1950s homemaker may have taken a stab at a dessert shaped and fashioned to look like an actual Yule log. The fact that this particular dish seems to have gone out of fashion doesn't surprise me, as it looks horribly involved to prepare. People have enough stress on their plates during the holidays!

Bourbon balls
Okay – we can bring this one back as well! The wonderful retro cookbooks website The Vintage Recipe Project includes an entry for "Rum or Bourbon Balls" with an old handwritten entry for the dessert. They don't seem too difficult to make, so we can easily revive this tradition! The recipe is as follows:
1 cup vanilla wafer crumbs
1 cup chopped pecans
1 cup confectioners sugar
2 T sugar
1 ½ tablespoons white corn syrup
¼ cup rum or bourbon

Mix and enjoy (the recipe makes sure to note that these are "unbaked)

Baked Alaska
Another ambitious dessert from the 1950s. And one I'm okay to leave in the past. Apparently, people in the 1950s were big fans of lighting their desserts on fire and a baked Alaska consisted of an ice cream cake topped with meringue and then set ablaze before being served. Meh.

It also looks horribly complicated to pull off. Between the fire and the prep I think it's way too much hassle for anyone throwing a holiday party these days!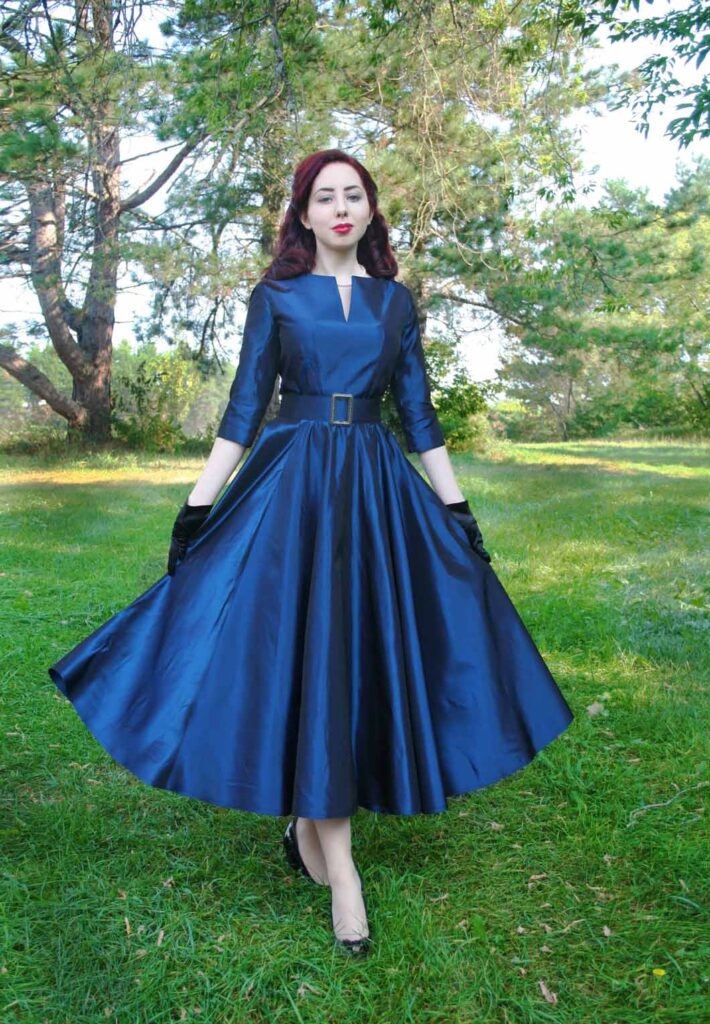 Create a mid-century look for your holiday celebrations