The 1950s was a fun time for holiday celebrations. The post-war glee was still at a high level and there was an emphasis on domestic life that made for parties and get-togethers that were more festive and creative than they had been in the past. Thanksgiving in the 1950s was an especially great opportunity for women to have a bit of fun in the kitchen and showcase their hostess skills. And while a lot of the staples of Thanksgiving are the same today, they look a lot different. Here's what you might see at a 1950s Thanksgiving.

Turkey Jello, anyone?

A traditional 1950s Thanksgiving would have included a turkey fresh from the oven, but leftovers would have looked nothing like the sandwiches we enjoy today. Instead, leftover turkey was likely to be tossed into a gelatin mold and served cold for dinner in the upcoming weeks. 

Any takers?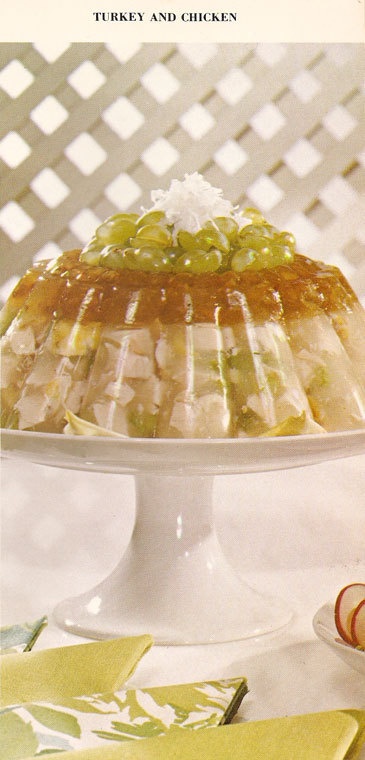 Cranberry surprises

Cranberry sauce had become a well established Thanksgiving tradition by the 1950s, but it too showed up in creative gelatin forms. One recipe was a "cranberry surprise" which combined the popularity of both gelatin and mayonnaise for an interesting single-serve dish.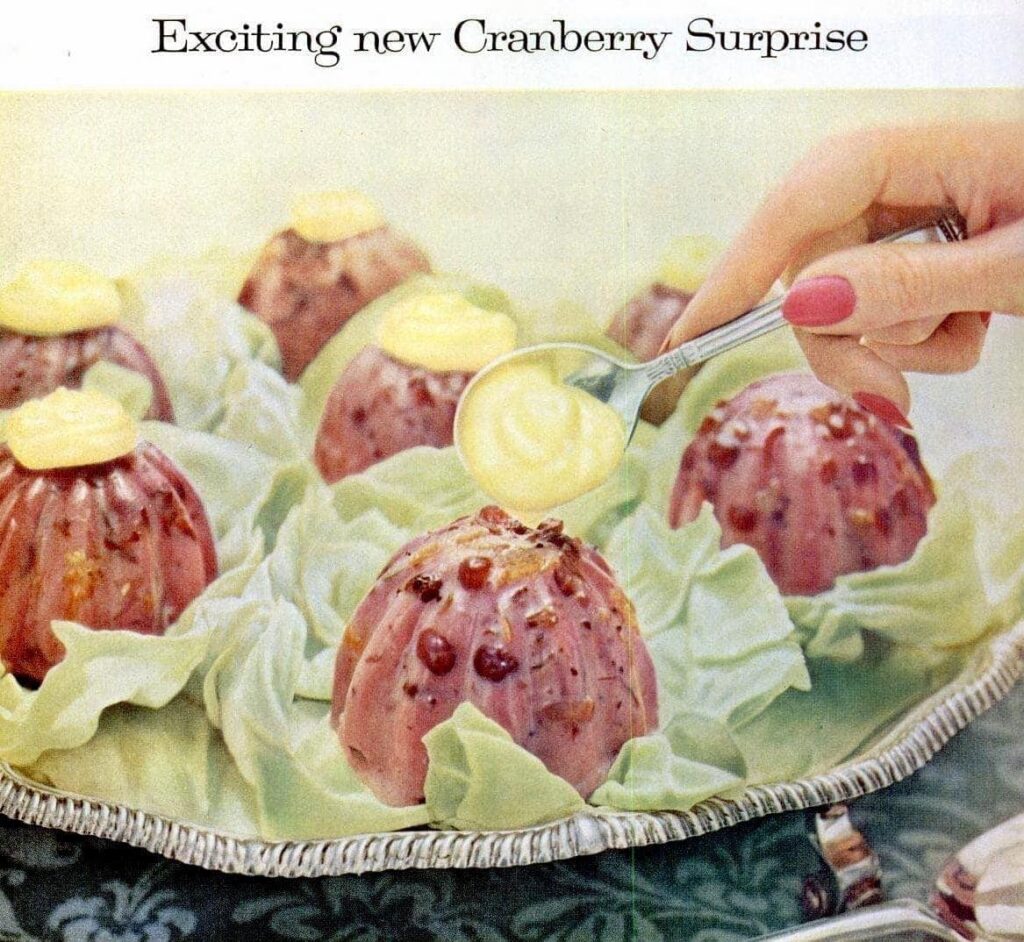 Another mid-century cranberry trend was the cranberry candle, a dish I featured last year in my exploration of holiday foods from the era that aren't as loved today.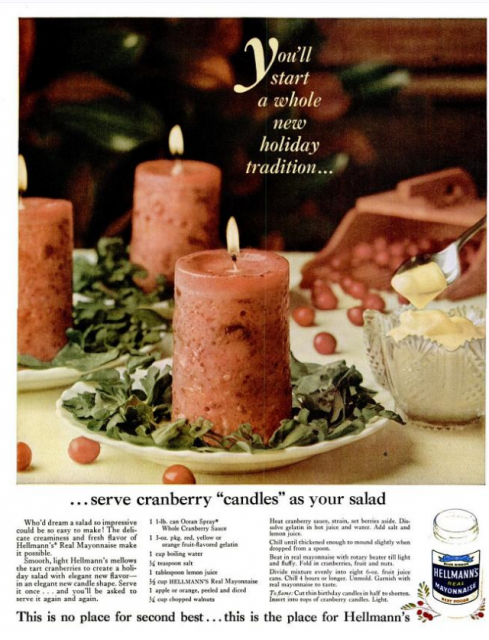 Ambrosia Salad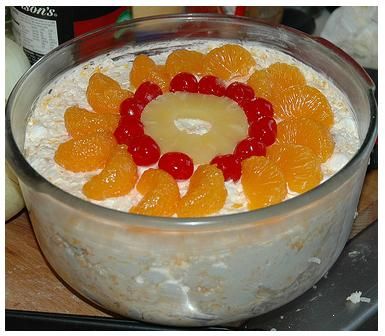 I grew up with an Ambrosia-like salad served as a common dinner dish, but I realize now that it was not all that common outside of my home, and it certainly isn't a common Thanksgiving dish. In the 1950s, however, homemakers were in the midst of discovering what could be done with canned foods, whip topping, and other not-so-perishable foods such as marshmallows. Ambrosia salad was born.

I can see why it became a popular 1950s Thanksgiving dish, as it is quite pretty and impressive to behold. But I still think I'd prefer fresh veggies as a side dish.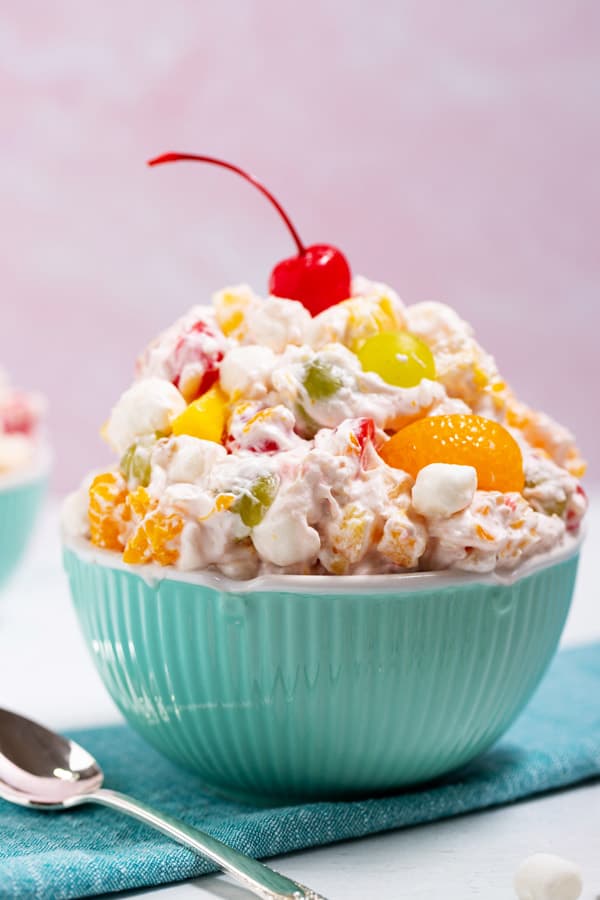 Creamed corn…from the can

Can you imagine canned foods being seen as an exciting novelty? That is exactly how they were seen in the 1950s and women's magazines featured new ways to use them in each issue. They were so celebrated that many found their way onto the Thanksgiving table, almost straight out of the can. One such dish was creamed corn, a canned food that enjoyed about 15 minutes of fame in the 1950s and wouldn't be likely to appear as a Thanksgiving dish today.
Macey's Thanksgiving Day Parade

I love, LOVE the Macy's Thanksgiving Day Parade and enjoy putting it on as soon as I get up on Thanksgiving Day. The parade has been around since 1924 and has changed a lot through the years. It enjoyed increased popularity in the 1950s as televisions become fixtures in most American homes and families started to enjoy spending time together in front of them. 

The parade looked a lot different then. Here are some shots of parade highlights from the 1950s: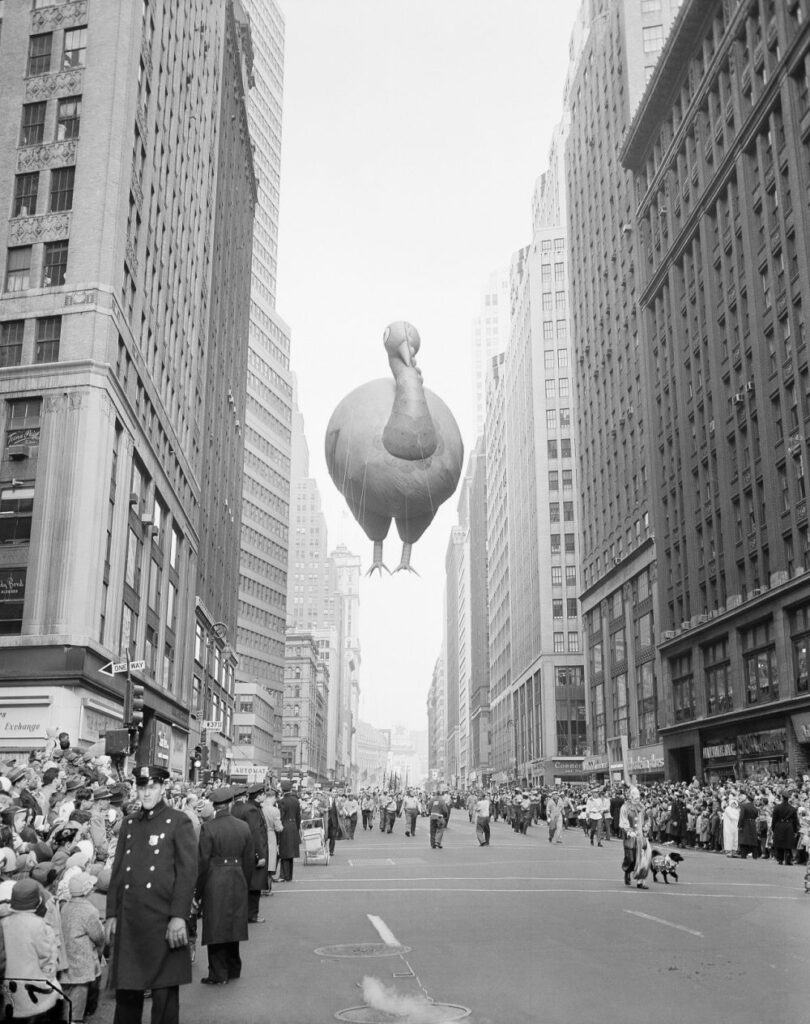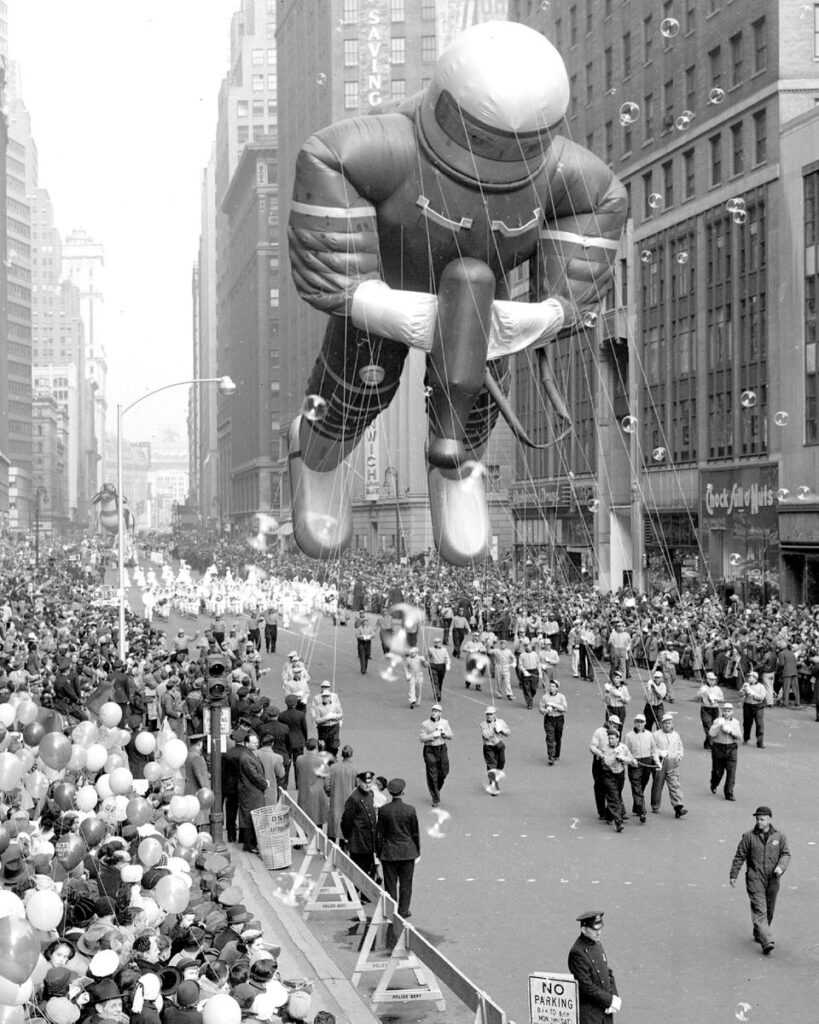 A lot of live footage has survived. Watch some before tuning in to the 2021 parade this year for an extra meaningful viewing.

1959 Parade – hour long clip (this one is SO much fun to watch!!)
San Francisco Thanksgiving Day Balloon Parade

But wait! Thanksgiving in the 1950s came with another balloon-happy parade to enjoy and look forward to each year. Although it has largely been forgotten, the Chronicle's Christmas Parade, also known as the San Francisco Thanksgiving Day Balloon Parade was a short-lived annual event that may have grown to rival the Macy's parade had it not run into funding issues after just three years. It was an impressive effort and drew live crowds close to 200,000 each year it ran, plus being viewed by home audiences. 

I don't know about you, but I think it looks pretty great!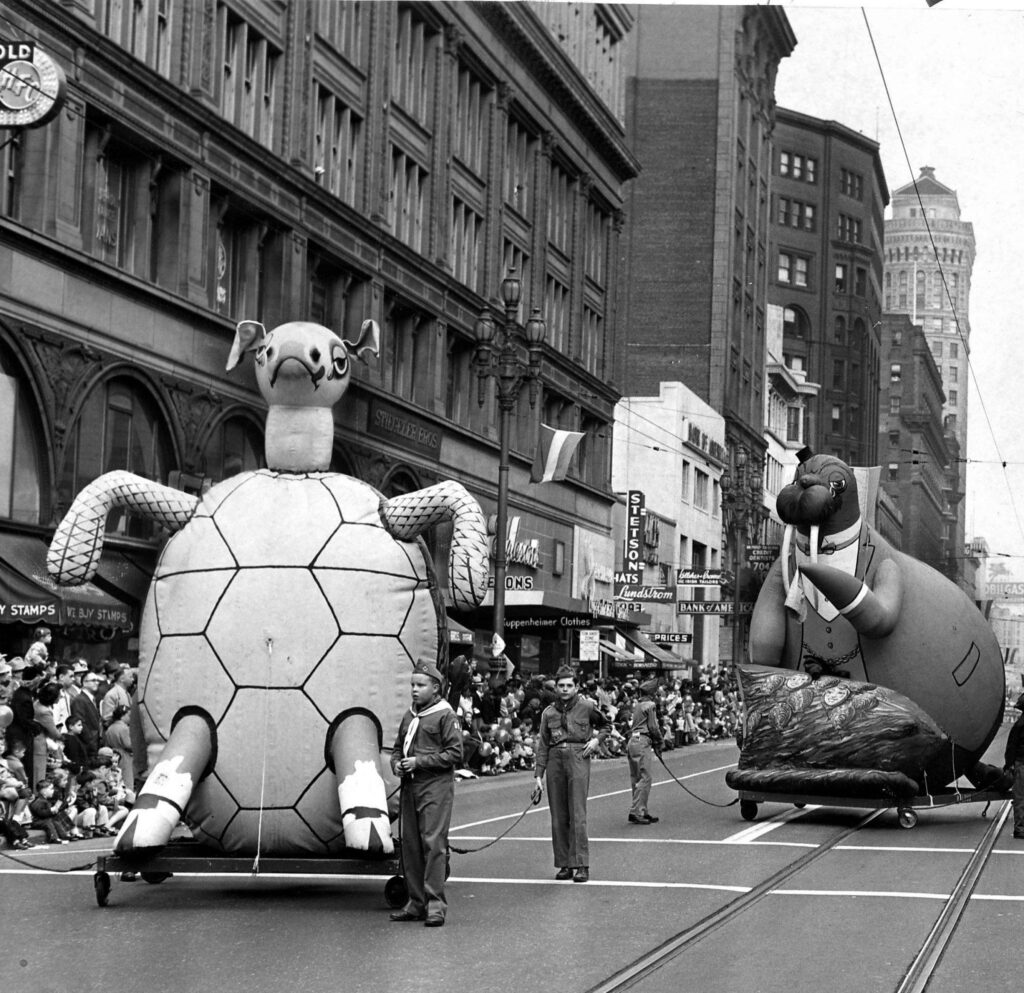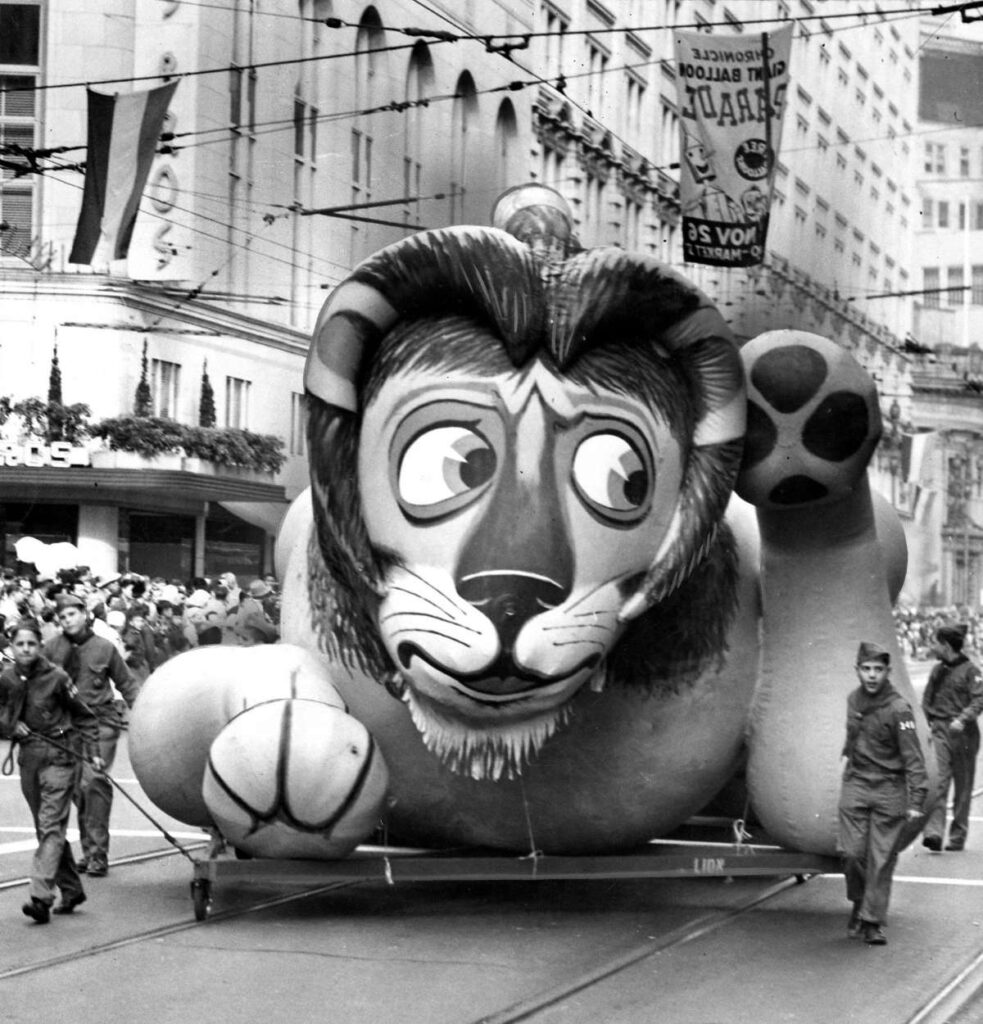 1950s Thanksgiving drinks: get out that punch bowl!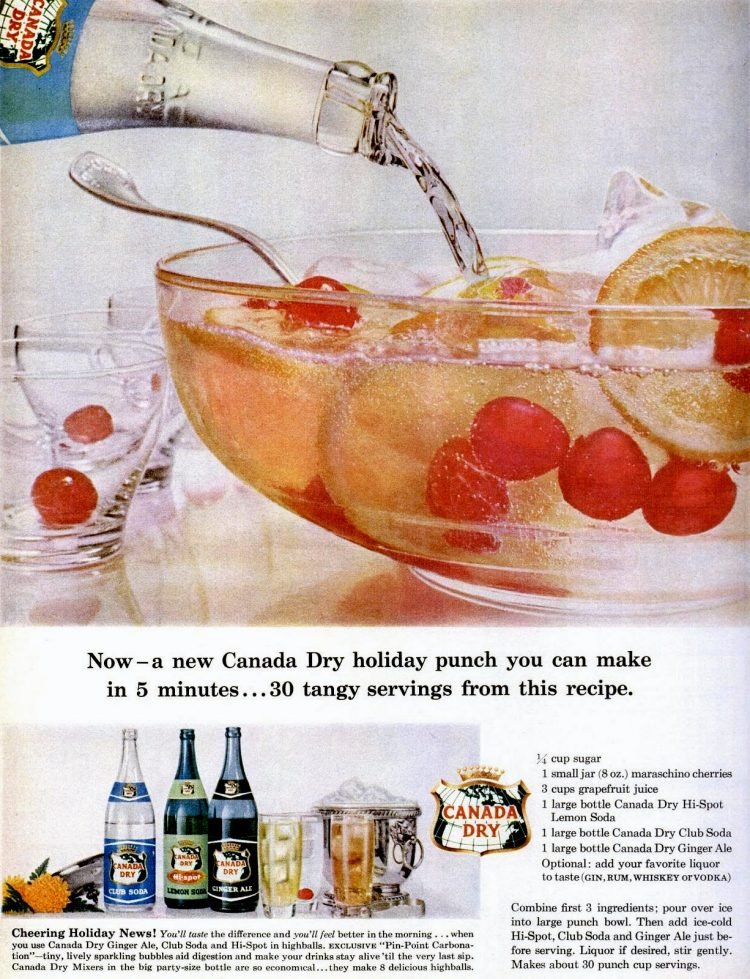 As I have covered here before, the 1950s brought on the emergence of the cocktail party. While today the food is the main focus on Thanksgiving day, enjoyed without fuss with wine, Thanksgiving in the 1950s often came with creative cocktails. While visiting before dinner guests might enjoy something like:

Holiday fruit punch (spiked!)
Martinis
Old fashioned
Punch made of Sprite or Coke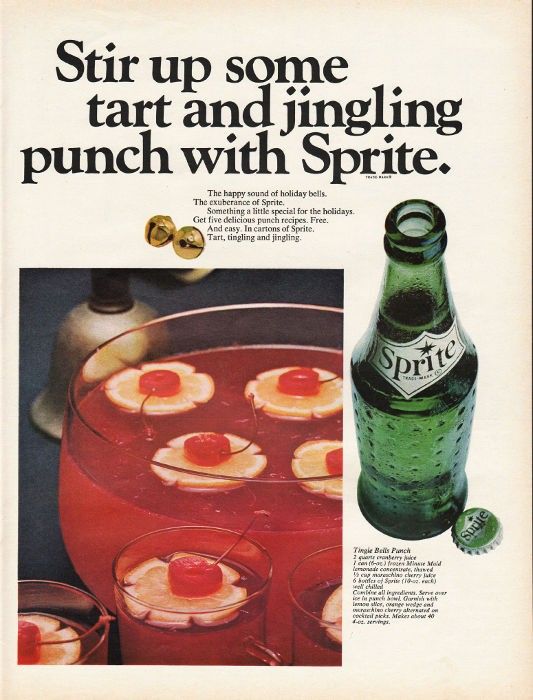 Thanksgiving-themed party dresses

It would not have been unusual for the hostess of the Thanksgiving dinner to wear a Thanksgiving-themed dress in the 1950s. I love how well thought out the clothing was during this decade and how meaningful each item was. I don't think as many people dress up for Thanksgiving these days, which I think is a shame considering how much effort is put into the details of the day. 

Popular design elements of a 1950s Thanksgiving ensemble would have been themed accessories and skirts with prints of popular holiday symbols such as fall leaves, cornucopias, and pilgrims. Here are some examples.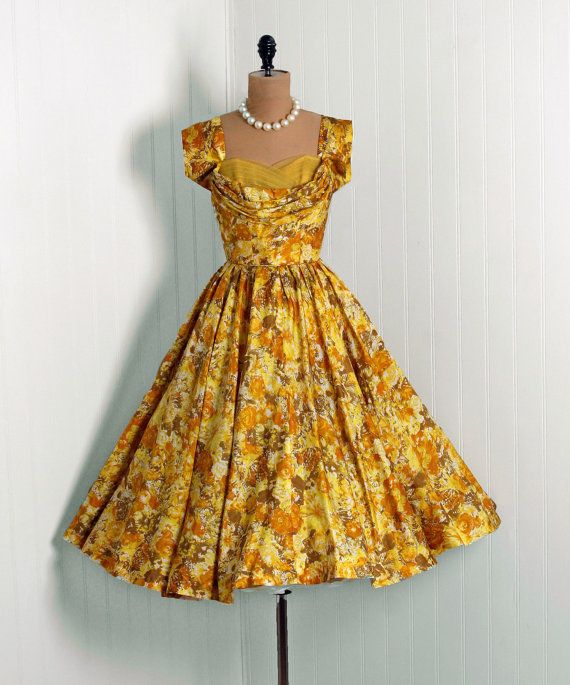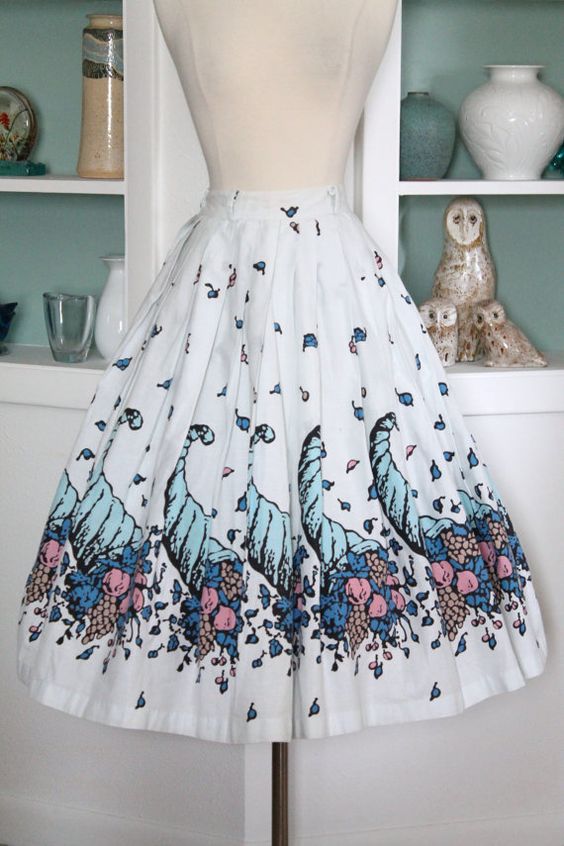 And of course, a Jello pudding pumpkin pie
What would a 1950s Thanksgiving looked like without it?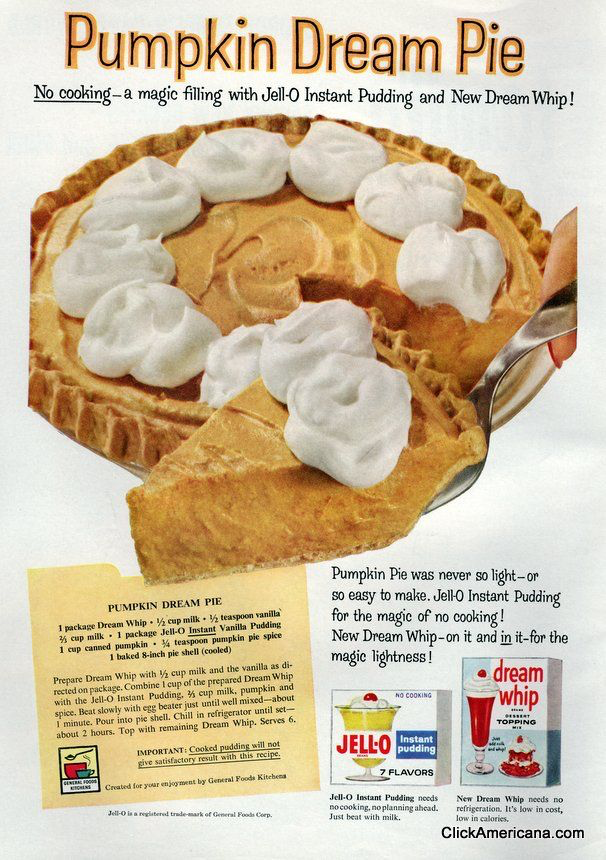 More mid-century fun:
1950s recipes for the holidays that aren't as loved today