Princess Ka'iulani was the final heir to the Hawaiian throne, the niece of the last Queen of Hawaii Lili'uokalani. If that wasn't fascinating enough, she was a strong, intelligent young woman who fought for her people and their culture. She lived a life of both intrigue and tragedy. Her story often gets overlooked due to so many other things happening in the world during the time, but she deserves to be remembered. 
 Ka'iulani: The Final Heir to the Hawaiian Throne
She was named after Queen Victoria
Her first name was Victoria (after Queen Victoria). She was born on October 16, 1875. Her full name was Princess Victoria Ka'iulani Kawekio I Lunalilo Kalaninuiahilapalapa Cleghorn.


She was born into a royal line and lost her mother at age 11
Her mother, Princess Miriam Likelike (Miriam Kapili Kekauluohi Likelike), was the sister of King Kalakaua and Queen Lili'uokalani. Her mother was also a descendant of High Chief Keop'okalani, first cousin of Kamehameha the Great. Her mother was also Governor of Hawaii Island from 1879 to 1880. She died at age 36 when Princess Kaiulani was 11. She never recovered from the loss of her mother at such a young age.
She was half Scottish and the first 'hapa haole' (half western) heir to the Hawaiian throne.
Her father, Archibald Scott Cleghorn, was from Edinburgh, Scotland. His father brought the family to Honolulu by way of New Zealand in 1851. After his father died the following year, Archibald turned the family's dry goods store into one of the most successful chains on the Islands. He was Royal Governor of Oahu in the 1890s. He gave the family estate back to Hawaii upon his death, specifying that it be used as a park for everyone to enjoy.
She had a storybook childhood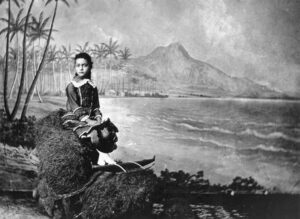 She owned a pony named Fairy. The family estate, Âinahau, translates into 'cool land.' It was a paradise filled with flowering plants, peacocks (a gift from her godmother, whom she called Mama Nui), and a place would play croquet with her friends.
She was an athletic teen
Ka' iulani enjoyed horseback riding and was an accomplished surfer and swimmer.
She inherited the musical gifts found on her mother's side of the family
Her mother was a musician and songwriter. Ka'iulani was a musician, singer, and also danced the hula. Her half-sister, Annie Cleghorn played guitar and ukulele. The girls, who were also best friends, spent many hours playing music together. 
She turned on the first electric lights in Hawaii
In 1886, she threw the switch that brought the electric light to Honolulu for the first time. Her uncle was determined to bring Hawaii into the modern age during his reign.
Her father was friends with Robert Louis Stevenson, author of Treasure Island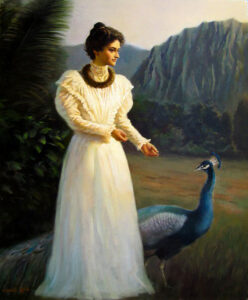 She met him as a teen. Not long before she left to finish her education in Scotland, he wrote this beautiful poem for her in her autograph book:
Forth from her land to mine she goes,
The island maid, the island rose,
Light of heart and bright of face:
The daughter of a double race.
Her islands here in southern sun
Shall mourn their Ka'iulani gone,
And I, in her dear banyan shade,
Look vainly for my little maid.
But our Scots islands far away
Shall glitter with unwanted day,
And cast for once their tempest by
To smile in Ka'iulani's eye.
She was an overseas philanthropist 
Although meant to study abroad for a year, the political turmoil in Hawaii prompted her uncle, the king, to extend her stay. Ultimately, she would stay abroad for four years, traveling to many European countries raising funds for the underprivileged. Upon the death of her uncle, the king, her unmarried aunt ascended the throne. She named Ka'iulani as her heir. Her western education would soon serve her well.
She was once offered as a bride to Prince Akihito of Japan
As a young girl of 5, her uncle proposed a betrothing to the emperor. However, the prince was already engaged. The arrangement was made when he was very young.
She fought for Hawaiian independence
She was 17 years old and the Crown Princess of Hawaii when her aunt was deposed as Queen in 1893. Ka'iulani traveled from England to Washington, D.C. by way of New York City and Boston. The young woman found her voice and spoke out against annexation. She even met with President Grover Cleveland. Her efforts were unsuccessful. Hawaii was first declared a Republic in 1894 and became a U.S. Territory in 1898.
She died at age 23
She returned to her family estate in 1897. After being caught in a storm while horseback riding in the mountains on the Big Island of Hawaii, she became ill and never recovered. She died on March 6, 1899.
Reminders of her remain in Waikiki
The Princess Ka'iulani Hotel is located near Cleghorn Street, named after her father. Today, there is a statue of the princess feeding her beloved peacocks in a small triangular park that was once part of her family's estate.
A dramatized movie of her life was released in 2010
The film's original title, The Barbarian Princess, was very controversial. It was renamed Princess Kaiulani.
– Donna Klein
More heroic women from history:
Bessie Coleman: a female daredevil to remember
Lillian Smith: Buffalo Bill's other female sharpshooter
5 Madams of the Wild West and What Made Them Famous