The long-awaited summer has me thinking about trips to Golden, CO, exploring new mountain towns, and being outdoors. And because of my other interests, it got me thinking about Wild West shows, especially that of Buffalo Bill, given that his museum and grave are in nearby Golden. As a performer, what he accomplished was impressive. He gave many talented individuals their start, yet when it comes to women, many people may think that Annie Oakley was the only star. That got me digging around. I uncovered the story of Lillian Smith, another nationally-known sharpshooter who headlined Buffalo Bill's Wild Show. She may not have a recognized name today, but she has a story worth telling.
A bullseye baby

History.net describes experiencing Lillian's stage show:
"The 14-year-old girl exhibited no anxiety or hesitation when she hoisted her 7-pound Ballard .22-caliber rifle. From a distance of 33 feet she targeted swaying glass balls hanging by wires from the wooden figure of a deer suspended in midair. With unfailing aim she fired from her right shoulder, then from her left shoulder, and, finally, shooting with the rifle held upside down and backward over her shoulder, sighting with a hand mirror. Not once did she miss. Still aiming backward using the same mirror, she shot at 10 glass balls sprung in quick succession from a trap—and burst them all before they hit the floor. Wing-shooting champion Crittenden Robinson was so confident in the marksmanship of this girl performing at an April 1885 exhibition in San Francisco that he volunteered to hold up an ace of clubs, the middle of which she perforated without pause. For her finale the little lady performed her most noteworthy feat: Using a Winchester rifle, she burst 100 glass balls in 2 minutes, 35 seconds, beating by a heartbeat champion William Frank "Doc" Carver's record of 2 minutes, 36 seconds.

Lillian was born in 1871 in Coleville, California. Her earliest memories were likely that of her father hunting with a rifle. Though he was a boatbuilder by trade, he was a skilled marksman and moonlighted for a ranch in Merced. He was known to be the best in the West at shooting geese. Seeing Lillian's interest, he gifted her a rifle for her ninth birthday.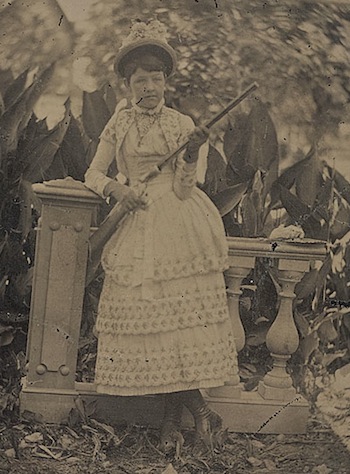 Public performance and being paid for one's exhibition-worthy skills were all the rage in the Wild West during this time. Once it became clear that Lillian was a phenom, her father began touring around the state with her. She continued to increase her skill and newspapers around the country reported on the young girl's ability.

After years of touring and topping all of the shooting records she could find, Lillian met Buffalo Bill in 1886 in California and was as willing as could be to join the Wild Show, accompanied by her parents. She was 15 years old.

Lillian Smith's star rises
Lillian quickly became a national star. She may not have become as big of a celebrity as Oakley, but she came close. And she had plenty of bragging rights of her own. It is said that Mark Twain came to the show just to see her performance.

And she had remarkable skill. The trend during those times was for purses of gold coins to be given to the winner in a marksman competition. Lillian's father had himself offered purses filled with as much as $5,000 for anyone who could outshoot his daughter during the California days. In 1887 Buffalo Bill offered a purse of $10,000, a prize that he kept in his own coffers when it went unclaimed.

One of the most famous accomplishments of the Wild Show was its 1887 debut in London, attended by Queen Victoria. Lillian was a part of the cast and was presented to the Queen along with Oakley. It is speculated that she only left the show when Oakley made her dismissal a provision in her new contract. Read on for the juicy details.

Mean girls of Buffalo Bills Wild Show

It would be impossible to speak of Lillian's career and her time with Buffalo Bill without commenting on her relationship with Annie Oakley. Any source you find on Lillian's life will mention that the two were rivals. Loving to crack open the truth about such stories regarding women from history, I would have been happy to set the record straight here, but I am unable to do so.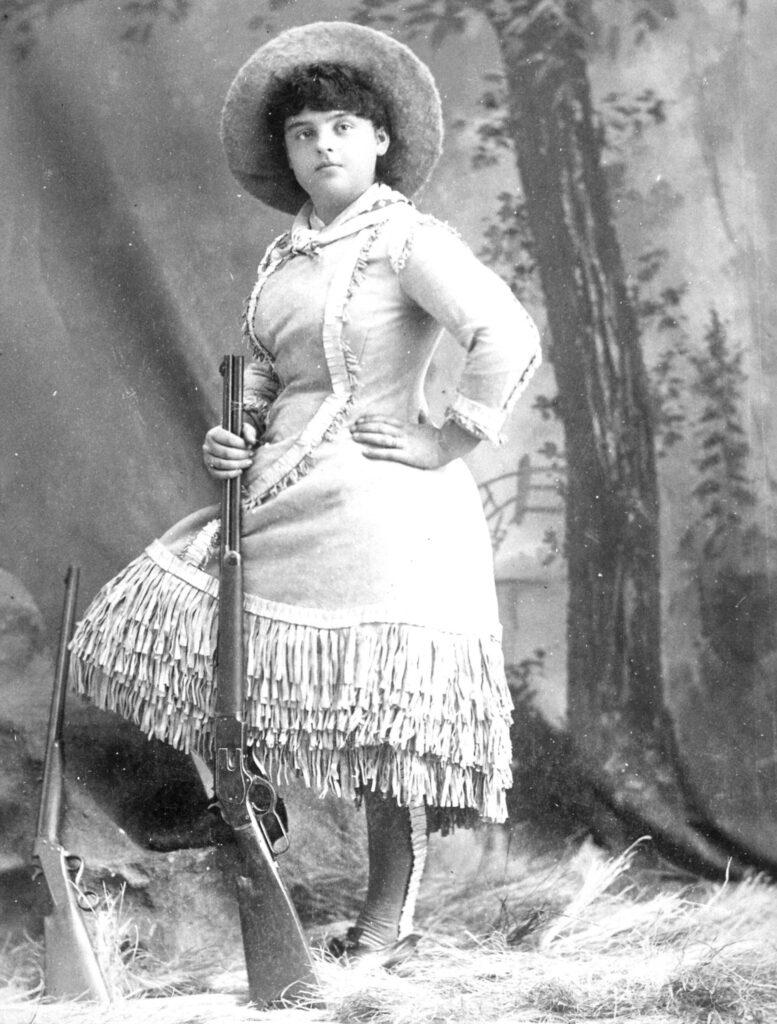 I am not sure I would classify this as a full-blown rivalry, as that typically describes a feud that two people participate and remain preoccupied with. In the case of Lillian Smith and Annie Oakley, it seems to be more a case of Oakley disapproving and even dispising Lillian because of their noticeable differences. Oakley presented her hobby of target shooting as a respectable pastime for women because it allowed her to spend time with her husband. She appeared in modest, conservative clothing. She loathed cursing, smoking, and drinking. She was fiercely protective of her reputation.

Lillian…not so much. She was known to be outspoken and brag about her ability. Lillian enjoyed dressing sexy and flirting. The most important thing about her reputation was that she had one. The two women did not get along, but mostly because of Oakley being openly critical of Lillian's approach. It is well known that Oakley used a "public" age that was several years younger than her actual age and some speculate, with cause, that Lillian's popularity provoked her to do so.
Lucky shot, unlucky in love

Lillian loved the Wild West bad boy. She first married in her early years on Buffalo Bills show to a man 14 years older, meaning that she was likely around age 16 at the time. The marriage didn't last and she proceeded to string lovers on her chain of romance in an impressive fashion. Each one of her husbands could have been a lead character from a different Western movie. The woman had a type. Her romantic life in and of itself could be a page-turner. For the purposes of this post, I thought it may be interesting to simply list them.

Husband #1: James, "Jim Kid" Willoughby, a famous rodeo champion. The two were married in secret due to Lillian's age and lack of parental approval. It is said that the marriage broke up after a few years because of Lillian's affair with another cowboy.

Husband #2: Theodore Powell, a saloon owner. It is said that the marriage broke up after a year due to Lillian's affair with a famous lawman known for busting training robbers.

Husband #3: Said lawman, "California Frank" Hafley. The two married in 1899 and began traveling and touring together, with Frank getting work as a show manager. It is said that the marriage broke up when Frank fell in love with another performer.

Husband #4: Wayne Beasley, a cowboy. The marriage broke up for unknown reasons.

Husband #5: Eagle Shirt, a fellow performer during her days at the 101 Ranch Wild West. The marriage was brief.
Lillian reinvents herself

After leaving Buffalo Bill in 1889 Lillian continued to compete and perform. She was still a hot act when she married California Frank. The two in fact performed together, exhibiting the famous act of shooting off the end of a cigar. Lillian made an interesting decision in the early 1900s that would alter the course of her career.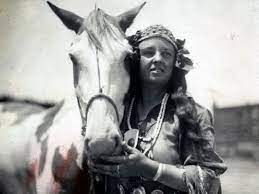 For reasons we are only able to speculate about, Lillian decided to change her name, appearance, and persona and evolved to Wenona, a Native American princess. It could have been to try and save a fading career, as interest in Native American culture and history was increasing at the same time as interest in the Wild West was waning. Whatever the reason, for the rest of her life she would be known as Wenona.

Wenona stayed performing for many more years. She had stints with the well-known show Pawnee Bill's before moving onto the Miller Brothers' 101 Ranch in Oklahoma. She made Oaklahoma her permanent residence after moving there with Frank around 1907 and would remain connected with the ranch in one way or another for the rest of her life. She retired around 1920.

Sadly, the American consciousness was quick to move on from the Wild West craze and Lillian's family did not stay intact, nor did any of her marriages. It is said that she was living in obscurity when she died in 1930. Her grave, in fact, remained unmarked until 1999.

I am thankful that there has been a resurgence in learning about this time in American history and in women's stories. Lillian made an impressive career for herself in a time before it was common for women to do so. She was audacious, independent, creative, talented, and determined to be unique. I hope that you will share this and help to spread interest in her story.
You may also like:
Recollections is Best of the West!
5 Madams of the Wild West and What Made Them Famous