Titanic Museums Spanning the Pond
There are many Titanic Museums and exhibits located in the United States, Canada, and Northern Ireland. I remember experiencing an exhibit at the Florida International Museum in the mid-1990s when I chaperoned my daughter's class trip. It was absolutely fascinating to see how people traveled across the Atlantic Ocean during the Edwardian era and take a glimpse into the lives of those aboard this fateful ship. My memories and imagination sparked as I explored the Titanic Museum online.
Titanic Historical Society
Three Titanic Museums with permanent exhibits are located in the United States.  The oldest, established in 1963, is located in Indian Orchard, Massachusetts. It is run by the Titanic Historical Society, which believes in exploration of the wreck and its sanctity as a gravesite.  Members and officers have consulted and/or worked in many Robert Ballard and James Cameron projects as well as History Channel investigations. It houses one of the largest Titanic/White Star photographic archives available in the world. They welcome people of all ages and countries to join the Titanic Historical Society.
Titanic Museum Attractions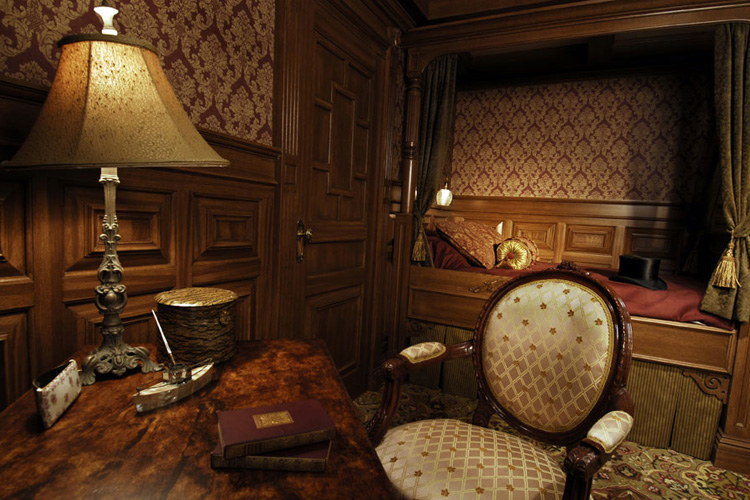 The other two are Titanic Museum Attractions and are owned by John Joslyn, who lead the 1987 expedition to Titanic's final resting place. The first is located in Branson, Missouri and opened in 2006. The second is located in Pigeon Forge, Tennessee. Each is  housed in a half scale replica of the ship that is moored on water to create the illusion of being at sea.
At the beginning of the self-guided tour, visitors are given a boarding ticket bearing the name and living quarters class of an actual Titanic passenger.  When the tour ends in the Titanic Memorial Room, visitors find out if the person they represented survived or went down with the ship by exploring the 2,208 names listed on the wall. In between, more than 400 personal and private artifacts are on display to be appreciated.
Visiting the Titanic Museum in either Branson or Pigeon Forge is a real hands-on experience for everyone. Visitors are invited to walk the exact replica of Titanic's Grand Staircase, touch an iceberg and feel 28-degree water, shovel "coal" in the boiler room, learn how to send an SOS distress signal, feel what it was like on deck as the ship's stern descended, and sit in an actual size lifeboat while listening to true passenger stories.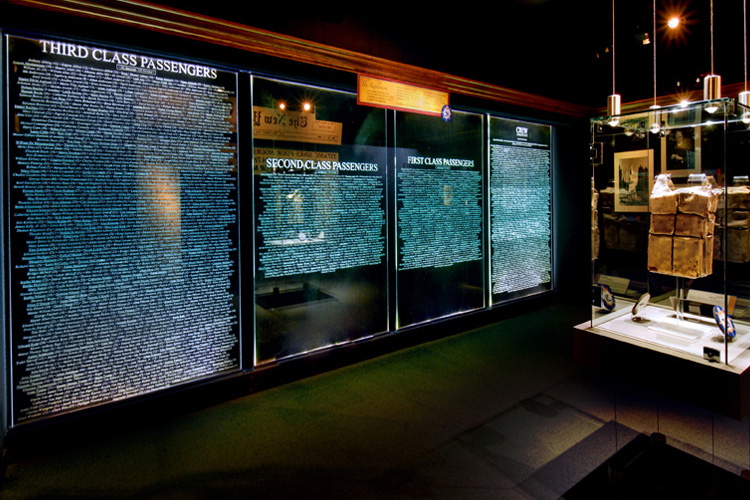 Plan a Visit
So, if you find yourself in Massachusetts, Missouri, or Tennessee, plan a stop at a Titanic Museum. To quote one young visitor to the Titanic Museum Attraction, "It's better than Disney!"
Credits
Information for this post was retrieved from:
Titanic Branson; http://www.titanicbranson.com/
Titanic Historical Society; "The Titanic Museum"; http://www.titanichistoricalsociety.org/museum/
Titanic Museum (Branson, Missouri); http://en.wikipedia.org/wiki/Titanic_Museum_(Branson,_Missouri)
Titanic Pigeon Forge; http://www.titanicpigeonforge.com/
Photo Credits
Titanic Pigeon Forge; http://www.titanicpigeonforge.com/