It wasn't all that long ago that the post office in Hawks, Michigan was slated for closure. Hawks is an unincorporated community located in Bismarck Township in Presque Isle County. Presque Isle County has a little more than 13,000 residents. It ranks 71 out of 83 counties in population. (Data USA: Presque Isle County, MI)
The Hawks post office opened on August 26, 1896. The Detroit and Mackinac Railway established a station in the area in 1895. It was named for the president of the railway at the time, James Dudley Hawks. (Bismarck Township, Michigan)
Like many communities in Presque Isle County, the railway brought in people. Hawks was one of the communities that grew up around the train. Twelve years later, a devastating forest fire ripped through the area, starting in Metz. It consumed 2,500,000 acres and killed 26 men, women, and children (Metz Township, Michigan). The area never rebounded from the event but the surviving families rebuilt and moved forward.
Today, Hawks is mostly dotted with family farms, homesteads, and businesses. 'Downtown' consists of the Hawks Mini Mart, Statewide Realty, the Nighthawk Inn, and the post office. Recollections is located on the north end Hawks, within walking distance of everything downtown, including the post office. The post office serves a few hundred addresses within Bismarck, Belknap, Pulawski, Metz, and Case townships.
Many of Recollections' customers are domestic, located within boundaries of the United States. However, we have a significant presence overseas, too. It is here where the post office makes its mark with us. Without a post office in Hawks, overseas packages would have to be sent from Rogers City, an 18-mile round-trip.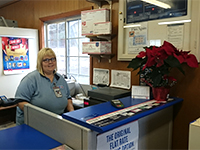 Lucy Bellmore of the Hawks post office and I talked a little bit about the importance of a business such as Recollections to this shipping hub. "We were slated for closure five to six years ago, but believe that the number of packages sent overseas from Recollections was one reason we remained open." When you think about the number of items shipped overseas as compared to the number of addresses served by this little post office, it is easy to see that the ratio must be high, perhaps the highest in the region or even in the nation.
We would like to take a moment to thank everyone at the Hawks post office for their dedication and service to our community!
Interested in seeing what they ship for us? Take a look!
– Donna Klein