Since we're celebrating the unofficial start of summer, let's look Cape May, New Jersey, a favorite East Coast destination that is steeped in Victorian history and architecture. Cape May is located at the southern tip of New Jersey. The peninsula in which it is located sits where the Delaware Bay meets the Atlantic Ocean. It is one of the country's oldest vacation resort destinations and is recognized as the oldest seaside resort in the United States. The entire borough is a National Historic Landmark because of its concentration of Victorian buildings.
Cape May built its reputation as a seaside destination during the mid-18th century. Philadelphians were the first to recognize a good place to escape summer's heat.  By the 19th century, it was considered one of the finest resorts in the nation.
All of that changed on the morning of November 8, 1878, at approximately 7 a.m. A fire broke out in a new wing in one of the hotels. In less than 12 hours, 40 acres lay in a pile of ash and rubble. The flames were fanned by 35 mph winds with gusts up to 50 mph. Some of the finest hotels in town were destroyed and was only stopped on one side by the beach. Besides the wind, lack of water was cited as a reason for the spread of the fire.
Reconstruction brought in the beauty of Victorian architecture that can still be seen today. Cape May is only second to San Francisco in the number of Victorian homes. Many of the resort hotels and smaller hotels also feature Victorian architectural charm. Because of its historic designation, Cape May should remain a time capsule that transports you back in time.
The current summer season is upon us. Cape May is ready to see its 4,000+ year-round population grow by ten-fold for the next few months. For those of us who cannot visit Cape May this year, here are a couple of videos that capture some of the reasons to visit, especially for those of us who love the Victorian era! What fun it would be to tour the town and walk the avenues in a historic dress!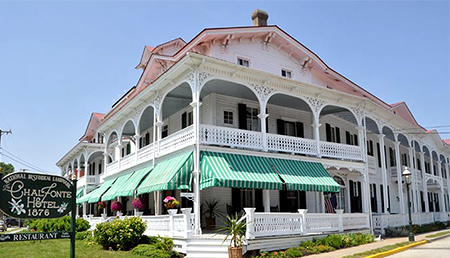 This video features Bob Vila on a brief tour of the town but it spends a bit of time inside Beaver Cottage, which is beautiful!
Take a pictorial tour of Cape May with Christopher Mendla of Cape May Views in this video. The first three minutes feature Victorian architecture. Other things to do and places to see round out the remainder of the video.
Credits
Featured photo credit: Carol M. Highsmith [Public domain], via Wikimedia Commons
Tischler, Susan. "Cape May on Fire." CapeMay.com Blog, 1 Nov. 2013, www.capemay.com/blog/2003/11/cape-may-on-fire/. Accessed 24 May 2017.