We're bringing back our 'guess the number of candies in the jar' contest just in time for the holidays 2016! Everybody loves receiving gifts and we love giving them! Many of you love a fun contest and we're happy to oblige. The contest runs from Thursday, December 15th through Monday night at midnight on December 19th. Winners will be notified by email on Tuesday, December 20th.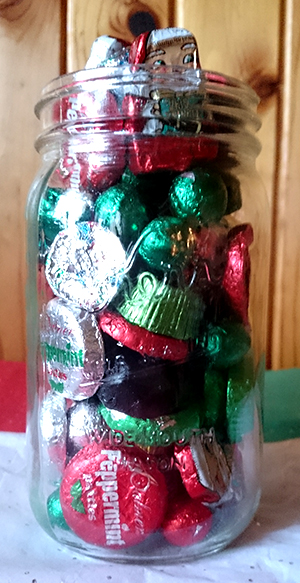 This time we are going for a twist. In the 'holidays 2016' edition there is an assortment of Christmas candies in our one quart Kerr mason jar pictured here. We overstuffed it with crunchy Santas, peppermint patties, peanut butter cups, fudge-filled bells, chocolate balls, and even some crispy crunchy 'lumps of coal' (for those who have been just a wee bit naughty this year). The jar is filled to the brim with as little space between the candies as was possible.
So, now it is time to guess the total number of candies in the jar. Consider the assortment as listed above and give it your best shot. You can only enter once (through the comments section on this post, our newsletter, or our Facebook page), so think about your answer carefully! Three $25 gift certificates will go to the top three guesses (one to each winner).
* If there are three correct guesses, those entrants automatically win!
* If there are more than three correct guesses, the winning entrants' names will be placed into a random drawing.
* If there are one or two correct answers submitted, those entrants automatically win and
* The next closest correct entries, up to no more than a total of 10 entries, will be entered into a random drawing for the remaining gift certificate(s).
Post your guess in the comments section of this post. Please include your first name and last name initial, and where you are from. Comments are moderated so your guess will not be shared until after the end of the contest.
Remember, your guess must be posted in the comments section by Monday night, December 19th, at midnight. Have fun and good luck! And, thank you for giving Recollections you patronage during 2016.
– Donna Klein