When Thomas Nast (1840-1902) died, he was eulogized as the "Father of American Political Cartoon" by the New York Times. He spent thirty years between 1857 and 1887 as an illustrator and cartoonist for Harper's Weekly. But, political cartoons were not his only claim to fame. A more lasting legacy that touches us all still today is that his depictions of Santa Claus largely shaped the way we view Jolly Ol' Saint Nick. Even Santa's backstory of being from the North Pole was influenced by Thomas Nast, who used Santa first to prompt his political views and then to spread cheer to people young and old.
Santa and The Civil War
Between 1863 and 1886, Thomas Nast drew 33 Christmas drawings for Harper's. Santa appeared in or was referenced in 32 of those. His first Santa appeared in the January 3, 1863 issue. Santa was a small elf giving gifts to Union soldiers in camp. His other Civil War Christmas illustrations had Santa taking a backseat to scenes of home and hearth.
While these images look like depictions of Santa bringing hope to the soldiers and their families, their implications go a bit deeper. Nast was a passionate abolitionist and supporter of the Union. Presenting Santa to the public as appearing to Union troops implied that they were the blessed side, worthy and deserving of Santa's protection.
Some Nast Santa illustrations were more overtly poltical, though it would be nearly impossible to pick up on that today. One of his most famous Santas is the illustration titled "Merry Old Santa Claus," shown below. There's a lot more to this picture than meets the eye! Says Lorraine Boissoneault writing for Smithsonian Magazine:
"To the casual observer, it looks like Santa, with his bag of toys, wearing his characteristic red suit. But actually, Hyman says, it's more propaganda, this time related to the government's indecisiveness over paying higher wages to members of the military. "On his back isn't a sack full of toys—it's actually an army backpack from enlisted men." He's holding a dress sword and belt buckle to represent the Army, whereas the toy horse is a callback to the Trojan horse, symbolizing the treachery of the government. A pocket watch showing a time of ten 'til midnight indicates the United States Senate has little time left to give fair wages to the men of the Army and Navy."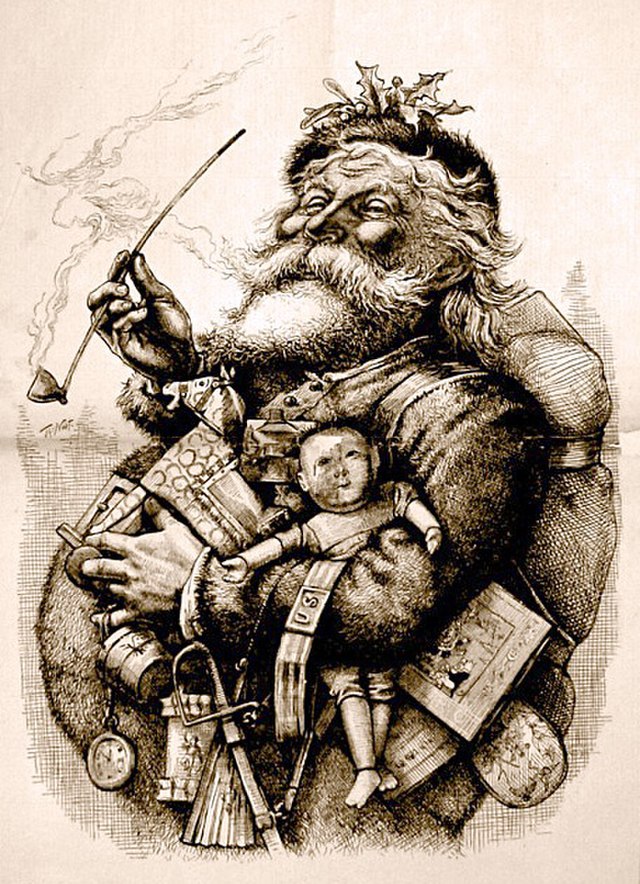 Shaping the way we see Santa
Thomas Nast's illustration titled "Santa and His Works" was published in 1866. It depicted a glimpse into Santa's life, from toy making to watching for naughty and nice children and making a note in his record book. We even see Santa relaxing after a long night of delivering toys!
There is no doubt that he was influenced by Clement Clark Moore's 1822 poem, "A Visit from St. Nicholas" ("Twas the Night Before Christmas."). He also was influenced by his Bavarian heritage. His illustrations are also the first time that Santa's home is depicted as the North Pole. Until Nast came along, American publishers typically set Santa's home in a state in the Northeast where snow was abundant. He became an international ambassador of goodwill once he resided at the North Pole.
He knows if you've been bad or good…
While his children were young, Thomas Nast depicted Santa as a parental disciplinarian, reading letters from children and parents. In one cartoon from 1870, Santa jumps out of a Jack-in-the-box clutching a switch for spanking and surprises two naughty children.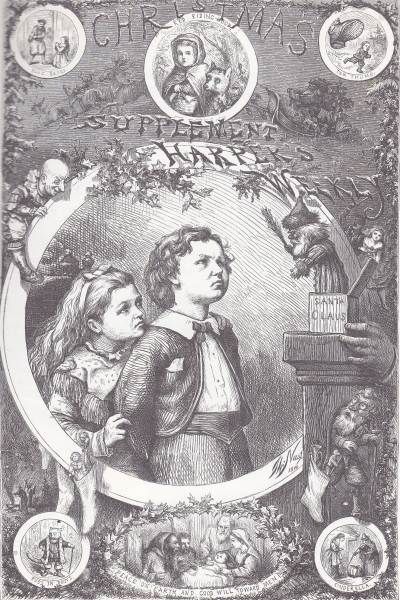 Throughout the 1870s, Santa changed into the character who delivers gifts unseen by children but is constantly trying to be seen by them. By the time Nast's children were teens, he was depicting Santa in direct communication with children. He created images of children sending letters to Santa, talking to him on the telephone, and affectionately embracing a group of ecstatic children.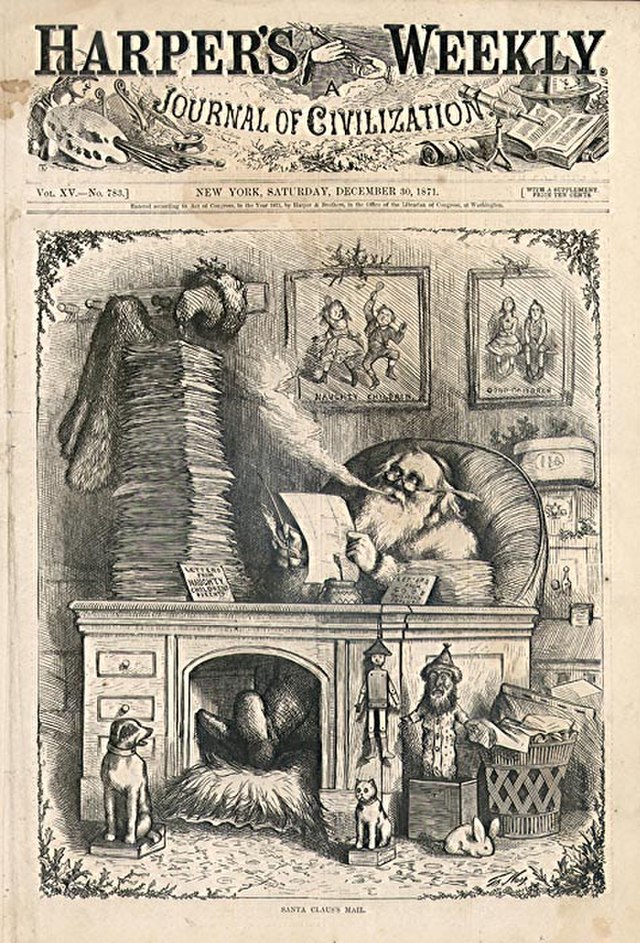 So, thank you, Thomas Nast, for creating the first of the modern depictions of our beloved Santa Claus.
And, thank you, for being a Recollections customer!
– Donna Klein
More Christmas fun:
The anatomy of a perfect Mrs. Claus costume
Please party guests this season with mulled wine