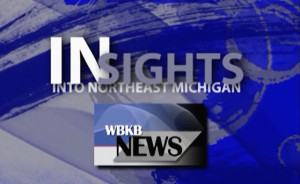 WBKB in Alpena, Michigan, produces a local public affairs show called Insights that airs on Sunday mornings. In December, we were approached about being on the show. That got us wondering, "what is it like to be part of a television show?" We found out on January 12th when Alexandra Johnson and her crew, John and Joe, stopped by for a visit. We weren't sure what to expect, but were excited to be part of the January 18, 2015 edition of Insights.
The process began in December, when Alexandra contacted us about the possibility of filming the episode. We immediately said yes, and after checking our calendars, settled on a date that worked for everyone. Then, we had to decide what to do. To really get a feel for what we do and have some fun, we chose a tour of our facility in Hawks, followed by a photo shoot in Rogers City.
WBKB Arrives
Everyone started to assemble around 10:30 a.m. and by 11 we were starting to film. Alexandra arrived well prepared. She and the crew made us feel very much at ease. We chose a location to conduct an interview, put on our microphones and got down to chatting.
The Tour
This was followed by a personal tour conducted by Recollections' owner, Marianne Fairbanks. Marianne walked us through where the magic happens, introducing us to some of the fine seamstresses and other workers who are responsible for our lovely creations.
The Photo Shoot
After the tour, we traveled about 10 minutes north to Rogers City, where we joined Jennifer Adkins during a photo shoot with Recollections model, Ola Rose. Ola works at our sister company, Michigan Sewing, located in Cheboygan, and appears in many of the fashions you see at our online store.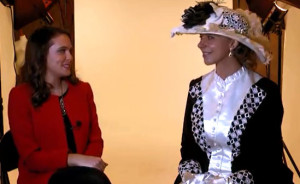 We hope you'll visit the Insights page at the WBKB Web site and watch our episode. It's also available on YouTube. Here's your chance to see a real glimpse of what goes into making our historic garments and the people who are a part of the process.
Credits
Show logo and photos: "Insights." Insights. WBKB Alpena, Michigan. Web. 24 Jan. 2015. <http://www.wbkb11.com/local-programming/insights>.