Something's up with Barrow and something's down on Violet. Before we go further, in case you missed last week's episode, you can read our Season 5 Episode 3 recap so you are not lost.
Within the first few minutes of the episode, Violet goes to meet her sexy and foreign Prince Kuragin. They flirt, and things would have gotten saucier, but Isobel was there to spoil the mood. Kuragin, with his cunning and mischievous demeanor, claims he doesn't know where his wife, the Princess, is. We learn that the Dowager and Kuragin wanted to elope back in the day, and she still gets butterflies around him. Unfortunately, the Dowager feels compelled to look for the Princess, and eventually finds her in Hong Kong. Hopefully she and the prince part ways to make room for the Dowager. Wedding bells anyone?
The wedding bells aren't just ringing for Violet, as Isobel's suitor Lord Merton pops the question. Isobel initially sounds like she's going to reject him, but says she'll think about it. He's super cute and romances her, and she's flattered, but seems intent on saying "no."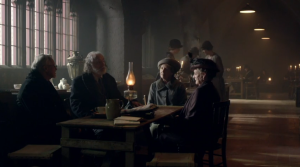 Edith continues to be mopey, this time because Gregson was taken by Nazis and she is pretty sure he's dead, and his kid is stuck with a farmer and his clingy wife. So, Edith is reduced to spying creepily while Marigold is at school. Mary continues to be unforgiving and offensive to Edith every time they meet, and wants to cut it off with Tony. She has dinner with Charles Blake, who tells her that there's a way to ditch Tony without much heartbreak, and once again she is caught between men. However, her break up with Tony doesn't happen as she planned…as in she never really breaks up with him because Tony thinks they'll be partners for life and this is a speed bump.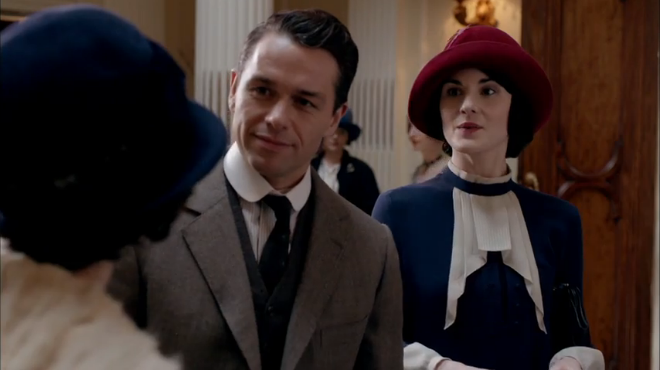 Lord Grantham continues to drive Cora away and show his disdain for Bricker, "the ghastly art dealer." Bricker continues to romance Cora, and she is quite enthralled. Tom has Miss Bunting to dinner, which ends in Lord Grantham throwing a major hissy fit, which left Cora embarrassed. Rose's parents are divorcing, and maybe Lord and Lady Grantham are headed that way.
On the servant's end, Barrow looks more and more like he has the Spanish Influenza. He's injecting himself with some kind of solution, and tells everyone to get away (which, considering how he treats the other servants isn't hard for them). His program, "Choose your own path," is looking more and more like a "Choose to be straight" program.
Mrs. Patmore and Carson have a meeting with Lord Grantham about her nephew not being allowed on the memorial, and for once Grantham concedes that it's a stupid policy, although he can't do anything about it. She's happier knowing that she was right in the eyes of Lord Grantham.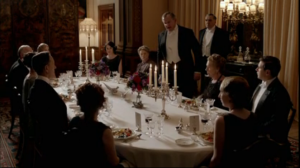 Mosley gets bullied around all episode by Mrs. Hughes and Carson for being the "first footman," and provides comic relief (as usual). But the episode ends on a dark note, with the investigation of Mr. Green's death continues. Anna and Bates are up for scrutiny, and the horizon doesn't look bright.
Remember to check back next Monday for an all new episode review of the next episode!