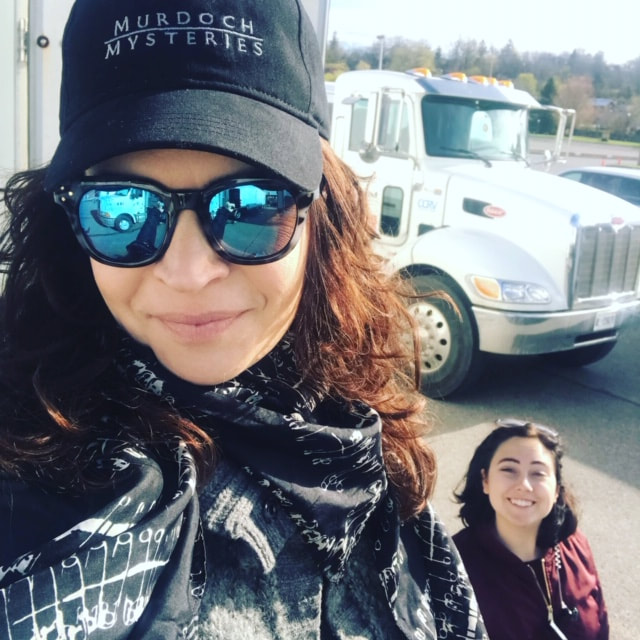 I recently had the opportunity to have a fun chat with Joanna Syrokomla, the costume director for Murdoch Mysteries. Joanna has been in her role since season 12 and is as in love with her job as ever. As a new fan of the show and of course as a fashion history blogger, it was such a joy to meet her face to face via Zoom and learn about her most interesting of professions.

Contemporary costuming vs. historical

Joanna's career has been extremely diverse and eventful. She has worked on children's shows, contemporary television shows, and movies, and many period shows and movies. Seeing how versatile she is as a costume designer, the first thing that I wanted to ask her was what the main differences between developing outfits for modern vs historical sets are.

What comes to mind for you? That modern costume design is "easier?" Well, not so fast!

Said Joanna: "What's something interesting that a lot of people don't often consider is, if it's a contemporary show, so many more people have an opinion. An actress will say, I only look good in these jeans, or an executive will say 'secretaries only wear…' The funny thing is when you're doing a period show, people are like 'it's period! We'll let the costume people take care of that.' So that's a really interesting thing. When you're doing period you kind of get left alone or trusted a lot more because it's costuming. For modern shows, people have more to say than a period show."

So in that case, does she think that actors get more excited about wearing period clothing?
"Absolutely, when an actor comes in who is not on the entire series, they LOVE to come in and get dressed up "old timey." It reminds them of theatre school. It reminds them of photographs of their great great grandfather. People come into my fitting room and get dressed up who haven't done a period show in a long time and they love it. Everybody loves how they look in a corset. Every man loves the way he looks in a waistcoat. They're very excited."

I told Joanna that after watching a few episodes of Murdoch Mysteries that I want to be on the show! Between the murder mysteries and the dresses, it seems like a perfect fit for me!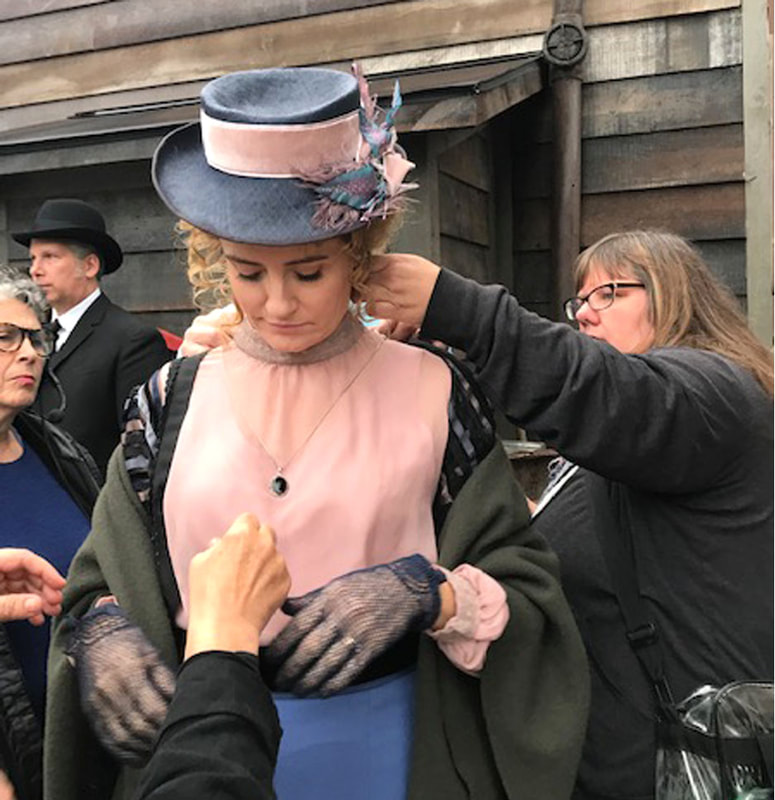 How are decisions made for the costumes?

Having watched the show and knowing that there are so many working parts, I was curious to know the process that Joanna goes through to dress everyone, especially in Edwardian clothing that includes so many different pieces of clothing.

"The other thing about television is that you're constantly coming up with something new, and something new, and something new. In a movie, you have a beginning, a middle, and an end. You know who the characters are and who is going to be in it. But when it's on tv, every two weeks I receive two new scripts. There's new characters. So I'm always trying to find something original for every character. I try to give everybody a different sense of style so that it's easier to pinpoint who the different people are. What can I try and find so that this character is going to be memorable in their own right?"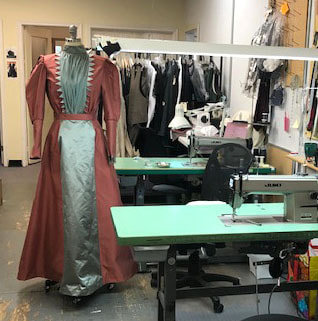 Costumes in two weeks? How does that work?
"We have a collection of stuff, things have been purchased and accumulated over the years. At the beginning of every season, we go to several costume houses and it's like we go shopping. We get about 15-20 racks of clothes from all these different costume houses. It can be a dream!"

Oh to go along on that shopping trip! Though when I mentioned that to Joanna, she did say that although it is fun, it is also a lot of work to acquire 15-20 racks of clothing, which I can definitely believe.

Joanna also told me that there are things that the costume team needs to refresh each season, regardless of plot. For instance, they need costumes for dock workers, frock suits for men, clothing for parties, etc.

And there is also the benefit of working on a show that is 14 seasons in. Because the series has gone on for so long, they are tending to get less from costume houses and instead make more, so as to avoid replicating a costume after so long.

Ahead of the interview one of my Twitter followers had asked about the accessories used on the show and if any of them are authentic. Joanna let me know that overall, it is hard to use authentic clothing, but that authentic accessories do find their way to the set. Her team uses authentic lace collars, reticules, cufflinks, watch chains, shirt studs, tie pins, hat pins, and brooches.

Imagine how fun it would be to go browsing through the Murdoch Mysteries jewelry closets!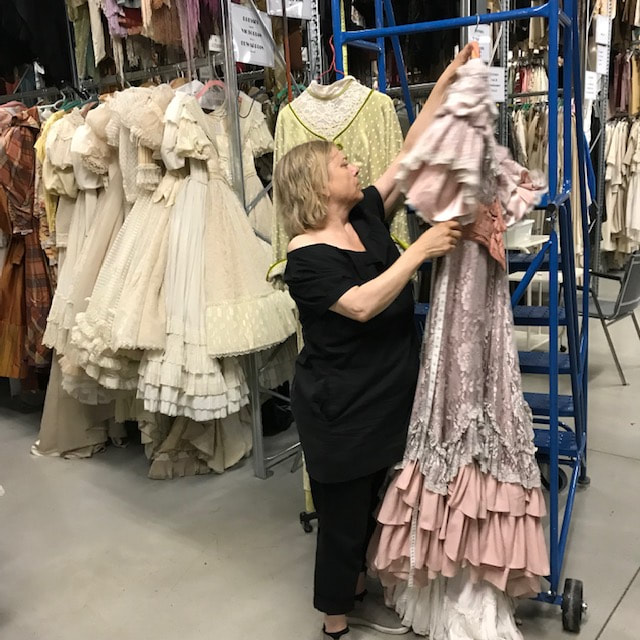 Let's talk about corsets!

I know that corsets are always of great interest when it comes to women in period dramas, so I looked forward to asking Joanna about this. It was interesting to have her comment on corsets on the set of Murdoch Mysteries, given that the seasons she has worked on take place in the Edwardian era. Often there are tales about actors not wanting to wear them or loving them. Many shows also have them custom-made. So, what role do corsets play on the set of Murdoch Mysteries?
"In this period it is hard to tell if a person is wearing a corset because the clothing is not so tight. What the corset really does is that it's about how it makes everyone stand. A corset doesn't make someone look smaller on camera, but it does teach them how to stand properly. A lot of our long-term actresses don't wear corsets anymore, I have more of the elastic girdle with some boning in them to remind them to stand.

It's really funny because sometimes we'll have an actress who says "I don't want to wear my corset anymore, but then I go to set, and I'll be like "you go back and put that thing on, because you promised me you were going to learn how to stand up straight, and you're not."

I was surprised to find out that many of the corsets used on set are the Victorian style with lacing and boning. Joanna let me know that this style of corset is much more available and that because corsets costs between $400-$500 to have made, that it isn't practical for an Edwardian set where they aren't needed for the silhouette.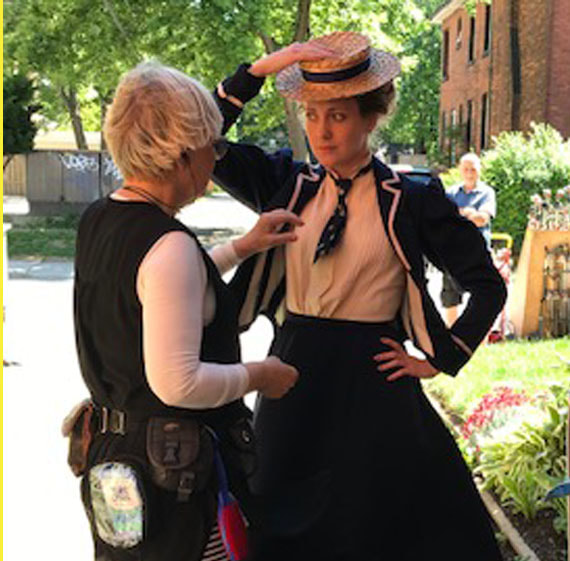 Attending an event: expert advice

What better person to ask about dressing for a historical-themed event than someone who dresses people for a period drama for a living? I also thought it might be of interest to our readers as they plan their post-Covid events and celebrations. Joanna told me that because historical clothing is so different from what we wear today and has so many more parts, that it is good to get comfortable in it:
"Practice in the costume before you go out. If you think about it, they have gloves, they have a reticule, they may have a fan and a parasol, and a belt on top of their skirt, and a blouse, and the hair, and the hat…I would highly recommend practicing because there are so many pieces. I look at it all and I can't even handle my keys and my phone sometimes."

She also emphasized that it is important to remember the weather and how heavy the clothing can be. Petticoats might look fabulous, but will you want all of them on a warm day?

And of course:
"I would also recommend that you have a reticule that you can fit your phone in, because you should always take lots of pictures."

I just love that bit of advice!

What lights you up about costuming?

Given that being a costume designer is such a multi-faceted job, I wondered what Joanna's favorite part of it is. In preparing to meet her I thought to myself about what I might love most about it or what others might. I think I'd enjoy the research! Others might enjoy the sewing.

Joanna loves the magic of it all:
"What I really love is watching it all come together. Costume design of a show or of one character is a puzzle. It's not often on Murdoch that I come up with an outfit completely from scratch. It's this wonderful combination of pulling it all together and making it work, and then making it work with the person they're hanging out with. And then making it work with the room. And then I absolutely love when the actor puts it on and says "Yeah, I feel this."

When I asked her what her favorite project has been, I was delighted that she said it was Murdoch Mysteries. Who could ask for anything better from a job?

"There's so many different characters that get to happen. There's silly, fluffy, frilly, characters, there's dirty, dark, bad guys, some of the episodes we do are light-hearted and fun. Some of them are dark and serious and murderous."

I agree, Murdoch Mysteries is such a fun show. And Joanna and I agreed that one thing that makes it special is that it is different from many period dramas that are quite dark, it is light and whimsical.
Other inspiration

I ask each person I interview for Recollections what their favorite time period and female figure from history is. I think that these facts about a person give so much insight into what they are like, and I also just find it interesting! As for a time period that she would like to do costumes for, Joanna said she is ready for an opportunity to work on a set that portrays the 1960s or 1970s. The 1960s is also one of my favorite fashion time periods! Joanna has a personal collection going of clothing from the hippie era and would love to put her knowledge to use.

Two female historical figures that stand out to Joanna as her favorites are Madame du Barry, the famous mistress of King Louis XV, a fashion icon and fascinating woman who I would love to blog about. She also loves Emilie Louise Floge, who I am not as familiar with but soon will be. Floge was an Austrian feminist, dressmaker, business owner, and muse to and longtime companion of legendary painter Gustav Klimt. She ran a successful couture fashion salon in the early 1900s where she designed and sold her own custom pieces to the Viennese elite. She sounds so fascinating! Thank you for the tip, Joanna!

And thank you so much for your time! I loved learning about the life of a costume designer and it was such a treat for me to get to spend time with you and to share your exciting job with our readers.

If you have not had the chance to watch Murdoch Mysteries yet, I'd highly recommend it as delightful weekend binging. The first 10 seasons are available to stream on Hulu in the United States. Sadly, Joanna didn't come on until the 12th season, but I still recommend getting caught up before they make seasons 12 and on available. Luckily, Amazon Prime has all seasons for purchase in the United States.
I'd love to know what you think of the show and of Joanna's exciting role in making it all come together.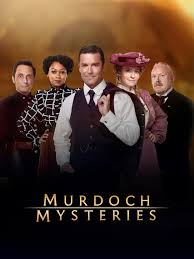 Want to learn more about Joanna Syrokomla and keep up to date on her adventures? Check out the following:
You can follow her on Twitter here.
And check out her website here.
You may also enjoy:
Preparing for an Edwardian themed event
Are Bridgerton costumes Regency?