I recently learned that there is an entire equestrian sub-culture of people who are keeping the tradition of side-saddle riding alive. I am pleased to report that I learned about this fact because one of our Recollections customers is active in this culture and is in fact an award-winning side-saddle rider. Not only that, but her area of expertise is in historic costume competing. If I was surprised to hear that side-saddle riding was a part of today's competitions, I was even more surprised (and pleased!) to learn that costuming is also something that is judged. Thanks to Marybeth Walker, I have learned some very intriguing information about this most interesting of pursuits and am so excited to share her story with you this weekend, plus a bit about the history of side-saddle riding and why so many people want to preserve it.

Side-saddle perseveres

We all know that the world was a much different place for women before 1920. As I covered in my post about the dress reform movement, even some of the smallest freedoms women attempted to take, such as riding bicycles, were met with a LOT of criticism and resistance. Horseback riding was no different. While women have enjoyed riding for as long as humans and horses have paired up for transportation, riding side-saddle was the way that women in modern society always rode until about 1920. "It was very seriously understood that was the only way a woman was to ride" said Marybeth.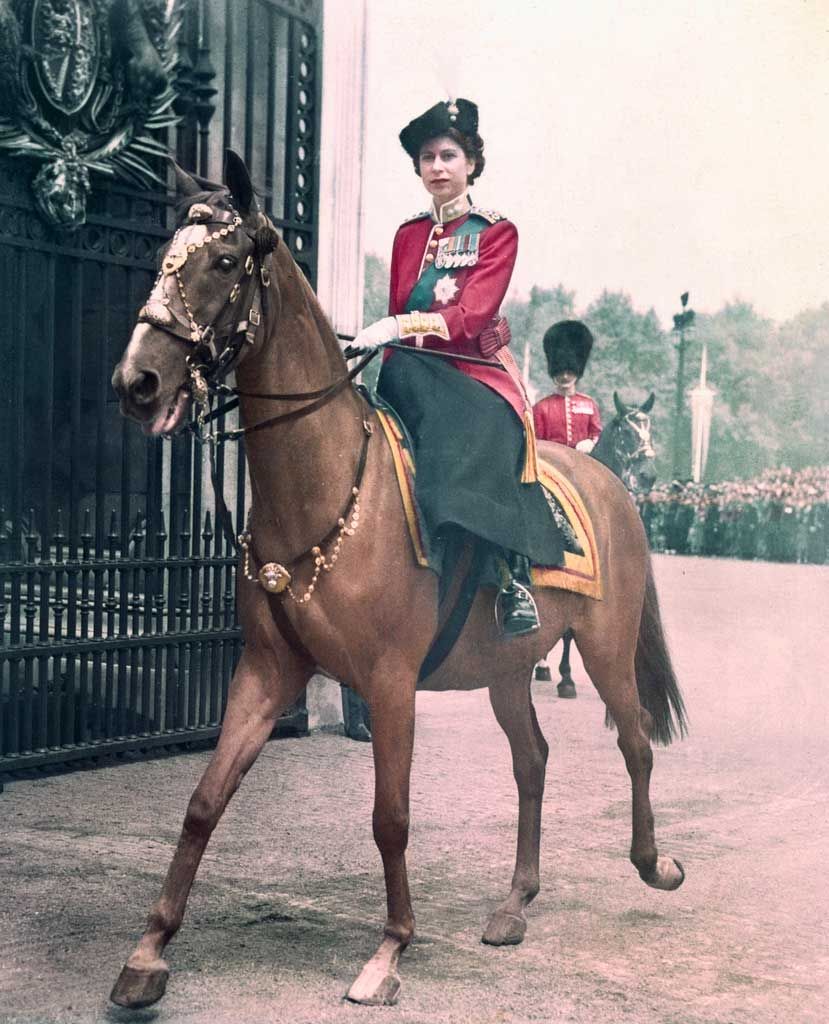 Women naturally began to ride "stride" once it was socially acceptable to do so. However, when appearing in public for a formal event, women from noble families would still appear "aside," and the tradition lingered. This photo of a younger Queen Elizabeth at a formal event is a good example. It has continued to be passed down through the years with many appreciating the importance of preserving traditions. There was a surge of interest in riding aside after Lady Mary was shown riding so regally in the first season of Downtown Abbey. Marybeth said that the International Sidesaddle Organization (of which she is a member) received an influx of inquiries after that and the scene is still frequently mentioned at their events. The organization now has a list of film portrayals of the style of riding on their website here. Do you see side-saddle in any of your favorite period films?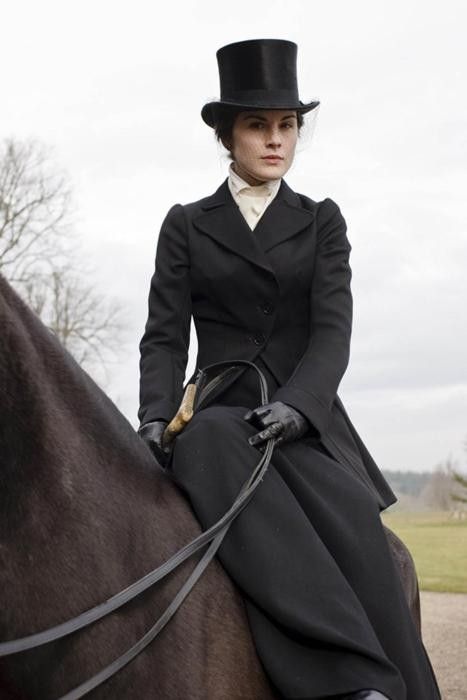 Clothes and horses: the perfect combination
Marybeth, though, didn't come to discover her passion because of television. While she always had an interest in horses, her parents were in agreement that they didn't want her riding due to safety concerns. So, Marybeth decided to wait until the age of 50 to begin, after both of her parents had passed (talk about an ever-burning interest!). She then hired her first trainer who is still with her to this day some 14 years later. In her early days of riding she tried out side-saddle and it just stuck. Marybeth says that she has never been too athletic and so riding side-saddle suits her well as "my legs are just to keep me in the seat."

But the new-found pastime didn't stop there. Marybeth says that she has two passions in life; horses and clothes. So when she discovered the costume class of side-saddle competing, she had found her niche.

I loved discovering that the costume class is a standard part of competitions. In any given horse competition one can expect to find multiple categories of costume competitions including knights, battle armor, fantasy, and historical. Who knew?

Go big

Once Marybeth discovered the joys of competing for the best dressed while also riding side-saddle she didn't look back and has competed in ten competitions so far. Her choice of characters and costumes has been very diverse, though she tends to gravitate toward costumes that represent women pre-18th century. Below is one of her favorite costumes, none other than Marie Antionette. The costume doesn't leave much responsibility of the imagination to determine who she is, the sign in front says "Let them eat cake."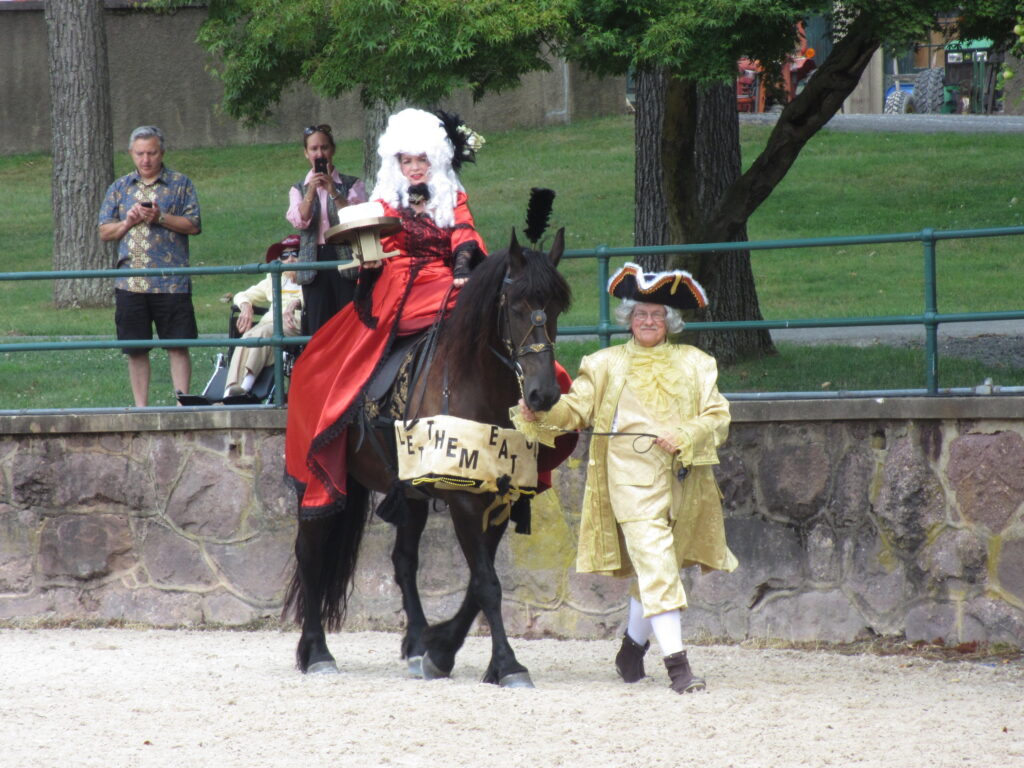 And the proud groomsman in the photo? That would be Marybeth's husband, Arthur, who often appears in competitions in the role. He has enthusiastically joined in with her on her pursuit in order to spend more time with her, though he prefers playing groomsman over being on the back of a horse.

In another competition, Marybeth appeared as a female falcon hunter from the 1500s, complete with a replica falcon attached securely to her forearm. While that was amusing enough, the best part about the experience was having so many people in the audience ask her how she kept the falcon so still and calm during her performance, mistaking it for a real bird. See for yourself below.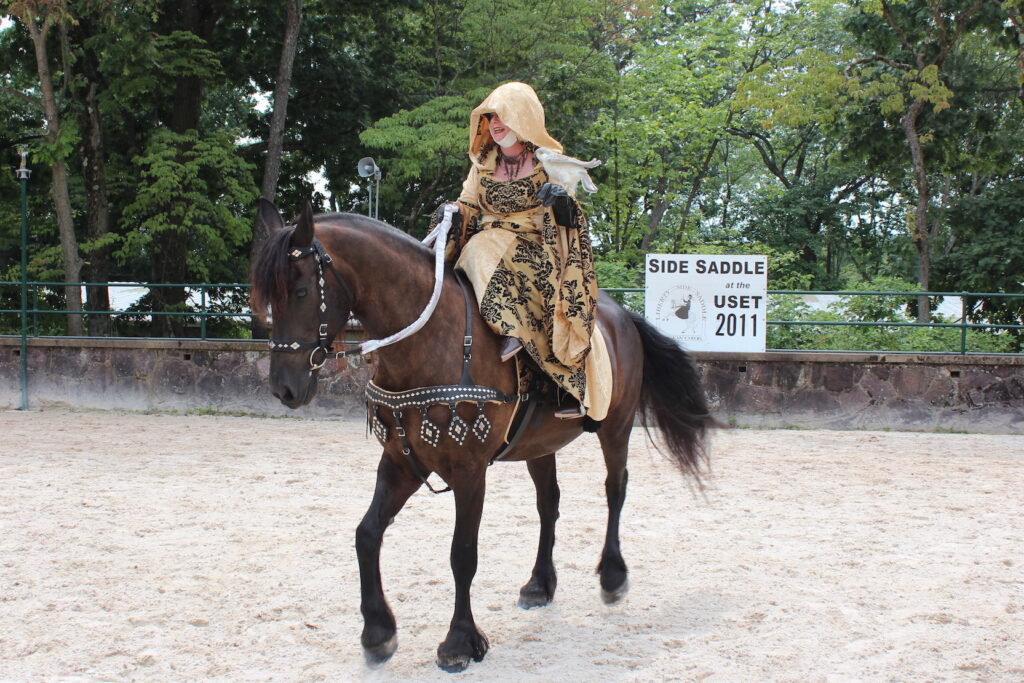 Competing for the best costume isn't just about selecting something that is fun to wear. Contestants are required to submit an essay along with their entry describing the historical accuracy of their ensemble. Marybeth does ample amounts of research before shopping for her pieces, when she often heads to Recollections. One thing she loves about shopping with Recollections is the bustled skirts, which are perfect for riding aside when let down. You can see an example below.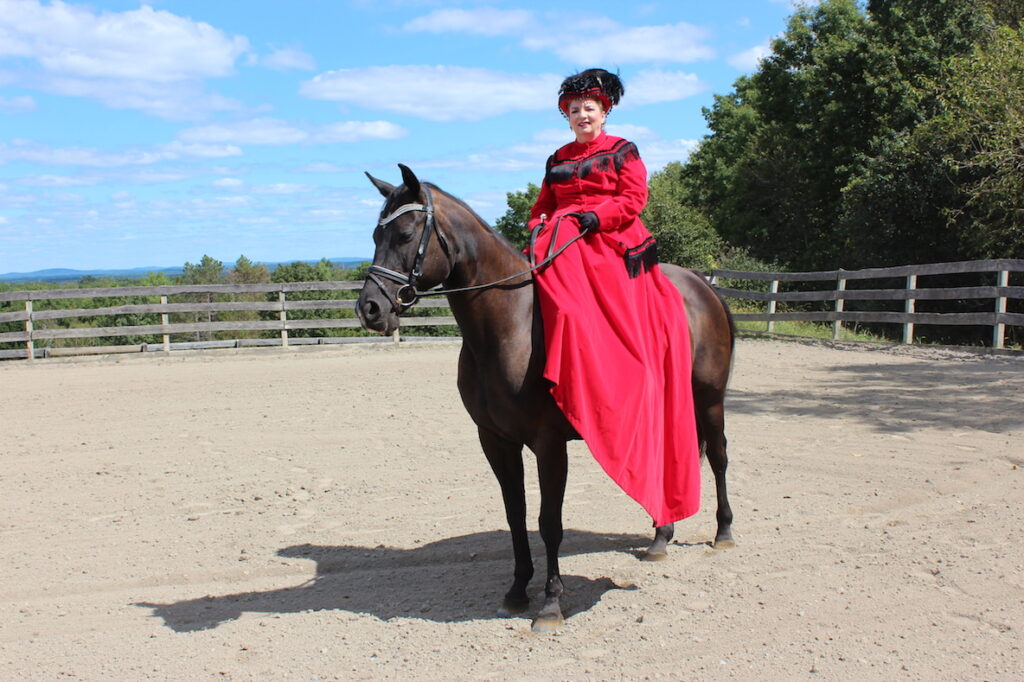 And below are a few more of Marybeth's favorite Recollections dresses: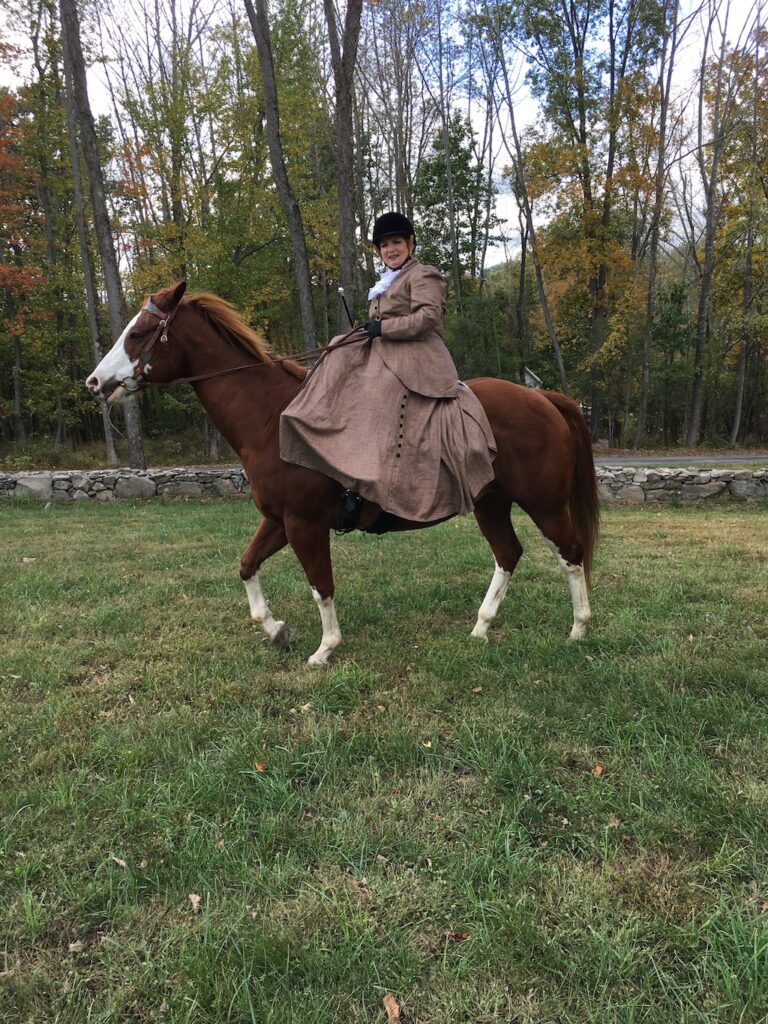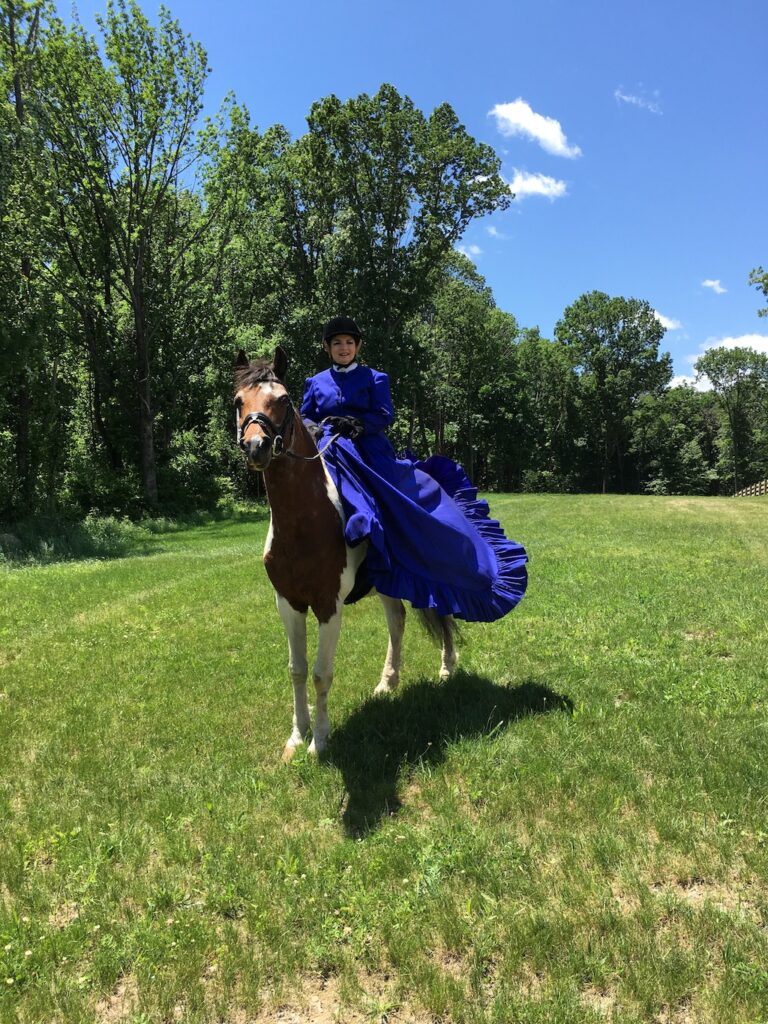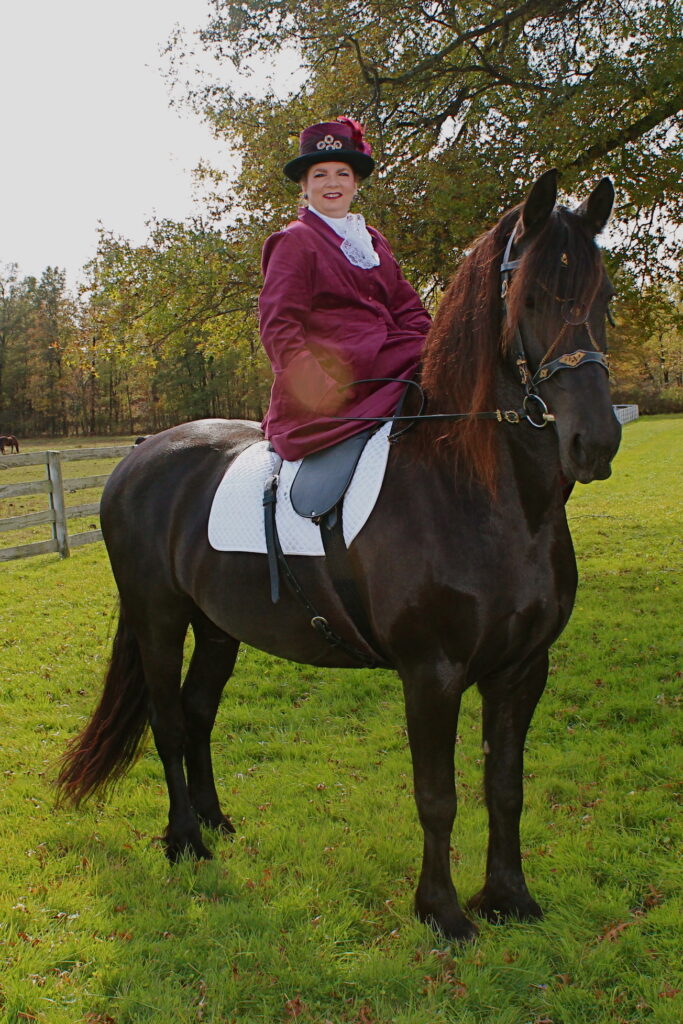 And the winner is
One of Marybeth's proudest side-saddle moments was winning the Best Costume in the Royal Windsor Virtual Show this year, in addition to winning 3rd overall out of 10 finalists and over 50 entries. In this competition she got to portray her hero, Mary Queen of Scots, who is known to have been an exceptional horsewoman, even riding more than 50 miles at one point to see a possible lover, and leaving on horseback when she escaped from Lochlen Castle. All on side-saddle. The most exciting part of this competition? She won against English women who were also riding side-saddle, a huge feat due to it being more ingrained in their culture and many of them having a lifetime of experience.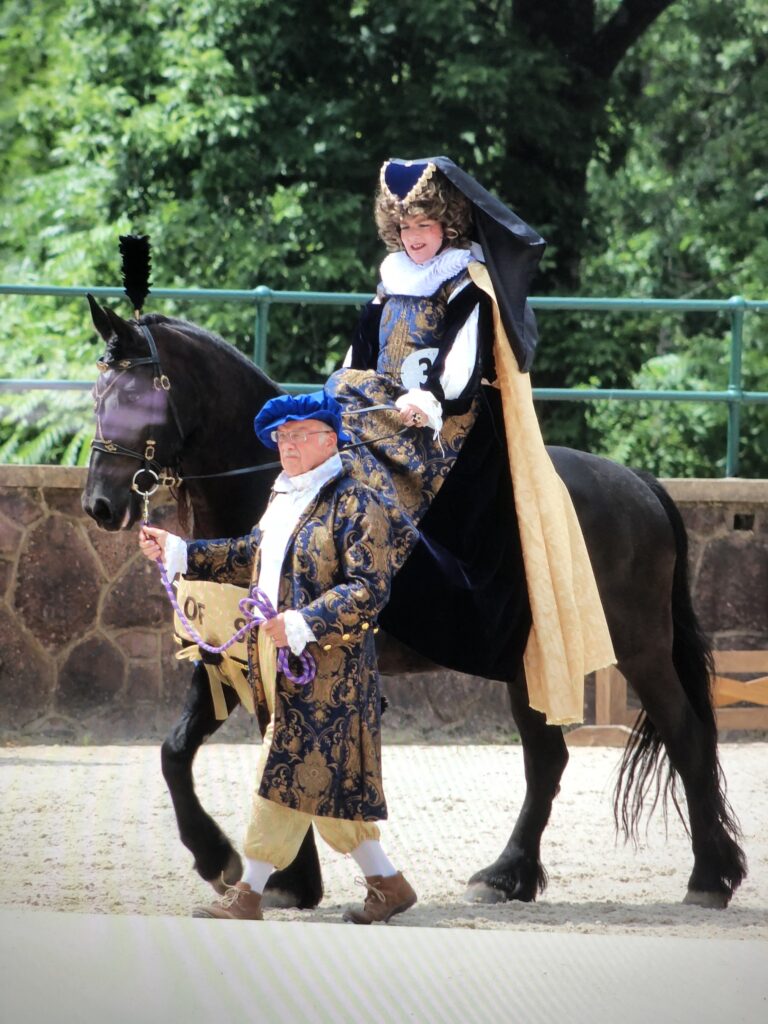 Marybeth, Arthur, and beloved horse Bethje have also won first place for a crusades-inspired ensemble and also for 15th-century Venetian masquerade costumes.
Though everything about next year is up in the air due to the pandemic, Marybeth is already planning her next costume. She would really like to put together a costume to portray Claire and her husband from the second season of Outlander, complete with the tricorn French-style hats.
Thank you so much for sharing your fascinating side-saddle story with us, Marybeth!